In the mosaic of America's economic history, certain events stand out, often serving as cautionary tales for future generations. Among these, the Panic of 1873 casts a lingering shadow. As we journey back into the pages of history, we'll explore how the vibrant post-Civil War economy brimming with promise descended into a depression that gripped the nation for a decade, steering its political, social, and economic pathways.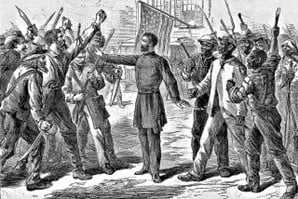 Historical Background: The Post-Civil War Economy
The conclusion of the Civil War heralded more than just a moral victory and the promise of union; it ushered in an age of monumental economic growth. Emblematic of this era was the formidable "Iron Horse" – the burgeoning railroad industry. As tracks snaked their way from coast to coast, they bridged cities and towns, creating a vast nexus of trade, communication, and opportunity. But with rapid expansion came rampant speculation. Investors, lured by the siren call of potential profits, often overlooked project viability, plunging vast sums into railroad undertakings with a blind hope of exponential returns.
Yet, it wasn't just frenzied investments in railroads that defined this period. A legislative move, seemingly peripheral at the time, would prove cataclysmic. The Coinage Act of 1873 took the controversial step of demonetizing silver, favoring a gold-centric approach. Unbeknownst to many, this act laid one of the foundational stones for the impending economic turmoil.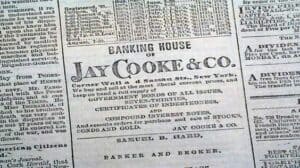 The Triggers of the Panic
The first signs of instability came from a seemingly unshakeable quarter – Jay Cooke & Company. Renowned as the titan of finance, the firm embarked on the ambitious Northern Pacific Railroad venture, envisioning a steel artery connecting the bountiful Great Lakes with the thriving West Coast. However, ambition, when left unchecked by prudence, can lead to downfall. Besieged by overextension and a cocktail of poor financial judgments, the company's speculative venture fizzled. Unexpected delays significantly dampened the railroad frenzy, which eventually led investors to lose confidence. Shortly after, the company, overextended by hubris, declared bankruptcy, unleashing financial pandemonium.
But troubles were not confined to American shores. An economic quake in Vienna rattled the very foundations of European banking. With banks on the continent teetering, a sudden and insatiable demand for gold emerged, siphoning the precious metal from the U.S. to European coffers. These transatlantic tremors offered an early lesson on the vulnerability of globalized economies, where disturbances in one region could cascade, magnifying crises elsewhere.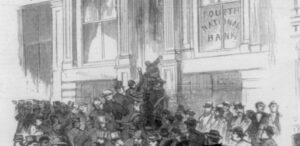 The Domino Effect: Widespread Bank Failures
The sudden bankruptcy of Jay Cooke & Company, a revered financial institution, sent shockwaves across America. Fear spread like wildfire as citizens, haunted by the idea of losing their savings, flocked to banks to withdraw gold. This frenzy drained banks of their financial reserves at an alarming rate, intensifying the strain on an already fragile system. Public trust in financial institutions plummeted, creating a vicious cycle of withdrawals and increasing instability. So dire was the situation that the New York Stock Exchange, the heartbeat of American commerce, shuttered its doors for ten days in a bid to prevent further financial hemorrhaging – a move without precedent in its history.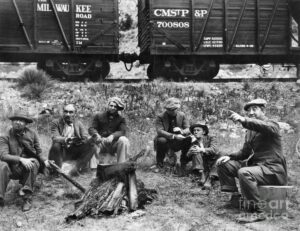 Economic & Social Impact
Across the nation, businesses – both large and small – grappled with bankruptcy, leaving countless ventures in ruins. Industrial engines that once hummed with activity now lay silent, with many factories suspending operations. The railroad industry, the pride of the post-Civil War era, faced severe retrenchment, with numerous projects halted mid-track. As companies folded, the specter of unemployment loomed large. Cities witnessed a rise in public demonstrations as disgruntled workers raised their voices against perceived injustices. From picket lines to organized rallies, the discontent was palpable.
Within this backdrop emerged the 'tramp culture.' Unable to find stable employment in urban centers, many took to the roads, journeying from town to town, often on foot or hitching rides on trains, seeking any work they could find. This transient lifestyle, born out of economic necessity, became emblematic of the era's struggles. Furthermore, the widespread economic malaise catalyzed several political movements. Foremost among them were the Populists and the Greenback Party. Both movements, albeit with varying ideologies, sought to challenge and reshape the established financial orthodoxy of the time.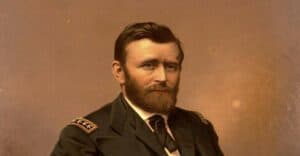 The Response: Government and Private Sector
Initially, the federal government adopted a posture of reticence, perhaps hoping the crisis would self-correct. However, as the gravity of the situation became undeniably apparent, decisive action was deemed necessary. President Ulysses S. Grant, alongside his Treasury, embarked on a mission to stabilize the financial system. Their strategy centered on purchasing gold, aiming to bolster the eroding reserves.
The situation also sparked a fervent national debate. On one side stood staunch proponents of the gold standard, while on the other, advocates for bi-metallism vociferously made their case. This discourse encapsulated the broader public sentiment – one of uncertainty, apprehension, and hope. Simultaneously, the private sector wasn't merely a passive observer. Financial institutions, business magnates, and even everyday entrepreneurs sought innovative ways to weather the storm, implementing measures to restore public trust and stabilize the economy.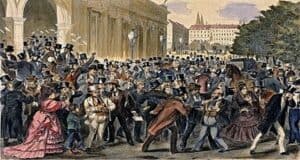 Lessons and Parallels
While the Panic of 1873 was a distinctive chapter in economic history, it wasn't without its precedents or subsequent echoes. Each crisis brings with it a set of unique circumstances and triggers. However, underlying threads remain consistent – the perils of unfettered speculation, the ramifications of ill-advised governmental policies, and the intricate, often fragile web of a globalized economy. The Panic of 1873 serves as a testament to these recurring themes, offering timeless lessons for policymakers and the public alike to proceed with caution as the spirit of speculation inevitably resurfaces.

Conclusion
The Panic of 1873 was not just a financial crisis but a moment of national introspection. Its reverberations lasted for years, shaping the nation's financial and political landscape. Yet, as history often shows, the American economy demonstrated remarkable resilience and adaptability.
In reflection, the Panic reminds us of the euphoria of booms, the desolation of busts, and the timeless truth that markets, like crowds, can sometimes lose their sense of rationality. It stands as a testament to the ever-present need for vigilance in our financial endeavors.
If you have any questions give us a call!
Have a great weekend!




Source: Ballentine Capital Advisors 
---
Golf Tip of the Week
The Best Golfing Quarterbacks (And Quarterback Golfers) Of All Time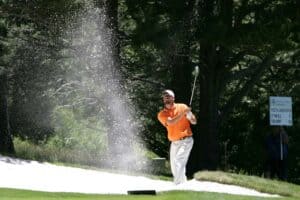 The 2023-24 NFL season is upon us. Pretty soon Patrick Mahomes will be enjoying the bye week on his new backyard par 3 while Aaron Rodgers samples the elite tracks of the Tri-State. Justin Herbert seems poised to take his Callaway endorsement to new heights while Trevor Lawrence will hope to celebrate a Super Bowl championship just down the street at TPC Sawgrass this spring.
All are superstar NFL quarterbacks who moonlight as golf sickos, but their handicaps don't quite put them on our list of the greatest golfing quarterbacks of all time. These are elite of the elite. The scratch players. The guys who have at least attempted to compete at the highest level, only to learn just how difficult it is do to so. What you'll find below is not exactly a pure ranking, but a QB golfers superlatives list that may or may not be ranked from best QB golfer ever to 11th-best. Much like Trent Dilfer's "Elite 11" QB camp, these are a very select few that have had plenty of success both on the football field and on the golf course.
QB who actually cashed checks on the golf course – John Brodie
Unlike a certain someone we'll get to shortly, Brodie actually earned some money on the golf course, albeit on the Senior Tour. Between 1985 and 1998, the former San Francisco 49er had one win (1991 Security Pacific Senior Classic) and 12 top 10s, amassing $735,000 in earnings along the way. He also competed in two U.S. Opens, once in 1959 and once in 1981, missing the cut both times.
QB who took the hint – Tony Romo
Count us among those who are rooting for Romo to have a successful golf career. After more than a few 76-83 — MCs playing against the big dogs, however, Romo found his level in 2022, winning the American Century Championship in Tahoe.
QB who might actually be better at golf than football – Derek Anderson
Anderson is one of the top two quarterbacks in the history of Oregon State's program, and he once led the Browns (yes, the Browns!) to a 10-6 record in 2007. So no, we're not actually suggesting he's better at golf. But outside of the '07 season, he was a career backup, better known for a post-Monday Night Football outburst than any on-field highlights. On the golf course though, Anderson, a scratch player, has plenty of highlights, including a 65 at Grayhawk Golf Club in Scottsdale, AZ. and an even-par round at Pinehurst No. 2. His goal is to win the U.S Mid-Am and earn an invite to Augusta. If he pulls that off, then his being a better golfer than a football player is officially a conversation we need to have.
QB who almost burned down Pebble Beach – Matt Ryan
For a guy named Matty Ice, he sure knows how to catch fire on the links. At the 2019 AT&T Pebble Beach Pro-Am, the 2016 NFL MVP upstaged Tony Romo with a wild front nine during Saturday's third round. At the par-4 first, Ryan holed out from off the green for birdie, then nearly made an albatross at the par-5 second, settling for a tap-in eagle. He and partner Russell Knox went on to shoot 65 that day, eventually finishing in a tie for fourth.
QB you forgot was a scratch player – Sam Bradford
Honestly, you may have also forgotten Bradford was an NFL quarterback too. The oft-injured Heisman Trophy winner only played all 16 games twice in his nine-year career, which appears to be over. After signing a two-year contract with the Arizona Cardinals in 2018, Bradford played in just three games before being replaced by Josh Rosen. Then he was released in November. He remains unsigned, which has given him plenty of time to work on his golf game. As this 2009 Golf Digest story shows, Bradford is sneaky good, and by sneaky we mean he is a scratch but has no formal handicap.
QB who would be pro if every tour event was at Tahoe – Mark Rypien
Romo could certainly fall in this category as well, and even former Falcons quarterback Chris Chandler, who won at Tahoe in 2007, could make a case. But nobody has feasted there like Rypien has. A two-time Super Bowl champ with the Redskins, Rypien also has two victories at the American Century Championship, and they came nearly 25 years apart. He won the inaugural celebrity event in 1990, then again in 2014, and has finished in the top 10 in the event nine other times. Talk about longevity.
QB who played on his college golf team – Brandon Weeden
After setting numerous Oklahoma State passing records (which Mason Rudolph eventually broke), Weeden walked on to the Cowboys golf team in 2011. This was now the third sport Weeden proved to be very good at, as the gunslinger had been drafted by the New York Yankees as a pitcher nine years earlier. In 2012, he got selected 22nd overall in the NFL Draft by the Browns, putting any golf dreams on hold. Weeden, a scratch player, has previously said he'd love to make a run on the PGA Tour Champions someday. We'll check back in 14 years.
QB who doesn't get the golf respect he deserves – John Elway
Maybe it's just us, but it feels like Elway doesn't garner mention anytime the topic of golfing quarterbacks comes up. It's definitely us! Elway was conspicuously left out of our top athlete golfer ranking from 2018. Probably an honest mistake on our part. The Broncos legend is a low-digit handicapper who attempted to qualify for the U.S. Senior Open in 2018. His goal was to break 80 that day, but he wound up shooting 80 on the nose. Many of us can relate.
QB who knows how to have a good time on the course – Johnny Manziel
In a 2014 Golf Digest cover story, Johnny Football said he was still hovering around a 7 or 8 handicap. But now that his football career is seemingly over, he's had time to get down to near scratch, though he's still not as elite as some of the guys mentioned above. What he's likely elite at is having a very good time on the golf course. And that's all that really matters, right? Johnny would make our foursome any day.
QB who probably has a better time on the course than Johnny Manziel – Ben Roethlisberger
Big Ben has hovered between a scratch and a 7 handicap, and it sounds like he's leaning more towards the former these days. Recently, FOX NFL reporter Jay Glazer claimed No. 7 had spent the offseason drinking beer and playing golf, which literally seems to be par for the course for the two-time Super Bowl champ.
QB who could be the next Tahoe legend – Case Keenum
The most prolific passer in college football history could also become quite prolific in the celebrity event if he keeps it up. In his first appearance in 2018, the former Houston Cougar finished in a tie for 24th out of the 92-man field. When he returned in 2019, Keenum posted rounds of 76, 73 and 74 to finish in solo sixth. He plays to a 2 handicap, which will be tough to improve upon as long as he's still grinding in the league. But after retirement, Tony Romo better watch his back.




Tip adapted from golfdigest.comi
---
Recipe of the Week
The Best Pumpkin Bread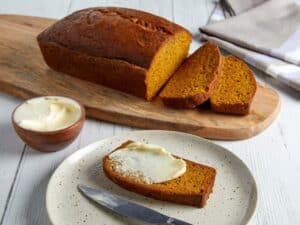 2 Loaves
Ingredients
Unsalted butter, for the pans
3 1/2 cups all-purpose flour, plus more for the pan (see Cook's Note)
3 cups sugar
1 cup vegetable oil
4 large eggs, lightly beaten
One 15-ounce can pure pumpkin puree
2 teaspoons fine salt
2 teaspoons baking soda
1 teaspoon baking powder
1 teaspoon ground nutmeg
1 teaspoon ground allspice
1 teaspoon ground cinnamon
1/2 teaspoon ground cloves
2/3 cup water
Instructions
Preheat oven to 350 degrees F. Butter and flour two 9-by-5-inch loaf pans.
Whisk together the sugar and oil in a large bowl until well combined. Whisk in the eggs and pumpkin until combined.
Combine the flour, salt, baking soda, baking powder, nutmeg, allspice, cinnamon, and cloves in a medium bowl and whisk until well combined. Add half the dry ingredients to the pumpkin mixture and stir to combine. Add half the water and stir to combine. Repeat with the remaining flour and water.
Divide the batter between the prepared loaf pans. Bake until cake tester comes out clean and the loaves are golden brown, about 1 hour. Let the loaves cool in the pans on a wire rack for 10 minutes. Remove from the pans and let cool completely about 1 hour.
Cook's Note
When measuring flour, we spoon it into a dry measuring cup and level off the excess. (Scooping directly from the bag compacts the flour, resulting in dry baked goods.)
Recipe adapted from Foodnetwork.comii
---
Health Tip of the Week
Pepper Power: Nutrition And Other Benefits
Peppers have a lot going for them. They're low in calories and are loaded with good nutrition. All varieties are excellent sources of vitamins A and C, potassium, folic acid, and fiber. Plus, the spicy ones liven up bland food, making it more satisfying.
Peppers come in all sizes and colors. Some pack heat. Others are sweet. You can get them fresh, frozen, dried, or canned.
You've seen bell peppers — green, orange, yellow, and red — in the grocery store or a salad bar. Red peppers pack the most nutrition because they've been on the vine longest.
Green peppers are harvested earlier before they have a chance to turn yellow, orange, and then red. Compared to green bell peppers, the red ones have almost 11 times more beta-carotene and 2 times more vitamin C.
Types of Peppers
All peppers are part of the capsicum family. They got their start in Latin America thousands of years ago. Peppers include:
Capsicum annum. These include bell peppers and jalapenos.
Capsicum frutescens. The Tabasco pepper is in this group. 
Capsicum chinense. These include the intensely hot habanero and Scotch bonnet peppers
Capsicum baccatum (the aji pepper)
Capsicum pubescens (the rocoto pepper). 
Peppers are found all over the world and treasured in a wide variety of cuisines. Some are known for their fiery heat. Others are sweet enough to eat as a snack. Peppers are so universally enjoyed that they've even been grown on the International Space Station.
You may have heard about capsaicin, a compound found in chili peppers that may help with some pain, often in a cream or a patch. 
And if you're thinking of the black pepper that you grind up as a spice, that doesn't come from a capsicum. It comes from the berries (or peppercorns) of a vine called Piper nigrum.
Bell Pepper Health Benefits
Bell peppers are low in calories and high in nutrients, including several important vitamins, including vitamin C. You'll get 120 milligrams of vitamin C from just 1 cup of chopped green bell pepper. Vitamin C helps your body absorb iron and heal wounds. It may also play a role in preventing a variety of conditions, including heart disease and cancer, as part of a healthy diet and lifestyle. 
Other health benefits of bell peppers, within the context of a healthy lifestyle, may include:
Lower blood pressure. Several large studies show that people with high levels of vitamin C in their bodies (based on the vitamin C concentration in their plasma) are less likely to have high blood pressure, especially if they have a high-quality diet. 
Good digestive health. Despite only having 30 calories in every 1-cup serving, raw bell peppers contain 2.5 grams of dietary fiber. Dietary fiber helps promote digestive health by adding bulk to your stools. This makes them easier to pass. A diet high in fiber may also mean you're less likely to get hemorrhoids.
Reduced risk of diabetes. High-fiber foods, such as bell peppers, slow down how quickly sugar is absorbed into your bloodstream. Vitamin C may also help reduce blood sugar levels in people with type 2 diabetes, though this was studied with supplements and not with bell peppers. Keep in mind that your overall food pattern matters more than any one particular food.
Pepper Prep
Peppers are very versatile. You can add raw ones to everything from dips and salads to pasta dishes.
Roasting peppers is easy, too. Cut a small slit near the stems. Grill or broil until blackened. Then let them steam by zipping into a plastic bag for about 15 minutes before scraping off the skin and removing the stem, core, and seeds.
Toss red peppers in a stir-fry for a hit of color, too.
When working with hot peppers, remember that they can burn your skin and eyes. Wear rubber gloves while you're handling them, keep your hands away from your face, and wash your hands as soon as you're done. Keep a glass of whole or low-fat milk nearby, too. Capsaicin won't dissolve in water. You need some fat to neutralize it.
Peppers for Weight Loss? 
If you've heard the claim that peppers make you lose weight, you may want to take it with a grain of salt.
Capsaicin: Found in hot peppers (including chilis and cayenne powder), capsaicin has been shown to boost metabolism as well as suppress appetite, at least slightly. Over time, this effect might give you an extra edge when it comes to weight loss. But it won't melt the pounds away.
Research shows that people who don't typically eat spicy foods are most likely to benefit from turning the heat up a notch. Capsaicin seems to affect metabolism by raising body temperature, which uses up more energy.
Dihydrocapsiate (DCT): A cousin of capsaicin, DCT is found in a strain of mild, sweet chili peppers, sometimes called CH-19 peppers.
Researchers found that DCT in capsule form acts similarly to capsaicin, minus the fiery sensation. In a small study, people who took it while following a high-protein, very low-calorie diet for a month burned about an extra 100 calories per day. However, they didn't lose more weight than people taking a placebo pill, perhaps because their diet was already very low in calories. Larger, longer studies are needed to check the results.
Piperine: Found in dried black pepper, piperine may prevent new fat cells from forming. The catch: Scientists have only studied it in mouse cells, so there's no proof that it will work in people. If you like black pepper, feel free to flavor your food with it. It's calorie-free and won't raise your blood pressure. Just don't count on it to slim down.


Tip adapted from WebMD.comiii 
---
Copyright (C) 2021.  Ballentine Capital Advisors.  All rights reserved.
Our mailing address is:  
Ballentine Capital Advisors
15 Halton Green Way
Greenville, SC 29607
unsubscribe from this list    update subscription preferences  
Disclosure:
Ballentine Capital Advisors is a registered investment adviser. The advisory services of Ballentine Capital Advisors are not made available in any jurisdiction in which Ballentine Capital Advisors is not registered or is otherwise exempt from registration.
Please review Ballentine Capital Advisors Disclosure Brochure for a complete explanation of fees. Investing involves risks. Investments are not guaranteed and may lose value.
This material is prepared by Ballentine Capital Advisors for informational purposes only. It is not intended to serve as a substitute for personalized investment advice or as a recommendation or solicitation or any particular security, strategy, or investment product.
No representation is being made that any account will or is likely to achieve future profits or losses similar to those shown. You should not assume that investment decisions we make in the future will be profitable or equal the investment performance of the past. Past performance does not indicate future results.
Advisory services through Ballentine Capital Advisors, Inc.
i https://www.golfdigest.com/story/the-best-golfing-quarterbacks–and-quarterback-golfers–of-all-t
ii https://www.foodnetwork.com/recipes/pumpkin-bread-recipe-1957866
iii https://www.webmd.com/diet/peppers-health-benefits