Introduction
Welcome to our in-depth exploration of one of the most critical components of investing – diversified portfolios. Ever wondered why we hear the phrase 'don't put all your eggs in one basket' so often?
Well, this saying is particularly pertinent to investing. It underpins the essence of a diversified portfolio, which involves spreading investments across various types of assets to mitigate risk and potentially enhance returns.
In this article, we will delve into the various facets of diversification, the key elements to include in your portfolio, different strategies, and common mistakes to avoid.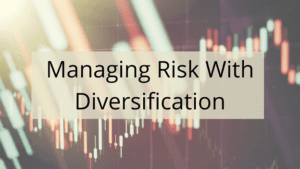 Understanding Diversification
The primary goal of diversification is to reduce risk by investing in a variety of assets that will react differently to the same economic event or conditions. The logic is simple – not all investments perform well at the same time.
Some might rise when others fall, and vice versa. This behavior cushions your portfolio from significant losses, mitigating the risk and volatility of your portfolio. Historically, diversified portfolios have demonstrated more stable returns over time when compared to individual investments, so the strategy of diversification has a long and distinguished track record.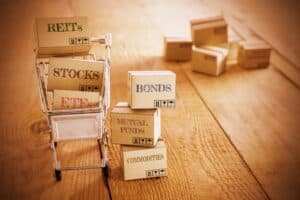 Key Elements of a Diversified Portfolio
Diversifying your portfolio involves investing across multiple asset types, thus reducing exposure to any single investment. Here's a deeper look at the key elements:
Stocks: Stocks represent ownership in a company and are usually a key component of diversified portfolios. They are classified by size – large-cap (large market capitalization), mid-cap, and small-cap. Also, geographical diversification through domestic and international stocks can provide exposure to different economies, reducing the risk tied to any one region. However, the potential for high returns comes with increased volatility.
Bonds: Bonds are essentially loans made by an investor (you) to a borrower (usually a corporation or government). They offer a steady stream of income through interest payments and tend to be less risky than stocks. Diversity in bonds can be achieved through government bonds (less risky), corporate bonds, and high-yield bonds (more risky but with higher returns).
Cash or Cash Equivalents: Cash and cash equivalents are the most liquid assets, like money market funds or Treasury bills. While they provide stability and readily available funds, their returns are often lower compared to stocks or bonds. Having a certain amount of liquid assets – or dry powder as it's often called – can aid in rebalancing or taking advantage of market downturns. If you're fully invested, you can't capitalize on great buying opportunities.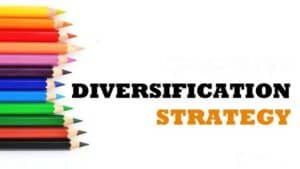 Diversification Strategies
Strategies for building a well-diversified portfolio include:
Asset Allocation: The principle of diversification begins with asset allocation. This involves dividing your investments among the different asset classes – stocks, bonds, real estate, cash, and others – based on your investment goals, risk tolerance, and investment horizon.
Dollar-Cost Averaging: This strategy involves consistently investing a fixed amount in the same assets at regular intervals, regardless of market conditions. This reduces the risk of making a large investment at the wrong time and helps inventors secure a good average price without the headache of timing the market.
Rebalancing: Over time, some of your investments may do well and others not so well, altering your original asset allocation. Rebalancing is the process of realigning the proportions of your portfolio to maintain your desired risk/return profile. It can also help to improve overall performance as good and bad investments revert to their means
Diversification Across and Within Asset Classes: While diversification is most commonly referenced to spread risk across asset classes, it's equally as important to diversify within asset classes. For example, within the class of stocks, you could diversify across sectors like technology, healthcare, or energy.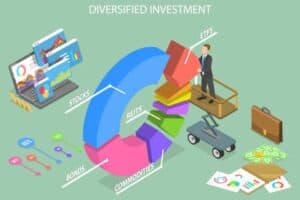 Diversification for Different Life Stages
Your stage of life greatly influences your risk tolerance and investment strategy. Younger investors often have a higher risk tolerance and longer investment horizon, enabling them to take on riskier assets for potentially higher returns.
Mid-career investors may seek a balance of growth and safety, while those nearing retirement usually focus on capital preservation and income generation.
Common Mistakes in Diversifying Portfolios
In your quest for diversification, watch out for these common pitfalls:
Over-Diversification: Having a wide variety of investments can protect against risk, but excessive diversification – cleverly coined "diworsification" – may dilute potential returns and make the portfolio harder to manage.
Neglecting to Rebalance: As market conditions change, so too will your portfolio's asset allocation. Regular rebalancing is necessary to maintain your desired risk level and investment strategy. Whether it's monthly, quarterly, or yearly, it's important to find a rebalancing strategy that works for you.
Ignoring Taxes and Fees: Investment taxes and fees can significantly eat into your returns. It's crucial to understand and factor them into your investment decisions so you aren't riddled with any excessive and unwanted surprises.
Not Reassessing Risk Tolerance and Life Changes: Major life events or shifts in your financial goals should prompt a reassessment of your risk tolerance and, consequently, your portfolio. There is no one-size-fits-all rule, but periodically evaluating your risk tolerance and long-term goals is very important.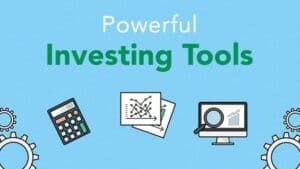 Tools and Resources for Building Diversified Portfolios
Thanks to the abundance of tools and resources available across the industry, creating a diversified portfolio is now more accessible than ever. We provide comprehensive financial planning, including thoughtful portfolio diversification.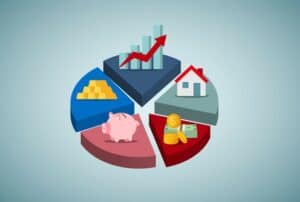 Conclusion
To briefly summarize, a diversified portfolio is a powerful tool in your investing arsenal. And more importantly, it's a methodical approach with a long history of success in effectively balancing risk and reward.
Remember, diversification is not a one-size-fits-all strategy; it must be tailored to your individual financial goals, risk tolerance, and investment horizon. Just keep learning, stay disciplined, and regularly review your portfolio.
As always, if you have questions give us a call.
Have a great weekend!




Source: Ballentine Capital Advisors 
---
Golf Tip of the Week
What is 'Panic Practice'? A U.S. Open Tradition Unlike Any Other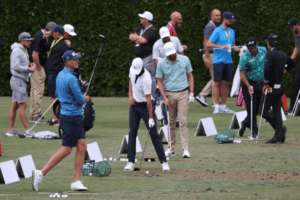 Brooks Koepka takes off his hat, ruffles his hair, and exhales loudly as he steps off the Los Angeles Country Club range.
Wyndham Clark, who trails the tournament leader Rickie Fowler by one stroke through 36 holes, has also ditched his hat. He's still hitting golf balls, though. Sending iron shots over an alignment stick that's angled into the ground, making sure they didn't start too far to the right.
Matt Fitzpatrick is another player still there.
The defending U.S. Open champion made a hole-in-one on Los Angeles Country Club's 115-yard 15th hole on Friday. Most golfers would be in the bar celebrating by now. But Fitzpatrick is on the range, hitting drivers, unintentionally sending them left and right. The ordinarily-accurate Englishman ranks last in driving accuracy of all players who made the cut. He and his caddie, Billy Foster, dissect each drive after he hits it. The pair know it's an issue.
"Every other aspect of my game is pretty decent, I just can't get the driver going," he says. "I feel like if I get the driver going I can shoot a really good score."
It's Friday afternoon, and the range is packed with players whose second round is already over. For some of these players, so is their tournament. The range is their last stop before they catch a flight home. And just as the course empties and then fills as the afternoon wave flows into the golf course, the driving range will once again, too.
There's perhaps no tournament where pros clock more hours on the driving range than the U.S. Open. The U.S. Opens — even the easier ones, as the 2023 contest has been accused of being — are one of the few events that players can't play on their own terms. It's not about hitting good shots, it's about avoiding getting punished for bad ones. Or unlucky ones. It's about plodding, not attacking. Players don't get to take the lines they want in the U.S. Open. They go where the course steers them.
"The fairways aren't that narrow, but they feel narrow because you know if you miss them you're screwed," one player says, driver in hand on range. His caddie tosses him another ball He tees it up quickly, then sends it into the distance.
Avoiding 'panic practice'
It transforms the driving range into a much-needed pressure valve for players during U.S. Open week. There's a practical element, of course, but also a large irrational one. It's essentially golfers' form of therapy—the place they go to make sense of it all.
"It's really just for peace of mind," Golf Digest Top 50 coach Tony Ruggiero says. "Players want to resolve what questions they have from the round. Sometimes it's just to blow steam, to be honest."
The problem coaches become acutely aware of during these weeks is the driving range becoming a crutch for players. They don't wield enough power to prevent their players from going at all, but players and coaches often reach a kind of truce. Go the range, but for a specific purpose.
For Ruggiero and his student in the field—amateur Ben Carr, who made the cut on the number—that meant setting a time limit to their post-second round session.
"We counted out 25 balls and did three things," he said. "We reconfirmed what we were working on, we answered the couple questions about what his misses were caused by, and we came up with a feel to put in play for the weekend."
Setting that structure — that clear purpose for why you're choosing to practice — is essential for amateurs and professionals alike, coaches said. When you don't have it, it can let what would be a productive practice session slide into what golf performance expert Jason Goldsmith, author of the book "Take Charge of You," calls "panic practice."
"Panic practice can be incredibly counterproductive," Goldsmith, who has worked with Justin Rose and Jason Day, among others, says. "Players are using the range to find an immediate solution to a problem they can't solve immediately…that can send them into a downward spiral with no end that leaves them mentally and emotionally drained."
The 2020 U.S. Open champion Bryson DeChambeau admits he may be guilty of the odd bout of panic practice. DeChambeau says for him, it's all about the resolution. Going to sleep with an understanding of what went wrong and a feeling to help him put it right. He doesn't give himself ball limits though. He adopts an as-many-as-it-takes mindset, for better or for worse.
"I'm working through some stuff with my swing," he says. "I'm so close to getting it. I feel like I can reach out and touch it. I had it for a bit, but now I need to find it again."
Finding answers
DeChambeau and his team were indeed on the driving range on Friday evening, after the afternoon wave rolled through. He called time on his post-round practice session about 7:30 PT, leaving one man alone on the range: Scottie Scheffler.
Scheffler, the World No. 1 who is currently five back after 36 holes, was alternating shots between two different TaylorMade Stealth 2 Plus drivers. Both drivers were the same make, model, specs, shaft, grip; everything. One was brand new, and the other had some miles on the clock. They were good miles, by all accounts: he won the Players with that driver and rose to World No. 1. But rattled by a drive on LACC's 18th hole which flew some 30 yards left of the fairway, Scheffler wanted something fresh to bring back his trusted fade.
"I can feel a duck hook," Scheffler says.
Still deciding between the old and new, Scheffler hits one more. As he brings the club into his follow-through, Scheffler smoothly recoils and releases the club into the air. Scheffler and his caddie, Ted Scott, chuckle to each other. A big screen illuminating the darkening driving range confirms the decision: The ball traveled 15 yards left, and about 12 feet lower than his standard, stock fade. A small miss for the rest of us, but one which feels like an ocean to professionals trying to win a U.S. Open.
"You've hit this thing so good for so long you've hit all the good shots out of it," one of his team members said.
Scott fake sobs as he inserts the new gamer into Scheffler's bag, and the pair chuckle again. Some semblance of resolution found, and the two walk off the driving range. Leaving the place which feels like home, and voyaging into a future that remains unknown.




Tip adapted from golfdigest.comi
---
Recipe of the Week
Slow-Cooker Barbecue Ribs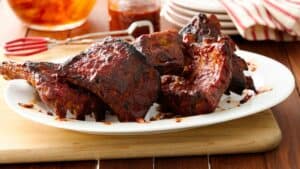 6 Servings
Ingredients
One 6-ounce can of tomato paste
1/3 cup packed dark brown sugar
1/4 cup apple cider vinegar
1 tablespoon chili powder
1 tablespoon ground mustard seeds
2 teaspoons granulated garlic
2 teaspoons smoked paprika
2 teaspoons Worcestershire sauce
Kosher salt and freshly ground black pepper
3 racks of baby back ribs (about 3 pounds)
Oil, for grilling
Instructions
Whisk the tomato paste, brown sugar, vinegar, chili powder, mustard, garlic, paprika, Worcestershire, 1 1/2 tablespoons salt and 1 teaspoon pepper in the insert of a 6-quart slow cooker until smooth. Cut each rack of ribs in half and add to the slow cooker. Use your hands to rub the sauce onto the ribs. Cover with a lid and cook on low heat until tender, about 4 hours.
Gently transfer the ribs to a baking sheet and cool for at least 20 minutes; this will help maintain the shape of the ribs as they grill. Whisk the sauce at the bottom of the slow cooker until smooth. Reserve 1/4 cup of the sauce to brush onto the ribs and save any remaining sauce to serve on the side (it will thicken as it cools).
Preheat a grill or grill pan to medium-high heat. Lightly oil the grates. Grill the ribs, top-side down, until lightly charred in parts, 3 to 5 minutes. Flip, brush the top side of the ribs with the reserved barbecue sauce and grill until the underside of the ribs are lightly charred in parts, 3 to 5 minutes. Remove to a platter and serve immediately with the extra barbecue sauce on the side.
Cook's Note
Alternatively, broil the ribs to char. Preheat the broiler with a rack set 4 inches from the heat source. Transfer the cooked ribs to a foil-lined baking sheet. Brush the top of the ribs with the reserved sauce and broil top-side up, until browned and bubbling, 3 to 5 minutes.

Recipe adapted from Foodnetwork.comii
---
Health Tip of the Week
How to Choose the Right Sun Protection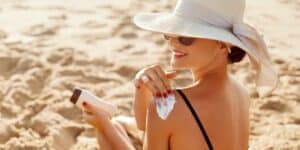 Spend too long in the sun, and you're likely to end up with sun damage like wrinkles and age spots. The right protection can keep those blemishes at bay and guard against skin cancer. It can even help your skin heal if you're already sunburned.
But walk down any drugstore aisle, and you'll see a lot of different sun protection products. How do you know which one is the best way to save your skin?
Top Sun-Safety Tips
There are a few basic rules to follow to keep your skin healthy and protected from the sun's rays:
Use a broad-spectrum sunscreen that protects against both UVA and UVB rays every day of the year. It should have an SPF of at least 30. Apply Generously. A shot glass amount should go on each body area (face, neck, chest, etc).
Limit your time in the sun between 10 a.m. and 4 p.m., when UVB rays are strongest.
Reapply sunscreen at least every 80 minutes, and more often if you're swimming or sweating a lot.
Wear a broad-brimmed hat, broad-spectrum sunglasses that block UVA and UVB rays, and clothes (long sleeves, trousers) to cover skin that's exposed to the sun.
All About Sunscreen
There are different types of sunscreens with different ingredients and levels of protection. Know that there are no wrong picks. Dermatologists often say that the best sunscreen is the one you will use.
Broad-spectrum: This means that a product helps filter two types of sunlight: UVA, which causes damage like fine lines and wrinkles and can lead to skin cancer, and UVB, which causes burns and can also lead to skin cancer. This term should be on the label of any sunscreen you use.
Water resistant: Sunscreens with this claim on the label will keep working for 40 to 80 minutes after you get wet. Each product has its level of water resistance, so read the labels and follow instructions for how often to reapply.
SPF: This is a measure of how well the product filters out UVB rays. The higher the SPF, the more protection it generally offers from sunburn. No matter what SPF you use, you have to put more on at least every 2 hours.
Wipes, powders, and sprays: The FDA hasn't decided yet whether wipes, powders, body washes, and shampoos that have sunscreen are effective, so traditional lotions, creams, and ointments may be a better bet for now. As for sprays, some scientists think that if you breathe them in as you spray, it could be risky. The FDA is looking into that question, too. But you don't have to spray them on your face to use them. Try spraying these products into your hands first, then wiping them on your face and body to make sure you're using enough. 
Sunscreen ingredients: There are 17 active ingredients that the FDA has approved for use in sunscreens. Over the years, some groups raise questions about the safety of a few common ingredients, like oxybenzone. But the American Academy of Dermatology says that preventing sunburn and skin cancer outweighs any unproven worries about those health hazards. The Skin Cancer Foundation also says the ingredients are safe and effective when you use them as directed.
Who should use it: Everyone over 6 months old. Shade and clothing are the best ways to shield babies younger than that from the sun.
Sunscreen does expire: Look for an expiration date on the bottles you buy. If they don't have one, mark the month and year of purchase and toss it after 3 years. The FDA requires all sunscreens to work for at least that long.
Other Ways to Shield Your Skin
Shade: UVB rays can bounce off sand, water, and concrete around you, so sitting under an umbrella or tree does not offer full protection from the sun. The bigger the umbrella or the denser the leaves in the tree about you, the better. Don't rely on the shade to fully protect you.
Hats: Hats with brims at least 3 inches wide, all around, will help protect your nose, cheeks, and neck, equal to about an SPF of 5. They also help protect your scalp.
Clothing: Our clothes are often the best sun protection. And the more skin you cover, the better. Tightly woven fabrics like twill, denim, or spandex filter out more UV rays than "open-weave" fabrics like linen. Darker clothes also block more rays than lighter ones. When you'll be in the sun for a long time, consider investing in clothing with UPF (ultraviolet protection factor) that states exactly how well it can protect you. A thin white T-shirt, for example, has a UPF of about 5, while a special spandex "sun shirt" or rash guard made especially for outdoor, active wear may have a UPF of 50 or more. Use UPF (Ultraviolet Protection Factor) clothing. Or use Rit Sun Guard Laundry Treatment UV Protectant.
Report suspicious skin lesions to a doctor at once, especially if you have abnormal-looking moles or a family history of melanoma. Have a yearly mole check.



Tip adapted from WebMD.comiii 
---
Copyright (C) 2021.  Ballentine Capital Advisors.  All rights reserved.
Our mailing address is:  
Ballentine Capital Advisors
15 Halton Green Way
Greenville, SC 29607
unsubscribe from this list    update subscription preferences  
Disclosure:
Ballentine Capital Advisors is a registered investment adviser. The advisory services of Ballentine Capital Advisors are not made available in any jurisdiction in which Ballentine Capital Advisors is not registered or is otherwise exempt from registration.
Please review Ballentine Capital Advisors Disclosure Brochure for a complete explanation of fees. Investing involves risks. Investments are not guaranteed and may lose value.
This material is prepared by Ballentine Capital Advisors for informational purposes only. It is not intended to serve as a substitute for personalized investment advice or as a recommendation or solicitation or any particular security, strategy, or investment product.
No representation is being made that any account will or is likely to achieve future profits or losses similar to those shown. You should not assume that investment decisions we make in the future will be profitable or equal the investment performance of the past. Past performance does not indicate future results.
Advisory services through Ballentine Capital Advisors, Inc.
i https://www.golfdigest.com/story/panic-practice-driving-range-scottie-scheffler-2023-us-open-video
ii https://www.foodnetwork.com/recipes/food-network-kitchen/slow-cooker-barbecue-ribs-3364934
iii https://www.webmd.com/melanoma-skin-cancer/how-to-choose-susncreen