As the leaves begin to change and the air turns crisp, another annual event is on the horizon: Medicare Open Enrollment. Whether you're new to Medicare or a seasoned veteran, our comprehensive guide is here to help you navigate these waters with ease.
Medicare Open Enrollment is that special time of the year when you, the Medicare plan enrollee, get to take a closer look at your existing coverage and ponder if a change is needed. This year, the magic dates are from October 15 to December 7. Mark your calendar!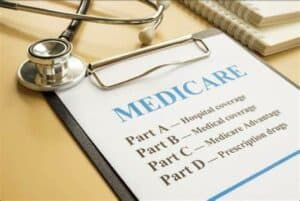 Understanding Medicare Parts
To make informed decisions, it's crucial to know what each Medicare part covers:
Part A (Hospital Insurance): Covers inpatient hospital stays, nursing facility care, hospice care, and some home health care.
Part B (Medical Insurance): Covers certain outpatient care, preventive services, doctor's services, and some home health care.
Part C (Medicare Advantage): An alternative way to get your Medicare coverage which bundles Part A, Part B, and often Part D.
Part D (Prescription Drug Coverage): Adds prescription drug coverage to Original Medicare and some other plans.
Medicare Changes for 2024
For those of you wondering what's new for 2024, here are the headlines:
Part A: A word of caution here. There will be marginal hikes in premiums, deductibles, and coinsurance. But a heads-up is always better than a surprise, right?
Part B: Every year the federal government can adjust your Medicare Part B premium. In 2023, new enrollees paid at least $164.90/month, but this will likely change for 2024. Some people pay more based on their household gross income.
Part D: Once you exit the Donut Hole (coverage gap), the 5% cost-sharing will be eliminated. This means you will not have out-of-pocket costs for covered drugs for the remainder of the year. For 2024, CMS projects a 1.8% decrease in the average Part D premium, dropping from $56.49 in 2023 to $55.50. This reduction is due to premium stabilization, capping annual increases at 6%, and enhanced Part D benefits.
Four Reasons to Change Your Medicare Advantage Coverage
Thinking about a change in scenery with your Medicare Advantage plan? You're not alone. Here are some popular reasons why some folks consider a switch:
Medication Mishaps: Your current plan doesn't cover essential medications.
Hospital Hurdles: Struggling to find a hospital in your plan's network.
New Year Surprises: Premiums or benefits have changed since the New Year.
Personal Preference: Sometimes, a change feels right. Trust your judgment!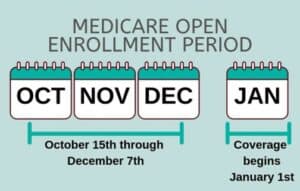 The Crucial Enrollment Periods
The truth about Medicare is that timing is key. Let's break this down:
Initial Enrollment: Beware of the 7-month Initial Enrollment Period. Overlooking this can lead to monthly late enrollment penalties for Part B and potential fines for Premium-Part A. With premium-free Part A, coverage kicks in the month you turn 65. Part B, however, varies based on your enrollment month. Additionally, during the pandemic, Medicaid didn't disenroll individuals, causing some to miss their Medicare Initial Enrollment. If they don't enroll within the 63-day special period after leaving Medicaid, they risk lifelong penalties upon Medicare registration.
General Enrollment Period: Second-guessing your Medicare Advantage choice? The Medicare Advantage Open Enrollment Period (MAOEP) from January 1 to March 31 gives you another opportunity. Just know that coverage starts the month after enrollment.
Special Enrollment Periods (SEP): SEPs are lifelines provided under specific circumstances. Whether you've lost Medicaid coverage, been misled, faced a natural disaster, or are reintegrating after incarceration, SEPs are here for you.  Starting January 1, 2024, if you sign up for Part A and/or Part B during a Special Enrollment Period because of an exceptional situation, you'll have 2 months to join a plan or switch to another plan. If you've been on or left job-based insurance, note that your SEP starts the month after your Initial Enrollment Period ends and lasts for 8 months after the end of your job-based plan. And remember, COBRA does not alter this timeline. TRICARE members, watch your mailboxes; Social Security will inform you about your enrollment period.
However, certain circumstances like the end of COBRA, retiree coverage expiration, missing the 8-month timeline, having or losing Marketplace coverage, or diagnosis with End-Stage Renal Disease (ESRD) won't qualify you for a SEP.
Joining Health or Drug Plans
For those considering a Medicare Advantage Plan (Part C), ensure you have both Part A and Part B. However, if you're looking at a Medicare drug plan (Part D), either Part A or Part B is sufficient.
Medigap Plans and Open Enrollment
Medigap plans follow their rhythm.  Their open enrollment doesn't synchronize with Medicare's. They are "guaranteed issue" mainly during your first enrollment period and in some unique situations. If you're more than six months into your Medigap plan, be ready for medical underwriting. However, a few states offer alternatives without the hassle of medical underwriting.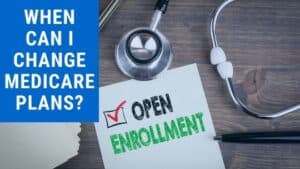 Making Changes and Corrections
Remember, during the AEP, you can adjust your plan multiple times. The final choice made before December 7 will become effective on January 1, 2024. If you feel you've made an error, you can select a different plan within the AEP timeframe. After the AEP, changes to the Part D plan can't be made until the next enrollment period. This fact reiterates the significance of the decisions made during the AEP and the potential implications lasting the entire year.
Seek Assistance When Needed
If you're ever overwhelmed, don't hesitate to reach out. Resources like the State Health Insurance Assistance Program (SHIP) offer invaluable, free counseling to help you navigate Medicare decisions.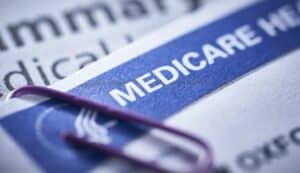 Conclusion
Regularly reviewing your Medicare coverage is more than a recommendation; it's a vital step in ensuring you receive the best care possible. As the landscape of Medicare evolves with new premium rates, benefits, and enrollment periods, it's important to stay informed and proactive.
With the annual window of Medicare Open Enrollment and various enrollment periods to understand, it's essential to mark your calendar and avoid costly oversights. By arming yourself with comprehensive knowledge and aligning your choices with your health needs and financial constraints, you can confidently select the ideal plan that provides peace of mind and optimal care.
Have a great weekend!




Source: Ballentine Capital Advisors 
---
Golf Tip of the Week
6 Things I Learned From Players At The Ryder Cup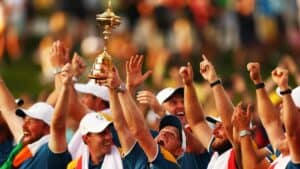 ROME — I can't promise impartiality, but I can promise honesty.
I've been supporting the European Ryder Cup team for as long as I can remember. I'm half English and half American. I spent the first 13 years of my life in England and learned to love the game over there.
Up-and-coming Englishman Justin Rose was my favorite player growing up, long before I became a golf editor who wasn't supposed to have favorite players. I wrote Rose a letter once when I was a junior golfer dreaming of becoming a professional golfer, asking him how he stops himself from getting too nervous during tournaments. He said he takes deep breaths and focuses on slowing down his tempo. He told me something similar this week.
Watching Rose at Marco Simone was an emotional experience for me. Seeing a player you gew up idolizing, stepping up to meet the moment, and accomplish something incredible isn't something that happens often, but it's one of those beautiful moments that only sports can produce.
But my main role in watching Rose wasn't as a fan. He was also one of several players who provided invaluable insight into how to play the game better. Here's what I learned last week …
1. The art of fueling your focus
In Rose's case, his incredible feat was making putts. When there was a clutch putt that needed making, Rose just kept making it, over and over again. His putts prevented an American point on Friday Foursomes. Then earned Europe's only win in Saturday foursomes. Then salvaged a whisper of momentum at Europe's lowest ebb in Sunday singles.
On paper he went 3-1-1, but I'm convinced: If Rose doesn't make all those clutch putts, Europe isn't winning the Ryder Cup.
What makes Rose's putting performance so inspiring is how much progress it represented.
Rose's putter used to cost him tournaments. It was the central flaw in his game. It took years not just of hard work, but consistent work. He built a unique technique around stripping away inefficiencies wherever they were. It transformed him into a kind of elite, putt-making robot.
Place that technical philosophy on the smooth surfaces of Marco Simone—"It's one of the most well-conditioned courses I've seen," Phil Kenyon, Rose's putting coach, said—and it reduces the role of randomness. Good putts roll true, bad putts don't; good putters thrive, bad putters don't. Rose made putts.
Nevertheless, big putts at Ryder Cups are made, above else, with the mind. When it was all done, I asked Rose a simple question: How did he keep making so many putts?
"Because I had to!" he said. "I just kept telling myself: 'You have to make this putt. You have to make this putt. You have to make this putt. It allowed me to tunnel into my own game, and focus on the basics."
There's an inherent inconsistency there. How do you focus on the basics and making the putt at the same time?
In some ways, it's that inconsistency which encapsulates the perfect match play mentality. A process of recognizing the reality of the situation, outlining the outcome you want, then shifting your focus on how you can make it happen.
"You have to use it as fuel," Rose says. "To use your emotions bring an extra level of intensity to your focus, and to your process."
2. A dastardly way of giving someone a putt
When Ludvig Aberg drew Brooks Koepka for Sunday singles, it was the makings of a delicious potential storyline. The upstart European (alongside Viktor Hovland) helped dispatch Koepka and Scottie Scheffler 9 and 7 a day before. Could he humble Koepka again? I too was interested, so that's the group I watched during the early part of the round.
Brooks is, if nothing else, a winner, and he entertained no prospect of that. He dispatched Aberg 3 and 2. But I did notice Aberg do something fun on the first hole: After chipping up and missing his putt for par, Aberg scooped up his ball and watched Koepka prepare to hit his six-foot birdie putt. With two putts to win, Koepka glanced briefly at Aberg, presumably wondering if his short putt was good. Aberg just sort of stood there, arms crossed, looking passively at the green.
Brooks went through the motions of preparing to hit the putt then, the moment the 2023 PGA Championship winner crouched down and placed his ball behind the marker …
"That's good."
Brooks picked up his ball and marched off, mildly annoyed. Not a delicious storyline, but a clever and devilish piece of gamesmanship to store away for future use.
3. Playing with your back against a wall
Robert MacIntyre finished his week with an unbeaten 2-0-1 record. It's true that Bobby Mac owes a hefty amount of credit to his playing partner, the aforementioned Rose, but it's also an incredibly impressive feat that frankly didn't seem possible at the start of the week.
MacIntyre admitted he was struggling with his driver in the practice rounds. There were rumblings from insiders that the pressure of the event was getting to him, and that he may only play once before Sunday singles. In a team full of stunningly elite drivers, on a course set up to excessively punish short-and-crooked misses, MacInytre's struggles were magnified.
The first tee shot I saw the lefty hit was on the 16th hole on Wednesday, when he pull-hooked one into the water on the right. The next one I saw him hit was on the first hole on Thursday, when he pull-hooked one over the gallery's heads.
After his final practice round Bobby Mac set up on the rightmost side of the range—on the American side of the driving range—and began bashing drivers. There was no option of missing right because there was literally no driving range over there. Any right miss would send a range ball onto the golf course, and into areas intended for spectators. It forced Bobby to find a way to miss left, by any means necessary.
Less than 24 hours later, on the first tee of the first hole of his Ryder Cup career, MacIntyre slid his drive squarely down the fairway, hit his approach shot close, and made the putt.
"I had been thinking about that for three weeks," he said afterward. "I stepped up and absolutely roasted one down the middle."
4. A thump chip to use the rough
The grass blades were weird at Marco Simone. Specifically, they were wider. Quite noticeably wider. Pros noticed it, too, and those wide grass blades (the product of a blend of different fescues) had the effect of giving the rough an extreme level of thickness, without looking like prototypical U.S. Open-style rough.
So often pros would arrive at their ball, conclude the lie was decent, put a swing on it, and watched the subsequent shot squirt out low, short, and wildly to the right. Those wide blades were grabbing hold of the clubhead during the pivotal moment of impact and preventing the clubface from releasing closed.
"The blades are really thick, and it's very different than anything you see almost anywhere," Sepp Straka said. "The ball comes out pretty slow most of the time. You definitely want to spend a lot of time, especially around the greens, getting the feel right."
There's no real way of defending from that shot (just a good reminder for the rest of us that the ball will probably slide right from thick rough), but around the greens, players learned to create a miniature version of that awful shot they could actually use.
Basically, they played the ball back in their stance, closed the clubface slightly, and tried to take a longer backswing than follow through. The combination meant the ball would come out slow but without backspin, so it'd roll like a putt the moment it landed. Look closely at the chip-ins from Marco Simone, and you'll see the shot everywhere.
5. Long right misses don't exist
U.S. captain Zach Johnson said he didn't tell Jordan Spieth not to hit driver, the club he originally pulled on the 16th at Marco Simone. But whatever he told him convinced Spieth to pull 3-wood, which he hit into the water right.
The moment provided a good learning opportunity for the rest of us: Missing a shot out to the right means the clubface is open, which adds loft to the club and makes it go shorter. Missing left does the opposite. It's only possible to miss long left, or short right.
Barring some weird chunk-or-thin situation, you can't miss short left or long right. I don't want to tell you what to do, but you should probably remember that the next time you go play golf.
All of which is to say that whenever the trouble is short right, as it is on 16th, make sure you're taking enough club so the short-right miss is still long enough to clear the trouble. That's really the only goal, and the reason why golfers aim for the middle of the 12th green at Augusta National.
6.Find your golf swing's fresh ingredients
The food is great in Italy, and it inspired a wonderful golf swing analogy that I'll be thinking long past I leave Rome.
It came via Golf Digest Top 50 Teacher and TPI co-founder, Dave Phillips. Phillips coaches Jon Rahm, and the pair had spent the week prior sharpening Rahm's posture, which had gotten a little looser because of the wear-and-tear of a long season. He wasn't tilting enough from the hips, which hindered his ability to turn.
I asked what golfers at home could learn from something like that.
"That the way your golf swing works is very much a function of how your body moves," Phillips says. "It's no different than the delicious food over here. The best dishes have the freshest ingredients. If your body doesn't have the to move well, you don't have the good ingredients you need for your golf swing."
Flexibility, mobility, strength; improving these things can make your golf swing better without you even thinking about it. Just like the food you eat, a dish is only as good as its ingredients.




Tip adapted from golfdigest.comi
---
Recipe of the Week
Halloween Blueberry Mummy Muffins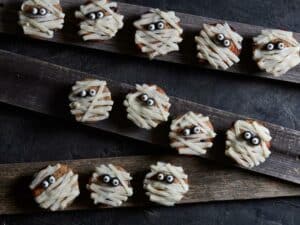 12 Servings
Ingredients
2 cups fresh blueberries
Nonstick cooking spray
1 1/2 cups all-purpose flour (see Cook's Note)
1 cup whole-wheat flour (see Cook's Note)
1 cup granulated sugar
2 1/2 teaspoons baking powder
1/2 teaspoon apple pie spice
2 teaspoons kosher salt
1 1/4 cups buttermilk
8 tablespoons (1 stick) unsalted butter, melted
1 teaspoon finely grated lemon zest and 2 teaspoons lemon juice, from 1 lemon
2 teaspoons vanilla extract
1 large egg plus 3 large egg yolks, beaten to
Frosting
2 ounces cream cheese, at room temperature
4 tablespoons (1/2 stick) unsalted butter, at room temperature 
2 cups confectioners' sugar
Eyes
24 blueberries (about 1 cup)
24 small candy eyes
Instructions
For the muffins: Position a rack in center of the oven and preheat to 425 degrees F. Crush the blueberries in a medium bowl with a potato masher or fork until completely smashed. Lightly coat the cups of a standard 12-cup muffin pan with nonstick spray.
Whisk together the all-purpose flour, whole-wheat flour, granulated sugar, baking powder, apple pie spice and salt in a large bowl.  
Add the buttermilk, butter, lemon zest, lemon juice, vanilla extract, egg and yolks to the mashed blueberries and stir until combined and creamy; gently fold into the flour mixture until just combined (it's ok if there are some lumps). Divide the batter evenly among the prepared muffin cups. 
Bake, rotating the pan halfway through, until a toothpick inserted into the center comes out clean, 25 to 30 minutes. Transfer the pan to a wire rack and let the muffins cool in the pan for 5 minutes. Remove the muffins and let cool completely on the rack.
For the frosting: Meanwhile, beat the cream cheese and butter in a medium bowl using an electric mixer on high speed until light and creamy, about 5 minutes. With the mixer on low speed, gradually add in the confectioners' sugar. Once all the sugar has been added, increase the speed to high and continue to beat until stiff and creamy, about 3 minutes. Transfer to a pastry bag fitted with a 1/4-inch flat tip. 
Starting from the top of a cooled muffin, leaving a small space for the eyes, pipe frosting from left to right forming crisscrossing ribbons that mimic the wrapping of a mummy. Pipe a small amount of frosting on the back of 2 blueberries and two candy eyes. Place the blueberries, frosting-side down, onto the unfrosted part of the muffin. Top each blueberry with eyes. Repeat with remaining frosting, muffins, blueberries and eyes. 
Cook's Note
When measuring flour, we spoon it into a dry measuring cup and level off the excess. (Scooping directly from the bag compacts the flour, resulting in dry baked goods.)
Recipe adapted from Foodnetwork.comii
---
Health Tip of the Week
Losing Weight Without Fad Diets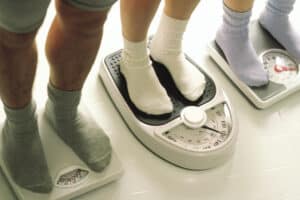 If you've followed a fad diet, you have plenty of company. But have you been able to stay on these deprivation diets for a long time? And if you did lose weight, did the pounds stay off once you went back to your usual way of eating?
Fad diets don't help you keep off the weight in the long term. So what does work? The best diet is not a diet at all, but a way of life that includes food you enjoy, exercise, and healthy habits.
Here's some simple, straightforward advice.
Variety is Key
Just as a car needs the proper gasoline to make it run, a body needs a healthy diet to develop properly. That means the right balance of protein, carbohydrates, and fat — as well as a host of other nutrients.
When you go on a fad diet and exclude necessary nutrients, you're putting yourself at risk for becoming ill. Getting too little of any nutrient may not cause an immediate problem. But if it's lacking for a long time, you may find you have health problems.
Practice Portion Control
Food servings have grown larger and larger over the years. And fast-food restaurants aren't the only places you'll find supersized meals. Researchers have noted that from 1970 through the 1990s, portion sizes of hamburgers, burritos, tacos, french fries, sodas, ice cream, pie, cookies, and salty snacks increased — whether the foods were eaten at home or at restaurants.
What does a healthy serving size look like?
A cup of fruit should be no larger than your fist.
An ounce of cheese is about the same as the size of your thumb from base to tip.
3 ounces of meat, fish, or poultry (a normal serving) is about the size of your palm.
1 to 2 ounces of nuts equals your cupped hand.
Here are some simple tricks to scale back your portions (and calories):
Serve your meals on salad plates instead of large dinner plates.
Store snack foods in tiny sandwich bags.
When ordering out, share your entrée with a friend. Or eat half and take the rest home for later. 
Ask for a kids' meal or small size at a fast-food restaurant. Never go for a supersized portion.
Then, Follow These Simple Strategies
Eat a variety of foods. Make sure your diet includes lean protein; complex carbohydrates such as whole grains, fruits, and vegetables; and "good" fats like omega-3 fats from fish and monounsaturated fats from avocados, nuts, and olives or olive oil. When you go on a fad diet and exclude necessary nutrients, you're putting yourself at risk for becoming ill. Getting too little of any nutrient may not cause an immediate problem. But if it's lacking for a long time, you may find you have health problems
Say no to bad fats. Minimize how much saturated fat you get from animal sources, and eliminate trans fats from the fried foods, snacks, and fast-food products you eat.
Eat plenty of fruits and vegetables. How many depends on your age and activity level. A good reference point for adults is 2 to 3 cups of vegetables and 1.5 to 2 servings of fruits a day.
Exercise at least 150 minutes each week. This can be divided into smaller blocks of time. For example, you could do a brisk walk for 10 minutes three times a day for 5 days to reach 150 minutes.
Clean out the kitchen! Toss out high-calorie, high-fat, sugary foods that will tempt you to overeat — chips, cookies, crackers, ice cream, candy bars, and the like. Then, fill your fridge and cupboards with lean protein, fruits, vegetables, whole grains, legumes, nuts, seeds, good fats, and fat-free or low-fat dairy products.
Eat smaller meals more frequently. Aim for five to six mini-meals per day. Space your meals every 3 to 4 hours. Try taking low fat cheese and whole-grain crackers to school or work for a snack, or eat a tablespoon of peanut butter with one slice of whole-grain bread. Find foods that are healthy and that keep you full.
Fill up on the good stuff. Pile on the salad and super servings of green beans, broccoli, cabbage, kale, or other low-calorie vegetables instead of high-fat foods, breads, pasta, and desserts. If you're still hungry after a meal and you want seconds, go for veggies.
Snack on berries. Dark berries (blueberries, blackberries, cherries, and raspberries) are rich in healthy antioxidants. They're also low in calories and fat and high in fiber.
Avoid "empty calories." Steer clear of sugar-containing sodas and fruit drinks. Limit refined sugars found in candy, cookies, and cakes.
If you need more information on weight loss and dieting, talk to your health care provider or a registered dietitian. Ask your doctor about your "ideal" weight and the number of calories you must eat to lose pounds and maintain an ideal weight.
Also, ask friends, family, or co-workers to join you as you work to change your eating habits and pare down your weight. Sticking to a weight loss plan is much easier when you have someone to support you.




Tip adapted from WebMD.comiii 
---
Copyright (C) 2021.  Ballentine Capital Advisors.  All rights reserved.
Our mailing address is:  
Ballentine Capital Advisors
15 Halton Green Way
Greenville, SC 29607
Disclosure:
Ballentine Capital Advisors is a registered investment adviser. The advisory services of Ballentine Capital Advisors are not made available in any jurisdiction in which Ballentine Capital Advisors is not registered or is otherwise exempt from registration.
Please review Ballentine Capital Advisors Disclosure Brochure for a complete explanation of fees. Investing involves risks. Investments are not guaranteed and may lose value.
This material is prepared by Ballentine Capital Advisors for informational purposes only. It is not intended to serve as a substitute for personalized investment advice or as a recommendation or solicitation or any particular security, strategy, or investment product.
No representation is being made that any account will or is likely to achieve future profits or losses similar to those shown. You should not assume that investment decisions we make in the future will be profitable or equal the investment performance of the past. Past performance does not indicate future results.
Advisory services through Ballentine Capital Advisors, Inc.
i https://www.golfdigest.com/story/ryder-cup-2023-things-i-learned-pros-jon-rahm-justin-rose-robert-macintyre
ii https://www.foodnetwork.com/recipes/food-network-kitchen/halloween-blueberry-mummy-muffins-5449210
iii https://www.webmd.com/diet/the-truth-about-fad-diets