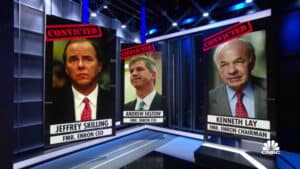 The name "Enron" still sends shivers down the spines of many in the financial world. This once-prominent energy company, touted as a paragon of corporate innovation, dramatically fell from grace in a spectacular fashion.
Its sudden and unexpected collapse is more than just a dark chapter in financial history; it's a cautionary tale with lessons for every investor. Here's what the ongoing Enron debate can teach investors about risk, due diligence, and ethical considerations.
1. Prioritize Transparency in Reporting
At its peak, Enron's operations seemed complex but ostensibly profitable. However, beneath the surface, the company utilized accounting loopholes, special purpose vehicles, and other opaque financial instruments to hide debt and inflate profits.
This reminds investors of the significance of transparency in a company's financial reports. Companies with overly complicated financial structures or those unwilling to clarify their operations should be approached with caution.
2. Recognize Potential Bias in Analyst Reports
Analysts play an instrumental role in shaping investor sentiment towards specific companies and sectors. In the case of Enron, many were overwhelmingly optimistic, singing praises about its future potential. However, it became painfully evident that these views weren't always impartial. Some analysts were swayed by investment banking relationships, potential future business, or even peer pressure within the financial community. For investors, this serves as a clear reminder: while analyst opinions can be valuable, they should never be the sole foundation for an investment decision.
3. A Company's Ethics Reflect Its Health
Enron's downfall was not just about numbers; it was deeply rooted in a culture of unethical decisions. When corporate leaders prioritize short-term gains over ethical operations, it creates a ticking time bomb. This isn't merely a moral standpoint – companies that emphasize ethics tend to fare better in the long run. They are less prone to scandal, regulatory crackdowns, and the financial instability that can come from legal issues or damaged reputations.
4. Always Diversify Your Portfolio
The collapse of Enron was nothing short of catastrophic for many of its employees. A significant portion of them had the bulk, if not all, of their retirement savings invested in Enron stock. When the company disintegrated, so did their life's savings. This disaster serves as a stark reminder of the dangers of over-concentration in investments.
Diversification isn't just a buzzword; it's a fundamental principle of sound investing. By spreading investments across different companies, sectors, and even asset classes, you can mitigate the risk associated with the potential downfall of any single entity.
Remember, every company, no matter how big or seemingly invincible, carries some level of risk. Diversifying ensures that the impact of any single investment's poor performance is cushioned, allowing for more consistent and safer growth of your portfolio over time.
5. Mix Optimism with Smart Skepticism
The Enron saga showcased the perils of taking things at face value. Many, entranced by the company's continuous positive outlook and seemingly unstoppable growth, failed to probe further, accepting the presented narrative. However, as history has shown, unchecked optimism can often mask underlying issues.
This brings us to an essential investing principle: skepticism can be an invaluable asset. It's not about being cynical but rather about cultivating a discerning mindset. When presented with information, especially if it seems too good to be true, it's wise to question its authenticity, dig deeper.
Final Thoughts
The Enron debate is not just a retrospective analysis of what went wrong in the early 2000s. It's a timeless lesson on the value of skepticism and the pitfalls of chasing returns without understanding the risks involved.
In investing, as in life, those who forget history are often doomed to repeat it. By remembering the lessons from Enron, investors can make informed planning decisions and strive for sustainable opportunities.
If you have any questions give us a call!
Have a great weekend!




Source: Ballentine Capital Advisors 
---
Golf Tip of the Week
Brendon Todd Just Broke The Most Boring PGA Tour Record Imaginable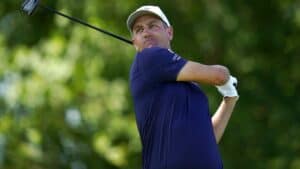 There was a good deal amount of history made in golf on Sunday. At Cherry Hills, Nick Dunlap became the only male player other than Tiger Woods to win a U.S. Junior Amateur and a U.S. Amateur. And at Olympia Fields, Viktor Hovland shot a course-record 61, including an epic back-nine 28, to claim the BMW Championship. But it was also there that arguably the most boring PGA Tour record was broken.
We'll forgive you for not noticing what Brendon Todd did over four days at Olympia Fields. Because, well, not many people noticed. Todd shot four over to finish T-41 in the 50-man field. But the way he arrived at that score caused one man—Todd's swing coach Bradley Hughes—to be curious.
You see, Todd made a whopping 64 pars over 72 holes to go along with six bogeys and just two birdies. Hughes wondered if that was the most pars ever recorded in a PGA Tour event, and, not surprisingly, stats guru Justin Ray delivered the answer.
That's a lot of pars. And, well, that's about all we can say about the mark. Hey, we told you it was a boring stat.
Anyway, congrats to Brendon. Of course, if he ever did that in a U.S. Open at Oakmont, everyone would probably be a bit more excited.




Tip adapted from golfdigest.comi
---
Recipe of the Week
American Flag Ice Cream Cake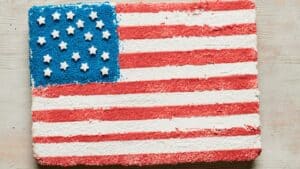 12 Servings
Ingredients
Two 10-ounce boxes of shortbread cookies, such as Lorna Doone (about 60 cookies)
One 1.2-ounce package of freeze-dried strawberries
Kosher salt
3 tablespoons lightly packed light brown sugar
6 tablespoons unsalted butter, melted
Two 13-ounce jars of blueberry jam (about 3 cups)
3 cups cold heavy cream
2 1/4 cups sweetened condensed milk
1 teaspoon pure vanilla extract
1/3 cup confectioners' sugar
3 tablespoons blue nonpareil sprinkles
2 tablespoons white star-shaped candies
Instructions
Line a 9-by-13-inch metal baking pan with foil, leaving a 2-inch overhang on all sides.
Pulse the shortbread cookies in a food processor until finely ground. Transfer the crumbs to a medium bowl and set aside. Add the freeze-dried strawberries to the food processor and pulse until finely ground. Remove 1/4 cup of the ground strawberries to a separate bowl and set aside. Reserve 1 cup of the cookie crumbs for the topping. Add the rest of the cookie crumbs to the food processor along with 1/2 teaspoon salt and the brown sugar and pulse to combine. With the processor running, drizzle in the butter and continue to process until the crumbs are coated and the mixture resembles wet sand. Press the mixture evenly into the bottom of the prepared pan. Spoon the jam over the crust and spread it into an even layer with an offset spatula. Cover with plastic wrap and freeze while you make the ice cream
Whip the cream in a large bowl with an electric mixer on medium-high speed until firm peaks form, about 2 minutes. Decrease the speed to low. Add the sweetened condensed milk, 1/4 teaspoon salt, and the vanilla, then increase the speed to medium and beat until combined and the mixture has soft peaks.
Pour the cream mixture over the jam and spread evenly with an offset spatula. Cover with plastic wrap and freeze until solid, at least 6 hours and up to 12 hours.
Meanwhile, cut six strips of parchment paper that are each 3/4 inch wide by at least 13 inches long. Cut a 4-by-5-inch rectangle from parchment paper as well.
Using the foil overhang, lift the cake out of the pan and place it onto a cutting board with a long side facing you. Sprinkle the reserved shortbread crumbs to cover the ice cream layer completely in an even layer. Using a fine-mesh sieve, sift the confectioners' sugar over the shortbread crumbs in an even layer until the top is completely white.
Place the 4-by-5-inch parchment rectangle on the top left-hand corner of the cake. Arrange the parchment strips in even intervals across the cake, starting 3/4 inch from the top and stopping 3/4 inch from the bottom. Using the fine-mesh sieve, dust the reserved ground strawberries in an even layer over top of the templates. Carefully remove all the parchment templates. Sprinkle the blue sprinkles over the blocked-off corner area in an even layer. Scatter the star candies on top of the blue sprinkles. Slice the cake into 12 equal pieces using a sharp knife to serve.
Recipe adapted from Foodnetwork.comii
---
Health Tip of the Week
Healing Foods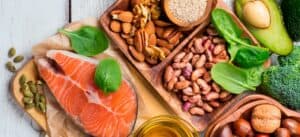 Eat, Drink, and Be Healthy
Healthy food is the medicine we give our bodies every day. It can't cure what ails you, but certain foods have the power to soothe symptoms and give your body a boost when you have specific illnesses or injuries. Help yourself to these healing foods.
Chicken Pho
This Vietnamese soup packs more healing power than old-fashioned chicken and noodles when it comes to colds. Chicken pho (pronounced "fuh") also packs the anti-viral power of star anise and the anti-inflammatory properties of cardamom and cinnamon. It has antioxidants in the form of goji berries and coriander seeds. Jalapenos bring calcium and vitamins A and C — along with some nose-clearing spice.
Sardines
Sardines may not be the sexiest fish at the supermarket, but their little bones may help your broken bones heal faster. Usually packed into small tins with water, olive oil, or tomato juice, these tiny fish are full of calcium and vitamin D. They also have more bone-strengthening omega-3 fatty acids than most other fish. Bonus: Sardines are caught wild and young, which means their mercury levels are low.
Unripe Bananas
Green bananas have a secret superpower: They're great for diarrhea. They contain resistant starch, which means it doesn't let your small intestine absorb it quickly. Instead, it feeds good bacteria in your digestive tract and tells the bad bacteria to get out. Bananas are also full of electrolytes like potassium, which can help you replace what you've lost.
Honey
Skip the honey-flavored lozenges and treat your cough with the real thing. Honey lessens inflammation, soothes pain, and kills bacteria. It's also full of antibodies that fight viral infections. It's packed with vitamins like niacin and vitamin C, and minerals like calcium and iron, for a healthy boost of energy. Add 2 tablespoons to warm water or tea for a natural cough suppressant with big benefits.
Kimchi
This traditional Korean dish may end your gas and bloating. It's a spicy mix of vegetables like napa cabbage and radishes that are fermented, or preserved with natural good bacteria. When you eat it, it loads your gut with good bacteria, also called probiotics, and moves out bad bacteria that can cause belly distress. Some kinds of sauerkraut and pickles have the same effect: Look for the words "naturally fermented" on the label.
Horseradish
This cousin of mustard, onion, and garlic is anything but subtle. When you grate horseradish, it crushes the cells of the root. This releases the oils that bring out its signature heat. Even a small dab can make your eyes water and nose run. That's great news if you have sinus or nasal issues: Horseradish moves out mucus that attracts bacteria if it stays in your system too long. Same for the green mound of wasabi that comes with sushi.
Coffee
When you have a headache, the blood vessels that feed your brain get tight, then enlarge and press against your nerves. That's what causes the throb in your head. The caffeine in coffee, black tea, and chocolate causes your blood vessels to go back down in size. Don't take this as permission to guzzle down cup after cup: You can also get a withdrawal headache after you have too much caffeine.
Kale
Small scrape? Knife cut? Start healing yourself with kale or other dark, leafy greens like spinach, broccoli, collard and turnip greens. They have high amounts of the essential nutrient vitamin K, which helps your blood cells group up and clot. Not only does this stop you from losing more blood; but it also protects your wound. K also helps your body build healthy bone tissue.
Ginger
Whether you love or hate the spicy bite of ginger, it's great for your stomach. The root of the ginger plant has compounds called gingerols. They block the receptors in your digestive tract that cause nausea. Use it to treat morning sickness, motion sickness, and post-surgery or chemotherapy-related stomach issues. Ginger comes in many forms, including candied, dried, fresh, pickled, powdered, and ground.
Herbal Tea
Soothe your sore throat with a warm cup of herbal tea. If your throat hurts, peppermint tea has natural numbing qualities. Clove and green tea fight bacteria. Raspberry-flavored tea reduces inflammation. Chamomile will lubricate your throat: Drink it if you're hoarse. Whatever you choose, make sure it's decaf so you're able to rest and sleep.
Apples
You know what they say about apples — and with good reason. Apples have high amounts of pectin, a soluble fiber in the walls of their cells. If you're constipated, it gets your bowels moving. And if you have diarrhea, it reduces inflammation and helps firm up your bowel movements. To get the most fiber, leave the skin on. Other naturally high-fiber foods include raspberries, cooked artichokes, and Brussels sprouts. 




Tip adapted from WebMD.comiii 
---
Copyright (C) 2021.  Ballentine Capital Advisors.  All rights reserved.
Our mailing address is:  
Ballentine Capital Advisors
15 Halton Green Way
Greenville, SC 29607
unsubscribe from this list    update subscription preferences  
Disclosure:
Ballentine Capital Advisors is a registered investment adviser. The advisory services of Ballentine Capital Advisors are not made available in any jurisdiction in which Ballentine Capital Advisors is not registered or is otherwise exempt from registration.
Please review Ballentine Capital Advisors Disclosure Brochure for a complete explanation of fees. Investing involves risks. Investments are not guaranteed and may lose value.
This material is prepared by Ballentine Capital Advisors for informational purposes only. It is not intended to serve as a substitute for personalized investment advice or as a recommendation or solicitation or any particular security, strategy, or investment product.
No representation is being made that any account will or is likely to achieve future profits or losses similar to those shown. You should not assume that investment decisions we make in the future will be profitable or equal the investment performance of the past. Past performance does not indicate future results.
Advisory services through Ballentine Capital Advisors, Inc.
i https://www.golfdigest.com/story/brenden-todd-broke-most-boring-pga-tour-record-imaginable
ii https://www.foodnetwork.com/recipes/food-network-kitchen/american-flag-ice-cream-cake-8547285
iii https://www.webmd.com/diet/ss/slideshow-healing-foods