The calendar says, in just a short period of time, we'll reach the end of June. That mini-milestone is a measuring stick for several time-based economic assessments.
June 30 is the second quarter end for 2020. We'll be roughly at the half-way point for the entire calendar year. For some, that's hard to believe. For others, half way through the year couldn't get here fast enough.
Since major economic indicators and commonly-used market statistics are often compared on a quarterly basis, now is a good time to prepare your mental outlook for some potentially scary headlines in early July along with your quarterly investment account statement.
Even though shocking short-term economic news should not drive your long-term investment strategy, being mentally prepared for what's likely to come can be helpful. From a macroeconomic standpoint, the 2nd Quarter of 2020 will likely have plenty of negative things to shout about.
One of the most significant metrics will be the nation's Gross Domestic Product (GDP). GDP, one of the primary indicators for determining the US Economy's relative health, is measured in quarterly increments.
The National Bureau of Economic Research (NBER), which officially declares recessions, defines a recession as a significant decline in economic activity spread across the economy, lasting more than a few months, normally visible in real GDP, real income, employment, industrial production, and wholesale-retail sales.1
While it remains to be seen what the NBER will officially declare, economic recessions understandably trigger worries. But a history of positive average performance following a recession can be a comfort for investors wondering about sticking with stocks. History can be a helpful guide in times of uncertainty.
In the past century, there have been 15 recessions in the US. In 11 of those instances, stock returns were positive two years after the recession began.2
Investors may be tempted to abandon equities and go to cash when there is heightened risk of an economic downturn. But research has shown that stock prices incorporate expectations of a recession and generally have fallen in value before a recession even begins.
The average annualized return two years after the onset of these 15 recessions was 7.8%. A $10,000 investment at the peak of the business cycle would have grown to $11,937, after two years on average.
The chart below helps illustrate the historical points above:3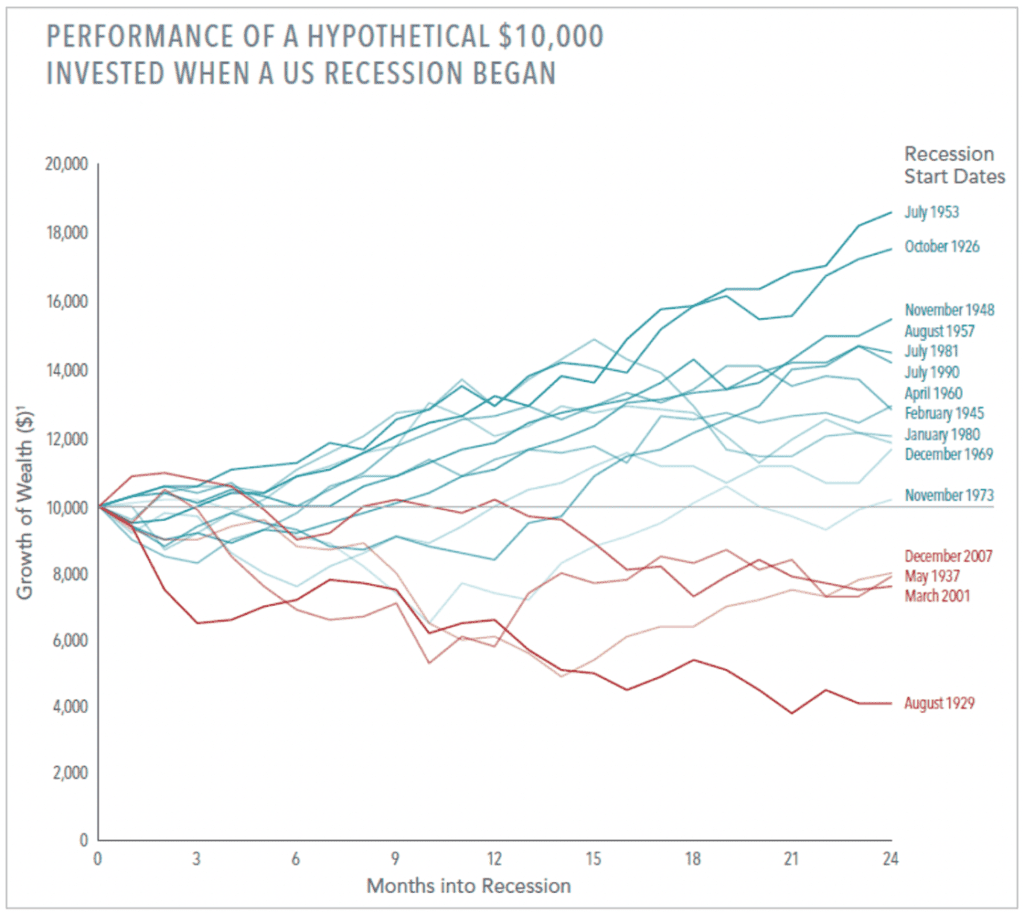 Market volatility and scary economic news will come and go over your investing lifetime. Staying committed to a turbulent and unknowable future is part of the discipline required for being a successful, long-term investor. If you have questions or just need some reassurance that your strategy is aligned with your needs, be sure to talk to us.
Have a great weekend!
Source: Efficient Advisors
---
Flag Day June 14: Honoring the History of the Stars and Stripes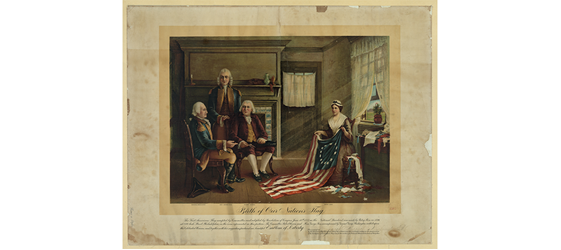 Particularly in trying and turbulent times, our nation's colors represent a symbol of resolve and renewal. But the origins of the American flag are shrouded in a little bit of mystery.
While many of us grew up with the story of Betsy Ross designing the original flag at the request of George Washington, historian Marc Leepson says it didn't happen that way.
In the Washington Post he writes, "The Betsy Ross story is the most tenacious piece of fiction involving the flag. There is simply no credible historical evidence—letters, diaries, newspaper accounts, bills of sale—that Ross (then known as Elizabeth Claypoole) either made or had a hand in designing the American flag before it made its debut in 1777."4
As near as historians can trace, the story originated nearly a hundred years later in a claim by Ross's grandson. The legend was helped immensely by Charles H. Weisgerber's iconic painting of Ross sitting in her parlor facing General George Washington and two other the founding fathers while she displays the freshly sewn flag.
While Betsy did make flags in Philadelphia in the late 1770s, it's not very likely that she originally designed The Stars And Stripes. Strong evidence suggests this honor should go to Francis Hopkins, a signer of the Declaration of Independence and designer of the Great Seal of the United States.
The first official observance of the U.S. flag's birthday was held in 1877 on the 100th anniversary of the Flag Resolution of 1777.
However, annual recognition of this resolution began several years later when Wisconsin school teacher BJ Cigrand organized a group of school children to observe June 14 as the flag's birthday.
Another teacher, George Balch, led the New York State Board of Education to adopt June 14 as an annual observance of Flag Day.
In 1916, after dozens of state and local governments had adopted the observance, President Woodrow Wilson made the anniversary of the Flag Resolution of 1777 a nationally observed event.5
It's fitting that two teachers are credited with the creation of Flag Day as we now know it. June 14 has served as an opportunity for people of all backgrounds to learn about the traditions that have made this country great. And why our pride and respect is due to Old Glory.
Source: Efficient Advisors
---
Golf Tip of the Week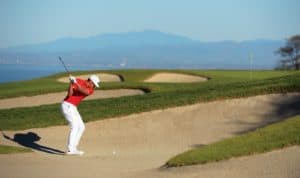 Add a Little Loop into Your Sand Swing
Regardless of the length of a bunker shot, swinging too deeply into the sand is a common mistake. The problem is, the time-honored advice of setting up open to the target and then swinging along your body line promotes a steeper, digging action.
Though you should set up a little open and take the club back along your body line, you'll take far less sand if the club is moving along the target line rather than cutting across it. Try to make a divot mark that points toward where you want the ball to go. Also, allow for it to roll a little once it lands on the green.
Tip adapted from GolfDigest.comi
---
Recipe of the Week
Smothered Pork Chops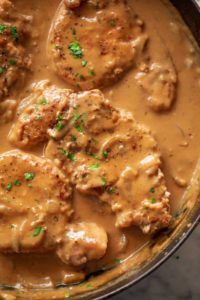 [4 servings]
Ingredients:
PORK CHOPS:
1 pound (500g) bone-in pork chops, about 3/4-1 inch thick.
1/2 tablespoon onion powder
1/2 tablespoon garlic powder
1/2 teaspoon cayenne
1 teaspoon seasoning salt
1/2 teaspoon fresh cracked black pepper
2 teaspoons olive oil
1/2 cup all-purpose flour
2 tablespoons olive oil
1 tablespoon unsalted butter
FOR GRAVY:
1 tablespoon unsalted butter
1 large onion, thinly sliced
pinch of salt
4 cloves garlic, minced
1 teaspoon fresh chopped thyme
1/2 cup chicken broth, divided
3/4 cup buttermilk or heavy cream
Chopped fresh flat-leaf parsley, for garnish
Directions:
FOR PORK CHOPS
Pat the pork chops dry with paper towels to remove any moisture. Season pork chops with garlic powder, onion powder, cayenne, seasoning salt, pepper and olive oil.
Dredge each chop in the flour; shake off the excess and KEEP THE REMAINING FLOUR.
Heat 2 tablespoons olive oil and 2 tablespoons of butter in a skillet or pan over medium heat. When hot, fry the pork chops in a single layer on each side until golden browned, about 3-4 minutes per side.
Remove pork chops from the pan and keep warm.
FOR GRAVY
In the same pan, heat 1 tablespoon of butter over medium heat.
Add in sliced onions and add a pinch of salt. Cook while stirring occasionally, until soft and caramelized, about 10 minutes. (Add in 1 tablespoon of the chicken broth if the pan becomes too dry.)
Add the garlic and thyme; cook until fragrant, about 30 seconds.
Add 2 tablespoons of the remaining flour to the pan. Mix the flour into the onions and cook to dissolve, about 2 minutes.
Pour in the chicken broth, scraping up the browned bits from the bottom of the pan. Let the liquid reduce and thicken slightly, about 2 minutes.
Whisk in the buttermilk (or cream) and simmer for 1-2 minutes until thick and creamy.
Return the pork chops to the pan. Coat them in the sauce and let simmer until the pork is completely cooked through, about 5 minutes (or until the pork is cooked to your desired doneness). (The sauce will continue to thicken due the coating on the pork. If too thick, add a little cream or broth to thin out until reaching your desired consistency.)
Taste test and season with salt and pepper, if needed. Garnish with the chopped parsley before serving. Serve warm.
Recipe adapted from CafeDelites.comii
---
Health Tip of the Week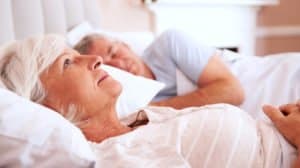 Assess Your Sleep Habits
Getting enough sleep helps prevent chronic diseases and promotes overall health. Take a few minutes to assess your sleeping habits and make any necessary changes to ensure you are getting the best quantity and quality of sleep that you can.
Are you going to bed at the same time each night and rising at the same time each morning?
Are you sleeping in a quiet, dark, and relaxing environment, which is neither too hot nor too cold?
Have you made your bed comfortable?
Do you use the bedroom only for sleeping and not for other activities, such as reading, watching TV, or using the computer?
Do you avoid large meals before bedtime?
Tip adapted from CDC.goviii
---
Copyright (C) 2020. Ballentine Capital Advisors. All rights reserved.
Our mailing address is:  
Ballentine Capital Advisors
23 Buena Vista Way, Suite B
Greenville, SC 29615
unsubscribe from this list update subscription preferences
Sources:
1. https://go.efficientadvisors.com/e/91522/terms-r-recession-asp/6lmxvr/927535382?h=WdJiEQxAFzIesn9BqwB6mGChN4tHpkQ5djY5u8U91S8
2. https://go.efficientadvisors.com/e/91522/281-Recessions-and-Returns-pdf/6lmxvt/927535382?h=WdJiEQxAFzIesn9BqwB6mGChN4tHpkQ5djY5u8U91S8
3. In USD. Performance includes reinvestment of dividends and capital gains. Growth of wealth shows the growth of a hypothetical investment of $10,000 in the securities in the Fama/French Total US Market Research Index over the 24 months starting the month after the relevant Recession Start Date. Index data presented in the growth of wealth chart is hypothetical and assumes reinvestment of income and no transaction costs or taxes. Sample includes 15 US recessions as identified by the National Bureau of Economic Research (NBER) from October 1926 to December 2007. NBER defines recessions as starting at the peak of a business cycle. A business cycle is a description of the various stages of economic output. Fama/French Total US Market Research Index: The value-weighed US market index is constructed every month, using all issues listed on the NYSE, AMEX, or Nasdaq with available outstanding shares and valid prices for that month and the month before. Exclusions: American Depositary Receipts. Sources: CRSP for value-weighted US market return. Rebalancing: Monthly. Dividends: Reinvested in the paying company until the portfolio is rebalanced.
4. https://go.efficientadvisors.com/e/91522/2011-06-08-AG3ZSkOH-story-html/6lgl1q/922767519?h=VMzALUsdCkdHzU77XAWO_PZligk8lie1ndQk_tsKmgo
5. https://go.efficientadvisors.com/e/91522/flag-day/6lgl1s/922767519?h=VMzALUsdCkdHzU77XAWO_PZligk8lie1ndQk_tsKmgo

Disclosure:
The views expressed herein are exclusively those of Efficient Advisors, LLC ('EA'), and are not meant as investment advice and are subject to change. All charts and graphs are presented for informational and analytical purposes only. No chart or graph is intended to be used as a guide to investing. EA portfolios may contain specific securities that have been mentioned herein. EA makes no claim as to the suitability of these securities. Past performance is not a guarantee of future performance. Information contained herein is derived from sources we believe to be reliable, however, we do not represent that this information is complete or accurate and it should not be relied upon as such. All opinions expressed herein are subject to change without notice. This information is prepared for general information only. It does not have regard to the specific investment objectives, financial situation and the particular needs of any specific person who may receive this report. You should seek financial advice regarding the appropriateness of investing in any security or investment strategy discussed or recommended in this report and should understand that statements regarding future prospects may not be realized. You should note that security values may fluctuate and that each security's price or value may rise or fall. Accordingly, investors may receive back less than originally invested. Investing in any security involves certain systematic risks including, but not limited to, market risk, interest-rate risk, inflation risk, and event risk. These risks are in addition to any unsystematic risks associated with particular investment styles or strategies.
The articles and opinions expressed in this newsletter were gathered from a variety of sources, but are reviewed by Ballentine Capital Advisors prior to its dissemination. All sources are believed to be reliable but do not constitute specific investment advice. In all cases, please contact your investment professional before making any investment choices.
Securities through Triad Advisors, LLC, Member FINRA/SIPC. Advisory services through Ballentine Capital Advisors, Inc. Triad Advisors and Ballentine Capital Advisors are not affiliated entities.
---
i https://www.golfdigest.com/story/get-long-bunker-shots-to-the-hole?utm_medium=email&utm_source=060420&utm_campaign=tips
ii https://cafedelites.com/smothered-pork-chops/
iii https://www.cdc.gov/family/minutes/tips/assesssleephabits/index.htm