This is Part One of a Two-Part Series on fiduciary responsibility and what it means when it comes to investing.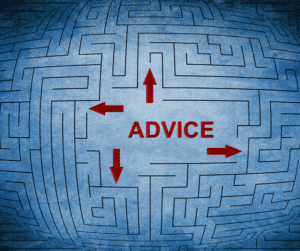 Introduction
Investing can be a daunting task, and the last thing anyone wants is to have their hard-earned money mismanaged. This is where fiduciary responsibility comes into play. In this article, we'll explain what it is and why your investments deserve the attention of a fiduciary advisor.
What is Fiduciary Responsibility?
This means that the advisor is ethically and legally obligated to put their client's interests before their own. Fiduciary responsibility is a term used to describe an advisor's legal and ethical responsibility to act in their client's best interest. This means that the advisor must prioritize the client's interests above their own, even if it means sacrificing potential profits for themselves.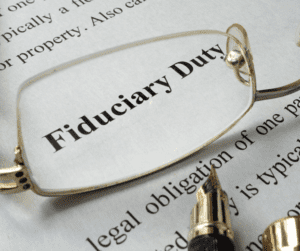 Why Choose a Fiduciary Advisor?
The Benefits of Working with a Fiduciary Advisor
Working with a fiduciary advisor offers numerous benefits, including increased transparency, reduced conflicts of interest, and greater peace of mind. A fiduciary advisor is legally and ethically bound to act in the best interest of their clients, which means they are working solely to help their clients achieve their financial goals.
How Fiduciary Advisors Differ from Non-Fiduciary Advisors
Non-fiduciary advisors are not legally obligated to act in their client's best interests. This means they may recommend investments that are not necessarily the best fit for their client but may instead benefit the advisor. In contrast, fiduciary advisors are bound to act in the best interest of their clients, which means they are more likely to recommend investments that align with their client's goals.
Common Misconceptions About Fiduciary Advisors
There are many misconceptions about fiduciary advisors, such as that they are more expensive or that they only work with wealthy clients. However, these misconceptions are largely unfounded. Fiduciary advisors can work with clients of all income levels and often provide value that outweighs their fees.
The Role of Fiduciary Responsibility in Retirement Planning
Retirement planning is a critical component of financial planning, and fiduciary responsibility plays an important role in ensuring that clients can retire comfortably. By working with a fiduciary advisor, clients can be confident that their advisor is putting their retirement goals first.
Fiduciary advisors can help clients plan for retirement by developing a comprehensive retirement plan that takes into account their goals, risk tolerance, and time horizon. This may include recommending retirement accounts, such as IRAs and 401(k)s, and developing a plan to maximize Social Security benefits.
Working with a fiduciary advisor for retirement planning offers several benefits, including access to personalized advice and guidance and a greater likelihood of achieving retirement goals. Fiduciary advisors can also help clients navigate complex retirement planning issues, such as tax planning and estate planning.
Conclusion
In conclusion, fiduciary responsibility is a critical component of investing, retirement planning, and estate planning. By working with a fiduciary advisor like Ballentine Capital Advisors, clients can be confident that their advisor is working in their best interest and helping them achieve their financial goals.
Have a great weekend!




Source: Ballentine Capital Advisors 
---
Golf Tip of the Week
How To Hit A High Chip Shot: A Foolproof 5-Step Formula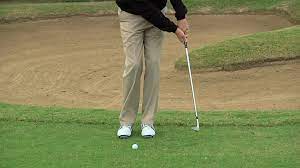 High chip shots look great, but they're not always practical. Yet it's a tool every golfer needs in their arsenal. A good time to hit a high chip shot is when you need to fly your ball over something, like a bunker. You may also need to hit a high chip shot if you need to stop it quickly, like when the slope of the green is severely running away from you. High chip shots don't need to be complicated, as long as you remember these things. — Joe Plecker, Director of Instruction, Landings Club, Savannah, Ga., Golf Digest Best in State Teacher.
The High Chip Formula
Choose a high-lofted wedge
Move your hands up on the grip
Ball, grip and chest in a straight line
Get clubhead under handle at impact
High Chip Step #1: High-lofted wedge
Every club in your bag has a certain loft — that's the angle of the clubface. More loft will naturally send your ball higher. For a high chip shot, pick the highest-lofted club in your bag (usually a 60 degree lob wedge, or a 56-degree sand wedge).
High Chip Step #2: Hands up grip
Whereas on a low chip shot you will choke down the club, gripping close to the shaft, you'll do the opposite on high chip shots. Move your hands as high up on the handle as possible. This will help you swing the clubhead under the golf ball, which will help you use the loft of the club.
High Chip Step #3: Straight-line setup
The club's grip and sternum should be a straight line over the ball at setup. If the ball was too far back, you would have too much shaft lean, which would send the ball too low. Ball position is key on high chip shots; align these three points and you won't ever need to worry about it.
High Chip Step #4: Clubhead under handle
During the chip shot itself, you're going to want to create some wrist action to generate speed. On the backswing, your wrists will hinge with your hands, and on the downswing feel them unhinge so the weight of the club passes your hands. By impact your clubhead will be under your handle, which will help deliver the club's loft into the golf ball.
High Chip Step #5: Deflect the ball
Even though this is a bigger motion than most chip shots, it's still a finesse shot. swing smooth and let the clubhead deflect the ball gently into the air.




Tip adapted from golfdigest.comi
---
Recipe of the Week
Instant Pot Salmon With Garlic Potatoes And Greens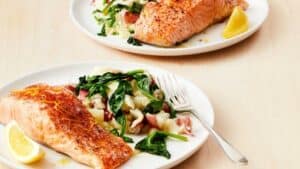 4 Servings
Ingredients
1 1/4 pounds small red-skinned potatoes, halved or quartered
4 tablespoons unsalted butter
Kosher salt and freshly ground pepper
Four 5- to 6-ounce skin-on center-cut salmon fillets (3/4 to 1 inch thick)
1/4 teaspoon paprika
1/2 teaspoon grated lemon zest, plus lemon wedges for serving
4 cloves garlic, minced
4 cups packed mixed baby spinach and arugula (about 3 1/2 ounces)
Instructions
Put the potatoes in the bottom of an Instant Pot. Add 1 cup water, 2 tablespoons of butter, 1/2 teaspoon salt, and a few grinds of pepper. Place the pot's steam rack over the potatoes.
Rub the top and sides of the salmon fillets with the paprika and lemon zest and season generously with salt and pepper. Place skin-side down on the rack. Put on the lid, make sure the steam valve is in the sealing position and set the cooker to high pressure for 3 minutes. When finished, carefully turn the steam valve to the venting position to release the pressure.
Remove the salmon and rack and set the cooker to sauté at normal heat. When the potatoes start sizzling, add the garlic, and cook, stirring, until softened, 1 to 2 minutes; stir in the remaining 2 tablespoons butter and season generously with salt and pepper. Smash the potatoes with a fork or wooden spoon until chunky.
Turn off the cooker. Add the mixed greens to the potatoes and stir until wilted 1 to 2 minutes. Season with salt and pepper. Divide the salmon and potato mixture among plates. Serve with lemon wedges.



Recipe adapted from foodnetwork.comii
---
Health Tip of the Week
Eating Fried Food Linked To Depression, Anxiety: Study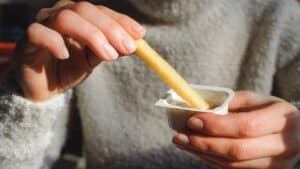 People who frequently eat fried food, particularly potatoes like french fries, have a higher risk of anxiety or depression, according to a new study.
Specifically, the results showed that frequent fried food consumption was linked to a 12% higher risk of anxiety and 7% higher risk of depression. Males and young people were impacted the most.
The study published Monday in the journal PNAS , was done by researchers from Zhejiang University in China. They evaluated data for more than 140,000 people during an 11-year period. 
The authors suggested that one cause could be that fried foods contain a chemical called acrylamide, which arises when some foods are cooked at very high temperatures. The researchers noted that acrylamide is linked to "anxiety- and depressive-like behaviors" related to brain inflammation.
One expert not involved in the study told CNN that the link could be that fried foods are comforting for people who are having anxiety or depression and that the study didn't prove causation.
"The human component of this study may indicate just what it purports: that higher intake of fried food increases the risk of anxiety/depression," preventive and lifestyle medicine expert David Katz, MD, told CNN. "However, the causal pathway could just as readily go the other way: people with anxiety/depression turn to 'comfort food' with increasing frequency for some semblance of relief."
Anxiety and depression are clinical mental illnesses. Anxiety disorders are the most common of all mental disorders, affecting as many as 30% of adults at some point in their lives, according to the American Psychiatric Association. Clinical anxiety problems differ from normal feelings of nervousness or anxiousness and are instead excessive and interfere with leading a normal, productive life.
Depression, also called a major depressive disorder, affects how someone feels, thinks, and acts, causing feelings of sadness or a loss of interest in activities that were once enjoyed. Depression can lead to emotional and physical problems, and it affects an estimated 1 in 15 adults annually, while 1 in 6 adults will have depression during their lifetime, the association said.


Tip adapted from webmd.comiii 
---
Copyright (C) 2021.  Ballentine Capital Advisors.  All rights reserved.
Our mailing address is:  
Ballentine Capital Advisors
15 Halton Green Way
Greenville, SC 29607
unsubscribe from this list    update subscription preferences  
Disclosure:
Ballentine Capital Advisors is a registered investment adviser. The advisory services of Ballentine Capital Advisors are not made available in any jurisdiction in which Ballentine Capital Advisors is not registered or is otherwise exempt from registration.
Please review Ballentine Capital Advisors Disclosure Brochure for a complete explanation of fees. Investing involves risks. Investments are not guaranteed and may lose value.
This material is prepared by Ballentine Capital Advisors for informational purposes only. It is not intended to serve as a substitute for personalized investment advice or as a recommendation or solicitation or any particular security, strategy, or investment product.
No representation is being made that any account will or is likely to achieve future profits or losses similar to those shown. You should not assume that investment decisions we make in the future will be profitable or equal the investment performance of the past. Past performance does not indicate future results.
Advisory services through Ballentine Capital Advisors, Inc.
i https://www.golfdigest.com/story/how-to-hit-high-chip-shot-golf-tip
ii https://www.foodnetwork.com/recipes/food-network-kitchen/instant-pot-salmon-with-garlic-potatoes-and-greens-3894814
iii https://www.webmd.com/depression/news/20230425/eating-fried-food-linked-depression-anxiety-study

---