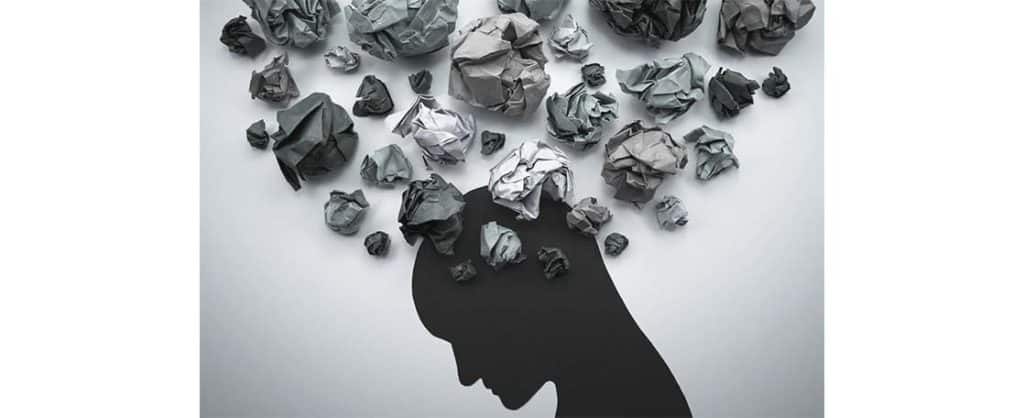 The English word "worry" has been in use for more than a thousand years. First appearing in Middle English, it conveyed the meaning "to strangle, bite, harass."1 We still recognize this usage when we talk about a dog worrying a bone.

However, when we talk about worry in the psychological sense, the old meaning is still appropriate. When we worry, our thought process isn't too different from fido obsessively gnawing on an old bone that long ago lost any meat or even flavor.

Worrying serves no constructive purpose. As a popular quote about it states, "Worrying is like paying the interest on a debt you don't owe." (Erroneously attributed to Mark Twain.) In other words, it's expending mental and emotional energy on the possible consequences of a problem that are very unlikely to happen.

For example, many travelers worry about being in an airline accident, when statistically, they're in far greater danger getting to and from the airport.2

Worrying is a natural psychological rut for humans. We find it easy to fall into and hard to get out of.

Jonathan Alpert, a Manhattan-based psychotherapist and author, has helped countless people overcome anxiety and its related challenges. He says that for many people, worrying has become automatic. But like other habits and behaviors, it can be changed.3

One of Alpert's surprising techniques is to purposely set aside time for worrying.

"Many chronic worriers feel they have no control over it," he says. "They tell themselves things such as 'just don't worry' or 'don't think about it.'" This doesn't work because telling yourself not to think about something immediately brings it to mind.

Alpert says that in order to get a worry out of your mind, you may need to think about it on purpose.

"Allow yourself 15 minutes a day to let it rip," he says. "Choose a time when you're usually most relaxed, but not near bedtime. Let your thoughts gush."

Paradoxically, this exercise will give you control over something you feel you have no control over.

His other suggestions include taking action toward solving the problem and making friends with uncertainty—learn to accept the idea that you simply won't be able to predict how things in life will turn out.

One area that many people worry about unnecessarily is their investments. Not only is being anxious over retirement unpleasant, but it can cause you to take actions that will hurt you in the long-run.
Last year was a great example about fruitless worry when it comes to investing. The month of March brought a considerable drop in most global equity markets. However, in the months after the global markets quickly began to rise.
While the world will always provide plenty of opportunities to worry, well guided investment plans have a history of calming the storm when given the proper plan and time. Many techniques can be used to calm worry. We have found a plan that is followed can allow for the opportunity for a worry-free retirement with your investments.

Talking to us about any investing issues you find yourself worrying about can help you recognize a solution and restore your confidence in the financial plan you're committed to making successful.

Have a wonderful weekend!

Source: Efficient Advisors
---
Golf Tip of the Week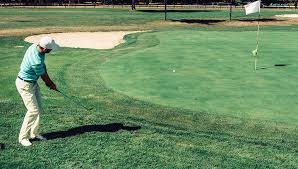 Master the Severe Downhill Greenside Chip
When facing a downhill greenside chip, it's critical you pay attention to how the green breaks. Reason being, from a downhill position, the ball is going to roll more than normal, thus you're going to need to factor break and speed to have any chance of getting the ball near the hole. Begin with choosing the most lofted club in your bag and address the ball with an open stance. Try and adjust your weight to the slope of the hill, meaning align your club as perpendicular to the ground as possible. This will force most of your weight forward, which is where it should be.
Play the ball in the back of your stance, hands forward and club face aiming at the desired spot on the green or fringe where you want the ball to begin rolling. As you begin your backswing, swing along the ground and keep your hands low, well into the finish. Don't try to scoop it!
Keeping the hands low and club face open is key, as is choosing a club with a lot of loft. Also, on tight pins, don't hesitate to land the ball in the fringe since the ball will have some roll to it. Also, hold the club face open as long as possible.
Tip adapted from GolfTipsMag.comi
---
Recipe of the Week
Cauliflower Hash Brown Egg Cups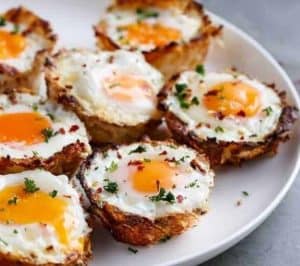 Makes 12 cups
INGREDIENTS
1 head of cauliflower, stalk and leaves removed, cut into florets
1 extra large egg, whisked
1/2 cup cheddar cheese, (or Mozzarella)
1/4 cup grated Parmesan cheese
1/2-1 teaspoon salt, (to your tastes)
pepper, (optional – to taste)
1/2 teaspoon garlic powder, (or 1 teaspoon onion powder)
12 small-medium sized eggs
INSTRUCTIONS
Preheat oven to 350F Lightly spray a 12-hole muffin tin with cooking oil spray (or grease with butter), wipe over excess with a paper towel and set aside.
Pulse the cauliflower in two batches for about 30-50 seconds until a fine 'rice' is formed. It's ok if there are a few bigger pieces in there. (Be careful not to over process or the cauliflower will form a raw puree.)
Measure out 3 cups (480g or 17oz in weight) of the cauliflower rice into a microwave safe bowl and heat for about 8 minutes or until soft. Alternatively, lightly steam over a pot of boiling water or in a vegetable steamer until soft. Remove and allow to cool for a good 5 minutes before handling.
Using paper towels, an old tea towel or a cheesecloth, squeeze out as much liquid as you can until hardly any liquid can be squeezed out. (It's easier to wrap the cauliflower in the towel (or cloth) and squeeze it into a ball over the sink. Less mess)
Transfer back into your bowl (make sure there's no liquid in it), and add the whisked egg, cheeses, salt and garlic powder. Divide the mixture into each muffin hole and firmly press them with your fingertips to create a 'nest' or cup.
Bake for about 15-20 minutes or until the cheese has melted, the cups are golden and the edges are browned. Remove from the oven; break the eggs into each cup; season with salt and pepper; return to the oven and bake for a further 10-15 minutes, or until the whites are set and the yolks are cooked to your liking.
Allow them to cool for 5 minutes before handling them, or they may fall apart. Lightly slide a knife around the sides of each cup. Using a fork, gently lift one side first to make sure they're not sticking to the bottom, and lift out of the pan.
Garnish with red chilli flakes and parsley (optional) or leave as is.
Recipe adapted from Cafedelites.comii
---
Health Tip of the Week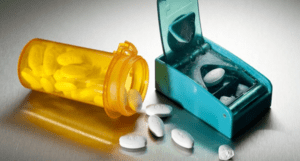 Check Before Splitting That Pill
Prescription medication can be expensive, and savvy healthcare shoppers have learned that you can stretch pills by splitting a higher dose. However, not all pills are safe to split. Here are some tips:
Check with your physician and pharmacist before splitting any pills.

Look for FDA approval for splitting on the prescription insert.

Check for scoring along the pill; usually, that means it is designed for safe splitting.
Pills that have outer coatings or extended-release formulas typically are not safe to split.

Tip adapted from AARPiii


Copyright (C) 2021. Ballentine Capital Advisors. All rights reserved.
Our mailing address is:
Ballentine Capital Advisors
15 Halton Green Way
Greenville, SC 29607
unsubscribe from this list update subscription preferences
Sources:

1. https://www.dictionary.com/browse/worry
2. https://fortune.com/2017/07/20/are-airplanes-safer-than-cars/
3. https://www.inc.com/jonathan-alpert/6-powerful-ways-to-worry-less-and-live-more.html


Disclosure:

The views expressed herein are exclusively those of Efficient Advisors, LLC ('EA'), and are not meant as investment advice and are subject to change. All charts and graphs are presented for informational and analytical purposes only. No chart or graph is intended to be used as a guide to investing. EA portfolios may contain specific securities that have been mentioned herein. EA makes no claim as to the suitability of these securities. Past performance is not a guarantee of future performance. Information contained herein is derived from sources we believe to be reliable, however, we do not represent that this information is complete or accurate and it should not be relied upon as such. All opinions expressed herein are subject to change without notice. This information is prepared for general information only. It does not have regard to the specific investment objectives, financial situation and the particular needs of any specific person who may receive this report. You should seek financial advice regarding the appropriateness of investing in any security or investment strategy discussed or recommended in this report and should understand that statements regarding future prospects may not be realized. You should note that security values may fluctuate and that each security's price or value may rise or fall. Accordingly, investors may receive back less than originally invested. Investing in any security involves certain systematic risks including, but not limited to, market risk, interest-rate risk, inflation risk, and event risk. These risks are in addition to any unsystematic risks associated with particular investment styles or strategies.

The articles and opinions expressed in this newsletter were gathered from a variety of sources but are reviewed by Ballentine Capital Advisors prior to its dissemination. All sources are believed to be reliable but do not constitute specific investment advice. In all cases, please contact your investment professional before making any investment choices.
Securities through Triad Advisors, LLC, Member FINRA/SIPC. Advisory services through Ballentine Capital Advisors, Inc. Triad Advisors and Ballentine Capital Advisors are not affiliated entities.
---
i https://www.golftipsmag.com/instruction/shotmaking/money-shots/
ii https://cafedelites.com/cauliflower-hash-brown-egg-cups-low-carb-gluten-free
iii https://videos.aarp.org/detail/video/4411637675001/pill-identifier—aarp?autoStart%20%20%20=true/?intcmp=HEA-HLLV-FLXSLDR- SLIDE1-RL2