Retirement planning is often overlooked or put off until later in life, but it's something that everyone should start thinking about as early as possible. Whether you're just starting your career or nearing retirement age, it's never too early or too late to start planning for your golden years.
Retirement planning is one of those things that we all know we need to do, but it's easy to put it off until later. We convince ourselves that we have plenty of time to plan for retirement, and that other expenses and priorities take precedence. But the truth is, the earlier we start planning, the more secure and comfortable our golden years will be.
No matter where you are in your career journey, retirement planning should be a priority. If you're just starting out, it may seem like retirement is a lifetime away, but starting early gives you a head start and allows you to take advantage of the power of compound interest. On the other hand, if you're nearing retirement age, it's not too late to start planning. In fact, with careful planning and smart financial decisions, you can still enjoy a comfortable retirement even if you haven't saved as much as you would have liked.
One of the key benefits of retirement planning is peace of mind. Knowing that you have a plan in place can alleviate stress and anxiety and help you enjoy your retirement years to the fullest. Retirement planning also allows you to take control of your financial future and make the most of your resources. With careful planning, you can create a retirement plan that fits your unique needs and goals, whether that means traveling the world, pursuing your hobbies, or spending time with loved ones.
Key Points
Retirement planning is important for everyone and should be a priority, regardless of career stage.
Starting early with retirement planning provides a head start and allows for taking advantage of the power of compound interest.
Employer-sponsored retirement plans, like a 401(k) or 403(b), are effective ways to save for retirement with potential matching contributions and investment options.
Individual Retirement Accounts (IRAs) are popular and effective ways to save for retirement with tax advantages.
Comprehensive financial planning provides a roadmap for success, helping individuals to identify potential pitfalls and opportunities, set realistic goals, develop budgets, invest wisely, and minimize debt.
Even if you're nearing retirement age and haven't started planning, there are still actions you can take to enhance your retirement outlook and create a comfortable future.
Financial planning is about creating a roadmap for the future and making the most of resources to achieve personal goals.
Employer-Sponsored Retirement Plans
Did you know that one of the most effective ways to save for retirement is through your employer-sponsored retirement plan, such as a 401(k) or a 403(b)? By contributing pre-tax dollars into a retirement account, you can invest in various funds, reduce your taxable income, all while allowing your savings to grow over time.
The best part? Many employers offer matching contributions, which means that for every dollar you contribute, your employer will contribute a certain amount of money to your retirement account, up to a certain percentage of your salary. It's somewhat like getting free money, and it can significantly enhance your retirement savings.
Financial planning and advice can play a crucial role since it can help you assess your current financial situation, identify your retirement goals, and develop a personalized plan to help you achieve those goals by utilizing what is available in your current 401(k) or 403(b) plan.
Individual Retirement Accounts (IRAs)
IRAs are an incredibly popular and effective way to save for retirement, and for good reason!
With IRAs, you can contribute up to a certain amount each year, depending on your age and eligibility. What's more, depending on the type of IRA you choose, you may be eligible for tax advantages similar to those offered by employer-sponsored retirement plans.
Traditional IRAs allow you to contribute pre-tax dollars, which means that your contributions will reduce your taxable income for the year. This can provide an immediate tax benefit and help you keep more of your hard-earned money. On the other hand, Roth IRAs allow you to contribute after-tax dollars, which means that while you won't receive a tax break in the year that you make the contribution, your withdrawals during retirement will be tax-free.
Planning for Retirement When You're Near Retirement Age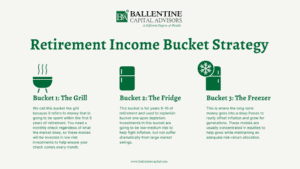 If you're nearing retirement age and haven't yet started planning, don't panic. There are still steps that you can take to improve your retirement outlook. A comprehensive financial plan can provide you with a roadmap for success, helping you to identify potential pitfalls and opportunities along the way. By creating a comprehensive financial plan, you can gain a clear understanding of your current financial situation and take proactive steps to improve it.
At Ballentine Capital Advisors, we have developed the Bucket Strategy of Retirement Income, which can give you the confidence that you will have a spending plan for retirement. We can guide you, help you, and walk with you to create a personalized financial plan that takes into account your unique needs and goals, ensuring that you are on the right track to achieve your dreams. To find out more information about our Bucket Strategy of Retirement Income, please visit this link.
Conclusion
Financial planning is not just about saving for a rainy day, it is about creating a roadmap for your future and making the most of your resources. By prioritizing retirement planning and other financial goals, we can help you take control of their financial future and achieve your dreams.
Retirement planning is crucial for everyone, no matter their age or career stage. Starting early and utilizing employer-sponsored retirement plans, IRAs, and other savings options can help you prepare for the financial transitions that come with retiring and provide you with a sense of security during your golden years. Even if you're nearing retirement age and haven't begun planning, there are still actions you can take to enhance your retirement outlook and create a comfortable future.
Have a great weekend!




Source: Ballentine Capital Advisors 
---
Golf Tip of the Week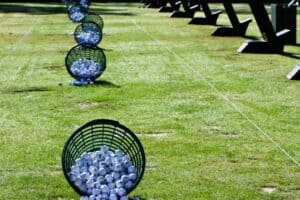 6 Tips From Scratch Golfers That Will Instantly Make You A 'Smarter' Player
Every golfer dreams of getting their handicap down this season, and we've got news for you. It's easier to do than you might think. It takes a little bit of hard work, sure, but more importantly, it takes some smart work. Knowing which things will benefit you the most — and which are a waste of your time.
For that, we asked a couple of our former college golfers and resident low handicaps on staff, Associate Editor Drew Powell (+2.6 handicap) and Senior Game Improvement Editor Luke Kerr-Dineen (1.3 handicap), to hear what they have to say.
1. Stop trying to hit too many shots
Shooting in the 70s is more attainable than you may think. All you need is a few simple shots that you're able to repeat over and over. I recognize that's often harder than it sounds but do away with any notion that shooting in the 70s has to be flashy. I play with a lot of people who shoot between 75 and 79 most rounds by hitting the shots they're comfortable with, as opposed to the "proper" shots. Their tee shots are always moving in the same direction.
They're not focused on changing the shape or trajectory of shots. They often have one or two short game shots that they use—a low chip and a higher pitch. Nothing more. A lot of the 80s-shooters I play with are trying all sorts of shots that are better reserved for scratch handicaps or pros. Focus on repeating the shots in your arsenal—not adding new ones. — Drew Powell
2. Understand the ball flight basics
If you want to get better, you need to be able to understand what the golf ball is telling you. That way you'll be able to accurately describe your problems to a coach, and even do some DIY patchwork when you're in the middle of the round, and everything is going wrong.
In a nutshell: Pay attention to where the ball starts, and where it ends in relation to where you're aiming (we'll get to how important that is). There's an old saying in golf that the clubface sends it the club path bends it. So, if the ball starts left and curve right, you've got an open clubface and probably swing from out-to-in. But if your ball starts to the right and curves to the right, that means your clubface is open, but you may be swinging from in-to-out. Both shots went to the right, but they're two very different problems with very different solutions. — Luke Kerr-Dineen
3. Alignment is boring, but important
This season, refocus on the fundamentals—mainly alignment. As Butch Harmon says in this Golf Digest Schools series, "If you aim at nothing, you'll hit it every time." Try and commit to arriving at the course 20 minutes early and put an alignment stick down on the range. Make sure your feet, knees, hips and shoulders are all parallel to the stick, ensuring you're properly aligned.
Take a few looks at the target to train your eyes to see correct alignment. If you tend to aim left or right of the target—as many mid-handicaps do—you'll be forced to make compensations. You rarely see tour pros (or scratch handicaps, for that matter) hit balls on the range without a stick or club on the ground. Good fundamentals aren't just for the better players. — DP
4. You don't need to change everything all at once
The nature of my role means people tend to solicit me for free golf swing advice from time to time. I don't mind (though keep in mind, you get what you pay for), but I always find it interesting how often golfers equate needing to make a change to their swing as needing to totally revamp it, tear down and start again.
Look for the middle ground: The smaller tweaks (like, as Drew says, your fundamentals!) that you can make to your swing slowly, with the limited time you do have, that will improve you along the way. The work you do on your golf swing is a process that never fully ends; it's not all-or-nothing. — LKD
5. Your iron game holds the key
I'll admit, I don't keep stats as diligently as I did when I was in college. But there are lots of great stat-tracking systems out there like Arccos which can keep the same strokes gained numbers that the pros do. When I was keeping track of those for my own game.
I found that when I played my best, I gained more strokes with my iron play than any other part of my game. On the flip side, poor rounds often resulted from a big negative number in approach play. Solid iron play sets up the consistent birdie looks, and easier par save opportunities needed to have a stress-free round. If your irons are off, you'll be scrambling for pars all day. — DP
6. A little bit of time, a lot of feedback
Look, I get it, there's something therapeutic about hitting golf balls on the driving range. But remember that the kind of practice that helps you the most is the kind that isn't just physically taxing, but mentally, too.
Give yourself some feedback that doesn't allow you to switch off your brain. This could come in the form of a golf swing drill, or as Drew said earlier, and alignment stick that will show you how your ball is flying in relation to your target. It could also mean practicing your putting with a mirror and putting gates. Anything that will help you understand if what you're doing is right or wrong, in the moment, will go a long way. — LKD




Tip adapted from golfdigest.comi
---
Recipe of the Week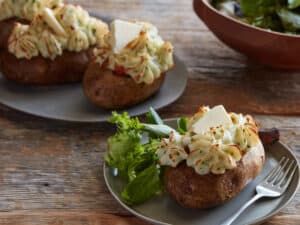 Shepherd's Pie Potato Bowls
4 Servings
Ingredients
 
4 large russet potatoes (about 3 pounds)
4 tablespoons unsalted butter plus 1 tablespoon melted butter
1/4 cup whole milk
1/4 cup sour cream
Kosher salt and freshly ground black pepper
1/4 cup chopped fresh chives
1 small carrot, chopped
12 ounces ground beef chuck
2 tablespoons Worcestershire sauce
1 tablespoon tomato paste
1 teaspoon fresh thyme leaves
1/3 cup frozen peas, thawed
Instructions
Prick the potatoes all over with a fork and brush them with 1 tablespoon melted butter. Put on a microwave-safe plate and microwave, flipping halfway, until fork tender, about 20 minutes. (Alternately, bake in the oven at 400 degrees F on a baking sheet until cooked through and fork tender, about 1 hour.) Let cool slightly.
Cut a 1/4-inch-thick slice off the top of each potato. Carefully scoop out the flesh into a medium bowl and mash with the milk, sour cream, 2 tablespoons butter and 1 teaspoon salt using a fork or potato masher. Fold in the chives. Put the potato bowls on a baking sheet.   
Preheat the oven to 400 degrees F. Meanwhile, melt 1 tablespoon butter in a large skillet over medium heat. Add the carrots and cook, stirring occasionally, until softened and lightly browned, 5 to 6 minutes. Add the beef and cook, breaking it up with a wooden spoon, until cooked through, about 4 minutes. Stir in the Worcestershire, tomato paste, thyme, 1/2 teaspoon salt and 1 cup water and bring to a boil, and then reduce heat and cook until the beef and carrots are coated in sauce with a little extra sitting on the bottom of the pan, about 1 minute. Stir in the peas until heated through, 1 to 2 minutes more. 
Spoon the beef mixture into the potato bowls. Spoon or pipe the mashed potatoes on top of the beef mixture and bake until heated through and the potatoes brown on top, about 15 minutes. Cut the remaining tablespoon of butter into 4 slices and top each potato with one.  



Recipe adapted from foodnetwork.comii
---
Health Tip of the Week
Simple Solutions For Lower Back Pain Work Best
Good news for those of us with lower back pain: Muscle relaxants and common pain relievers provided relief from low back pain after a week of treatment, according to a new study of more than 3,000 people.
Acute lower back pain is a common cause of disability worldwide, and often interferes with daily living. the study authors wrote. However, concerns about opioids have prompted more research into other options for pain management. 
In an analysis published in the Journal of Orthopaedic Research, a team of investigators from Germany examined which non-opioid drugs are best for treating it.
The researchers found 18 studies totaling 3,478 patients with acute low back pain that lasted less than 12 weeks. The average age of the patients across all the studies was 42.5 years, and 54% were women. The average length of symptoms before treatment was 15.1 days.
Overall, muscle relaxants and common pain relievers, known as non-steroidal anti-inflammatory drugs – or NSAIDs — helped reduce pain and disability after about 1 week of use. 
Ibuprofen, aspirin, and naproxen are all NSAIDs.
In addition, studies of a combination of these drugs and acetaminophen showed more improvement than NSAIDs alone, but acetaminophen alone had no significant impact on LBP. 
Most patients with acute lower back pain recover on their own, so it is difficult to tell how effective the medications are, the researchers wrote. However, it is important that other therapies that don't include medication, are tried first, the researchers said. More research is needed to see if the drugs help prevent back from returning, they said. 
Study Supports Opioid Alternatives
The study highlights effective alternatives to opioids for back pain management, Suman Pal, specialist in hospital medicine at the University of New Mexico, says. 
Pal says he was not surprised by the results. "The findings of the study mirror prior studies," he says. "However, the lack of benefit of paracetamol (acetaminophen) alone needs to be highlighted as important to clinical practice."  
The main message from the study, says Pal, is that "patients with low back pain should talk to their doctors about the best approach to treatment. 
During those conversations, patients should discuss their symptoms, previous medical conditions, and medications they are currently taking, Pal says. "These factors should guide the choice of pharmacological therapy, if needed." 
However, more research is needed to better identify which patients would get the most benefit from NSAIDs and muscle relaxants to manage their pain since chronic NSAID use carries its own potential for side effects, Pal says. 




Tip adapted from webmd.comiii 
---
Copyright (C) 2021.  Ballentine Capital Advisors.  All rights reserved.
Our mailing address is:  
Ballentine Capital Advisors
15 Halton Green Way
Greenville, SC 29607
unsubscribe from this list    update subscription preferences  
Disclosure:
Ballentine Capital Advisors is a registered investment advisor. The advisory services of Ballentine Capital Advisors are not made available in any jurisdiction in which Ballentine Capital Advisors is not registered or is otherwise exempt from registration.
Please review Ballentine Capital Advisors Disclosure Brochure for a complete explanation of fees. Investing involves risks. Investments are not guaranteed and may lose value.
This material is prepared by Ballentine Capital Advisors for informational purposes only. It is not intended to serve as a substitute for personalized investment advice or as a recommendation or solicitation or any particular security, strategy, or investment product.
No representation is being made that any account will or is likely to achieve future profits or losses similar to those shown. You should not assume that investment decisions we make in the future will be profitable or equal the investment performance of the past. Past performance does not indicate future results.
Advisory services through Ballentine Capital Advisors, Inc.
i https://www.golfdigest.com/story/low-handicapper-advice-from-scratch-handicap
ii https://www.foodnetwork.com/recipes/food-network-kitchen/shepherds-pie-potato-bowls-4538897
iii https://www.webmd.com/back-pain/news/20230303/simple-solutions-for-lower-back-pain
---