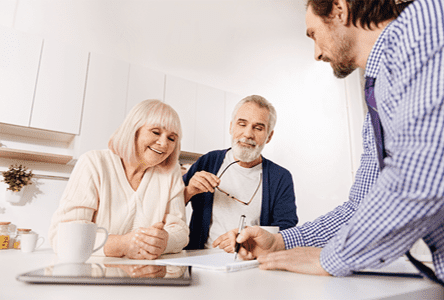 Talking to your elderly parents about their finances not only requires them to disclose details about their personal lives they may feel should be private, but it can also dredge up uncomfortable family dynamics. No wonder our first instinct is to try to avoid it.
Cameron Huddleston, personal finance journalist and author of Mom and Dad, We Need to Talk, says, "It's a taboo topic."1 Yet as uncomfortable as it is, the longer you wait to talk about money with your parents, the more difficult it may become.
Carolyn Rosenblatt, an attorney who specializes in issues surrounding aging, says that the biggest problem isn't the dollars and cents but rather the unvoiced expectations of various family members.
One recurring theme she sees is the parents who simply believe their children will take care of them when they run out of money. However, she writes, "since most parents do not want to be a burden to their children (that's what they say anyway), they may be embarrassed to reveal that they have little saved or that they have debt."2
It's generally a good thing for siblings to discuss what needs to be done about their parents' finances. But if they agree on a course of action and present it to their parents as a united front, the parents can feel like they've been ganged up on.
A better option would be to get the insight of a knowledgeable third party. Engaging with an experienced resource who can facilitate the discussion and offer independent advice outside the family dynamic may provide the best path to a consensus. Getting guidance from someone who is viewed by everyone as a neutral authority can also help minimize some of the otherwise awkward conversations.
The perfect candidate for this role is us. We have helped many other families work through similar situations and can help your family find the course of action that best meets their financial needs.
So instead of having a confrontation with your parents about their finances, you can accompany them to a professional assessment where everything from assets to expectations can be laid out on the table in a more positive, neutral environment.
Any financial discussion with your parents can be stressful. But constantly avoiding the topic can lead to a crisis many times worse. You don't have to go it alone. Taking action today is part of showing how much you really care.
Have a great weekend!
Source: Efficient Advisors
Golf Tip of the Week
The Myth of Always Hitting Your Regular Distance

H. Hugh Briss, who plays golf every weekend at the local country club, faces a 170-yard approach shot over a pond. When he's going good, Hugh can hit a 6-iron 170 yards. He selects his 6-iron. He hits it a little fat, and the ball plops into the water. Hugh, now peeved, was so confident he could reach the green.
Truth be told, Hugh was overconfident. He failed to account for a simple fact: we don't hit our regular distance all the time. Our approach shots often don't carry as far as we assume they will. When you really need to carry a hazard, take one club more than you think you might need. You might like the results. Remember, there is usually less trouble behind a green than in front of it.
Tip adapted from Pipestone Golf i
Recipe of the Week
Zippy French Toast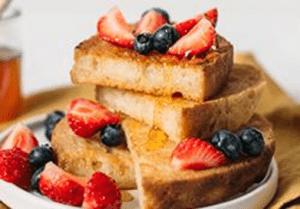 [4 servings]
Ingredients:
1 tsp. cinnamon
¼ tsp. nutmeg
2 Tbsp. sugar
4 Tbsp. butter
4 eggs
¼ cup whole milk
½ tsp vanilla extract
8 slices of your favorite bread
½ cup warm maple syrup
2 cups berries or favorite fruit
Directions:
In large bowl, mix spices and sugar.
Add butter to skillet over medium heat
Beat eggs with milk, vanilla, spice and sugar mix.
One at a time, immerse each bread slice to the egg, and then fry each side in skillet.
Garnish with berries and add syrup.
Serving suggestion: Jam or preserves make a nice change from syrup and berries.
Recipe adapted from foodnetwork.comii
Health Tip of the Week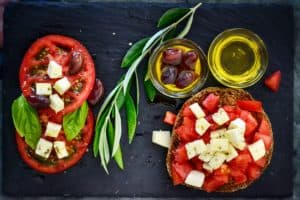 Eating to Your Heart's Content
Deciding to change your diet can feel daunting. It can be difficult to figure out which one is "best" for you. Many fad diets come and go, but there are a few that have stuck around, the most popular being the Mediterranean diet.
The Mediterranean diet is less of a traditional diet and more of a lifestyle shift toward healthier eating patterns. It's modeled after principles of Italian and Greek cuisine, which have remained relatively unchanged since the 1960s. Consuming this diet has been correlated with lower rates of heart disease, type 2 diabetes, and other chronic illnesses. The diet emphasizes eating more fruits, vegetables, legumes, nuts, seeds, fatty fish, whole grains, and olive oil and fewer meats and dairy products. The diet is flexible. Elimination isn't the intention, rather balance more toward nutrient-rich foods versus energy-dense ones.
Food is life, and making healthy choices can help support a healthier life. While the Mediterranean diet could be a good option for someone, no single diet will fit everyone's lifestyle, preferences, and health needs perfectly. So, be sure to discuss any dietary choices you make with your physician or registered dietitian first.
Tip adapted from Healthline.comiii
Copyright (C) 2020. Ballentine Capital Advisors. All rights reserved.
Our mailing address is:
Ballentine Capital Advisors
23 Buena Vista Way, Suite B
Greenville, SC 29615
unsubscribe from this list update subscription preferences
Sources:
https://go.efficientadvisors.com/e/91522/ey-talk-with-your-parents-html/6dzdvh/851977540?h=nXE1OIATP-EH64_m-fHkqWjAfUHiUc0JBHZXAi88Y28
Disclosure:
The views expressed herein are exclusively those of Efficient Advisors, LLC ('EA'), and are not meant as investment advice and are subject to change. All charts and graphs are presented for informational and analytical purposes only. No chart or graph is intended to be used as a guide to investing. EA portfolios may contain specific securities that have been mentioned herein. EA makes no claim as to the suitability of these securities. Past performance is not a guarantee of future performance. Information contained herein is derived from sources we believe to be reliable, however, we do not represent that this information is complete or accurate and it should not be relied upon as such. All opinions expressed herein are subject to change without notice. This information is prepared for general information only. It does not have regard to the specific investment objectives, financial situation and the particular needs of any specific person who may receive this report. You should seek financial advice regarding the appropriateness of investing in any security or investment strategy discussed or recommended in this report and should understand that statements regarding future prospects may not be realized. You should note that security values may fluctuate and that each security's price or value may rise or fall.
Accordingly, investors may receive back less than originally invested. Investing in any security involves certain systematic risks including, but not limited to, market risk, interest-rate risk, inflation risk, and event risk. These risks are in addition to any unsystematic risks associated with particular investment styles or strategies.
The articles and opinions expressed in this newsletter were gathered from a variety of sources, but are reviewed by Ballentine Capital Advisors prior to its dissemination. All sources are believed to be reliable but do not constitute specific investment advice. In all cases, please contact your investment professional before making any investment choices.
Securities through Triad Advisors, LLC, Member FINRA/SIPC. Advisory services through Ballentine Capital Advisors, Inc. Triad Advisors and Ballentine Capital Advisors are not affiliated entities.
i https://www.pipestonegolf.com/blog/41-improve-approach-shots
ii https://www.foodnetwork.com/recipes/robert-irvine/french-toast-recipe-1951408
iii https://www.healthline.com/nutrition/mediterranean-diet-meal-plan