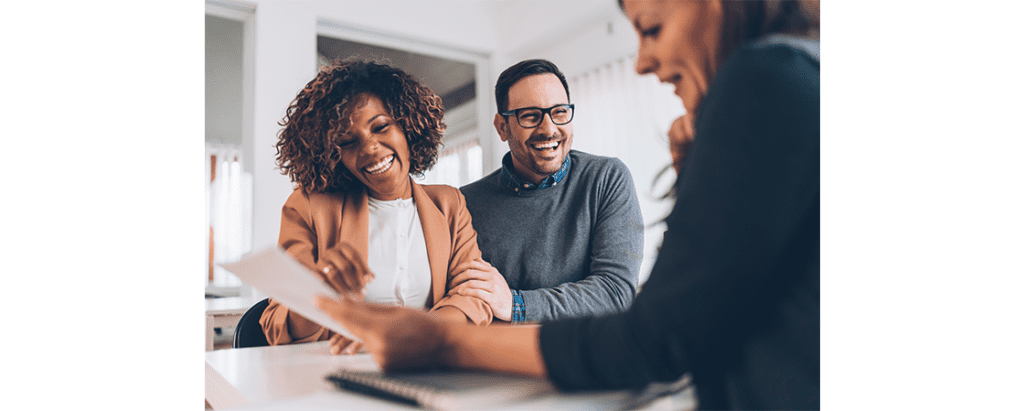 In many marriages the division of labor often falls along the lines of which spouse has a greater interest in whatever the underlying duty might be. Financial duties are often divided up in this way. The spouse who's more of a "numbers person" pays the bills, manages the budget, and tracks their retirement nest egg. The other spouse, who may have less of an aptitude for finance, is happy not to have to get too involved in the details.
According to a study by UBS Global Wealth Management, 54% of surveyed women said their spouse takes the lead in making "major financial decisions." Among the reasons they gave for this, 88% said, "I think my spouse knows more than I do." And 76% said, "I'm not interested in planning and investing."1
But even if one of the partners agree that one of them should be exclusively in charge of finances, it's still not a good idea.
Here are three reasons why.
1. Illness or death. If something should happen to the only spouse who knows how the household finances work, it creates a crisis. The healthy or surviving spouse is suddenly thrust into a role for which they have no preparation. And they may not be able to find such basic information as the locations of cash or investments and the credentials needed to access it.
2. It takes two to succeed. It's difficult to achieve long-term financial goals such as successfully saving for retirement if only one spouse is actively engaged. This is especially true if one spouse is more interested in enjoying money now instead of systematically saving it for the future.
3. A second opinion. Just because a spouse might be interested in money doesn't mean that they will automatically make good decisions with it. Their idea of investing might involve activities with extremely high risk, such as commodities speculation. When it comes to something as significant and long-term as investing for retirement, both spouses should fully understand what's being done with their money.
This doesn't mean that both spouses are required to split financial duties 50/50. But both partners should know what they own, where their investments are, how much life insurance they have, and how to access their financial assets.
We would be happy to talk with you about easy ways to keep both partners in the loop and come up with a plan for what to do in the case of illness or death.
Have a great weekend!
Source: Efficient Advisors
---
Golf Tip of the Week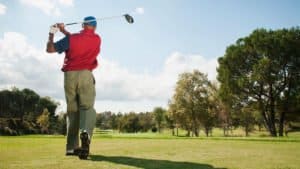 Timeless Driver Keys
With the driver, let's look at a few things you need to get right. Ball position literally sets up everything. Play the ball so it's just inside the front heel. That allows you to turn behind the ball, then drive forward and still catch it on the upswing.
Look at shoulder alignment. Players often reach for the ball when it's played forward and unwittingly shift their shoulders open. The trick is playing the ball up, but keeping your shoulders parallel to the target line.
After a good windup, start the downswing from the ground up. Shift your knees and hips toward the target. Amateurs often spin out the whole body and cut across the ball. Think: Chest to the ball at impact.
Another key is keeping the back shoulder down and in on the downswing. Don't let that shoulder pop out toward the ball because you're trying to muscle it. Let the club stay inside, then straighten your arms out to the ball. That's a power key that you lose if you go hard from the top.
Tip adapted from GolfDigest.comi
---
Recipe of the Week
Chocolate-Cherry Browned Butter German Pancake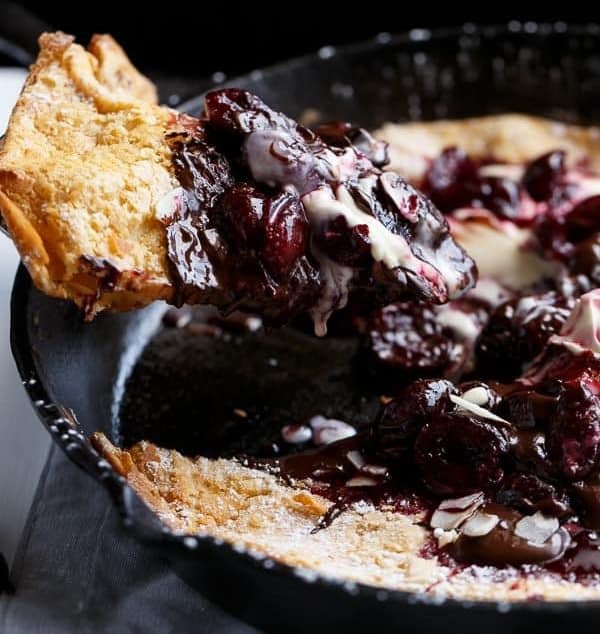 [6 servings]
Ingredients:
Pancake:
3 tablespoons reduced fat butter, divided
1/2 cup plain/all-purpose flour
1/2 cup reduced fat milk
2 tablespoons granulated sugar
1/4 teaspoon salt
3 large eggs
Cherry Compote:
2 cups pitted and stemmed cherries
2 tablespoons water
2 tablespoons granulated sugar
1-2 tablespoons Cointreau (adjust to your tastes – or substitute with fresh squeezed lemon or orange juice)
40 g | 1.5oz dark/semi-sweet chocolate, roughly chopped
Additional:
Icing/confectioners sugar
Toasted coconut flakes
Dollop cream (or Greek yogurt) to serve
Instructions:
For the Pancake:
Heat oven to 400°F. Heat 2 tablespoons of the butter in a cast iron skillet (or oven proof nonstick frying pan). Once butter has melted, transfer to the oven and allow to brown.
Meanwhile, combine flour, milk, sugar, vanilla and salt in a magic bullet blender (or normal blender). Blend for a minute; stop and scrape down the sides to ensure no extra flour is sticking to the sides; and blend again until the mixture is lump free. Add the eggs and blend again until smooth. Set aside.
Once butter has browned in the pan; remove pan with oven gloves; add the remaining tablespoon of butter to the pan and stir it through the browned butter to combine. Quickly pour the pancake batter into the hot skillet/pan. Return the pan to oven and bake until the pancake is puffed and golden (15-20 minutes). While the pancake is in the oven, prepare Cherry and Chocolate Compote.
Combine the Cherries, water, sugar and Cointreau (or juice) in a small saucepan. Bring to a gentle boil; reduce heat down to low and gently simmer until a syrup forms and the cherries soften (about 10 minutes). You may need to lift the saucepan over the heat a couple of times to prevent the liquid in the pan from over flowing. Add the pieces of chocolate and allow them to melt through the cherries.
Dust with confectioners/icing sugar (optional); dollop some cream or yogurt of your choice over the pancake; spoon the compote over the cream; sprinkle with toasted coconut flakes.
Recipe adapted from Cafedelites.comii
---
Health Tip of the Week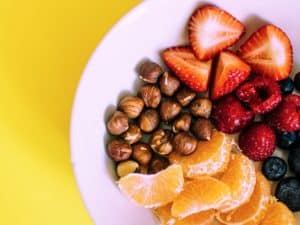 Eat Regularly and Control the Portion Size
Eating a variety of foods, regularly, and in the right amounts is the best formula for a healthy diet. Skipping meals, especially breakfast, can lead to out-of-control hunger, often resulting in helpless overeating. Snacking between meals can help control hunger, but snacking should not replace proper meals. For snacks, we could choose yogurt, a handful of fresh or dried fruits or vegetables (like carrot sticks), unsalted nuts, or perhaps some bread with cheese.
Paying attention to portion size will help us not to consume too much calories, and will allow us to eat all the foods we enjoy, without having to eliminate any.
Cooking the right amount makes it easier to not overeat.
Some reasonable serving sizes are: 100 g of meat; one medium piece of fruit; half a cup of raw pasta.
Using smaller plates helps with smaller servings.
Packaged foods, with calorie values on the pack, could aid portion control.
If eating out, we could share a portion with a friend.
Tip adapted from EUFIC.orgiii
---
Copyright (C) 2020. Ballentine Capital Advisors. All rights reserved.
Our mailing address is:  
Ballentine Capital Advisors
23 Buena Vista Way, Suite B
Greenville, SC 29615
unsubscribe from this list update subscription preferences
Sources:
1. https://go.efficientadvisors.com/e/91522/o-handle-the-money-11576422002/6n17fm/955652978?h=r30gx00-WXFFlQ7B7WxPy5c_m5a0Q5ADVVkg_ywKRI4
Disclosure:
The views expressed herein are exclusively those of Efficient Advisors, LLC ('EA'), and are not meant as investment advice and are subject to change. All charts and graphs are presented for informational and analytical purposes only. No chart or graph is intended to be used as a guide to investing. EA portfolios may contain specific securities that have been mentioned herein. EA makes no claim as to the suitability of these securities. Past performance is not a guarantee of future performance. Information contained herein is derived from sources we believe to be reliable, however, we do not represent that this information is complete or accurate and it should not be relied upon as such. All opinions expressed herein are subject to change without notice. This information is prepared for general information only. It does not have regard to the specific investment objectives, financial situation and the particular needs of any specific person who may receive this report. You should seek financial advice regarding the appropriateness of investing in any security or investment strategy discussed or recommended in this report and should understand that statements regarding future prospects may not be realized. You should note that security values may fluctuate and that each security's price or value may rise or fall. Accordingly, investors may receive back less than originally invested. Investing in any security involves certain systematic risks including, but not limited to, market risk, interest-rate risk, inflation risk, and event risk. These risks are in addition to any unsystematic risks associated with particular investment styles or strategies.
The articles and opinions expressed in this newsletter were gathered from a variety of sources, but are reviewed by Ballentine Capital Advisors prior to its dissemination. All sources are believed to be reliable but do not constitute specific investment advice. In all cases, please contact your investment professional before making any investment choices.
Securities through Triad Advisors, LLC, Member FINRA/SIPC. Advisory services through Ballentine Capital Advisors, Inc. Triad Advisors and Ballentine Capital Advisors are not affiliated entities.
---
i https://www.golfdigest.com/story/timeless-driver-keys-basics-on-setting-up-for-power-and-accuracy?utm_medium=email&utm_source=071720&utm_campaign=tips
ii https://cafedelites.com/chocolate-cherry-browned-butter-german-pancake/
iii https://www.eufic.org/en/healthy-living/article/10-healthy-lifestyle-tips-for-adults