You've probably heard the rule about the three things to look for when buying a house: location, location, location.

Great advice, especially if you're going to live there.

But real estate investors, those who hope to eventually sell at a profit, have an additional rule of thumb. It goes, "You make your profit when you buy the house."

In other words, don't let your optimism lead you into paying too much for an investment property. No matter how hot the market. No matter how nice it looks from the curb. If the cashflow doesn't pencil out long-term, you're better off walking away from the deal.

People who are looking to realize long-term success with their retirement investing would be wise to heed similar advice.

When looking at twelve months or even several years' worth of market data, it's tempting to want to avoid those sectors that have been "underperforming" in the recent past, and instead concentrate your money on the most recent winners.

One example that's been making the news is the sector known as value stocks. In the eyes of some investors (most notable among them Warren Buffett) the prices of these shares are undervalued when compared to the worth of the company as a whole. So, the value strategy calls for carefully researching to find these companies and then buying their stock before the rest of the market realizes what it's missing.1

Like all investing, allocating money to value stocks doesn't guarantee a profit. Instead, the one thing you can rely on most is that value stocks will go through periods where they underperform growth stocks. This has led some value investors to overlook this strategy.

The problem with trying to pick out these potential sleepers is that the market has already priced their stocks using all the available information. Uncovering additional, publicly available information significant enough to contradict the market price is extremely hard to do. Instead of picking individual companies or even a concentration of a few dozen, owning the hundreds of stocks, both here and abroad, that exhibit value characteristics over the long haul makes more sense.

Despite their recent performance, value stocks should still be part of a broadly diverse portfolio. If it turns out they repeat the statistical pattern they have for decades by delivering higher expected long-term returns, then the patient investor could participate in those gains. But whatever their performance, they are useful as a portfolio component that tends not move in lockstep with the overall stock market.

If you have questions about how value stocks can play a role in your long-term plan for retirement success, talk to us.
Have a great weekend!
Source: Efficient Advisors
Golf Tip of the Week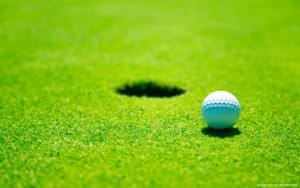 Simply Visualizing a Successful Putt
How can you step up to a putt of some distance with confidence and without taking so much time that you seem like a snail to your playing partners? Try this simple routine.
Stand a bit back from your ball (not over it), and take two practice strokes that mimic what you want the real stroke to feel like. Address the ball, look down the line of the putt, and visualize the putt going into the hole. Now, take a second look from where your ball lies to the apex of the putt's break and look further down the line of the putt to the hole. Then, hit your putt.
Tip adapted from U.S. Sports Campsi
Recipe of the Week
Knockout Spicy Chicken Strips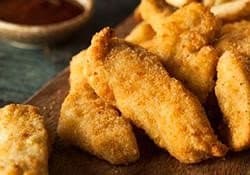 [4-6 servings]
Ingredients:
1½ lbs. chicken, cut into small strips
Cooking spray
1 cup all-purpose flour
1 Tbsp. salt
3 large eggs, beaten
3 Tbsp. your preferred hot sauce
1 cup cornmeal
2 Tbsp. chili powder
1 tsp. cayenne pepper
Extra virgin olive oil
Additional salt, to taste
Directions:
Preheat oven to 425° F, with center rack in place.
Spray baking sheet with cooking spray.
Mix flour with salt in bowl.
Whisk eggs and hot sauce in separate bowl.
Combine cornmeal, chili powder, and cayenne pepper in third bowl.
Take each chicken strip, in turn, and dip into flour and then egg.
Once egg mixture stops dripping, cover each chicken strip through cornmeal mixture.
As you finish breading chicken strips, place them evenly on the baking sheet.
Spray or drizzle lightly with olive oil and season with additional salt, to taste.
Bake until fully cooked, 15 to 17 minutes.
Recipe adapted from FoodNetwork.comii
Health Tip of the Week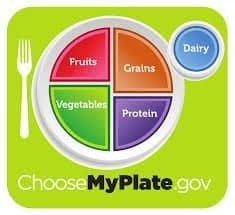 Choose to Make Your Plate "MyPlate"
Ah, the Food Pyramid. It had a lot of flaws. Its major weaknesses were that it generalized recommended servings per day and poorly defined portion sizes. So, in 2008, the U.S. Department of Agriculture implemented a user-friendly redesign: the pyramid was transformed into a plate.
The concept behind the MyPlate design was somehow both revolutionary and seemingly obvious. After all, we eat off a plate, not a pyramid. Portions are easier to visualize and compose the following ratio: half the plate, fruits and vegetables; the other half, grains and protein. A serving of dairy (or non-dairy alternative) on the side. Easy, right?
Take advantage of this method the next time you sit down for a meal and see what adjustments you can make to make your plate even healthier.
Tip adapted from ChooseMyPlate.goviii
Copyright (C) 2020. Ballentine Capital Advisors. All rights reserved.
Our mailing address is:
Ballentine Capital Advisors
23 Buena Vista Way, Suite B
Greenville, SC 29615
unsubscribe from this list update subscription preferences
Sources:
1. https://go.efficientadvisors.com/e/91522/terms-v-valueinvesting-asp/6fnx4k/865829300?h=iW4KBGCiiuhZxXCBvrjky7-4RrGm9zNRANVHDilOWnE
Disclosure:
The views expressed herein are exclusively those of Efficient Advisors, LLC ('EA'), and are not meant as investment advice and are subject to change. All charts and graphs are presented for informational and analytical purposes only. No chart or graph is intended to be used as a guide to investing. EA portfolios may contain specific securities that have been mentioned herein. EA makes no claim as to the suitability of these securities. Past performance is not a guarantee of future performance. Information contained herein is derived from sources we believe to be reliable, however, we do not represent that this information is complete or accurate and it should not be relied upon as such. All opinions expressed herein are subject to change without notice. This information is prepared for general information only. It does not have regard to the specific investment objectives, financial situation and the particular needs of any specific person who may receive this report. You should seek financial advice regarding the appropriateness of investing in any security or investment strategy discussed or recommended in this report and should understand that statements regarding future prospects may not be realized. You should note that security values may fluctuate and that each security's price or value may rise or fall. Accordingly, investors may receive back less than originally invested. Investing in any security involves certain systematic risks including, but not limited to, market risk, interest-rate risk, inflation risk, and event risk. These risks are in addition to any unsystematic risks associated with particular investment styles or strategies.

The articles and opinions expressed in this newsletter were gathered from a variety of sources, but are reviewed by Ballentine Capital Advisors prior to its dissemination. All sources are believed to be reliable but do not constitute specific investment advice. In all cases, please contact your investment professional before making any investment choices.
Securities through Triad Advisors, LLC, Member FINRA/SIPC. Advisory services through Ballentine Capital Advisors, Inc. Triad Advisors and Ballentine Capital Advisors are not affiliated entities.
---
i https://www.ussportscamps.com/tips/golf/4-easy-ways-to-read-greens-and-start-sinking-more-putts
ii https://www.foodnetwork.com/recipes/giada-de-laurentiis/spicy-chicken-tenders-with-honey-mustard-recipe-1921323
iii https://www.choosemyplate.gov/eathealthy/WhatIsMyPlate