As the 2021 pro football season kicks off, the Tampa Bay Buccaneers will start at quarterback a man who by all standard football measures is middle-aged. But if 44-year-old Tom Brady plays like he did last season, his team should do very well.
Even if you don't follow sports this is an extraordinary story. Brady's win in last year's NFL Championship Game came 19 years after his first Super Bowl win in 2002.1 And, as some have pointed out, the most amazing thing is how little he has seemed to have changed—especially when compared to how much the business landscape has evolved in those two decades.
Jon Erlichman, anchor of BNN Bloomberg's "The Open," has observed that many of the giant companies that paid more than $2 million for a 30 second TV advertisement in the 2002 Super Bowl broadcast are no longer around, or are today, at best, shadows of their former selves.2
That list includes once dominant companies like AOL, Blockbuster, Radio Shack, Circuit City, Yahoo, and Sears.
Jon Miltimore, writing for the Foundation for Economic Education (FEE), argues that this decline and failure of former category-leading corporations is actually a sign of a healthy economy.
"Watching companies we once shopped at flounder and fail," he writes, "can be surprising, jarring even. But a closer look shows this cycle is just part of a healthy market economy, not a dysfunctional one."
It's a vivid picture of economist Joseph Schumpeter's principle of "creative destruction." Old business models fall apart as they are replaced by newer, better ones.
One example Miltimore points out from the list of 2002 Super Bowl advertisers is Blockbuster Video. At its peak in 2004 the movie rental giant operated 9,094 stores with an annual revenue of $6 billion.
But there was a problem. $800 million of that revenue was in late fees. They helped subsidize the chain's low rental prices, but customers hated how severely they were penalized for returning videos past the deadline.
One of these customers was software executive Reed Hastings. In the late 1990s, he misplaced a tape of Apollo 13 he had rented from Blockbuster. And by the time he found it and returned it six weeks later, he owed the store $40 in late fees. It was several times the price of owning a new copy outright.
Even though he knew it was his fault, this penalty irked Hastings. Within a few years he co-founded Netflix and adopted a no-late-fee business model.
Today, Netflix has annual revenue of $25 billion. Blockbuster has a single store. And arguably consumers, who get unlimited access to far more programming, are the winners.
Who knows which of today's leading companies will even be around in 20 years?
That's why the prudent investor has a wealth plan. Instead of trying to find the next "Netflix" make a plan, execute the plan and monitor it based on your goals. This way you may benefit from the creative destruction that is almost sure to continue.
Have a great weekend!






---
Source: Efficient Advisors
---
Golf Tip of the Week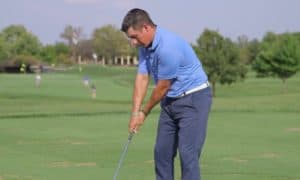 Here's Why You Hook the Ball – and How to Fix It
If you've ever battled a hook, you know how nerve-wracking it can be to stand on a tee with trouble down the left. Adding more control to your game is easier than you might think. Follow along with Chad Middaugh, one of Golf Digest's Best Young Teachers, as he demonstrates a drill from his Golf Digest Schools video "Golfers Like You: Fixing a Hook." Learn how to keep your clubface square through impact, and you'll improve your accuracy with the driver—and all your clubs.
Many golfers hook the ball because they flip their wrists through impact, which closes the clubface. Middaugh has a drill for that: Place a small piece of two-by-four on the ground, lengthwise toward the target. Set up normally, then put your clubface against the end of the board. Now, rehearse your impact position, pushing lightly against the board. Your weight should be on your front foot, and your hands ahead of the clubhead. These positions are essential to maintaining a square face and losing that hook.
After you pose impact a few times, take the club back and swing down slowly, stopping at the board to rehearse your impact position again. Once you have that down, try rotating your hips open and pushing the board straight down the line with the clubhead. This will help you flatten your lead wrist—the opposite of that flipping motion. Add this into your practice routine to stop losing shots to the left.

Tip adapted from golfdigest.comi
---
Recipe of the Week
Sweet and Sour Glazed Shrimp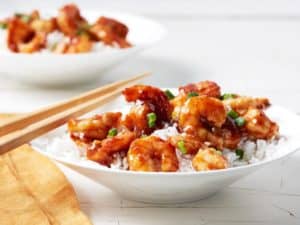 4 Servings
Ingredients
•           1/4 cup Chinese plum sauce
•           1/4 cup ketchup
•           2 teaspoons soy sauce
•           1/4 teaspoon crushed red pepper flakes
•           1 1/4 pounds medium shrimp, peeled and deveined and tails removed
•           Kosher salt and freshly ground black pepper
•           1 tablespoon peanut oil
•           2 scallions, thinly sliced (white and green parts kept separate)
•           1 clove garlic, finely chopped
•           1 teaspoon finely chopped peeled fresh ginger
•           3 tablespoons unseasoned rice wine vinegar
•           Cooked white rice, for serving, optional
Instructions
Stir together the plum sauce, ketchup, soy sauce and pepper flakes in a small bowl and set aside.

Sprinkle the shrimp with salt and pepper. Heat the oil in a medium skillet over medium-high heat. Add the shrimp to the skillet and cook, stirring occasionally, until just cooked through, 2 to 3 minutes. Transfer to a plate.

Add the scallion whites, garlic and ginger to the skillet and cook, stirring constantly, until soft, about 1 minute. Add the vinegar and scrape up any brown bits that cling to the bottom of the skillet. Add the plum sauce and ketchup and bring to a simmer. Return the shrimp to the skillet along with the scallion greens and give the skillet a swirl to bring everything together. Divide among 4 plates and serve with white rice if using.

Recipe adapted from foodnetwork.comii
---
 Health Tip of the Week
5 Things to Do Every Day to Keep Our Heart Healthy
You know that exercise and a good diet can keep your heart healthy. But what else can you do to keep your ticker going strong? Here, cardiothoracic surgeon Marc Gillinov, MD, recommends five key things you need to do every day to help your heart work most efficiently. Incorporate these habits into your lifestyle and your heart health will be the best it can be for you.
1. Eat healthy fats, NOT trans fats.
2. Practice good dental hygiene, especially flossing your teeth daily.
3. Get enough sleep.
4. Don't sit for too long at one time.
5.         Avoid secondhand smoke like the plaque.

Tip adapted from clevelandclinic.orgiii 
---
---
Copyright (C) 2021. Ballentine Capital Advisors. All rights reserved.
Our mailing address is:
Ballentine Capital Advisors
15 Halton Green Way
Greenville, SC 29607
unsubscribe from this list update subscription preferences
Sources:
1. https://en.wikipedia.org/wiki/Super_Bowl_XXXVI
2. https://fee.org/articles/10-companies-that-advertised-during-brady-s-first-super-bowl-and-the-story-they-tell/
Disclosure:
The views expressed herein are exclusively those of Efficient Advisors, LLC ('EA'), and are not meant as investment advice and are subject to change. All charts and graphs are presented for informational and analytical purposes only. No chart or graph is intended to be used as a guide to investing. EA portfolios may contain specific securities that have been mentioned herein. EA makes no claim as to the suitability of these securities. Past performance is not a guarantee of future performance. Information contained herein is derived from sources we believe to be reliable, however, we do not represent that this information is complete or accurate and it should not be relied upon as such. All opinions expressed herein are subject to change without notice. This information is prepared for general information only. It does not have regard to the specific investment objectives, financial situation and the particular needs of any specific person who may receive this report. You should seek financial advice regarding the appropriateness of investing in any security or investment strategy discussed or recommended in this report and should understand that statements regarding future prospects may not be realized. You should note that security values may fluctuate and that each security's price or value may rise or fall. Accordingly, investors may receive back less than originally invested. Investing in any security involves certain systematic risks including, but not limited to, market risk, interest-rate risk, inflation risk, and event risk. These risks are in addition to any unsystematic risks associated with particular investment styles or strategies.
The articles and opinions expressed in this newsletter were gathered from a variety of sources but are reviewed by Ballentine Capital Advisors prior to its dissemination. All sources are believed to be reliable but do not constitute specific investment advice. In all cases, please contact your investment professional before making any investment choices.
Securities through Triad Advisors, LLC, Member FINRA/SIPC. Advisory services through Ballentine Capital Advisors, Inc. Triad Advisors and Ballentine Capital Advisors are not affiliated entities.
---
i https://www.golfdigest.com/story/stop-pull-hooking
ii https://www.foodnetwork.com/recipes/food-network-kitchen/sweet-and-sour-glazed-shrimp-5288799
iii https://health.clevelandclinic.org/5-things-to-do-every-day-to-keep-your-heart-healthy/