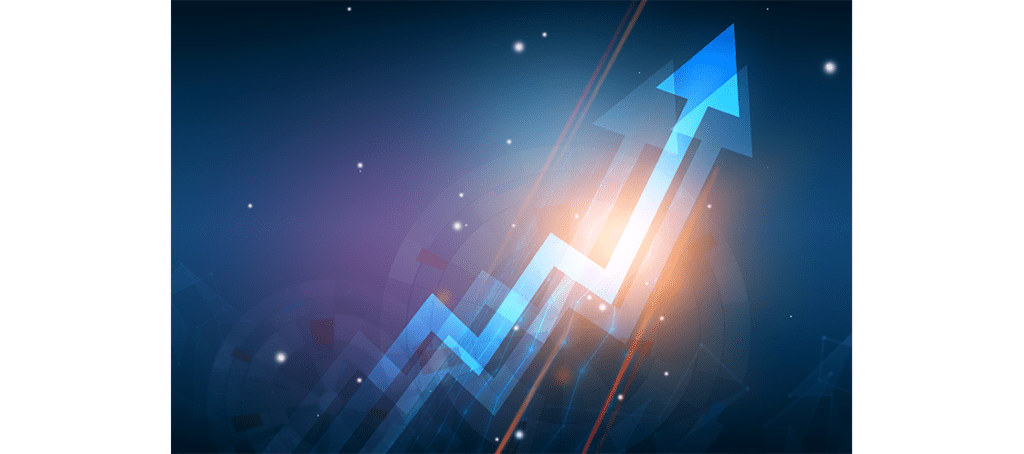 Alexandre Dumas, the author of The Three Musketeers and other long French novels, said, "Nothing succeeds like success."1 Things that are doing well tend to continue doing well, sometimes for no other observable reason than that they have momentum.
The same phenomenon occurs in stocks.
The Efficient Markets Hypothesis states that the value of a stock is based on all available information.2 This is why insider trading is dealt with so severely by the Securities and Exchange Commission. An executive who becomes privy to confidential information such as an upcoming merger or the failure of an anticipated product, and then profits by trading his company's stock before that becomes public knowledge, can expect to be vigorously prosecuted.
But there are times when a company's stock price will increase for no apparent reason other than momentum. For example, last quarter Company X went from $18 to $20 a share on better sales numbers. This quarter that stock is up again to $22 a share. Yet there has been no new, significant information about the company or its sector that would warrant this quarter's increase of 10% in value. Could that increase be simply due to price momentum?
Two finance professors, Dr. Avanidhar Subrahmanyam of UCLA and Dr. Sheridan Titman of the University of Texas, have studied the phenomenon of stock price momentum.
Their first finding confirmed that it's real. Outside exceptional down markets (such as the Great Depression and the 2007-09 financial crisis), stocks that have outperformed the market for the previous three to 12 months tend to continue outperforming the market for the next three to 12 months.3
The researchers found several possible reasons for this, all having to do with investor sentiment. Underreaction to information about a company could lead to a delay in its shares reaching their appropriate price. On the other hand, overreaction by some investors receiving information later than others could cause them to buy on old news.
Interestingly, the common factor the professors found in both cases was investor overconfidence. In their decision making, investors tended to downplay the ability of other investors to correctly interpret the same information. In other words, they think they're smarter than everybody else.
Efficient markets essentially process and almost instantly reflect the known, assumed, speculated upon and even feared about information in a stock's price. Investor confidence, or even overconfidence, are just part of the myriad bits of information that make up a current price.
Like the children of Lake Wobegon, we all consider ourselves above average. It's a bias that comes to us naturally. However, knowing that, we can keep this tendency from harming our long-term investing goals by choosing a strategy that doesn't rely on us outsmarting the market.
We can help you create and stick with an investment strategy that relies on global diversification rather than speculation and overconfidence about future stock prices.
Have a great weekend!
Source: Efficient Advisors
---
Golf Tip of the Week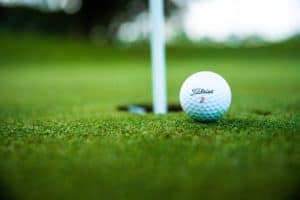 Eliminate Three-Putts
If you can get your putting in a position where you don't have to grind over four- or five-footers for par, you'll start to score better. That means leaving yourself shorter second putts, and that means learning better distance control. Too many people take the putter back short and then accelerate aggressively through the ball. Instead, you want an even rhythm with the putter when you take it back and follow through.
This drill requires three tees. Put one in the ground at the ball, one about 8 inches behind and one about 8 inches ahead. Try to swing your putter with an even rhythm, not going back past the back tee and not going through beyond the front tee. If you're steady with your tempo and the length of your takeaway and follow-through, you'll immediately start to see a lot of consistency in the length of your putts.
The amount of space from tee to tee will depend on the length of the putt—it'll take a little bit of trial and error to figure out the correct tee spacing for different length putts. Set up a few different stations on the green: a medium-distance putt, a long putt, a really long putt. This will require you to use varying lengths of strokes. Move around and practice at these areas, drilling in the feeling of how long your stroke should be for each type of putt. Next time you play, you'll be able to confidently get your longer putts close to the hole. Maybe a few will even fall in.
Tip adapted from GolfDigest.comi
---
Recipe of the Week
Creamy Tortellini Soup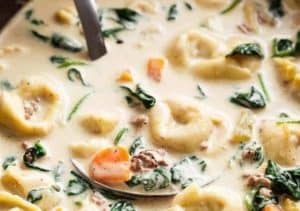 [10 people]
Ingredients:
1 pound ground Italian sausage (or ground chicken, turkey or beef), browned
1 onion, chopped
2 large carrots, chopped
2 stalks celery, chopped
4 cloves garlic, minced
1 tablespoon Italian seasoning
2 teaspoon beef bouillon powder (or chicken)
1/2 teaspoon salt
4 cups beef broth (or chicken or vegetable broth — use low sodium)
1/4 cup cornstarch mixed and dissolved in 1/4 cup water
36 ounces evaporated milk or half and half
12 ounce packet three cheese tortellini (dried not fresh; choose any flavor you like)
5 cups fresh baby spinach
1 cup milk
Instructions:
Place the browned sausage, onion, carrots, celery, garlic, Italian seasoning, beef bouillon powder, salt, and broth in a 6-quart slow cooker bowl. Cover and cook on high for 4 hours or low for 7 hours.
Uncover and skim any fat that is sitting on the top of the soup with a spoon; discard. Stir in the cornstarch mixture with the evaporated milk (or half and half or cream). Add the tortellini and mix well. Cover again and cook on HIGH heat setting for a further 45 minutes until the soup has thickened, and the tortellini is soft and cooked through.
Add in the spinach, pressing the leaves down to completely submerse into the liquid. Cover again for a further 5-10 minutes until the leaves have wilted.
Pour in milk in 1/3 cup increments, as needed, to reach your desired thickness and consistency (about 1 cup); taste test and season with extra salt ONLY if needed, and pepper to suit your tastes.
Serve with crusty warmed bread.
Recipe adapted from Cafedelites.comii
---
Health Tip of the Week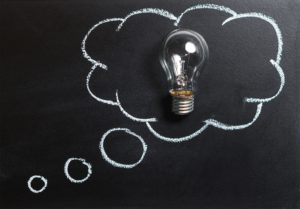 Preventing Alzheimer's with Health Living
According to the Centers for Disease Control and Prevention (CDC), Alzheimer's is the sixth most common cause of death among U.S. adults. It ranks fifth among causes of death for people 65 years and older. Just as there's no known cure for Alzheimer's, there are no foolproof preventive measures. However, researchers are focusing on overall healthy lifestyle habits as ways of preventing cognitive decline.
The following measures may help:
Quit smoking.
Exercise regularly.
Try cognitive training exercises.
Eat a plant-based diet.
Consume more antioxidants.
Maintain an active social life.
Be sure to talk with your doctor before making any big changes in your lifestyle.
Tip adapted from Healthline.comiii
---
Copyright (C) 2020. Ballentine Capital Advisors. All rights reserved.
Our mailing address is:  
Ballentine Capital Advisors
23 Buena Vista Way, Suite B
Greenville, SC 29615
unsubscribe from this list update subscription preferences
Sources:
1. https://go.efficientadvisors.com/e/91522/quote-12704/6qhkxs/1001354699?h=9wrdEe2Y0djQsfOXgAY8lnd04vPac64XR9yrDi_fag0
2. https://go.efficientadvisors.com/e/91522/thesis-definition-what-is-aspx/6qhkxv/1001354699?h=9wrdEe2Y0djQsfOXgAY8lnd04vPac64XR9yrDi_fag0
3. https://go.efficientadvisors.com/e/91522/uence-share-prices-11591539514/6qhkxx/1001354699?h=9wrdEe2Y0djQsfOXgAY8lnd04vPac64XR9yrDi_fag0
Disclosure:
The views expressed herein are exclusively those of Efficient Advisors, LLC ('EA'), and are not meant as investment advice and are subject to change. All charts and graphs are presented for informational and analytical purposes only. No chart or graph is intended to be used as a guide to investing. EA portfolios may contain specific securities that have been mentioned herein. EA makes no claim as to the suitability of these securities. Past performance is not a guarantee of future performance. Information contained herein is derived from sources we believe to be reliable, however, we do not represent that this information is complete or accurate and it should not be relied upon as such. All opinions expressed herein are subject to change without notice. This information is prepared for general information only. It does not have regard to the specific investment objectives, financial situation and the particular needs of any specific person who may receive this report. You should seek financial advice regarding the appropriateness of investing in any security or investment strategy discussed or recommended in this report and should understand that statements regarding future prospects may not be realized. You should note that security values may fluctuate and that each security's price or value may rise or fall. Accordingly, investors may receive back less than originally invested. Investing in any security involves certain systematic risks including, but not limited to, market risk, interest-rate risk, inflation risk, and event risk. These risks are in addition to any unsystematic risks associated with particular investment styles or strategies.
The articles and opinions expressed in this newsletter were gathered from a variety of sources, but are reviewed by Ballentine Capital Advisors prior to its dissemination. All sources are believed to be reliable but do not constitute specific investment advice. In all cases, please contact your investment professional before making any investment choices.
Securities through Triad Advisors, LLC, Member FINRA/SIPC. Advisory services through Ballentine Capital Advisors, Inc. Triad Advisors and Ballentine Capital Advisors are not affiliated entities.
---
i https://www.golfdigest.com/story/learn-putting-distance-control-to-eliminate-three-putts?utm_medium=email&utm_source=082020&utm_campaign=tips
ii https://cafedelites.com/slow-cooker-creamy-tortellini-soup/
iii https://www.healthline.com/health/alzheimers-disease?ref=global#prevention