This article courtesy of Dimensional Fund Advisors (DFA).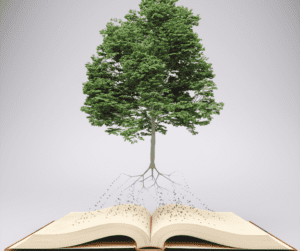 On Friday, March 10, regulators took control of Silicon Valley Bank as a run on the bank unfolded. Two days later, regulators took control of a second lender, Signature Bank. With increasing anxiety, many investors are eyeing their portfolios for exposure to these and other regional banks.
Rather than rummaging through your portfolio looking for trouble when headlines make you anxious, turn instead to your financial plan. Hopefully, your plan is designed with your long-term goals in mind and is based on principles that you can stick with, given your personal risk tolerances. While every investor's plan is a bit different, ignoring headlines and focusing on the following time-tested principles may help you avoid making shortsighted missteps.
1. Uncertainty Is Unavoidable
Remember that uncertainty is nothing new and investing comes with risks. Consider the events of the last three years alone: a global pandemic, the Russian invasion of Ukraine, spiking inflation, and ongoing recession fears. In other words, it may have seemed as if there were plenty of reasons to panic. Despite these concerns, for the three years ending February 28, 2023, the Russell 3000 Index (a broad market-capitalization-weighted index of public US companies) returned an annualized 11.79%, slightly outpacing its average annualized returns of 11.65% since inception in January 1979. The past three years certainly make a case for weathering short-term ups and downs and sticking with your plan.
2. Market Timing Is Futile
Inevitably, when events turn bleak and headlines warn of worse to come, some investors' thoughts turn to market timing. The idea of using short-term strategies to avoid near-term pain without missing out on long-term gains is seductive, but research repeatedly demonstrates that timing strategies are not effective. The impact of miscalculating your timing strategy can far outweigh the perceived benefits.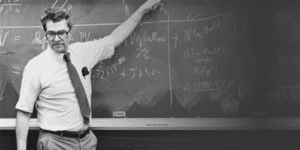 3. "Diversification Is Your Buddy"
Nobel laureate Merton Miller famously used to say, "Diversification is your buddy." Thanks to financial innovations over the last century in the form of mutual funds, and later ETFs, most investors can access broadly diversified investment strategies at very low costs. While not all risks—including a systemic risk such as an economic recession—can be diversified away (see Principle 1 above), diversification is still an incredibly effective tool for reducing many risks investors face. In particular, diversification can reduce the potential pain caused by the poor performance of a single company, industry, or country.1 As of February 28, Silicon Valley Bank (SIVB) represented just 0.04% of the Russell 3000, while regional banks represented approximately 1.70%.2 For investors with globally diversified portfolios, exposure to SIVB and other US-based regional banks likely was significantly smaller. If buddying up with diversification is part of your investment plan, headline moments can help drive home the long-term benefits of your approach.
When the unexpected happens, many investors feel like they should be doing something with their portfolios. Often, headlines and pundits stoke these sentiments with predictions of more doom and gloom. For the long-term investor, however, planning for what can happen is far more powerful than trying to predict what will happen. If you have any questions, give us a call.
Have a great weekend!



Source: Dimensional Fund Advisors (DFA)
---
Golf Tip of the Week
This '30 Percent' Mistake is Killing Your Score—And Causing Blow up Holes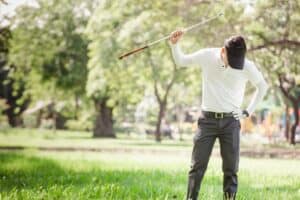 Blow up holes. We all know them, and we all hate them. For as much as we love making birdies — and want to make even more of them — lowering your handicap really depends on the opposite. How good you are at avoiding mistakes. It's the blow up holes that ruin your scorecard, your handicap, and your happiness.
And what causes blow up holes? They're what I call "disaster" shots.
To break this down, we asked our friends over at Across to pull a few stats that measure disaster shots off the tee. For all of these we measured golfers with a handicap between 15 and 25 (AKA, golfers who shoot a round in the low 90s).
Here's what we found…
Disaster stat #1: Massive misses
The first stat we discussed were drives that missed the center of the fairway by more than forty yards in either direction. According to Arccos, golfers fail to hit it inside that 80 yard window (which is almost the size of a football field), more than 12 percent of the time.
Of course, when you miss your drives by that much, you're probably going to end up in trouble, which brings us to our next stat…
Disaster stat #2: Penalty drives
As for how many wayward drives actually end up in some kind of penalty
According to Arccos, that happens just over eight percent of the time. Considering most golf courses have 14 non par-3 holes, it means that 90s shooters average hitting at least one drive per round into OB or a hazard.
Disaster stat #3: Virtual penalty drives
But while the first two stats were bad, this one is the real killer for golfers: Golfers hit their drive into a spot that required some kind of recovery shot which prevents them from hitting the green (think punch out, a bunker shot, etc.) 22 percent of the time.
If you're keeping track, combine the last two disaster stats and it means that a whopping 30 percent of golfers' drives end up either end up in a penalty area, or in need of a recovery shot.
That's the 30 percent mistake, and the more you cut down on that, the better that'll be.
How to avoid the 30 percent mistake
There's no one-size-fits-all method to helping golfers. Ultimately, your goal is to avoid hitting your drive off the planet. You don't need to reinvent the wheel to do that, you just need to lower your expectations and remember that any drive in play is a good one.
A few things that can help with that:
Finding one shot shape you can play, and trusting it.
Adjusting your tee height higher and lower.
Making sure you have a good pre-shot routine.
Checking your ball position for more consistent contact.
Avoiding the 'overturning trap'.



Tip adapted from golfdigest.comi
---
Recipe of the Week
Salad-Stuffed Peppers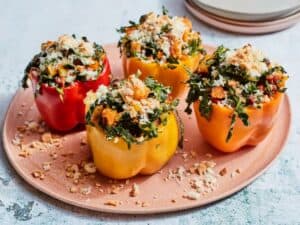 4 Servings
Ingredients
Kosher salt
1 lemon
4 cloves garlic
4 bell peppers, assorted colors
2 tablespoons extra-virgin olive oil (see Cook's Note)
4 ounces Spanish cured chorizo, casings removed, small dice
4 slices bread, torn into bite-size pieces
1 bunch Tuscan kale, thinly sliced
1 tablespoon sherry vinegar
1/4 cup pitted dates, chopped
1/4 cup pitted Castelvetrano olives, halved
1/4 cup fresh flat-leaf parsley leaves
2 ounces manchego cheese, freshly grated
1/4 cup Marcona almonds, finely chopped
Instructions
Place a large pot filled halfway with water over high heat and season generously with salt. Halve the lemon, then juice it and set aside 1 tablespoon juice. Add the lemon halves and the remaining lemon juice to the water. Crush 3 of the garlic cloves and add to the water. Cover and bring to a boil. Fill a large bowl with ice water.
Prepare the peppers by slicing off just enough of the tops to reveal the seeds. Remove and discard the seed pockets and stems. Trim the bottom of the peppers as needed so they stand up on their own. Finely chop the pepper tops and add to a large bowl.  
Gently lower the pepper boats into the boiling water until fully submerged. Cook until just crisp tender, 4 to 6 minutes. The peppers should hold their shape and stand up straight. Once cooked, place the peppers in the ice bath to prevent further cooking, about 1 minute. Drain the peppers upside-down on a paper towel-lined plate to catch any water that remains inside.  
Meanwhile, place a large nonstick skillet over medium-high heat. Add the oil and chorizo and cook until the chorizo is just fragrant and the oil has a red hue, 1 to 2 minutes. Remove from the heat and use a slotted spoon to add the chorizo to the bowl with the chopped peppers. Add 2 teaspoons of the hot oil from the skillet to the bowl, reserving the rest. The chorizo will crisp as it cools.  
Place the skillet with the reserved oil over medium heat. Add the bread to the skillet in an even layer. Cook, tossing occasionally, until the bread is browned and toasted, about 5 minutes. Finely chop the remaining garlic clove. When the bread is nearly toasted, add the garlic to the skillet and toss until it is distributed through the toasted bread. Set aside. 
Add the kale, vinegar and the reserved 1 tablespoon lemon juice to the bowl. Massage until the kale is slightly softened and coated. Add the dates, olives, parsley and toasted bread and gently toss to combine.  
Place the peppers upright on a serving platter. Mound the salad into each pepper. Generously grate the cheese over the salad. Sprinkle with the chopped almonds and serve immediately.
Cook's Note
I use Arbequina Spanish extra-virgin olive oil. It hails from the Catalonia region of Spain, which is where I lived and worked during my time there. I love it for salad dressings or quick-cooking applications because it is really floral and delicate.




Recipe adapted from foodnetwork.comii
---
Health Tip of the Week
12 Reasons to Love the Mediterranean Diet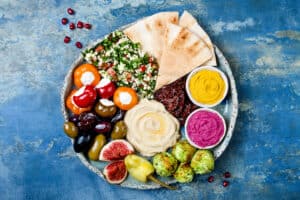 1. Surprise! No Calorie Counting
You won't need a calculator for this meal plan. Instead of adding up numbers, you swap out bad fats for heart-healthy ones. Go for olive oil instead of butter. Try fish or poultry rather than red meat. Enjoy fresh fruit and skip sugary, fancy desserts.
Eat your fill of flavorful veggies and beans. Nuts are good, but stick to a handful a day. You can have whole-grain bread and wine, but in moderate amounts.
2. The Food Is Really Fresh
You won't need to roam the frozen food aisle or hit a fast-food drive-thru. The focus is on seasonal food that's made in simple, mouth-watering ways. Build a yummy salad from spinach, cucumbers, and tomatoes. Add in classic Greek ingredients like black olives and feta cheese with light salads. You can also whip up a colorful, veggie-filled batch of gazpacho for a heaping serving of veggies in a different way.
3. You Can Have Bread
Look for a loaf made with whole grains. It's got more protein and minerals and is generally healthier than the white flour kind. Try whole-grain pita bread dipped in olive oil, hummus, or tahini (a protein-rich paste made from ground sesame seeds).
4. Fat Isn't Forbidden
You just need to look for the good kind. You'll find it in nuts, olives, and olive oil. These fats (not the saturated and trans fat hidden in processed foods) add flavor and help fight diseases from diabetes to cancer. A simple pesto is a tasty way to get some into your diet.
5. The Menu Is Huge
It's more than just Greek and Italian cuisine. Look for recipes from Spain, Turkey, Morocco, and other countries. Choose foods that stick to the basics: light on red meat and whole-fat dairy, with lots of fresh fruits and veggies, olive oil, and whole grains. 
6. The Spices Are Delicious
Bay leaves, cilantro, coriander, rosemary, garlic, pepper, and cinnamon add so much flavor you won't need to reach for the salt shaker. Some have health benefits, too. Coriander and rosemary, for example, have disease-fighting antioxidants and nutrients.
7. It's Easy to Make
Greek meals are often small, easy to assemble plates called mezzes. For your own serve-it-cold casual meal, you could put out plates of cheese, olives, and nuts. Try making your own dips and bites using heart-friendly ingredients including olive oil, beans, whole grains, and spices.
8. You Can Have Wine
A glass with meals is common in many Mediterranean countries, where dining is often leisurely and social. Some studies suggest that for some people, up to one glass a day for women and two for men may be good for your heart. Red wine may be healthier than white. Check with your doctor to see if it's a good idea for you.
9. You Won't Be Hungry
You'll get a chance to eat rich-tasting foods like roasted sweet potatoes and hummus. You digest them slowly so that you feel full longer. Hunger's not a problem when you can munch on nuts, olives, or bites of low-fat cheese when a craving strikes. Feta and halloumi are lower in fat than cheddar but still rich and tasty.
10. You Can Lose Weight
You'd think it would take a miracle to drop some pounds if you eat nuts, cheese, and oils. But those Mediterranean basics (and the slower eating style) let you feel full and satisfied. And that helps you stick to a diet. Regular exercise is also an important part of the lifestyle.
11. Your Heart Will Thank You
Almost everything in this diet is good for your heart. Olive oil and nuts help lower "bad" cholesterol. Fruits, veggies, and beans help keep arteries clear. Fish helps lower triglycerides and blood pressure. Even a daily glass of wine may be good for your heart!
12. You'll Stay Sharper Longer
The same goodness that protects your heart is also good for your brain. You're not eating bad fats and processed foods, which can cause inflammation. Instead, antioxidant-rich foods make this eating style a brain-friendly choice.




Tip adapted from webmd.comiii 
---
Copyright (C) 2021.  Ballentine Capital Advisors.  All rights reserved.
Our mailing address is:  
Ballentine Capital Advisors
15 Halton Green Way
Greenville, SC 29607
unsubscribe from this list    update subscription preferences  
Footnotes
1Consider that a study of single stock performance in the US from 1927 to 2020 illustrated that the survival of any given stock is far from guaranteed. The study found that on average for 20-year rolling periods, about 18% of US stocks went through a "bad" delisting. The authors note that delisting events can be "good" or "bad" depending on the experience for investors. For example, a stock delisting due to a merger would be a good delist, as the shareholders of that stock would be compensated during the acquisition. On the other hand, a firm that delists due to its deteriorating financial condition would be a bad delist since it is an adverse outcome for investors. Given these results, there is a good case to avoid concentrated exposure to a single company. Source: "Singled Out: Historical Performance of Individual Stocks" (Dimensional Fund Advisors, 2022).
2Regional banks weight reflects the weight of the "Regional Banks" GICS Sub-Industry. GICS was developed by and is the exclusive property of MSCI and S&P Dow Jones Indices LLC, a division of S&P Global.
RISKS
Investments involve risks. The investment return and principal value of an investment may fluctuate so that an investor's shares, when redeemed, may be worth more or less than their original value. Past performance is not a guarantee of future results. There is no guarantee strategies will be successful.
Diversification neither assures a profit nor guarantees against loss in a declining market.
Past performance is not a guarantee of future results. Indices are not available for direct investment; therefore, their performance does not reflect the expenses associated with the management of an actual portfolio.
All returns are in USD. Frank Russell Company is the source and owner of the trademarks, service marks, and copyrights related to the Russell Indexes.
Disclosure:
Ballentine Capital Advisors is a registered investment adviser. The advisory services of Ballentine Capital Advisors are not made available in any jurisdiction in which Ballentine Capital Advisors is not registered or is otherwise exempt from registration.
Please review Ballentine Capital Advisors Disclosure Brochure for a complete explanation of fees. Investing involves risks. Investments are not guaranteed and may lose value.
This material is prepared by Ballentine Capital Advisors for informational purposes only. It is not intended to serve as a substitute for personalized investment advice or as a recommendation or solicitation or any particular security, strategy, or investment product.
No representation is being made that any account will or is likely to achieve future profits or losses similar to those shown. You should not assume that investment decisions we make in the future will be profitable or equal the investment performance of the past. Past performance does not indicate future results.
Advisory services through Ballentine Capital Advisors, Inc.
i https://www.golfdigest.com/story/mistake-30-percent-scorecard-blow-up-holes
ii https://www.foodnetwork.com/recipes/food-network-kitchen/salad-stuffed-peppers-9970168
iii https://www.webmd.com/diet/ss/slideshow-12-reasons-to-love-the-mediterranean-diet

---