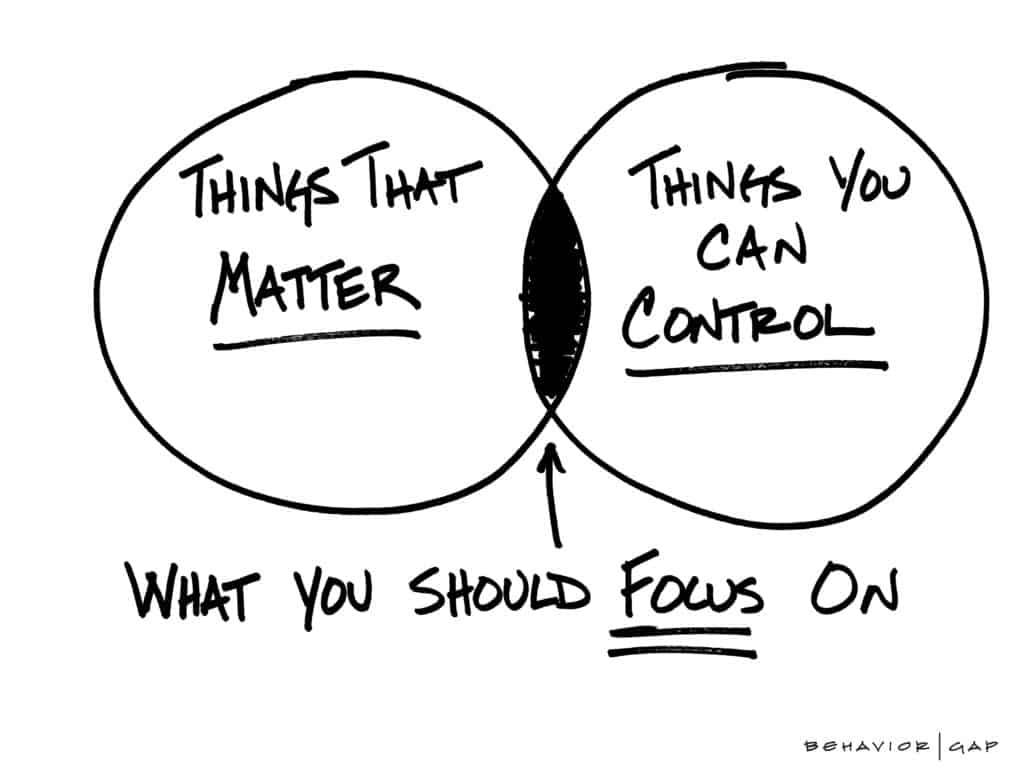 Take a look at this sketch. Just pause for a second and look at it. Take a second to think about it. It speaks not just to our financial lives, but to our complex, sticky, tricky, emotional lives as well. We only have so much time, energy, and attention. Only so much we can focus on. So… how do we decide where to place our focus?
When I'm trying to answer that question, I think back to this sketch, take a step back, and ask myself two questions:
1- Does it matter?
2- Can I control it?
Unless the answer is yes on both counts, you can stop thinking about it! For me, the list of things I can stop thinking about includes:
1- Whether my children get into college or not (because I can't control it).
2- Whether I could have saved $5 on groceries by going to a different store (because it doesn't matter).
3- Whether the stock market is in flux right now (because I can't control it).
4- That guy who cut me off in traffic (because it doesn't matter).
As I drive home from work, NOT thinking about any of those things, I am suddenly freed up to think about the things I CAN control and that DO matter. For example:
1- How I treat my children, regardless of whether college is a good fit for them or not.
2- How I can get my shopping to align with my values.
3- How I behave when stock market fluctuations happen.
4- Learning to count to 10, taking a deep breath, and letting go when other drivers act like jerks.
Just imagine what might happen if you quit worrying about things you have no control over and quit obsessing over things that don't matter. Where else might you be able to invest that extra time, energy, and attention?
Source: Behavior Gap; Carl Richards
---
Why It's Not Worth Worrying About How the Election Will Affect Your Investments

Winston Churchill once said, "No one pretends democracy is perfect or all-wise. Indeed it has been said democracy is the worst form of Government except for all those other forms that have been tried from time to time."1
There's nothing like a bitter, drawn-out campaign season to make you wonder if things would be better under a benevolent monarchy. Unfortunately, a king who governs solely for the good of his people is extremely rare. And history has shown that in the long run we are far better off with the rough and tumble of democracy, even when it has all the dignity of a WWE cage match.
All signs seem to indicate that our upcoming election and its results are going to be contentious. The candidates and their parties are highly polarized and no matter how it turns out, a large percentage of Americans are not going to be happy.
While the outcome is important, and it's essential for our country that we take seriously our responsibility to vote, political campaigns are essentially focused on the present and the past—how the candidates would have addressed challenges in the past or those our country currently faces.
Of course, the biggest problems are the future ones that nobody sees coming. Imagine if during the 2016 campaign a presidential candidate had repeatedly laid out their plan for a global pandemic that would be shutting down the country. They would have been quickly written off as a fringe alarmist.
Global free markets (hundreds of millions of investors looking out for their own interests) are well aware that an election is coming. In fact, for months in advance it has been reflecting the possible outcomes in the form of current stock and bond prices.
The evidence indicates that, regardless which candidate wins, investors who stay disciplined about their long-term investment strategy tend to come out ahead.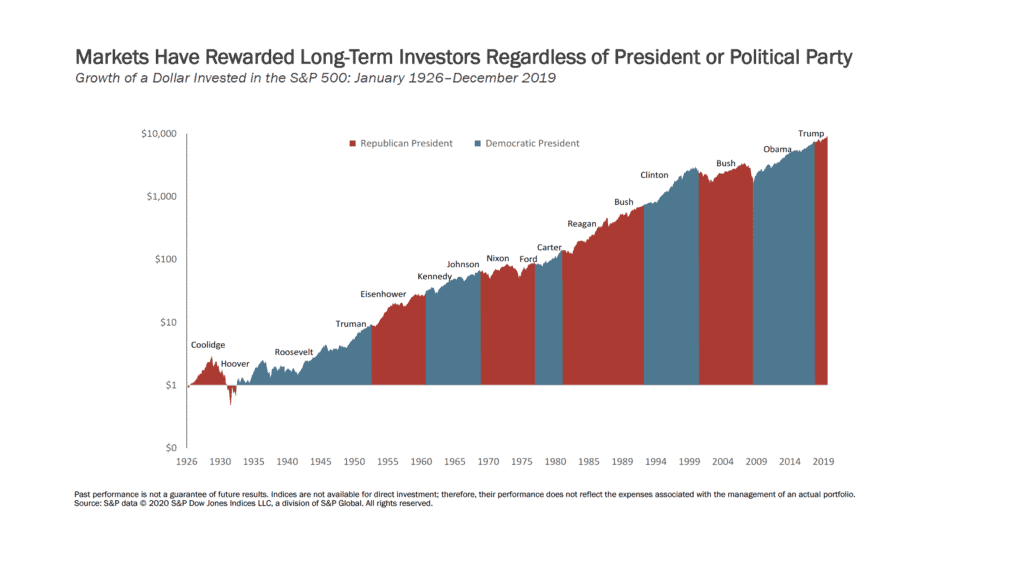 Of course, this historical data is easy to correlate to factors that we're now seeing in the rearview mirror. The future is likely to be very different from what politicians promise and forecasters imagine. But even so, changing your investment strategy now out of worry about what might happen in the next four weeks (or even four years) doesn't seem to be a winning idea.
As when facing any uncertainty, the most prudent solution is to maintain a diverse approach, so that your long-term success is not dependent on a string of elections going the right way. It's much better to concentrate on your own behavior rather than worrying about national events over which you have no control.
If you find yourself overly concerned about this election's potential short-term impact on your investment values, be sure to talk with us.
Have a great weekend!
Source: Efficient Advisors
---
Golf Tip of the Week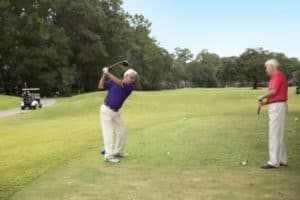 Put Yourself in Position to Hit a Solid Tee
If you struggle to hit a good tee ball, you're not alone. Many amateurs mistakenly bend the right arm almost as soon as they start the backswing. This pulls the club up and inside the target line way too soon, narrowing the swing arc and putting the club in poor position for the proper through-swing.
Remember, your goal with a driver is to sweep the ball from the tee, not hit down on it like you would with an iron off the turf. As your club approaches the ball, it should be on a shallow path—as if it's tracing the ground—and your arms should be as long as they were at address.
If tee shots are one of the weakest parts of your game, you need to work on your takeaway. What you really want is a relatively straight right arm during the initial part of the backswing, as this promotes width. The move to accentuate is keeping the right arm on top of the left as you take the club back for as long as you can.
As your upper body rotates away from the target, your right arm will fold under the left naturally. But the key is to focus on the right staying on top of the left during the takeaway. It sets you up to really launch your drives better than ever.
Tip adapted from GolfDigest.comi
---
Recipe of the Week
Dalgona Coffee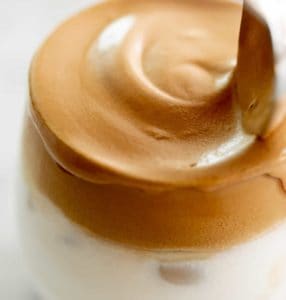 [2 servings]
Ingredients:
2 tablespoons instant coffee, (powder or granulated)
2 tablespoons granulated sugar, white or raw sugar
2 tablespoons boiling water
Milk, any milk is fine
Instructions:
Combine the coffee, sugar and boiling water in a bowl. Stir with a spoon to combine and dissolve the sugar.
Beat with a whisk or hand mixer to whip coffee, occasionally scraping down the sides of the bowl, until foamy and thick. (Manual whisk takes 8-15 mins. Hand beater takes 3-5 minutes)
To serve, fill a glass 3/4 of the way up with milk will ice. Spoon the whipped coffee on top. Stir vigorously through the milk and enjoy!
Recipe adapted from Cafedelites.comii
---
Health Tip of the Week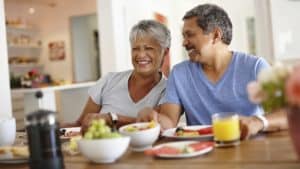 What to Eat as You Age
As our bodies change, so do our nutritional needs. Who says a healthy diet has to be complicated? This menu combines simple whole foods to make meals you already know how to prepare, yet it delivers all the protein, fiber and plant-based nutrients that can help you ward off disease and keep your metabolism revved.
A perfect day of eating in your 60s and 70s:
Breakfast: 3-egg vegetable omelet topped with a large dollop of Greek yogurt; glass of 2 percent milk
Midmorning snack: Apple or similar-sized piece of fruit
Lunch: Chicken-and-vegetable stir-fry with chickpeas, served over barley
Afternoon snack: Cottage cheese topped with blue­berries and mixed nuts
Dinner: 6-ounce salmon fillet served with black beans and vegetables
Nutritional values: 1,840 calories, 140 grams protein, 39 grams fiber
Tip adapted from AARPiii
---
Copyright (C) 2020. Ballentine Capital Advisors. All rights reserved.
Our mailing address is:  
Ballentine Capital Advisors
23 Buena Vista Way, Suite B
Greenville, SC 29615
unsubscribe from this list update subscription preferences
Sources:
1. https://go.efficientadvisors.com/e/91522/-the-worst-form-of-government-/6rj15n/1023728487?h=iy5RIam4MNAOhSompwuoj3YWUl32kCp4HdEh98yMUBM
Disclosure:
The views expressed herein are exclusively those of Efficient Advisors, LLC ('EA'), and are not meant as investment advice and are subject to change. All charts and graphs are presented for informational and analytical purposes only. No chart or graph is intended to be used as a guide to investing. EA portfolios may contain specific securities that have been mentioned herein. EA makes no claim as to the suitability of these securities. Past performance is not a guarantee of future performance. Information contained herein is derived from sources we believe to be reliable, however, we do not represent that this information is complete or accurate and it should not be relied upon as such. All opinions expressed herein are subject to change without notice. This information is prepared for general information only. It does not have regard to the specific investment objectives, financial situation and the particular needs of any specific person who may receive this report. You should seek financial advice regarding the appropriateness of investing in any security or investment strategy discussed or recommended in this report and should understand that statements regarding future prospects may not be realized. You should note that security values may fluctuate and that each security's price or value may rise or fall. Accordingly, investors may receive back less than originally invested. Investing in any security involves certain systematic risks including, but not limited to, market risk, interest-rate risk, inflation risk, and event risk. These risks are in addition to any unsystematic risks associated with particular investment styles or strategies.
The articles and opinions expressed in this newsletter were gathered from a variety of sources, but are reviewed by Ballentine Capital Advisors prior to its dissemination. All sources are believed to be reliable but do not constitute specific investment advice. In all cases, please contact your investment professional before making any investment choices.
Securities through Triad Advisors, LLC, Member FINRA/SIPC. Advisory services through Ballentine Capital Advisors, Inc. Triad Advisors and Ballentine Capital Advisors are not affiliated entities.
---
i https://www.golfdigest.com/story/put-yourself-in-position-to-hit-solid-tee-shots
ii https://cafedelites.com/dalgona-whipped-coffee/
iii https://www.aarp.org/health/healthy-living/info-2020/nutrition-after-age-50.html?intcmp=AE-FOD-DN-BB-ART