The table saw has to be one of the most dangerous tools widely available for sale today. Where other cutting tools have you hold the wood in place and move the tool, to make a cut with a table saw, you must push a piece of wood towards the open, spinning blade.
According to a study by the National Institutes of Health, table saws cause more than 30,000 injuries per year that are serious enough to require medical treatment, with an annual cost of $2 billion.1

Anecdotally, the majority of people we know who are missing parts of fingers have done it on a table saw. This isn't even counting the woodworking friends who have received severe cuts or suffered broken digits on this very common machine.

One contractor friend who was nursing a heavily bandaged thumb (a methodical and safety-conscious person) said it happened while making a routine cut on his table saw. For a moment he let his attention lapse.

The reason table saws aren't banned is because they're such a useful tool. They enable you to quickly make long cuts with an accuracy that would be difficult to achieve using any other tool. Unfortunately, the available safety features offer little protection. So to operate a table saw and still keep your fingers, you need a constant awareness of the danger presented by the blade.

In other words, you need a little fear about what it could do to you. Not a phobia but a genuine respect for potential consequences.

Writing for Business Insider, financial blogger Sam Dogen talks about how a little fear can be a healthy motivator towards financial success.2

"Fear can be very debilitating if we let it overwhelm us. However, fear is also a fantastic motivator to improve your life."

Using himself as an example, Dogan says that having experienced firsthand what it was like to grow up in poverty, he was motivated to never to live that way again.

In the same way, a person thinking about retirement needs to take a cold, hard look at what their life might be like without a sufficient nest egg. This reality check can be the motivation they need to prioritize their long-term saving, putting it ahead of recreational expenditures like vacations and expensive toys.

Deep anxiety, however, can lead to inaction.

"Don't let fear paralyze you," writes Dogan. "Instead, use fear as a motivator to do better."

The best way to keep healthy fear from becoming paralyzing anxiety is by having a step-by-step plan for attacking the problem that is causing the worry. Remember, you don't have to face your fears, even the healthy ones, alone.

When it comes to achieving your goals for retirement, we are here. We can help you come up with a roadmap for success, and then hold you accountable to reach your goals along the way.
Have a good weekend!
Source: Efficient Advisors
---
Golf Tip of the Week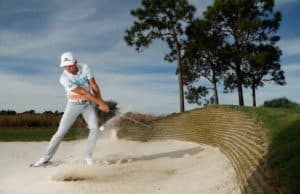 Get That Bunker Shot Over the Lip
When my ball is in a bunker with a big lip, I like to move the ball toward the front of my stance and open the face as much as possible. A big swing with a bunker shot generates a lot of club head speed to power through the sand and lift the ball up quickly.
The goal at impact is to take a wide and even patch of sand out while following through high and toward your target. Practice bunker shots to build confidence in taking the right amount of sand to control distance.
Tip adapted from GolfTipsMag.comi
---
Recipe of the Week
Chicken Tenders (lemon garlic parmesan)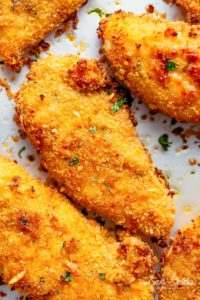 [4 servings]
Ingredients:
1 large egg
2 tablespoons olive oil
2 tablespoons lemon juice (or juice of 1/2 a lemon)
1 tablespoon fresh chopped parsley
2 teaspoons minced garlic
3/4 teaspoon salt to season
1/4 teaspoon cracked black pepper
28 ounces (800 g) chicken tenders
1 cup Panko breadcrumbs
1/2 cup regular breadcrumbs (garlic, herb or Italian seasoned for extra flavour)
1 teaspoon mild paprika (or sweet, smoky, spicy)
1/2 teaspoon garlic powder
1/2 teaspoon onion powder
1/4 cup fresh grated parmesan cheese2 tablespoons fresh chopped parsley, to serve

Instructions:
Preheat oven to 400°F (200°C). Lightly grease a baking tray / sheet with cooking oil spray, or a light coating of oil. Set aside.
In a large bowl, whisk together the egg, oil, lemon juice, parsley, garlic, salt and pepper.
Dip chicken tenders into egg mixture and let sit for 5 minutes while preparing crumb mixture.
OPTIONAL: Cover and allow to marinate in the refrigerator for 30 minutes to an hour (if time allows).
In another bowl, combine both breadcrumbs, paprika, garlic powder, onion powder and parmesan cheese.
Dredge the egg coated chicken in the breadcrumb/parmesan mixture, lightly pressing to evenly coat.
Arrange tenders on the baking sheet / tray and lightly spray with cooking oil spray.
Bake for 10 minutes.
Flip and bake for a further 5-10 minutes or until cooked through. (Broil in the last 2-3 minutes for a golden crispy crumb!)
HONEY MUSTARD SAUCE
1/2 cup of a whole egg mayo
1/4 cup Dijon mustard
1/4 cup of honey
MIX WELL.
Recipe adapted from Cafedelites.comii
---

Health Tip of the Week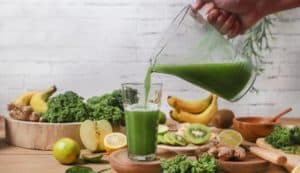 Can a Detox Really Help Prevent Illness?
Stacy Kennedy, a nutritionist at the Dana-Farber Cancer Institute in Boston, routinely fields questions on whether "detoxing" really works, especially when it comes to preventing or defeating a serious illness such as cancer.
The answer is both yes and no, Kennedy says. "Our bodies are always detoxing — working to keep us healthy and working to keep our systems running efficiently. So detox is something that's really happening all the time."
"It's all about eating a healthy, balanced diet most of the time" and eating a variety of plant-based, nutrient-dense foods, Kennedy says.
So, if you want to splurge on a green juice, go for it. But that doesn't mean you can skip out on the other four recommended servings of fruits and vegetables. Repeating healthy eating habits is "really how you help to give your body the nourishment and the nutrients that our immune system needs to really do its job at its peak," she says
Tip adapted from AARP.comiii
---
Copyright (C) 2021. Ballentine Capital Advisors. All rights reserved.
Our mailing address is:
Ballentine Capital Advisors
23 Buena Vista Way, Suite B
Greenville, SC 29615
unsubscribe from this list update subscription preferences
Sources:
1. https://go.efficientadvisors.com/e/91522/pmc-articles-PMC4154236-/6tdt65/1074798114?h=OY1l_KGuaCuydyYQ9OsbvfZtyyIiwpQDUh5FEOq-WtE
2. https://go.efficientadvisors.com/e/91522/-financial-independence-2020-9/6tdt67/1074798114?h=OY1l_KGuaCuydyYQ9OsbvfZtyyIiwpQDUh5FEOq-WtE
Disclosure:
The views expressed herein are exclusively those of Efficient Advisors, LLC ('EA'), and are not meant as investment advice and are subject to change. All charts and graphs are presented for informational and analytical purposes only. No chart or graph is intended to be used as a guide to investing. EA portfolios may contain specific securities that have been mentioned herein. EA makes no claim as to the suitability of these securities. Past performance is not a guarantee of future performance. Information contained herein is derived from sources we believe to be reliable, however, we do not represent that this information is complete or accurate and it should not be relied upon as such. All opinions expressed herein are subject to change without notice. This information is prepared for general information only. It does not have regard to the specific investment objectives, financial situation and the particular needs of any specific person who may receive this report. You should seek financial advice regarding the appropriateness of investing in any security or investment strategy discussed or recommended in this report and should understand that statements regarding future prospects may not be realized. You should note that security values may fluctuate and that each security's price or value may rise or fall. Accordingly, investors may receive back less than originally invested. Investing in any security involves certain systematic risks including, but not limited to, market risk, interest-rate risk, inflation risk, and event risk. These risks are in addition to any unsystematic risks associated with particular investment styles or strategies.

The articles and opinions expressed in this newsletter were gathered from a variety of sources but are reviewed by Ballentine Capital Advisors prior to its dissemination. All sources are believed to be reliable but do not constitute specific investment advice. In all cases, please contact your investment professional before making any investment choices.
Securities through Triad Advisors, LLC, Member FINRA/SIPC. Advisory services through Ballentine Capital Advisors, Inc. Triad Advisors and Ballentine Capital Advisors are not affiliated entities.
---
i https://www.golftipsmag.com/instruction/short-game/get-that-bunker-shot-over-the-lip/
ii https://cafedelites.com/crispy-chicken-tenders/
iii https://www.aarp.org/health/healthy-living/info-2019/detoxing.html?intcmp=AE-FOD-DN-BB-LL1