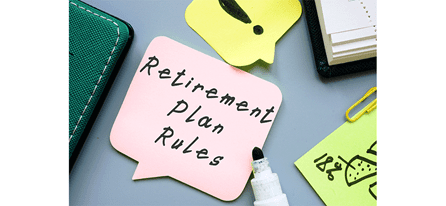 Several years ago the satirical info-tainment site The Onion published the results of a phony study claiming that up to 85% of Americans were out of touch with mainstream culture. The fictitious researchers they quoted found that while many people enjoyed some of the nation's most popular restaurant chains, music performers, and live sporting events, only a small minority enjoyed all of them. In other words, if you didn't like Kanye West, NASCAR, and Olive Garden all at the same time, you were not a mainstream American.1

The article was probably a tongue-in-cheek response to the way politicians like to label their opponents as "out of the mainstream." And it made a valid point. Each of us has aspects of our lives that make us different from the majority of people.

By the same principle you could also say that the majority of people planning to retire are outside the mainstream. Each person is in a unique situation. However, the conventional wisdom about retirement is often delivered as a set of hard-and-fast rules that are supposed to apply to everybody.

Writing for Forbes, wealth management expert Kristin McKenna, lists a number of these rules that for many people turn out to be myths.2

Retirees only need to cover 70-80% of the pre-retirement expenses. While it's true that once you're not earning a consistent paycheck, you won't be making retirement plan contributions or pay payroll tax, there are many other ways in retirement to spend your money. With more free time and flexibility, pursuing travel and leisure activities are just two areas that can quickly add up.

McKenna says that most people want to maintain the standard of living they enjoyed while working, which is difficult to sustain on a lowered income.

If you haven't saved enough, you can always keep working or get a part-time job in retirement. Some people are able to continue in a career they enjoy. And others find flexible work that's suitable for a senior. But the problem with expecting to rely on either of these options in the future is that both situations are out of your control.

Health challenges or downsizing can quickly take away the job you were counting on. And McKenna says that retirees find well-paying, part-time jobs few and far between. "Particularly for retirees leaving successful careers, an entry-level part-time job at the local mall just isn't on the table."

At retirement your investments should become very conservative. "Conventional advice often says to significantly increase your exposure to bonds at retirement," writes McKenna, "but that isn't always appropriate for every investor."

Fixed income investments (like bonds) tend to be less volatile than equities and provide a guaranteed income. However, they also tend to have lower yields, which may cause an investor to incur the risk of losing purchasing power to inflation.

These widely believed retirement rules are not necessarily bad advice. They just don't apply universally to everyone's situation. If you want to retire successfully, you shouldn't follow what works "in general." You need to focus on what is going to work specifically for you.

We can help you design that kind of personalized plan, and then help you stick with it. Call us if you have any questions.

Have a good weekend!
Source: Efficient Advisors
---
Golf Tip of the Week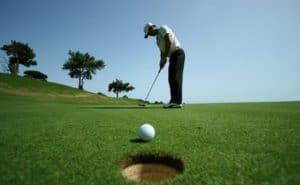 Don't Leave Putts Short!
Clearly, when it comes to putts from 20 feet or less, we have one goal. Hole it! Make the putt! This great drill will assist your feel with feedback so you avoid leaving those putts short.
Lay a mid-iron down two and a half to three feet behind the hole. Use three balls and your normal routine for each putt. Simulate playing conditions just like you are on the course. The goal: You can't leave any putts short. You must get every putt either in the hole, or past the hole, yet short of the golf club behind the hole. This is feedback. Practicing without it just gets you sunburned. Practicing with feedback can make you great!
Challenge yourself: In time, practice this drill until you make nine putts and leave nothing short. The penalty for leaving a putt short? Fetch it and start over at 0. Not easy, but it will 100% make you a better putter, with great speed control.
Tip adapted from GolfTipsMag.comi
---
Recipe of the Week
Hasselback Herbed Garlic Butter Sweet Potatoes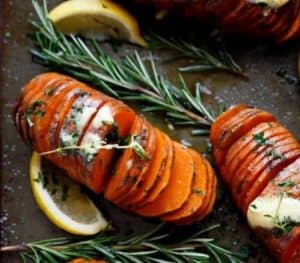 4 servings
INGREDIENTS
4 medium sweet potatoes

4 tablespoons Garlic Butter

1 tablespoon freshly squeezed lemon juice

1 teaspoon finely chopped fresh thyme leaves

1 teaspoon finely chopped rosemary

Kosher salt and freshly ground black pepper
INSTRUCTIONS
Preheat the oven to 220°C | 425 degrees F. Line a baking tray/sheet with aluminum foil; set aside.
Wash and scrub the sweet potatoes; pat them dry with paper towel. Carefully slice each sweet potato 1/8-inch slits (or slices) along the tops, stopping 1/2-inch from the bottom (1-cm). Be careful not to apply too much pressure or you may cut straight through.
Prepare the Garlic Butter using this recipe. Melt the butter; mix the lemon juice, thyme, rosemary, salt and pepper (to taste) through the butter. Set aside.
The quicker version:
Wrap each sweet potato in one sheet of paper-towel; place on a microwave safe dish and microwave on high setting for 8-10 minutes, or until semi-soft. Brush the butter all over the potatoes and in between the slices; transfer them onto the baking sheet and place in the oven for a further 10 minutes to allow them to continue roasting and crisp up.
The slow version:
Place potatoes onto the lined baking tray/sheet; brush with half of the butter and roast until the center of the potatoes are beginning to soften (30 minutes). Remove from oven, brush with the remaining butter and fan the wedges out lightly with a fork to open up the slices. Return to oven and continue baking for a further 30 minutes, or until soft and tender in the center and crispy on the outside.

Recipe adapted from Cafedelites.comii
---

Health Tip of the Week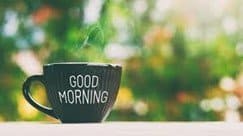 How to Become a Morning Person
If you are naturally inclined to be more active and productive at night, can you override these biological and environmental influences? Can you intentionally change yourself into a morning person? It won't be easy — and it might not be permanent — but the answer seems to be yes.
Here are a few doctor-recommended tips for aligning your sleep schedule with your current needs:
Gradually change your bedtime.
Let lighting help you realign your body's clock.
Develop a soothing nighttime routine.
Track the positive impacts.
Reward yourself for reaching incremental targets.
Keep an eye on your larger, more aspirational goals.
Don't let eating habits undermine your progress.
Incorporate exercise into your day.
Give it time.
Tip adapted from healthline.comiii
---
Copyright (C) 2021. Ballentine Capital Advisors. All rights reserved.
Our mailing address is:
Ballentine Capital Advisors
15 Halton Green Way
Greenville, SC 29607
unsubscribe from this list update subscription preferences
Sources:
1. https://go.efficientadvisors.com/e/91522/pmc-articles-PMC4154236-/6tdt65/1074798114?h=OY1l_KGuaCuydyYQ9OsbvfZtyyIiwpQDUh5FEOq-WtE
2. https://go.efficientadvisors.com/e/91522/-financial-independence-2020-9/6tdt67/1074798114?h=OY1l_KGuaCuydyYQ9OsbvfZtyyIiwpQDUh5FEOq-WtE
Disclosure:
The views expressed herein are exclusively those of Efficient Advisors, LLC ('EA'), and are not meant as investment advice and are subject to change. All charts and graphs are presented for informational and analytical purposes only. No chart or graph is intended to be used as a guide to investing. EA portfolios may contain specific securities that have been mentioned herein. EA makes no claim as to the suitability of these securities. Past performance is not a guarantee of future performance. Information contained herein is derived from sources we believe to be reliable, however, we do not represent that this information is complete or accurate and it should not be relied upon as such. All opinions expressed herein are subject to change without notice. This information is prepared for general information only. It does not have regard to the specific investment objectives, financial situation and the particular needs of any specific person who may receive this report. You should seek financial advice regarding the appropriateness of investing in any security or investment strategy discussed or recommended in this report and should understand that statements regarding future prospects may not be realized. You should note that security values may fluctuate and that each security's price or value may rise or fall. Accordingly, investors may receive back less than originally invested. Investing in any security involves certain systematic risks including, but not limited to, market risk, interest-rate risk, inflation risk, and event risk. These risks are in addition to any unsystematic risks associated with particular investment styles or strategies.

The articles and opinions expressed in this newsletter were gathered from a variety of sources but are reviewed by Ballentine Capital Advisors prior to its dissemination. All sources are believed to be reliable but do not constitute specific investment advice. In all cases, please contact your investment professional before making any investment choices.
Securities through Triad Advisors, LLC, Member FINRA/SIPC. Advisory services through Ballentine Capital Advisors, Inc. Triad Advisors and Ballentine Capital Advisors are not affiliated entities.
---
i https://www.golftipsmag.com/instruction/putting/dont-leave-putts-short/
ii https://cafedelites.com/hasselback-herbed-garlic-butter-sweet-potatoes-recipe/
iii https://www.healthline.com/health/healthy-sleep/how-to-become-a-morning-person#lifelong