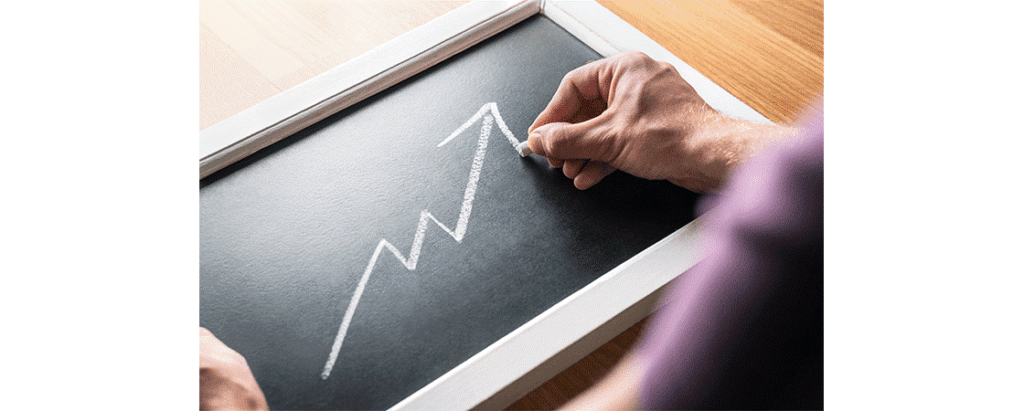 The Biggest Loser, in case you've never watched it, is a reality TV show featuring people who are trying to get down to a healthy weight.1 The climax of each episode is the weigh-in, where each of the contestants steps onto a scale to see how much weight (if any) they've been able to lose.
For any of us, the discovery that we've lost a few pounds through healthy eating and exercise is exciting. But watching someone step onto a bathroom scale and just seeing their weight makes for boring TV.
So the producers of The Biggest Loser had the brilliant idea of building an oversize scale with the flashing lights and sound effects of a Vegas slot machine. When a contestant steps onto it to be weighed, they don't get the instant reading of a modern digital scale. Instead, the number shoots up 30 lbs then drops 22 lbs. then fluctuates wildly in between before settling on the contestant's actual weight.
It's like the weighing mechanism is made up of the springs and counterweights of an old drugstore scale.
Of course, this is done to inject the most possible emotion into the weigh-in. And you can plainly read the disappointment or elation on the contestants' faces with the final results.
Economist Benjamin Graham (1894-1976) famously said that the stock market acts like a scale. Specifically, he stated that in the short run it's a voting machine and in the long run a weighing machine.2
In other words, day-to-day prices tend to be like a popularity contest which fluctuates on the latest bits of news. But over the long-term the market assesses the time-tested performance of a company, coming up with a much more accurate "weight."
With literally billions of direct and indirect market participants on any given day making buying and selling decisions, the price of a security at any given moment reflects all the known, assumed, projected and even feared information. Only new and unknowable information actually moves stock prices in the future.
Lately, however, the coronavirus has been acting like a thumb on the scale. No one is quite sure how the pandemic will play out. If it's a temporary concern and for the most part life can return to normal, business models that were profitable before COVID will likely be profitable again. But if it's an ongoing issue, some companies that can't continue to operate profitably in the new environment will likely see declines in share value.
Until this is sorted out, those who are speculating on stocks are operating on assumptions that are missing a vital piece of information, and so when the day's news seems to point one way or the other, it fuels dramatic fluctuations.
Just like the scale on The Biggest Loser, the volatility causes strong emotional responses.
With the future being uncertain (and the pandemic has shown that it always is), the prudent investor will pursue a portfolio that is designed to be diverse enough to weather whatever the market dishes out next. And while the needle on the scale is swinging up and down, he or she can have the peace of mind of knowing that it will eventually settle.
Wealth planning continues to be a critical tool to weather the short term and prosper in the long term.
Have a great weekend!
Source: Efficient Advisors
---
Golf Tip of the Week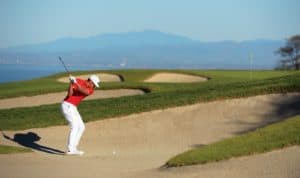 Simplify Bunker Shots
When most golfers climb into a greenside bunker, it's like an out-of-body experience. They lose all sense of what they need to do, fear takes over, and a few hacks later…triple bogey. So, let's check your setup.
First, open the clubface. That adds loft and helps the club slide through the sand. Rotate the face open, then grip with your top hand, setting your thumb on the top of the handle. Add your bottom hand. Opening the clubface before you grip helps keep it open during the swing.
Second, play the ball forward in your stance, in line with your front foot. That pre-sets hitting the sand a few inches behind the ball. The shaft should be straight up and down or leaning slightly away from the target—another key to maintaining loft and promoting that sliding action.
Third, dig in your feet a little and lean your body over your front foot. That'll give you the descent you need on the downswing to drive the club through the sand and under the ball.
Focus on a spot a few inches behind the ball, that's where you want the club to touch down. Now you're in a great position to hit the shot. You'll be amazed how your fear disappears after you see a few good ones.
Tip adapted from GolfDigest.comi
---
Recipe of the Week
Breakfast Egg Muffins 3 Ways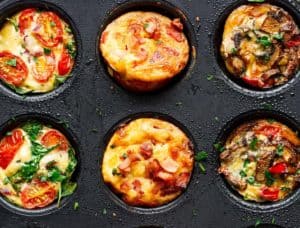 [12 muffins]
Ingredients:
BASE:
12 large eggs
2 tablespoons finely chopped onion (red, white or yellow)
Salt and pepper, to taste
TOMATO SPINACH MOZZARELLA:
1/4 cup fresh spinach, roughly chopped
8 grape or cherry tomatoes, halved
1/4 cup shredded mozzarella cheese
BACON CHEDDAR:
1/4 cup cooked bacon, chopped
1/4 cup shredded cheddar cheese
GARLIC MUSHROOM PEPPER:
1/4 cup sliced brown mushrooms
1/4 cup red bell pepper (capsicum) diced
1 tablespoon fresh chopped parsley
1/4 teaspoon garlic powder or 1/3 teaspoon minced garlic
Instructions:
Preheat oven to 350°F. Lightly spray a 12-cup capacity muffin tin with nonstick oil spray.
In a large bowl, whisk together eggs and onion. Season with salt and pepper, to taste.
Add egg mixture halfway up into each tin of a greased muffin tin.
Divide the three topping combinations into 4 muffin cups each.
Bake for 20 minutes.
Serve OR store in an airtight container in the refrigerator for up to 4 days and reheat when ready to serve.
Enjoy!
Recipe adapted from Cafedelites.comii
---
Health Tip of the Week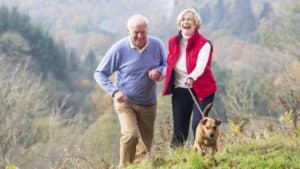 How to Outsmart Father Time
Spend Time with Friends: The time you spend doing things with other people may have a bigger effect on your life span than where you live, where you work, and whether you have a partner.
Do Something Creative: Get a little artsy and you'll be happier, think more clearly, and have a better quality of life. If you need an idea, consider acting. People who were asked to pick a new creative outlet said they were less intimidated by that than by singing, drawing, or painting.
Exercise: Just work in the garden or take a brisk walk around the block. Each week, aim for at least 2 1/2 hours of activity that gets your heart going. And throw in some moves for your muscles, like push-ups or sit-ups, a couple of times. It can help you feel better, look better, and think better, too. It also helps prevent diabetes, high blood pressure, and heart disease.
Wear Sunscreen: The sun's ultraviolet rays cause more than 90% of the damage to your skin, which includes the kind you can see — wrinkles, rough patches, sagging, and skin blemishes. Sunscreen helps prevent skin cancer, too.
Learn Something New: Keep challenging yourself, and you may help stop brain decline. Even better, consider a new skill that involves your body. Dancing is a great example because it allows you to exercise and socialize at the same time, two things that also keep your mind and body young.
Tip adapted from WebMD.comiii
---
Copyright (C) 2020. Ballentine Capital Advisors. All rights reserved.
Our mailing address is:  
Ballentine Capital Advisors
23 Buena Vista Way, Suite B
Greenville, SC 29615
unsubscribe from this list update subscription preferences
Sources:
1. https://go.efficientadvisors.com/e/91522/ggest-Loser-American-TV-series/6pymgt/990971360?h=C4-icrUs2NbEaTgKlGjsJTxkwmdzwaoIMWTK1-L8IhQ)
2. https://go.efficientadvisors.com/e/91522/wiki-Mr–Market/6pymgw/990971360?h=C4-icrUs2NbEaTgKlGjsJTxkwmdzwaoIMWTK1-L8IhQ
Disclosure:
The views expressed herein are exclusively those of Efficient Advisors, LLC ('EA'), and are not meant as investment advice and are subject to change. All charts and graphs are presented for informational and analytical purposes only. No chart or graph is intended to be used as a guide to investing. EA portfolios may contain specific securities that have been mentioned herein. EA makes no claim as to the suitability of these securities. Past performance is not a guarantee of future performance. Information contained herein is derived from sources we believe to be reliable, however, we do not represent that this information is complete or accurate and it should not be relied upon as such. All opinions expressed herein are subject to change without notice. This information is prepared for general information only. It does not have regard to the specific investment objectives, financial situation and the particular needs of any specific person who may receive this report. You should seek financial advice regarding the appropriateness of investing in any security or investment strategy discussed or recommended in this report and should understand that statements regarding future prospects may not be realized. You should note that security values may fluctuate and that each security's price or value may rise or fall. Accordingly, investors may receive back less than originally invested. Investing in any security involves certain systematic risks including, but not limited to, market risk, interest-rate risk, inflation risk, and event risk. These risks are in addition to any unsystematic risks associated with particular investment styles or strategies.
The articles and opinions expressed in this newsletter were gathered from a variety of sources, but are reviewed by Ballentine Capital Advisors prior to its dissemination. All sources are believed to be reliable but do not constitute specific investment advice. In all cases, please contact your investment professional before making any investment choices.
Securities through Triad Advisors, LLC, Member FINRA/SIPC. Advisory services through Ballentine Capital Advisors, Inc. Triad Advisors and Ballentine Capital Advisors are not affiliated entities.
---
i https://www.golfdigest.com/story/use-butch-harmons-keys-to-simplify-bunker-shots?utm_medium=email&utm_source=090220&utm_campaign=tips
ii https://cafedelites.com/breakfast-egg-muffins-3-ways/
iii https://www.webmd.com/healthy-aging/ss/slideshow-feel-younger