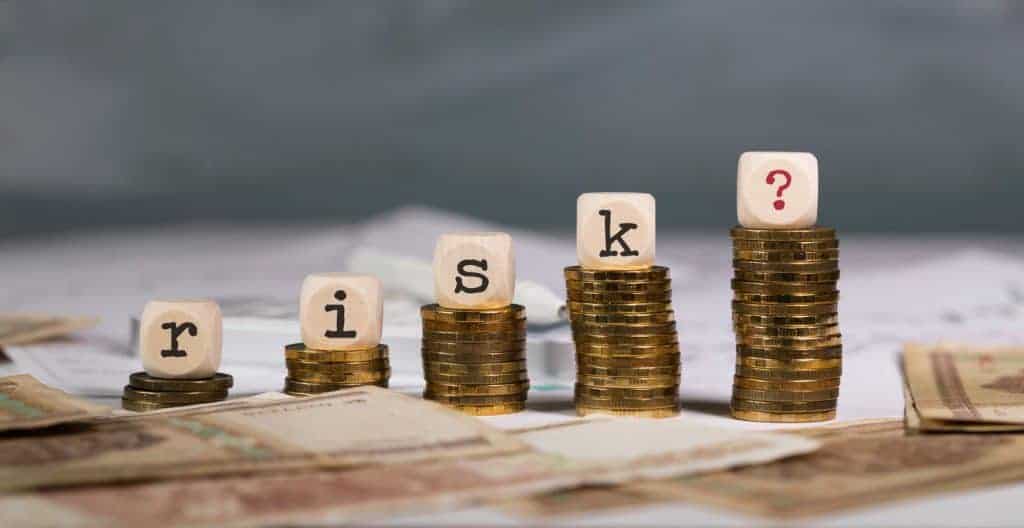 Knowledgeable investors are aware that investing in the capital markets presents any number of risks, including interest rate risk, company risk, and market risk. Risk is an inseparable companion to the potential for long-term growth. Some of the investment risks we face can be mitigated through diversification.1
As an investor, you face another, lesser-known risk for which the market does not compensate you, nor can it be easily reduced through diversification. Yet, it may be the biggest challenge to the sustainability of your retirement income.
This risk is called the sequence of returns risk.
The sequence of returns risk refers to the uncertainty of the order of returns an investor will receive over an extended period of time. As Milton Friedman once observed, you should, "never try to walk across a river just because it has an average depth of four feet."2
Sequence of Returns
Mr. Freidman's point was that averages may hide dangerous possibilities. This is especially true with the stock market. You may be comfortable that the market will deliver its historical average return over the long-term, but you can never know when you will be receiving the varying positive and negative returns that comprise the average. The order in which you receive these returns can make a big difference.
For instance, a hypothetical market decline of 30% is not to be unexpected. However, would you rather experience this decline when you have relatively small retirement savings or at the moment you are ready to retire – when your savings may never be more valuable? Without a doubt, the former scenario is preferable, but the timing of that large potential decline is out of your control.
The Bucket Strategy
So, what can you do to potentially mitigate the risk of sequencing of returns? One option is the bucket strategy of retirement income which segments your money into three buckets, short-term, mid-term and long-term.
The reasoning behind this stems from historical market performance which shows that time in the market can help mitigate the chance of loss. Historically, if given a 15-year time period, a diversified equity portfolio held the entire time has been fruitful for the investor. This simply means that the risk of loss subsides over time, which is a good thing for long-term investors and retirees.
Consider the following example for a better understanding. You are about to retiree at age 65 and need a net amount of income in addition to social security, pensions, etc. of $1,000/month.
Bucket 1: holds the first 5 years of income needs (approx. $60,000 + inflation adjustments) in relatively safe investments with low volatility to ensure you receive your monthly check. Now, those short-term fluctuations mean much less since you have 5 years of income not subject to as many downswings in the market.
Bucket 2: holds the next 5 years of income needs, but we plan for some growth in this bucket to help slightly offset inflation while still not taking undue risk. Investments in this bucket may include stocks, bonds, fixed instruments, and other proper risk-adjusted investments to ensure the money is available for years 6-10 of retirement income.
Bucket 3: this bucket holds the remaining assets for long-term growth. Inflation is real, and one of the best ways to combat it is through investing in equities. This bucket usually has a majority in stocks to help maximize the long-term growth of the portfolio. However, portfolio construction will largely depend on a client's risk tolerance and other factors such as age, health, and goals.
Timing, Timing, Timing
The sequence of returns risk is especially problematic while you are in retirement. Down years, in combination with portfolio withdrawals taken to provide retirement income, have the potential to seriously damage the ability of your savings to recover sufficiently, even as the markets fully rebound.
If you are nearing retirement or already in retirement, it's time to give serious consideration to the "sequence of returns risk" and the ways to combat its risk.
If you have any questions or concerns about sequence of returns risk in your plan (or buckets), please do not hesitate to reach out to us.
Have a great weekend!






Source: FMG Suite
---
Golf Tip of the Week
Simplify Your Sand Shots
Golfers need to be proficient at two types of bunker or sand shots: from fairway bunkers and from greenside bunkers. Here's a simple plan for each.
The Fairway Bunker Shot
The main priority here is to make solid contact between the club face and the ball. This can be accomplished by using a similar setup and swing as you do when your ball is on grass.
Setup for Fairway Bunker Shots
Position the ball an inch or so back in your stance.
The clubface should be square to the intended target line.
Your weight should be evenly distributed on both feet.
Note: Playing the ball an inch or so back in your stance ensure that you will contact the ball first. Just be sure to plan for a lower trajectory.
The Greenside Bunker Shot
The main priority here is for the clubhead to contact the sand instead of the ball. When done correctly, sand builds up on the clubface and pushes the ball out of the bunker. The clubface never comes into direct contact with the ball. It can be accomplished by using a similar setup and swing as you do when your ball is on grass.
Setup for Greenside Bunker Shots
The club should be in the center of your stance.
The clubface can be played square or open, and may vary based on the firmness of the sand. I prefer to play most of my greenside bunker shots with an open club face.
You should widen your stance, work your feet into the sand, or a combination of both. This will lower the center of your swing, allowing for the clubhead to contact the sand instead of the ball.
Your weight should be evenly distributed on both feet.
Note: The sole (bounce) of the golf club is responsible for keeping the club from digging into the sand. When the club is place in the middle of your stance with shaft perpendicular to the target line, the sole of the club is exposed to keep the club from digging. Setting the club this way gives you the best chance to utilize an important design benefit (bounce) of the golf club.
Bunker Shot Swing Thought
Once setup, the key is to remain balanced while swinging the golf club in the direction of the target. An effective way to swing with enough speed is to visualize the ball rolling up to the hole. Hold that image during the swing and you'll have great distance control.
Tip adapted from golftipsmag.comi
---
Recipe of the Week
Grilled Mexican Street Corn (Elote)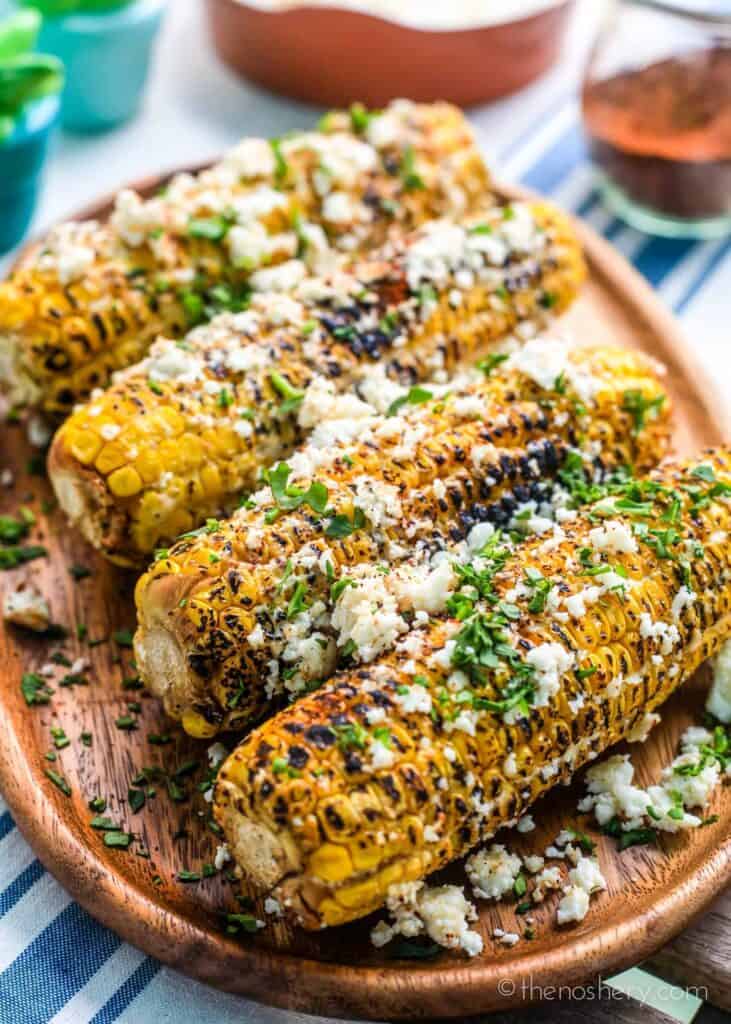 6-8 servings
Ingredients
6 to 8 medium ears sweet corn, husks removed
1/2 cup Mexican crema, or sour cream
1/2 cup mayonnaise
1/2 cup chopped cilantro
1 clove garlic, minced
1/4 teaspoon ground chipotle pepper, to taste
2 teaspoons finely grated lime zest, from 1 lime
2 tablespoons lime juice, from 1 lime
1/2 cup cotija cheese, crumbled
Lime wedges, to serve
Instructions
Heat a gas or charcoal grill to 400F
In a bowl, whisk together the crema (may substitute with sour cream), mayonnaise, cilantro, garlic, chipotle pepper, lime zest and lime juice. Taste and season the mixture with salt if needed. (Crema has a little salt already, so add extra judiciously.) Set aside.
Place the husked corn directly onto grill grates. Grill the corn for about 3 minutes, undisturbed, or until kernels begin to turn golden brown and look charred. Turn over and repeat. When all sides are browned, remove from the grill onto a plate.
Using a brush or a spoon, coat each ear of corn with the crema mixture. Sprinkle with crumbled cojita cheese (may substitute with parmesan or feta). Sprinkle with additional chipotle pepper, if desired. Serve immediately with extra lime wedges.
Recipe adapted from simplyrecipes.comii
---
Health Tip of the Week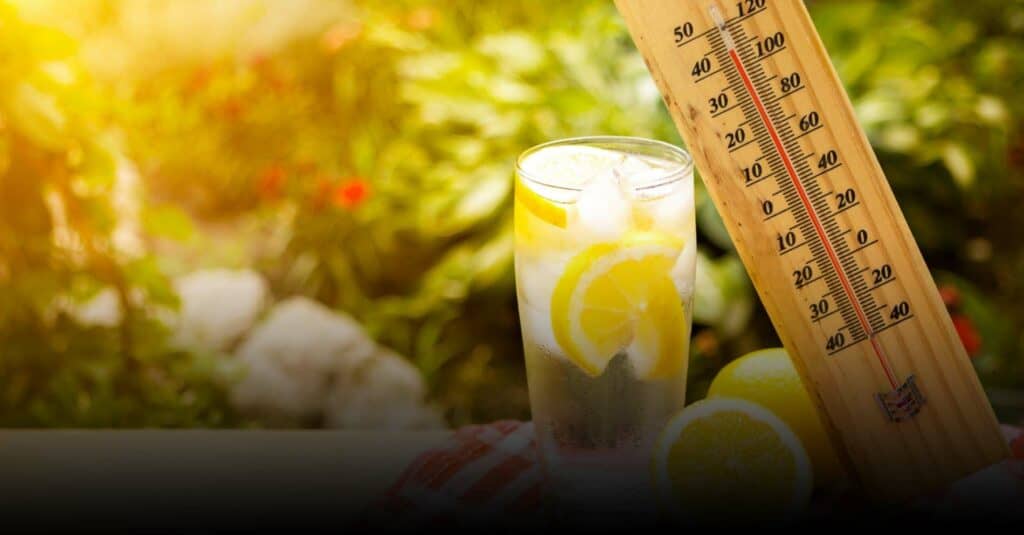 Beat The Heat: Here's How To Stay Cool In Hot Weather
We're quickly rolling into the month of July, and judging by the way that things are going, it's going to be a scorcher this summer. While hot weather is nice, and you've never looked better than with that killer tan, it's crucial to know how to keep yourself cool.
Heat stroke—or worse, hyperthermia—are very real things. When your body produces way too much heat, or absorbs way too much heat, it can cause some serious damage.
Without further ado, here are some tips on how you can keep yourself cool, even when it's heating up:
Drink Lots and Lots of Water
Avoid the Sun between 11am to 2pm
Dress Appropriately
Refrigerate or Freeze Your Bedsheets
Cool Down Your "Hot Zones"
Get Spicy
Eat a Popsicle
Make a Smoothie
Have More Salads
Tip adapted from urbancultivator.netiii
---
Copyright (C) 2021. Ballentine Capital Advisors. All rights reserved.
Our mailing address is:
Ballentine Capital Advisors
15 Halton Green Way
Greenville, SC 29607
unsubscribe from this list update subscription preferences
Source:
Diversification is an approach to help manage investment risk. It does not eliminate the risk of loss if security prices decline
Quotefancy.com, 2021
Disclosure:
The content is developed from sources believed to be providing accurate information. The information in this material is not intended as tax or legal advice. It may not be used for the purpose of avoiding any federal tax penalties. Please consult legal or tax professionals for specific information regarding your individual situation. This material was developed and produced by FMG Suite to provide information on a topic that may be of interest. FMG Suite is not affiliated with Ballentine Capital Advisors. The opinions expressed and material provided are for general information and should not be considered a solicitation for the purchase or sale of any security. Copyright FMG Suite.
Ballentine Capital Advisors is a registered investment adviser. The advisory services of Ballentine Capital Advisors are not made available in any jurisdiction in which Ballentine Capital Advisors is not registered or is otherwise exempt from registration.
Please review Ballentine Capital Advisors Disclosure Brochure for a complete explanation of fees. Investing involves risks. Investments are not guaranteed and may lose value.
This material is prepared by Ballentine Capital Advisors for informational purposes only. It is not intended to serve as a substitute for personalized investment advice or as a recommendation or solicitation or any particular security, strategy, or investment product.
No representation is being made that any account will or is likely to achieve future profits or losses similar to those shown. You should not assume that investment decisions we make in the future will be profitable or equal the investment performance of the past. Past performance does not indicate future results.
Advisory services through Ballentine Capital Advisors, Inc.
---
i https://www.golftipsmag.com/instruction/shotmaking/simplify-your-sand-shots/
ii https://www.simplyrecipes.com/recipes/grilled_mexican_street_corn_elotes/
iii https://www.urbancultivator.net/how-to-stay-cool-in-hot-weather/