Some of us share a common experience. You're driving along when a police cruiser pulls up behind you with its lights flashing. You pull over, the officer gets out, and your heart drops.
"Are you aware the registration on your car has expired?" 
You've experienced one of the costs of procrastination. Procrastination can cause missed deadlines, missed opportunities, and just plain missing out."
Procrastination is avoiding a task that needs to be done—postponing until tomorrow what could be done today. Procrastinators can sabotage themselves. They often put obstacles in their own path. They may choose paths that hurt their performance.
Though Mark Twain famously quipped, "Never put off until tomorrow what you can do the day after tomorrow." We know that procrastination can be detrimental, both in our personal and professional lives. Problems with procrastination in the business world have led to a sizable industry in books, articles, workshops, videos, and other products created to deal with the issue. There are a number of theories about why people procrastinate, but whatever the psychology behind it, procrastination may cost money—particularly when investments and financial decisions are put off.
As the illustration below shows, putting off investing may put off potential returns.
If you have been meaning to get around to addressing some part of your financial future, maybe it's time to develop a strategy. Don't let procrastination keep you from pursuing your financial goals.
Early Bird
Let's look at the case of Cindy and Charlie, who each invest $100,000.
Charlie immediately begins depositing $10,000 a year in an account that earns a 6% rate of return. Then, after 10 years, he stops making deposits.
Cindy waits 10 years before getting started. She then starts to invest $10,000 a year for 10 years into an account that also earns a 6% rate of return.
Cindy and Charlie have both invested the same $100,000. However, Charlie's balance is higher at the end of 20 years because his account has more time for the investment returns to compound.

Start Young
The earlier you start saving for retirement the better. It is very rare to hear someone state they feel over prepared for retirement. Albert Einstein once said, "Compound interest is the eighth wonder of the world." As you can see above, the earlier you start, the longer you have compound interest working in your favor.
Be Consistent
Contributing to a 401(k) requires discipline, but it can yield a strong retirement nest egg if done with consistency. Even if you only start with $5 per paycheck, something is better than nothing. Plus, I doubt you will notice the difference on your paystub.
Don't Forget to Plan
Antoine de Saint-Exupéry once said, "A goal without a plan is just a wish." This rings true whether you are approaching retirement or just getting your first job. Planning for your financial future is key and doing so with a qualified professional is even more important.
If you have any questions about the health and strategy of your current plan, give us a call.
Have a great weekend!




Source: Ballentine Capital Advisors 
---
Golf Tip of the Week
The Mistakes to Avoid if You Want to be a Good Golf Parent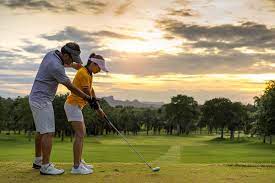 If you're a parent that loves to golf, it seems like a no-brainer to introduce your kids to the game, but how do you avoid becoming the "crazy golf parent?"
In this episode of Golf IQ Luke Kerr-Dineen and I share the best insights we've received from tour players and their parents, and what we've learned from our own junior golf experiences.
Be supportive, not pushy
First and foremost, golf should always be fun for your junior. We're not saying that they have to be happy all the time, but, practicing, playing and even tournaments, should never feel like a job to them.
"When you see your junior start to take an interest in golf, it's so easy to want to start pushing," Kerr-Dineen says.
But, no matter how hard you try, you'll never be able to want it for them.
You can take them to practice, get them lessons and sign them up for tournaments, but if they don't want it, it's going to feel like work and all that pressure will create resentment.
Take it from Mike Thomas, Justin Thomas' father, who once told Kerr-Dineen that the key is to keep it fun and to have them enjoy the game above all else.
"[He said] If they enjoy the good bits, then they'll start enjoying the bad rounds too and the hard work that goes into it," Kerr-Dineen says, "but the second you start pushing, that's the moment things start toppling over."

We know it's just because you want the best for them, but you have to let them figure it out for themselves, Kerr-Dineen says.
It might even feel counterintuitive to back off slightly when you see your kid take an interest in a sport, but it's actually one of the best things you can do for them. That space will allow them to reflect on their own feelings, rather than being influenced by yours.
Setting goals sets them up for success
If there's one thing that you should take away from this, it's that a supportive parent is a good golf parent. Sometimes support looks like being there for them after a tough round or driving them to practice, but it can also come in the form of providing them with structure.
During a press conference last year at the PNC, Shawn Spieth, Jordan Spieth's dad, talked about his approach to being a golf parent. He said there was one thing he did with Jordan during his junior career—and that was to have him set his own goals.
Shawn said that setting goals is something that successful people do, and that's why he encouraged Jordan to create his own game plan.
Which we agree is sound advice.
Having your junior set their own goals will help you both to get on the same page, help you both maintain healthy expectations and keep them accountable so you don't have to put pressure on them.
Don't overestimate your ability to be their coach
It might sound harsh, but, there are very few parents that can successfully toe the line between being their kid's parent and golf coach. Odds are you aren't one of them, and that's okay.
Having separation between the title of parent and coach is actually a good thing for your junior. They'll be more receptive to the critique, instruction and advice they'll need to get better. Plus, you'll avoid a lot of frustration in the process and won't risk straining your relationship with them.
Avoid falling into the trap of specializing too early
As a golf parent, it's easy to buy into the idea that focusing solely on golf from a young age will yield the best results for your kid.
However, a study led by Neeru Jayanthi MD, a professor at Loyola Stritch School of Medicine, revealed that there's no evidence that intense training at a young age is necessary to achieve elite level status.
While the study found that some degree of sports specialization is needed for elite-level skill development, their research proves that intense training in a single sport to the exclusion of others should actually be delayed until late adolescence to optimize success, minimize injury, reduce psychological stress and avoid burnout.
And, top coaches and tour pro's would agree with them.
"When you talk to a lot of coaches of really good players, or just good players themselves, often they're the ones who didn't specialize early," Kerr-Dineen says, "Sure, they played golf when they were young but they also played baseball or basketball."
It might be hard to do, especially when you see other parents pushing their kids to focus really early, but your player will thank you in the long run.




Tip adapted from golf digest.comi
---
Recipe of the Week
Memorial Day Mini Pork Cheeseburgers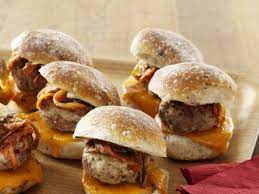 10 Mini Burgers
Ingredients
3 tablespoons unsalted butter
2 large onions, thinly sliced
Kosher salt and freshly ground pepper
1 pound ground pork
1 clove garlic, chopped
1 tablespoon chopped fresh parsley
10 small rolls, halved lengthwise
10 slices chipotle gouda or pepper jack cheese     
Instructions
Melt the butter in a skillet over medium heat. Add the onions; cook until soft and golden, about 10 minutes. Raise the heat to medium-high and continue cooking, stirring, until uniformly brown, 5 to 10 more minutes. Season with salt and pepper and set aside.
Mix the pork, garlic and parsley in a bowl. Season the mixture with salt and pepper and form into 10 small patties, being careful not to pack them too tightly.
Heat a grill pan over medium heat; grill the patties until medium-rare, about 4 minutes per side. Place a cheese slice on the bottom half of each roll; top with a burger, some caramelized onions and the roll top.



Recipe adapted from Foodnetwork.comii
---
Health Tip of the Week
10 Ways to Boost Your Metabolism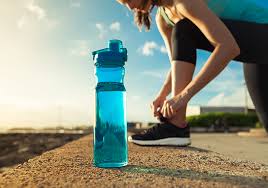 Can You Make Your Metabolism Better?
Boosting metabolism is the holy grail of weight watchers everywhere, but how fast your body burns calories depends on several things. Some people inherit a speedy metabolism. Men tend to burn more calories than women, even while resting. And for most people, metabolism slows steadily after age 40. Although you can't control your age, gender, or genetics, there are other ways to improve your metabolism. Here are 10 of them.
Build Muscle
Your body constantly burns calories, even when you're doing nothing. This resting metabolic rate is much higher in people with more muscle. Every pound of muscle uses about 6 calories a day just to sustain itself, while each pound of fat burns only 2 calories daily. That small difference can add up over time. After a session of strength training, muscles are activated all over your body, raising your average daily metabolic rate.

Step Up Your Workout
Aerobic exercise may not build big muscles, but it can rev up your metabolism in the hours after a workout. The key is to push yourself. High-intensity exercise delivers a bigger, longer rise in resting metabolic rate than low- or moderate-intensity workouts. To get the benefits, try a more intense class at the gym or include short bursts of jogging during your regular walk.

Fuel Up With Water
Your body needs water to process calories. If you are even mildly dehydrated, your metabolism may slow down. In one study, adults who drank eight or more glasses of water a day burned more calories than those who drank four. To stay hydrated, drink a glass of water or other unsweetened beverage before every meal and snack. Also, snack on fresh fruits and vegetables, which naturally contain water, rather than pretzels or chips.

Should You Try Energy Drinks?
Some ingredients in energy drinks can give your metabolism a boost. They're full of caffeine, which increases the amount of energy your body uses. They sometimes have taurine, an amino acid. Taurine can speed up your metabolism and may help burn fat. But using these drinks can cause problems like high blood pressure, anxiety, and sleep issues for some people. The American Academy of Pediatrics doesn't recommend them for kids and teens.
Snack Smart
Eating more often can help you lose weight. When you eat large meals with many hours in between, your metabolism slows down between meals. Having a small meal or snack every 3 to 4 hours keeps your metabolism cranking, so you burn more calories over the course of a day. Several studies have also shown that people who snack regularly eat less at mealtime.
Spice Up Your Meals
Spicy foods have natural chemicals that can kick your metabolism into a higher gear. Cooking foods with a tablespoon of chopped red or green chili pepper can boost your metabolic rate. The effect is probably temporary, but if you eat spicy foods often, the benefits may add up. For a quick boost, spice up pasta dishes, chili, and stews with red pepper flakes.
Power Up With Protein
Your body burns many more calories digesting protein than it does eating fat or carbohydrates. As part of a balanced diet, replacing some carbs with lean, protein-rich foods can boost metabolism at mealtime. Good sources of protein include lean beef, turkey, fish, white meat chicken, tofu, nuts, beans, eggs, and low-fat dairy products.
Sip Some Black Coffee
If you're a coffee drinker, you probably enjoy the energy and concentration perks. Taken in moderation, one of coffee's benefits may be a short-term rise in your metabolic rate. Caffeine can help you feel less tired and even increase your endurance while you exercise.
Recharge With Green Tea
Drinking green tea or oolong tea offers the combined benefits of caffeine and catechins, substances shown to rev up the metabolism for a couple of hours. Research suggests that drinking 2 to 4 cups of either tea may push the body to burn 17% more calories during moderately intense exercise for a short time.
Avoid Crash Diets
Crash diets — those involving eating fewer than 1,200 (if you're a woman) or 1,800 (if you're a man) calories a day — are bad for anyone hoping to quicken their metabolism. Although these diets may help you drop pounds, that comes at the expense of good nutrition. Plus, it backfires, since you can lose muscle, which in turn slows your metabolism. The final result is your body burns fewer calories and gains weight faster than before the diet.




Tip adapted from WebMD.comiii 
---
Copyright (C) 2021.  Ballentine Capital Advisors.  All rights reserved.
Our mailing address is:  
Ballentine Capital Advisors
15 Halton Green Way
Greenville, SC 29607
unsubscribe from this list    update subscription preferences  
Disclosure:
This is a hypothetical example of mathematical compounding. It's used for comparison purposes only and is not intended to represent the past or future performance of any investment. Taxes and investment costs were not considered in this example. The results are not a guarantee of performance or specific investment advice. The rate of return on investments will vary over time, particularly for long-term investments. Investments that offer the potential for high returns also carry a high degree of risk. Actual returns will fluctuate. The type of strategies illustrated may not be suitable for everyone.
The content is developed from sources believed to be providing accurate information. The information in this material is not intended as tax or legal advice. It may not be used for the purpose of avoiding any federal tax penalties. Please consult legal or tax professionals for specific information regarding your individual situation. This material was developed and produced by FMG Suite to provide information on a topic that may be of interest. FMG Suite is not affiliated with the named broker-dealer, state- or SEC-registered investment advisory firm. The opinions expressed and material provided are for general information, and should not be considered a solicitation for the purchase or sale of any security. Copyright FMG Suite.
Ballentine Capital Advisors is a registered investment adviser. The advisory services of Ballentine Capital Advisors are not made available in any jurisdiction in which Ballentine Capital Advisors is not registered or is otherwise exempt from registration.
Please review Ballentine Capital Advisors Disclosure Brochure for a complete explanation of fees. Investing involves risks. Investments are not guaranteed and may lose value.
This material is prepared by Ballentine Capital Advisors for informational purposes only. It is not intended to serve as a substitute for personalized investment advice or as a recommendation or solicitation or any particular security, strategy, or investment product.
No representation is being made that any account will or is likely to achieve future profits or losses similar to those shown. You should not assume that investment decisions we make in the future will be profitable or equal the investment performance of the past. Past performance does not indicate future results.
Advisory services through Ballentine Capital Advisors, Inc.
i https://www.golfdigest.com/story/how-to-be-a-good-golf-parent
ii https://www.foodnetwork.com/recipes/mini-pork-cheeseburgers-recipe-1972953
iii https://www.webmd.com/diet/ss/slideshow-boost-your-metabolism