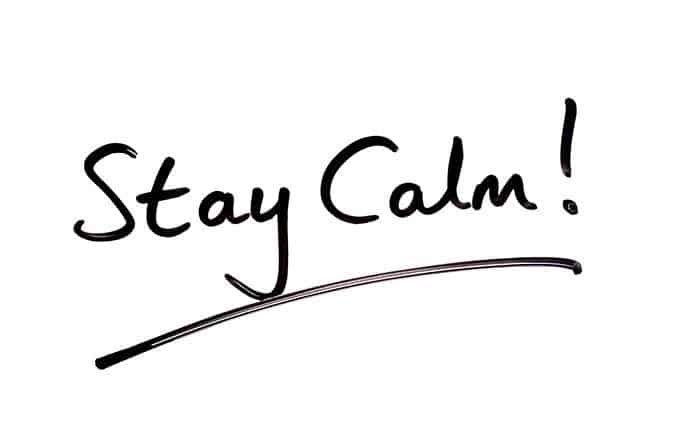 Each year thousands of people pay to have a picture taken of themselves screaming in abject fear. It's on Disneyland's popular Splash Mountain ride.
The moment of terror comes near the end of the ride when the gondola (shaped like a hollow log) suddenly plunges down a waterfall. The instant it reaches peak velocity a camera snaps a picture, catching the passengers' terrified faces.1
You don't have to be a psychologist to recognize that when the average person experiences an unexpected drop of more than a few feet, they instinctively react with fear. Even if they know the ride has operated safely for more than thirty years, and an unexpected drop is coming.
The stock market has its own method for taking a snapshot of frightened people. It's called the Cboe Volatility Index (Vix). And while it doesn't record the faces of anxious investors, it does track something just as concrete—their fear-induced transactions.2
When speculation is running rampant around some highly anticipated event, such as the current election, the Vix will reflect the increased price volatility as jittery investors seek a way to mitigate their losses in the event their fear becomes reality.
History, as usual, gives us some good examples of how this dynamic usually plays out.
In the run up to the 2000 election, polls were indicating that it would be a close contest between George Bush and Al Gore. And in the weeks just before the vote, when it looked like the result would not be a foregone conclusion, the Vix began to spike.3
But after Bush was declared the winner, market volatility dropped, and things generally got back to normal.
In fact, looking back further from 1860 through 2019, the average S&P 500 Index overall volatility averages 15.7%.  During the same period but looking at just the 100 days before and after a presidential election, the average is closer to 13.8% (contrary to what might be popular thought).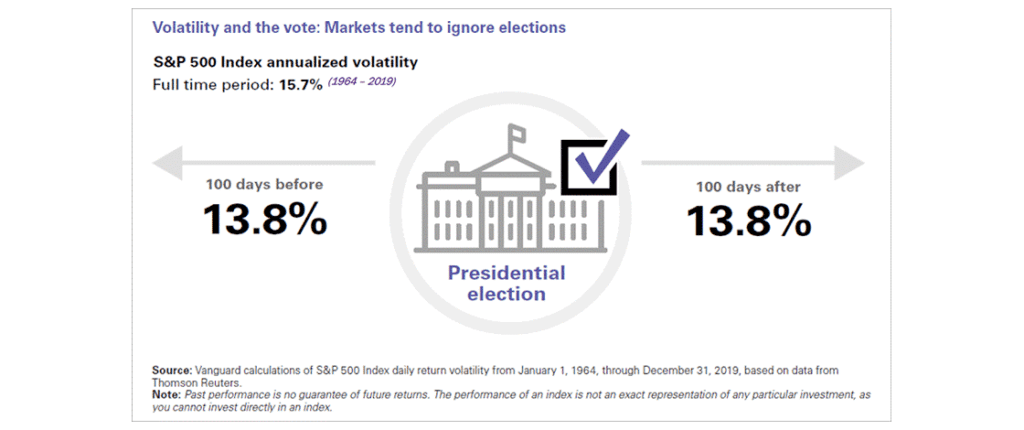 Remember that averages are formed by whatever you're measuring spending time both ABOVE and BELOW a certain point. As we enter the 4th quarter of 2020, many may view a climb in the Vix (if it occurs) would be being fueled by another close election paired with the unknowns of the pandemic. Not surprisingly, the reality is that investors in times of turmoil are giving in to their gut emotions.
Back to our Splash Mountain example.
You can find thousands of pictures online of the screaming log flume riders. However, there's a relatively rare variety of this picture that gets shared and reshared on social media. In these photos one or more of the riders have calm–almost bored–expressions. This contrast with the often-hysterical faces of those beside them is what makes these photos so amusing.
But it also serves as an example of how someone can choose to respond calmly even as their equilibrium is urging them to react.
When you get onto the Splash Mountain ride, you know beforehand there will be twists and turns and more than a few drops. The same is true when you invest in the stock market.
Yet many people respond as if this market volatility were completely out of the ordinary, and in response to short-term uncertainty take what they believe to be evasive measures. Some go so far as to "jump out of the ride," abandoning their 20 or 30-year strategy for the current perceived safety of cash.
Knowing that volatility is built into a free market, the prudent investor will decide ahead of time not to react to their short-term fear, keep their calm, and continue working their plan.
If you have questions about how recent volatility may affect your chances for retirement success, give us a call.
Have a great weekend!
Source: Efficient Advisors
---
Golf Tip of the Week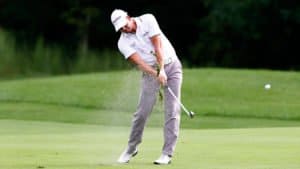 The One Move You Need to Make Better Iron Contact
Great iron players talk about compression—the feeling of hitting the ball with a downward strike. To create that dynamic on your iron shots, focus on the start of the downswing.
Feel like you're moving your left shoulder (for righties) down and toward the target as the first move from the top. That simple action puts the club on the correct path and angle of attack and moves the low point forward for ball-first contact. Many golfers move the left shoulder up or around too soon because their weight is falling back. When the shoulder goes down and forward, your lower body reacts, and you can push against the ground for power.

So drive the shoulder to start the downswing, then let it go around to the left. That sequence will get you hitting killer irons.
Tip adapted from GolfDigest.comi
---
Recipe of the Week
Parmesan White Bean Soup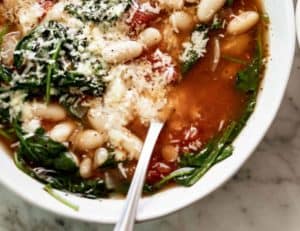 [10 people]
Ingredients:
1 tablespoon olive oil
1 yellow onion diced
6-8 cloves garlic minced
6 cups vegetable broth (or stock)
15 ounces (420 g) can diced tomatoes, drained
1 teaspoon sugar
1 tablespoon Italian dried herbs
1 teaspoon kosher salt
½ teaspoon black pepper
4 (15 ounce) cans white beans (cannellini beans), drained and rinsed
4 cups baby spinach (about 6 ounces)
3/4 cup fresh grated Parmesan cheese (for serving)
3 tablespoons chopped fresh flat-leaf parsley
Instructions:
In a large pot or saucepan, heat olive over medium high heat. Add onion and garlic; cook until onions are translucent and garlic is fragrant (about 2-3 minutes), while stirring occasionally. Add in the broth, tomatoes, sugar, Italian herbs, salt and pepper.
Bring to a boil, reduce heat and simmer for 5 minutes to combine all of the flavors together.
Stir in the beans and spinach. Continue to simmer gently until the spinach has wilted, (about 2 minutes).
Take off heat. Stir through the parmesan cheese. Taste test, adjust salt and pepper if needed. Serve immediately.
Recipe adapted from Cafedelites.comii
---
Health Tip of the Week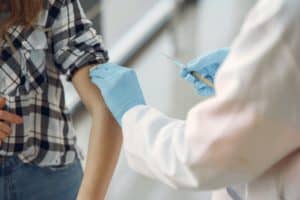 The 411 on the Flu Vaccine
Who needs it: All adults, no matter what their age. Be sure to let your health care provider know if you've had a severe reaction to the flu shot in the past, are allergic to eggs (the flu vaccine is most commonly grown in them) or have (or have had) Guillain-Barré syndrome (GBS). On rare occasions, people may develop this disorder, in which the body's immune system damages nerve cells, causing muscle weakness and sometimes temporary paralysis in the days or weeks after getting the vaccination. (Studies suggest, however, that it's more likely that a person will get GBS after getting the flu itself rather than the vaccination.) If you have a fever, you'll likely be asked to wait until your temperature is back to normal before you get the vaccine.
How often: Once a year (the sneaky virus itself changes every year). Flu season typically begins in October and ends in March; the CDC recommends rolling up your sleeve by the end of October, since it takes about two weeks after a vaccination for flu-fighting antibodies to develop in the body.
Why you need it: The flu can lead to hospitalization and sometimes death — and older adults are the most vulnerable. Studies show that a vaccination can reduce the risk of falling ill by as much as 40 to 60 percent.
Tip adapted from AARPiii
---
Copyright (C) 2020. Ballentine Capital Advisors. All rights reserved.
Our mailing address is:  
Ballentine Capital Advisors
23 Buena Vista Way, Suite B
Greenville, SC 29615
Sources:
1. https://go.efficientadvisors.com/e/91522/wiki-Splash-Mountain/6ryv52/1032928605?h=r1edx9Pdn_yWWgwt87Kqor3kj_CdLL1HDETXwKhKvzo
2. https://go.efficientadvisors.com/e/91522/-volatility-volatility-indexes/6ryv54/1032928605?h=r1edx9Pdn_yWWgwt87Kqor3kj_CdLL1HDETXwKhKvzo
3. https://go.efficientadvisors.com/e/91522/in-the-white-house-11603445400/6ryv56/1032928605?h=r1edx9Pdn_yWWgwt87Kqor3kj_CdLL1HDETXwKhKvzo
unsubscribe from this list update subscription preferences
Disclosure:
The views expressed herein are exclusively those of Efficient Advisors, LLC ('EA'), and are not meant as investment advice and are subject to change. All charts and graphs are presented for informational and analytical purposes only. No chart or graph is intended to be used as a guide to investing. EA portfolios may contain specific securities that have been mentioned herein. EA makes no claim as to the suitability of these securities. Past performance is not a guarantee of future performance. Information contained herein is derived from sources we believe to be reliable, however, we do not represent that this information is complete or accurate and it should not be relied upon as such. All opinions expressed herein are subject to change without notice. This information is prepared for general information only. It does not have regard to the specific investment objectives, financial situation and the particular needs of any specific person who may receive this report. You should seek financial advice regarding the appropriateness of investing in any security or investment strategy discussed or recommended in this report and should understand that statements regarding future prospects may not be realized. You should note that security values may fluctuate and that each security's price or value may rise or fall. Accordingly, investors may receive back less than originally invested. Investing in any security involves certain systematic risks including, but not limited to, market risk, interest-rate risk, inflation risk, and event risk. These risks are in addition to any unsystematic risks associated with particular investment styles or strategies.

The articles and opinions expressed in this newsletter were gathered from a variety of sources, but are reviewed by Ballentine Capital Advisors prior to its dissemination. All sources are believed to be reliable but do not constitute specific investment advice. In all cases, please contact your investment professional before making any investment choices.
Securities through Triad Advisors, LLC, Member FINRA/SIPC. Advisory services through Ballentine Capital Advisors, Inc. Triad Advisors and Ballentine Capital Advisors are not affiliated entities.
---
i https://www.golfdigest.com/story/golf-instruction-truths-the-one-move-you-need-to-make-better-iron-contact
ii https://cafedelites.com/10-minute-white-bean-parmesan-spinach-soup/
iii https://www.aarp.org/health/drugs-supplements/info-2020/flu-shot-helps-prevent-hospitalization.html