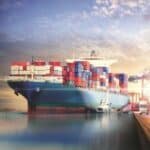 The supply chain is the network by which products flow from the factories of suppliers to the inventories of retailers so they can ultimately be purchased by consumers. Corporate supply chains have been under pressure since the pandemic began, but the stress intensified in the latter months of 2021, with demand for goods surging and the holiday season fast approaching.1
The California ports that receive about 40% of U.S. imports are now operating 24/7, but workers still can't keep up with the rush of container ships arriving from overseas. In mid-November, there was a record backlog of vessels waiting offshore for more than two weeks to unload their cargo.2 Other U.S. ports are also congested, and severe shortages of truck drivers and warehouse workers have further slowed the distribution of goods throughout the nation. These bottlenecks held up finished merchandise, as well as the inputs and raw materials needed to manufacture products domestically.
Compounding supply-chain issues have been increasing freight and labor costs, delaying shipments, and leaving consumers with higher prices and fewer options since the spring of 2021. As summer turned to fall, logjams remained and time was running out, raising fears that U.S. retailers would not have sufficient inventories of goods to meet consumer demand during the holidays.
The good news is that many businesses responded nimbly to challenging conditions, and some consumers have been proactive, too. Here's a glimpse into how these kinks in the supply chain might affect your holiday shopping in 2021.
Are Retailers Ready?
Many of the nation's largest retailers anticipated problems and went to great lengths to ensure that shelves would be well stocked with a robust variety of goods in time for the holiday shopping season. In many cases, this required paying much higher freight costs to charter their own smaller ships or cargo planes so they could bypass clogged ports and make up for production delays.3
Such costly measures are usually not an option for smaller retailers, which could put them at disadvantage. In a November survey, 48% of small businesses reported that supply-chain disruptions are having a significant negative impact on their holiday sales.4
Expecting enthusiastic consumer demand, the National Retail Federation forecast record holiday spending of 8.5% to 10.5% above 2020 levels. But retailers have also warned consumers that sporadic product shortages and shipping delays would continue and perhaps worsen later in the season.5
Poised to Spend
U.S. retail sales rose 1.7% in October, a surprisingly strong showing and the third monthly increase in a row.6 The potential for a more limited selection of some types of products has been widely reported, and it seems that consumers are paying attention. According to an annual NRF survey, a record share of consumers (49%) started their holiday shopping before November, and 36% did so to avoid missing the chance to buy key holiday items.7
U.S. households have extra money to spend this year after amassing about $2 trillion in excess savings during the pandemic. This was largely due to historic levels of economic relief provided by the federal government, along with fewer spending opportunities due to lockdowns.8 The recent rise in consumer spending bodes well for retailers and economic growth, but heavy demand also weighs on the supply chain and pushes up prices.
A Season of Inflation
Unfortunately, escalating prices for holiday gifts and basic needs could prompt the loudest "bah humbug" of the 2021 holiday season. With businesses paying more for the raw materials, packaging, labor, transportation, and fuel needed to produce and distribute products, a portion of the additional costs are being passed on to consumers.
Measured by the Consumer Price Index (CPI), prices across the U.S. economy increased 6.2% during the 12 months ending in October 2021 — the highest inflation rate in nearly 31 years. Grocery prices (food at home) rose 5.4% year over year, while prices for the category that includes meats, poultry, fish, and eggs spiked 11.9%.9
Energy prices overall have climbed 30% since October 2020, and the natural gas that keeps many homes warm and cozy increased 28.1% year over year. Gasoline prices rose nearly 50% over the prior 12 months, slamming the budgets of households who plan to drive to family gatherings over the holidays.10
Because supply-and-demand shocks have driven these sharp price increases, some economists still believe they are temporary and that inflation will moderate in 2022 as supply constraints ease.11 Of course, even short bursts of inflation can be especially painful for consumers with lower incomes and little or no savings, and no one knows for certain how long prices might stay elevated.
Shop Early or Be Flexible
On top of being more expensive, some in-demand products could be hard to find, and transportation bottlenecks aren't the only issue impacting supplies. A global shortage of semiconductors, or computer chips, is limiting the production of all kinds of electronic devices, including cars, home appliances, laptops, smartphones, TVs, and gaming consoles. The availability of some brands of sportswear, shoes, and accessories could be affected by a COVID outbreak that shut down factories in Vietnam. Other reported shortages include jewelry, some popular toys and books, frozen turkeys, cardboard boxes needed for shipping, and Christmas trees, both real and artificial.12
If you need certain items for entertaining or have family members with specific gifts on their wish lists, it could be risky to wait until the last minute to buy them. Otherwise, shopping locally, being open to alternatives, and giving cash or gift cards to be spent later might end up being your best options.
Have a wonderful weekend!






*Projections are based on current conditions, are subject to change, and may not come to pass.
Source: Broadridge
---
Golf Tip of the Week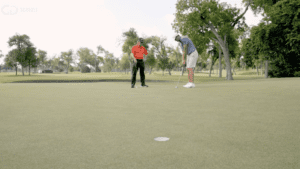 The Secret to Reading Breaking Putts
One putt that gives average golfers extra stress is the big breaker, in particular left-to-right putts for right-handed golfers. The problem, says 2020 PGA Tour Rookie of the Year Scottie Scheffler, is that they become so wrapped up in choosing the perfect line that they forget about the most important part: the speed.
"A putt that breaks a lot, it's really more about speed than line, giving that ball a chance to go in," says Scheffler, who since joining the tour full-time last year has posted four top-10s in the majors, including three in a row to close out the 2020-21 season.
Scheffler, much like his good buddy and fellow Texas Longhorn Jordan Spieth, knows a thing or two about putting. Entering the FedEx Cup playoffs, he ranked sixth on tour in Putting Average at 1.717 putts per greens hit in regulation.
The Dallas resident says there are multiple factors that determine the line of a breaking putt, but none more important than speed. To get a feel for speed, Scheffler reads his putts from three angles: behind the ball, midway between the ball and the hole, and behind the hole looking back up the line. From the midway point, Scheffler says you can zero in on the apex, or the highest point of the break, and get a good look at the last part of the putt. Looking from behind the hole, Scheffler says, helps you see how the grain and slope are going to influence the putt as it begins to slow down.
After collecting all of this information, Scheffler looks at the putt again from behind the ball, choosing his aim based on how he sees the entire putt breaking. In other words, he pictures the ball rolling through an area on the green rather than hyper-focusing on a spot. "I'll try to find a point [midway] where I think the ball is going to travel through, and that will be how I'll aim," Scheffler says.
From there, Scheffler walks into the ball with his eyes down his aim line, not the line directly to the hole—and that can be a big difference on breaking putts. "As he walks in, he's all wrapped up in the line of the putt," says his longtime coach Randy Smith, a Golf Digest 50 Best Teacher. "He's not looking at where the hole is so much, but how the ball is going to get to the hole."
Incorporate these green-reading tips into your pre-putt routine and see how sharpening your focus on speed will help you get your breaking putts closer to the hole.
Tip adapted from golfdigest.comi
---
Recipe of the Week
Green Bean Bundles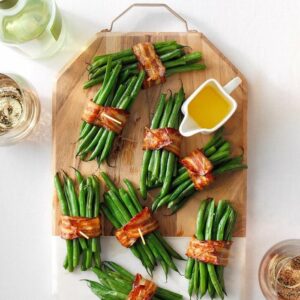 8 Servings
Ingredients
1 pound fresh green beans, trimmed
8 bacon strips, partially cooked
1 tablespoon finely chopped onion
3 tablespoons butter
1 tablespoon white wine vinegar
1 tablespoon sugar
1/4 teaspoon salt
Directions
1. Cook the beans until crisp-tender. Wrap about 10 beans in each bacon strip; secure with a toothpick. Place on a foil-covered baking sheet. Bake at 400° until bacon is done, 10-15 minutes.
2. In a skillet, sauté onion in butter until tender. Add vinegar, sugar and salt; heat through. Remove bundles to a serving bowl or platter; pour sauce over and serve immediately.
Recipe adapted from atasteofhome.comii 
---
Health Tip of the Week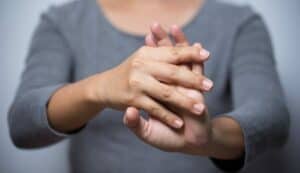 7 Hand Exercises to Prevent Arthritis  
Stiffness and loss of motion in your hands may be the beginning of arthritis. Here's how to stay loose and pain free:
Shoulder Stretch
Elbow Flexion and Extension
Prayer and Reverse Prayer
Finger Spread
Finger Touch
Thumb Stretch
Knuckle Bend
Tip adapted from aarp.orgiii
---
Copyright (C) 2021. Ballentine Capital Advisors. All rights reserved.
Our mailing address is:
Ballentine Capital Advisors
15 Halton Green Way
Greenville, SC 29607
unsubscribe from this list update subscription preferences
Sources:
1) Consumer Reports, October 20, 2021
2) Bloomberg, November 13, 2021
3) The Wall Street Journal, October 10, 2021
4) National Federation of Independent Business, November 3, 2021
5, 7) National Retail Federation, November 16, 2021
6) U.S. Census Bureau, 2021
8) Bloomberg, November 16, 2021
9-10) U.S. Bureau of Labor Statistics, 2021
11) Moody's Analytics, November 18, 2021
12) CBS News, November 18, 2021
Disclosure:
Ballentine Capital Advisors is a registered investment adviser. The advisory services of Ballentine Capital Advisors are not made available in any jurisdiction in which Ballentine Capital Advisors is not registered or is otherwise exempt from registration.
Please review Ballentine Capital Advisors Disclosure Brochure for a complete explanation of fees. Investing involves risks. Investments are not guaranteed and may lose value.
This material is prepared by Ballentine Capital Advisors for informational purposes only. It is not intended to serve as a substitute for personalized investment advice or as a recommendation or solicitation or any particular security, strategy, or investment product.
No representation is being made that any account will or is likely to achieve future profits or losses similar to those shown. You should not assume that investment decisions we make in the future will be profitable or equal the investment performance of the past. Past performance does not indicate future results.
Advisory services through Ballentine Capital Advisors, Inc.
---
[i] https://www.golfdigest.com/story/secrets-to-breaking-putts-from-a-top-putter-on-tour
ii https://www.tasteofhome.com/recipes/green-bean-bundles
iii https://www.aarp.org/health/conditions-treatments/info-2021/exercises-prevent-arthritis.html?intcmp=AE-HP-TTN-R5-POS3-REALPOSS-TODAY