Crime novelist Catherine Aird observed, "If you can't be a good example, then you'll just have to be a horrible warning."1
This seems to be the role of AMC Entertainment, the movie theater chain whose stock has soared in recent months.
Earlier this year, as pandemic restrictions took their toll on in-person entertainment businesses, AMC stock was trading at less than $3 per share. But over the next six months, in an unusual turn of events, the stock increased dramatically to trade above $60 per share.
This gain of more than 2,000% made AMC by far the top performing stock of 2021. Its performance more than doubled the growth of the second top-gaining stock.2
But the reason for this spike had nothing to do with the company's business prospects.
A stock is simply a tiny slice of ownership in a company. When AMC stock was priced at $3 per share, it was because the market considered the chain's revenue sources (selling movie
tickets and concessions), its liabilities (debt and leasing obligations), and its future prospects (short-term disruption and long-term decline in its segment).
For a stock to jump 20 times its value you'd expect to see a change in one of these fundamental factors. But in this case, you'd be looking in vain. A fascinating drama with little to do with AMC's core business was driving the price.
Last year, because the theater chain's future appeared dim, institutional investors such as large hedge funds had taken significant "short" positions with the stock. In a nutshell, they would make money, if the stock's value continued to fall.
But activist retail investors intervened.
Congregating on social media sites like Reddit, they agreed on a coordinated effort to buy up the shares of AMC, spiking its value and forcing the hedge funds into a position called a "short squeeze" where they would have to exit their positions at a loss.
Many of the small-time stock buyers participated as a protest against Wall Street's big-money elite. Some of the buyers did it for sentimental reasons—they had fond memories of going to the movies and hoped AMC could be saved. And some bought with the hope that the stock would continue to grow.
Unfortunately for the Reddit buyers, none of these reasons seem to have anything to do with AMC's current and future performance in the movie theater business.
Financial writer Sean Williams points out that even without the pandemic AMC would be in trouble. Movie ticket sales have been in a two-decade-long decline and major studios have seen that they can be profitable releasing films for streaming at the same time they go to theaters.
Given these prospects, along with debt and long-term lease liabilities, it's likely that AMC will eventually go bankrupt. And the big, short-sellers will get their payout.
While chasing hot stocks for short-term gains may be exciting, it's proven not to be a good way to invest for retirement.
The prudent investor has the best chance of success with a long-term plan, a broadly diverse portfolio, and the guidance of a trusted advisor. We are here to help in your journey of wealth.
Have a wonderful weekend!






---
Source: Efficient Advisors
Golf Tip of the Week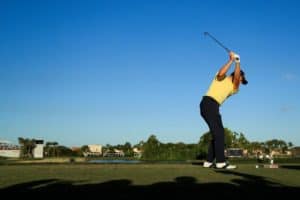 Hitting Your Pure Short Irons, Explained
Admit it. You've spent hours at the practice range, hitting ball after ball with your pitching wedge or 9-iron, looking for that pure contact tour players seem to achieve effortlessly. You've sped up your swing, slowed it down, and done all kinds of things with your hands, all in an effort to make the ball fly with predictable trajectory and the backspin to stop your shots by the hole.
But the secret isn't in your hands, or in the dirt. It's in your backswing.
"Hitting good short iron shots has nothing to do with speed. It's about getting the club to come into the ground and the ball on the right angle and path," says Golf Digest Top 50 Teacher Michael Jacobs. "That means you need more 'vertical' in your swing."
We can learn from two of the best ball-strikers on tour, who led the PGA Tour in strokes gained/approach in the 2019-'20 season—Justin Thomas and Collin Morikawa. Though tour players are very good at doing things average players can't do, we can study how they hit short irons and try to copy their positions.
The first key to finding the center of the clubface with your short irons, Jacobs says, is to forget the idea that you should use the same swing for these clubs as you would for a hybrid or a driver.
"Look at Justin Thomas in the video below. At two-thirds of the way through his backswing, his left arm is in line with the top of his right shoulder, or his collarbone," says Jacobs.
"For most players, it's way lower, under where the logo would be on the shirt. The arm that low means the shaft is also low, which might work for a more sweeping swing but won't help you hit short irons well."
To work on it, make some less-than-full swings with a short iron where you do the opposite of what you might have heard when it comes to using a headcover under your trail arm as a training aid. Instead of holding it under there for the swing, start with it tucked there and make sure you drop it early in the backswing.
"When you can get that left arm in line with your collarbone—like Collin Morikawa also does, above—the club stays more in front of your body early, instead of getting behind you. You won't be swinging any faster, but you'll make much better contact and produce better ball speed and a more predictable launch."

Tip adapted from golfdigest.comi
---
Recipe of the Week
Cheesy Meatball Sliders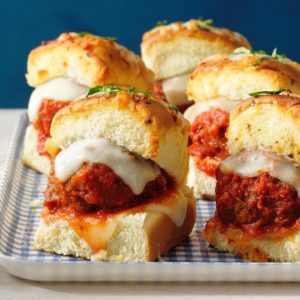 12 Servings
Ingredients
2 pounds lean ground beef (90% lean)
1 cup Italian-style bread crumbs
3 tablespoons prepared pesto
1 large egg, lightly beaten
1 jar (24 ounces) pasta sauce
1 package (18 ounces) Hawaiian sweet rolls
12 slices part-skim mozzarella cheese
1/2 teaspoon dried oregano
1/4 cup melted butter
1 tablespoon olive oil
3 garlic cloves, minced
1 teaspoon Italian seasoning
1/2 teaspoon crushed red pepper flakes
2 tablespoons grated Parmesan cheese
1 cup shredded part-skim mozzarella cheese or shredded Italian cheese blend
Minced fresh basil
Directions
1. Preheat oven to 350°. Combine ground beef, bread crumbs, pesto and egg; mix lightly. Shape into 12meatballs; place on a greased rack in a 15x10x1-in. baking pan. Bake until browned and a thermometer reads 160°, about 35 minutes. Toss meatballs with sauce; set aside.
2. Meanwhile, without separating rolls, cut horizontally in half; arrange bottom halves in a greased 13×9-in. baking dish. Place half the cheese slices over roll bottoms, sprinkle with oregano. Add meatballs and sauce. Top with remaining cheese slices and bun tops.
3.Combine butter, olive oil, garlic, Italian seasoning and red pepper flakes; brush over buns. Bake, covered, for 20 minutes. Uncover, sprinkle with Parmesan and shredded mozzarella.
4. Bake, uncovered, until cheese is melted, 10-15 minutes longer. Sprinkle with basil before serving.

Recipe adapted from foodnetwork.comii
---
 Health Tip of the Week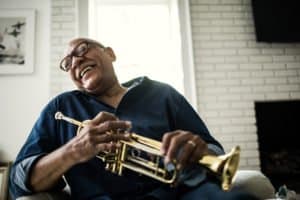 5 Quick Tips to Feel Better Every Day
Are you overwhelmed with making healthy diet changes or adding more physical activity to your daily routine? If you're hesitant to make big changes to your eating habits or lifestyle but want to lead a healthier lifestyle, you may want to ease your way in before making bigger changes. Here are some quick and easy tips you can implement to feel better every day:
Drink a glass of water as soon as you wake up. You may be tempted to reach right for the coffee, but your body becomes dehydrated overnight while you're sleeping. If you don't like water, try adding a little lemon. You'll feel great starting your day on the right foot.
Try to "unplug" one night per week. This means turning off the television, putting your phone and computer away and just reading a book or listening to some music. Sometimes we don't realize how much time we spend connected to our digital devices.
If exercising every day isn't an option, try carving out one block of time over the weekend for physical activity. This could be as simple as going for a walk or attending a fitness class. If you have a family, try to involve everyone!
Experiment with one new healthy recipe each week. Sometimes we get bored with the food we typically eat and that may cause us to gravitate towards unhealthy foods.
End your day with a 15-minute walk. It helps to unwind and reduce stress levels experienced throughout the day and allows you to clear your mind. This could be right after work on your way to the train or your car. It could also be as soon as you get home or after dinner.

Tip adapted from emblemhealth.orgiii
---
Copyright (C) 2021. Ballentine Capital Advisors. All rights reserved.
Our mailing address is:
Ballentine Capital Advisors
15 Halton Green Way
Greenville, SC 29607
unsubscribe from this list update subscription preferences
Sources:
1. https://www.goodreads.com/quotes/1963-if-you-can-t-be-a-good-example-then-you-ll-just
2. https://www.fool.com/investing/2021/09/14/amc-entertainment-the-numbers-dont-add-up/
Disclosure:
The views expressed herein are exclusively those of Efficient Advisors, LLC ('EA'), and are not meant as investment advice and are subject to change. All charts and graphs are presented for informational and analytical purposes only. No chart or graph is intended to be used as a guide to investing. EA portfolios may contain specific securities that have been mentioned herein. EA makes no claim as to the suitability of these securities. Past performance is not a guarantee of future performance. Information contained herein is derived from sources we believe to be reliable, however, we do not represent that this information is complete or accurate and it should not be relied upon as such. All opinions expressed herein are subject to change without notice. This information is prepared for general information only. It does not have regard to the specific investment objectives, financial situation and the particular needs of any specific person who may receive this report. You should seek financial advice regarding the appropriateness of investing in any security or investment strategy discussed or recommended in this report and should understand that statements regarding future prospects may not be realized. You should note that security values may fluctuate and that each security's price or value may rise or fall. Accordingly, investors may receive back less than originally invested. Investing in any security involves certain systematic risks including, but not limited to, market risk, interest-rate risk, inflation risk, and event risk. These risks are in addition to any unsystematic risks associated with particular investment styles or strategies.
The articles and opinions expressed in this newsletter were gathered from a variety of sources but are reviewed by Ballentine Capital Advisors prior to its dissemination. All sources are believed to be reliable but do not constitute specific investment advice. In all cases, please contact your investment professional before making any investment choices.
Securities through Triad Advisors, LLC, Member FINRA/SIPC. Advisory services through Ballentine Capital Advisors, Inc. Triad Advisors and Ballentine Capital Advisors are not affiliated entities.
---
i https://www.golfdigest.com/story/short-irons-instruction-explained
ii https://www.tasteofhome.com/recipes/cheesy-meatball-sliders/
iii https://www.emblemhealth.com/blog/health/quick-tips