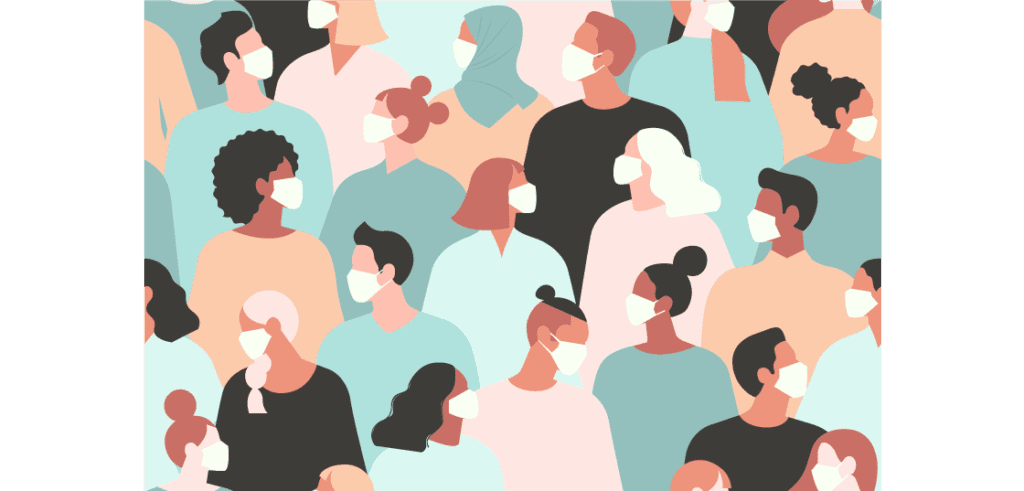 Fear over the economic impact of the continuing spread of the novel (new) coronavirus (2019-nCoV) and the oil price war between the Middle East and Russia have delivered several weeks of historic volatility in global stock markets. The S&P 500 stock index recently fell into what's historically referred to as bear market price territory (a 20% decline from its most recent all-time high).

And, as usual when we experience short term market declines, you don't have to look very far to find plenty of alarming headlines predicting apocalyptic disaster if this current trend continues.

While it may be tempting to read these dire predictions, in truth, they offer little that's useful to an investor. Instead, their guesses about impending doom simply feed fear. It's an emotion that when acted upon, can work to your disadvantage.

So, when you see your newsfeed filled with these kinds of articles, remember this: Fear is not a useful element in long-term investing strategies.
Discipline + Patience > Fear + Worry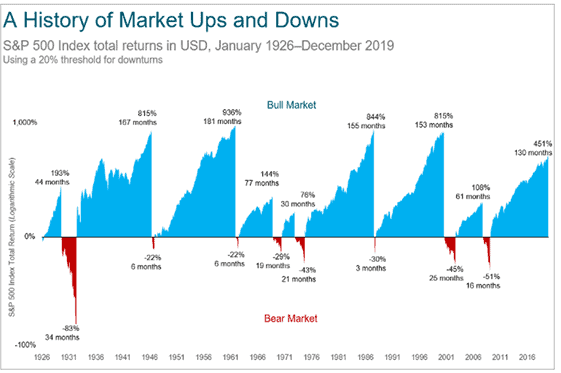 Discipline and patience are the most meaningful elements for prudent investors. Fear and worry aren't a foundation for long term-success.

"But this time it's different!"
Every market decline seems to be accompanied by this recurring theme. It's like the movie Groundhog Day where the main character wakes up and keeps repeating the same thing over and over. You could easily find other market-related scary headlines and fear-inducing stories in January of this year or May of last year. Don't bother looking for them, they won't actually enhance your investment experience or your long-term investment outcomes.

Informed investors who acknowledge the history of volatile markets understand that it's ALWAYS different. The future is random and unknowable. The likelihood we'll have to endure scores or perhaps hundreds of "this time it's different" scenarios over our investing lifetime is why we have an expectation that disciplined investing rewards the persistent investor.

Volatile Short-Term Markets Are Why We Reasonably Expect Long-Term Returns
Some historical S&P 500 Index facts that accompany the chart above:1
Markets tend to go up more than they go down, even after dramatic downturns
Average intra-year pull back (temporary decline) for S&P 500 since 1980 is 13.8%
The annualized rate of return (with dividends reinvested) for the entire period: 9.92%2
Persistence
Volatile market periods like these are great reminders to return to the core principles of discipline. Here are three worth remembering and repeating:
Avoid the Noise: The Financial Media's job is to entertain you with controversy [fear, greed and speculation] so they can sell advertising. The truth is, nobody knows what will happen next. If they did, they wouldn't be on TV [or writing articles]. But if they can keep your interest with thinly-veiled guessing about what's next, you'll see lots of ads for so-called "superior" mutual fund managers, shiny luxury cars and certain pharmaceutical products.
Panic Pays No Premium: It's not always easy or fun along the way, but maintaining your investment strategy during times of short-term uncertainty allows your long-term investment program to work for you. As investors, we're depending on uncertainty and volatility to fuel the engine that beats inflation over meaningful time periods. Don't let emotion take over! It can have you buying and selling at exactly the wrong time. The one sure way to take a temporary decline and turn it into a permanent loss is to sell in the middle of the decline.
Marathons Are Not 26.2 x 1-mile Sprints: Long-term investing historically includes scores, if not hundreds of 1-day events that temporarily jolt markets in different directions. You should be following a strategy that does not require you be "correct" about short-term price movements in order to pursue market returns reliably. The disciplined investor following this path is more likely to be rewarded for maintaining long-term dedication to their strategy despite short-term volatility.
So, what should you do? Bolster your resolve to maintain long-term discipline and diversification rather than trying to time volatility. As always, if you have questions or concerns about investing for the long haul, be sure to reach out to us.
Have a great weekend!
Source: Efficient Advisors
Golf Tip of the Week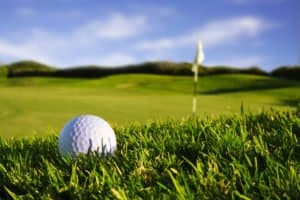 A Wright Way to Work on Driving Distance
Mickey Wright is justifiably regarded as one of the greatest golfers of all time. The superstar of the LPGA Tour during the late 1950s and 1960s, she won 82 tournaments during her career, and she was known for her prodigiously long drives.
Wright believed that the key to hitting it long off the tee was in the right foot. In particular, she felt that weight placed on the right foot during the swing should never stray from the instep. To reinforce that feeling, she would often tuck a golf ball under the outside spikes of her right shoe on the driving range. As she wrote in Sports Illustrated, "The immediate increase in distance using this gimmick is astonishing." Try it for yourself.
Tip adapted from Sports Illustratedi
Recipe of the Week
Lemon Pound Cake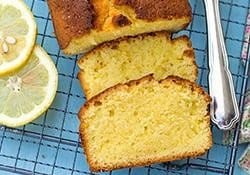 [8-10 servings]
Ingredients:
1½ cups all-purpose flour
½ tsp. baking powder
½ tsp. salt
¾ cup unsalted butter, room temperature
1 cup sugar
3 large eggs, room temperature
¼ cup sour cream, room temperature
3 Tbsp. fresh lemon juice
Zest of 1 lemon
1 tsp. vanilla extract
Directions:
Preheat oven to 350° F with rack in the bottom-third.
Grease a loaf pan.
Mix flour, baking powder, and salt, then set aside.
Using mixer, beat butter until smooth.
Add sugar and beat with butter for 2 minutes.
Add eggs, one at a time, with mixer at low setting.
Beat in sour cream, lemon juice, lemon zest, and vanilla extract.
Once added, beat at medium-high until combined.
Move to low speed and add flour mixture, beat until fully mixed.
Turn up to high speed to remove any lumps, but don't overmix.
Pour batter into loaf pan and bake for 45 to 60 minutes.
Test cake with toothpick to see when cake is done.
Optional: poppyseeds. Add them on top of the batter once it's in the loaf pan before placing it in the oven.
Recipe adapted from sallysbakingaddiction.comii
Health Tip of the Week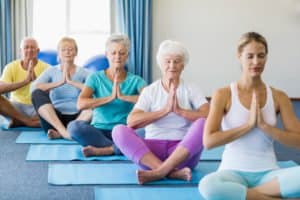 Finding Inner Peace Inside (and Indoors)
Practiced for thousands of years, yoga has had a revival in the last couple decades. Yoga can be an optimal exercise choice for many individuals of all ages. But before getting started with any fitness regimen, make sure to discuss any medical concerns with your health care provider; this information is not a substitute for medical advice.
While there are many styles of yoga, most are considered low impact. But in addition to the fitness benefits, it can help you learn relaxation and breathing techniques as well as how to regulate emotions and quiet your mind. It's also a great form of exercise to do indoors, and there are thousands of free classes on YouTube. So, if you're still enduring the remnants of winter and practicing social distancing, you can practice "quieting your inner monologue," doing yoga from the comfort of your own home.
Tip adapted from MedicalNewsToday.comiii
Copyright (C) 2020. Ballentine Capital Advisors. All rights reserved.
Our mailing address is:
Ballentine Capital Advisors
23 Buena Vista Way, Suite B
Greenville, SC 29615
unsubscribe from this list update subscription preferences
Sources:
1. Chart end date is 12/31/2019, the last trough to peak return of 451% represents the return through December 2019. Bear markets are defined as downturns of 20% of greater from new index highs. Bull markets are subsequent rises following the bear market trough through the next new market high. The chart shows bear markets and bull markets, the number of months they lasted and the associated cumulative performance for each market period. Results for different time periods could differ from the results shown. Past performance is no guarantee of future results. Indices are not available for direct investment; therefore, their performance does not reflect the expenses associated with the management of an actual portfolio. Source: S&P data © 2020 S&P Dow Jones Indices LLC, a division of S&P Global. All rights reserved.
2. https://go.efficientadvisors.com/e/91522/sp-500-return-calculator-/6jm63l/877645477?h=rKQbbBixE_8A9zXoXDPiFvNISz_gUWXntBdTaVOkgxk
Disclosure:
The views expressed herein are exclusively those of Efficient Advisors, LLC ('EA'), and are not meant as investment advice and are subject to change. All charts and graphs are presented for informational and analytical purposes only. No chart or graph is intended to be used as a guide to investing. EA portfolios may contain specific securities that have been mentioned herein. EA makes no claim as to the suitability of these securities. Past performance is not a guarantee of future performance. Information contained herein is derived from sources we believe to be reliable, however, we do not represent that this information is complete or accurate and it should not be relied upon as such. All opinions expressed herein are subject to change without notice. This information is prepared for general information only. It does not have regard to the specific investment objectives, financial situation and the particular needs of any specific person who may receive this report. You should seek financial advice regarding the appropriateness of investing in any security or investment strategy discussed or recommended in this report and should understand that statements regarding future prospects may not be realized. You should note that security values may fluctuate and that each security's price or value may rise or fall. Accordingly, investors may receive back less than originally invested. Investing in any security involves certain systematic risks including, but not limited to, market risk, interest-rate risk, inflation risk, and event risk. These risks are in addition to any unsystematic risks associated with particular investment styles or strategies.
The articles and opinions expressed in this newsletter were gathered from a variety of sources, but are reviewed by Ballentine Capital Advisors prior to its dissemination. All sources are believed to be reliable but do not constitute specific investment advice. In all cases, please contact your investment professional before making any investment choices.
Securities through Triad Advisors, LLC, Member FINRA/SIPC. Advisory services through Ballentine Capital Advisors, Inc. Triad Advisors and Ballentine Capital Advisors are not affiliated entities.
---
i Sports Illustrated, March 20, 2020
ii Sally's Baking Addiction, March 20, 2020
iii Medical News Today, March 20, 2020