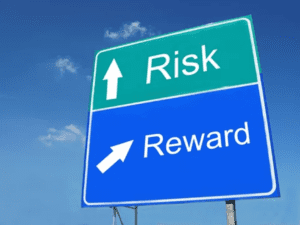 Investing can be a rewarding way to grow your wealth and achieve your long-term financial goals. However, it's essential to understand that with every potential reward comes an inherent risk. It's crucial to recognize and manage these risks effectively to maximize your investment returns.
Why stocks are riskier than bonds
When considering investing in stocks, it's important to understand that they carry more risk than bonds. Stocks are subject to market volatility, economic downturns, and changes in the company's performance. This volatility can lead to significant fluctuations in stock prices, making them a more volatile investment option. On the other hand, bonds are typically less risky because they represent a debt obligation from a company or government, and their returns are more predictable.
How time horizon affects your investments
Your investment time horizon is the length of time you plan to hold your investments. A longer time horizon can help mitigate the risks of investing in stocks because it allows for potential market fluctuations to average out over time. Conversely, if you have a shorter time horizon, you may want to consider investing in less volatile assets, such as bonds, to mitigate the risk of potential losses.
The role of standard deviation and volatility in portfolio construction
Standard deviation is a measure of how much an investment's returns vary from its average return. Volatility refers to the degree of uncertainty or risk involved with the size of changes in an investment's value. When constructing a portfolio, it's important to consider both standard deviation and volatility to ensure that your investments are appropriately diversified. Diversification can help reduce the impact of any one investment's poor performance on your overall portfolio.
Why diversification is key
Diversification is a critical component of any investment strategy. It involves investing in a variety of different asset classes to reduce the risk of any one investment negatively affecting your portfolio's overall performance. Asset classes may include stocks, bonds, commodities, and real estate, among others. Diversification can help protect your portfolio against market volatility and help you achieve more consistent returns over the long term.
How to mitigate risk through structured asset class diversification investing
Structured asset class diversification investing is an investment approach that focuses on constructing a diversified portfolio across multiple asset classes. This approach aims to provide investors with exposure to a broad range of investment opportunities while mitigating risk. By utilizing a disciplined approach to asset allocation, investors can achieve a more consistent return while minimizing risk.
How working with the investment professionals at Ballentine Capital Advisors can help you formulate a comprehensive financial roadmap and plan for investment success
Managing investments effectively can be complex and time-consuming. That's why working with an investment professional can be beneficial. At Ballentine Capital Advisors, we work with our clients to create a comprehensive financial roadmap and investment plan tailored to their unique financial goals and risk tolerance. Our team provides expertise in asset allocation, diversification, and risk management to help our clients achieve long-term investment success.
Conclusion 
Investing can be an excellent way to grow your wealth and achieve your long-term financial goals. However, it's essential to understand the risks and rewards associated with investing. By investing in a diversified portfolio of assets and partnering with us you can mitigate risks, achieve consistent returns, and achieve long-term investment success. Don't let the potential risks of investing discourage you from achieving your financial goals. If you have any questions, please reach out.
Have a great weekend!




Source: Ballentine Capital Advisors 
---
Golf Tip of the Week
Masters 2023: 11 Not-So-Fairytale Finishes at Augusta National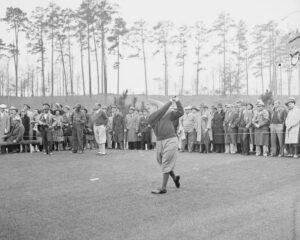 The Masters is one of the most thrilling events in sports. The Sunday charges resulting in enthusiastic roars are unlike anything else in golf. But as they say, the game always wins. And with that, every so often, comes a Masters Sunday that perhaps didn't turn out as special as it could have (I refuse to say a Masters Sunday isn't special at all). A disappointing finish. Legends not finishing the tournament off. Brilliant youngsters feeling the nerves and seeing the green jacket slip away and being slipped on someone else.
Moments like that take some of the air out of the event. With that in mind, here are some of the biggest buzzkills in Masters history.
Bobby Jones' first Masters
Although Bobby Jones "retired" from competitive golf after completing the Grand Slam in 1930, Masters aficionados know Jones actually teed it up in a dozen Masters. Set to play in the inaugural, naturally there was a hope that Jones could somehow rekindle his former glory. Sadly, the competitive rust was evident. Jones opened with a 76 and followed with 74-72-72 and a three-way tie for 13th place. He would never shoot lower than even-par 72 in 46 Masters rounds.
Ben Hogan three-putts at the last to lose to Keiser
In 1946, the first post-war Masters, Herman Keiser stood five shots clear of the field after 54 holes, only to watch Ben Hogan mount a rally in the final round. Keiser, playing ahead of Hogan (tee times were not in order of score back in those days), hit the flagstick on 18 and watched as his ball ran 25 feet away, from where he three-putted, opening the door for Hogan. Bantam Ben stuck his approach to 12 feet, setting up a putt for the win—only to three-putt himself, handing the victory to Keiser and leaving Hogan at the time still without a major in his career.
Ken Venturi implodes as an amateur
At a tournament co-founded by an amateur, having a non-professional win it would have been very well received. Ken Venturi appeared to be in great shape to do just that in 1956. Having started with a 66-69, even a third-round 75 still left him four ahead of defending champion Cary Middlecoff. The weekend that year was particularly windy and wreaked havoc on Sunday, where the scoring average was 78.260. Venturi was tentative on the greens, three-putting six times leading to an 80. Although Middlecoff didn't take advantage, Jack Burke Jr. did, shooting a 71 to tie for the day's low round and setting a Masters record by coming from eight shots back to win.
A double at the last prevents Arnold Palmer from defending
Weather led to a Monday finish in 1961 with Arnold Palmer seeking to win his third Masters in four years and become the first champion to successfully defend. Although Gary Player made a nifty up-and-down from the sand on 18, all Palmer needed was a par to close out the title and a bogey to get in a playoff. Palmer's approach, however, found the sand, too, and with a poor lie, he didn't even get his third shot on the green. He took three more to get down from there, making double-bogey 6 and handing the tournament to Player. Instead of its first defender, the Masters had its first international champion instead.
It didn't add up for Roberto DeVicenzo
Sometimes golf isn't fair. At the 1968 Masters, it was downright cruel. On his birthday, Roberto DeVicenzo holed his approach on No. 1 and appeared to be headed for a playoff with Bob Goalby, who had shot a fabulous 66 to forge the tie. DeVicenzo's marker, Tommy Aaron, however, put down a 4 instead of a 3 on the 17th hole. DeVicenzo missed the mistake, signed his card and the higher score stood, handing the title to Goalby. DeVicenzo's "What a stupid I am" response remains one of the more memorable quotes in golf history.
Curtis Strange goes swimming
Despite opening the 1985 Masters with an 80, Curtis Strange somehow held a three-shot lead with six holes to play. Opting to go for the green at the par-5 13th instead of playing safe, Strange's fairway wood shot found the creek instead, leading to a bogey. Two holes later, Strange again went for the green in two at the par-5 15th, this time with a 4-iron that also got wet. The missteps were enough to let Bernhard Langer slip on the first of his two green jackets. Strange, one of the best players in the game at the time, remained major-less until the 1988 U.S. Open.
Scott Hoch's painful miss
It shouldn't have come down it. Often lost in the incredulousness of Scott Hoch's missed two-footer to win the Masters on the first playoff hole with Nick Faldo is that he also missed a short putt on the 17th hole Sunday that could have allowed him to win in regulation. He also had a 25-foot birdie try at the last that narrowly missed. Then faced with the two-footer to win it on the first playoff hole (the 10th), Hoch somehow missed, allowing Faldo to play another hole, where he drained a lengthy birdie putt to win the first of his three Masters titles. Hoch would never win a major.
Greg Norman's epic Sunday stumble
The final round of the 1996 Masters was supposed to be the crowning achievement of Greg Norman's career. Rounds of 63-69-71 left him with a six-shot lead over Nick Faldo. Surely Norman would win on Sunday, to become the first Australian to win the Masters. Norman, however, opened with a bogey and made another at the fourth, cutting the lead to four. By the turn it was down to two and after a double bogey at the par-3 12th, he was two in arrears. A pulled iron into the water on 16 was an exclamation point on the collapse and Norman finished with a 78 to Faldo's brilliant 67 and watched as Faldo donned the green jacket Norman never got.
Len Mattiace's anticlimactic playoff 
Teeing off four groups ahead of the final pairing in 2003, Len Mattiace looked like he might become an unlikely Masters winner. In fact, if he had parred the final hole, he would have. Instead, his lone bogey during a final-round 65 would eventually leave him tied with Mike Weir. On the first playoff hole, the 10th, both hit good drives, but Mattiace's approach was wide left. After a good recovery to get on the green, he ran his 25-footer some 20 feet past, finishing on the collar. He then sent his bogey putt four feet past the hole, but never got to finish out the hole. Weir made bogey, the pair shook hands and Mattiace's incredible final round was suddenly forgotten.
Rory McIlroy disintegrates
Holding a four-shot lead entering the final round in 2011, it seemed nearly everyone at Augusta National was pulling for Rory McIlroy, the mop-topped, 21-year-old from Northern Ireland, to finish it off. Despite some spotty play on the front nine, McIlroy still held the lead by one as he made the turn then disaster struck. A wild tee shot left at the 10th led to a triple-bogey 7 and things unraveled from there, including a double at the 12th and McIlroy eventually would finish with an 80 during which he seemed on the verge of tears at times. Charl Schwartzel ran the table on the last four holes to win by two, but McIlroy would have been the far more popular Masters champion—a title he is still chasing.
Jordan Spieth's killer quad
With birdies on Nos. 6, 7 8 and 9 in the final round, Jordan Spieth looked a lock to defend his Masters title in 2016. But bogeys on 10 and 11 narrowed the margin to three over Danny Willett as he stepped to the par-3 12th. As it had for so many others in the tournament's history, the hole proved a turning point as Spieth found the water then chunked his next into the water again after taking a drop. He would make a quadruple-bogey 7 and couldn't compete with Willett's three birdies coming in. Given Spieth's popularity it marked one of the more disappointing finishes in Masters history.




Tip adapted from golfdigest.comi
---
Recipe of the Week
The Best Deviled Eggs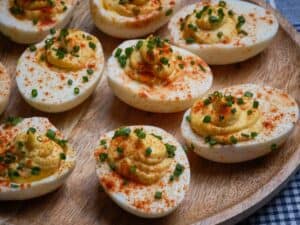 24 Servings
Ingredients
12 large eggs (see Cook's Note)
1/2 cup mayonnaise
1 tablespoon Dijon mustard
1 to 2 dashes hot sauce, optional
Kosher salt and freshly ground black pepper
Finely chopped chives, for garnish
Smoked paprika, for sprinkling
Instructions
Place the eggs in a single layer in a wide saucepan, cover with 1 inch of water and bring to a boil. Lower the heat to medium-low and simmer for 10 minutes. Transfer the eggs to a bowl of ice water to cool completely, then carefully peel them.
Dip a clean kitchen towel in a small bowl of warm water. Wipe the blade of your knife with the towel to warm it up and to wet the blade. Slice the eggs in half lengthwise, one at a time, wiping the blade clean between each egg. (The warm, wet blade will give you clean cuts.) Remove the yolks to a medium bowl. Mash the yolks with a whisk. Add the mayonnaise, mustard, hot sauce if using and salt and pepper to taste. Whisk until very smooth. Transfer to a large resealable plastic bag or disposable pastry bag and snip off one corner with scissors.  
Place the egg whites on a platter. Pipe the filling evenly into the egg whites. Top with chives and a sprinkle of paprika. Refrigerate for 20 to 25 minutes prior to serving.  
Cook's Note
As eggs age, the whites start to lose their viscosity and shape and there is more air between the whites and membrane. These are the better eggs for peeling. Look for eggs closest to the sell by date on the carton.
Recipe adapted from foodnetwork.comii
---
Health Tip of the Week
Achoo! Pollen Seasons Are Getting Longer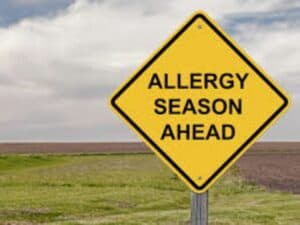 If it seems like pollen season gets worse every year, it could be because pollen season has been growing for years, a new report says.
Climate change has caused temperatures to rise in 203 American cities since 1970, contributing to longer allergy seasons in more than 170 of them, the report by Climate Central says. Some areas of the country see first blooms weeks earlier.
The "freeze free" seasons are growing longer and more intense, the group says – and that's bad news for the quarter of adults and fifth of children who suffer with seasonal allergies.
All seasonal allergies are being affected, experts say – springtime's trees, summertime's grasses, and autumn's weeds.
"The plants can grow earlier and they can pollinate earlier. Allergies are just getting worse and worse," Kari Nadeau, MD, professor at the Harvard School of Public Health, told ABC News.
Respiratory illnesses like asthma can make pollen reactions worse.
"This is a major problem, and it will only get worse if we do not limit climate change and limit carbon dioxide production from greenhouse gases," Nadeau said.
Pollen levels now peak earlier than they used to, ABC reported, and pollen counts are higher.
Allergy season grew by an average of two weeks, the research found. Reno, NV, saw an increase of 99 days, one of the biggest. The western part of the country saw the biggest increases generally.
"Climate change will potentially lead to both higher pollen concentrations and longer pollen seasons, causing more people to suffer more health effects from pollen and other allergens," the CDC says.
Tip adapted from webmd.comiii 
---
Copyright (C) 2021.  Ballentine Capital Advisors.  All rights reserved.
Our mailing address is:  
Ballentine Capital Advisors
15 Halton Green Way
Greenville, SC 29607
unsubscribe from this list    update subscription preferences  
Disclosure:
Ballentine Capital Advisors is a registered investment adviser. The advisory services of Ballentine Capital Advisors are not made available in any jurisdiction in which Ballentine Capital Advisors is not registered or is otherwise exempt from registration.
Please review Ballentine Capital Advisors Disclosure Brochure for a complete explanation of fees. Investing involves risks. Investments are not guaranteed and may lose value.
This material is prepared by Ballentine Capital Advisors for informational purposes only. It is not intended to serve as a substitute for personalized investment advice or as a recommendation or solicitation or any particular security, strategy, or investment product.
No representation is being made that any account will or is likely to achieve future profits or losses similar to those shown. You should not assume that investment decisions we make in the future will be profitable or equal the investment performance of the past. Past performance does not indicate future results.
Advisory services through Ballentine Capital Advisors, Inc.
i https://www.golfdigest.com/story/masters-buzzkills-not-so-fairytale-finishes-at-augusta-national
ii https://www.foodnetwork.com/recipes/food-network-kitchen/the-best-deviled-eggs-7264938
iii https://www.webmd.com/allergies/news/20230308/achoo-pollen-seasons-are-getting-longer

---