Inflation has been increasingly in the headlines lately. Some pundits say it's temporary. Others say it could lead us back to the economic doldrums of the 1970s. And there are those who remind us that hyperinflation can lead to chaotic social changes.
Before you decide who to listen to, you need to be sure you understand what they're talking about.
Most people know this basic concept: inflation is when prices go up. However, prices are fluctuating all the time. When inflation makes the news, it's because the cost of a specific set of goods has risen over a defined time period. The official tracking mechanism for these goods and time periods is known as the Consumer Price Index (or CPI). 1
Measured by the U.S. Bureau of Labor Statistics, the CPI is reported monthly. The Bureau compares prices for the same goods month-to-month and year-to-year. The annual rate of inflation is the one most sited.
The goods whose cost is measured are essentials that people living in an urban area are most likely to buy. These are things like food, gas, clothing, cars, medical care, utilities, and
housing. Because the cost of certain categories tends to rise and fall each year, these prices are seasonally adjusted.
As you may have noticed, prices have risen at a significantly higher rate over the past year. And this has been reflected in the CPI. Where the annual inflation rate has been typically around 2%, over the past twelve months it's gone up 5.4% That's more than twice as high.
So, what's causing this inflation?
This simple answer is that people have shown a willingness to pay more and so prices have risen to reflect that. Because of the pandemic, there have been disruptions in the supply chain, and things that are scarce (or perceived as scarce) and in demand have been selling for higher prices.2
For example, several months ago, lumber prices spiked as supplies dwindled at the same time people stuck at home decided to begin building projects.
Putting more money into circulation also contributes to inflation. As COVID lockdown rules eased, lots of people with pandemic relief money in their accounts decided to buy cars. As a result, prices for new and used vehicles have risen dramatically.
It's easy to talk about inflation in an academic way. But quickly rising costs are hard on people whose pay does not keep up with the cost of living. This is one of the reasons the Federal Reserve aims to manage monetary policy in order to keep inflation in check.
The big question about the latest inflationary trend is: Is it temporary? Already some prices in the CPI are leveling off. And economists point out that our steep annual rate is in comparison with last year's depressed prices. But nobody knows whether a higher rate of inflation is here to stay or not.3
Since future inflation trends are unknowable (along with all other future trends), the prudent investor will have a broadly diverse portfolio, which includes asset categories that have historically outpaced effects of rising prices over meaningful time periods.
We are here to help make any needed adjustments to a long-term plan.
Have a fantastic weekend!






Source: Efficient Advisors
---
Golf Tip of the Week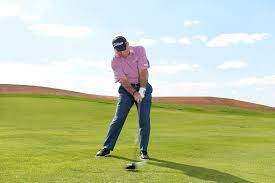 Butch Harmon's Two-Step Slice Fix
When I meet golfers who've been struggling with a slice since day one, I know I'm going to have some fun. Why? Because I can straighten their ball flight, even teach them to hit a draw, in a matter of minutes. Getting in the correct positions is easy. Beating a slice is ultimately about commitment and good habits.
If you're like most slicers, the first fix you need is in the setup. Close your feet, hips and shoulders so they're pointing to the right of your target. This takes some faith because you're shifting in the direction you want to avoid. But a closed setup does two things: First, it makes it easier to turn back and complete the backswing. Second, it slows down your hip turn on the way through (above), which allows your hands and arms to drop to the inside and swing out to the ball—the first step to hitting a draw.
Easy so far, right? Well, the next step flows from the first. From the top, focus on making a smooth body turn through impact; don't let your body spin open, as a lot of slicers do. (This is where the closed setup will help.) The key is, you want your arms to swing past your body, because your trail arm will roll over your lead arm, closing the clubface (above). That's the second step to hitting a draw. So set your body closed, and let your arms go past you. You'll love what you see.
WHEN IN DOUBT, BENCH THE DRIVER
There's nothing impressive about grabbing your driver on a tight hole if you end up flaring it into the junk. Taking a more lofted club makes good sense because more loft means less curve. So, the same impact with a driver versus, say, a 5-wood can be the difference between having a shot to the green and being out of play. Hybrids are good choices, too, because they fly higher and land softer than fairway woods and long irons. Point is, don't let your ego win.
Tip adapted from golfdigest.comi
---
Recipe of the Week
Buffalo Chicken Egg Rolls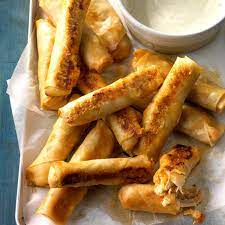 16 Egg Rolls
Ingredients
1-1/2 pounds boneless skinless chicken breasts
2 tablespoons ranch salad dressing mix
1/2 cup Buffalo wing sauce
2 tablespoons butter
16 egg roll wrappers
1/3 cup crumbled feta cheese
1/3 cup shredded part-skim mozzarella cheese
Ranch salad dressing, optional
Directions
1. In a 3-qt. slow cooker, combine chicken, dressing mix and wing sauce. Cook, covered, on low until chicken is tender, 3-4 hours.
2. Preheat oven to 425°. Shred chicken with 2 forks; stir in butter.
3. With a corner of an egg roll wrapper facing you, place 3 tablespoons chicken mixture just below center of wrapper; top with 1 teaspoon each feta and mozzarella cheeses. (Cover remaining wrappers with a damp paper towel until ready to use.) Fold bottom corner over filling; moisten remaining wrapper edges with water. Fold side corners toward center over filling; roll up tightly, pressing at the tip to seal. Place on a parchment-lined baking sheet seam side down. Repeat, adding additional baking sheets as needed
4. Bake until golden brown, 15-20 minutes. Let stand 5 minutes before serving. Serve warm, with ranch dressing for dipping if desired.
Recipe adapted from tasteofhome.comii 
---
Health Tip of the Week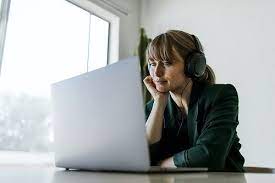 Seven Tips on How to Improve Mental Health
According to the American Psychological Association, mental health is "a state of mind characterized by emotional well-being, good behavioral adjustment, and relative freedom from anxiety and disabling symptoms." The Association also notes that the ability to deal with life's demands and maintain productive relationships ties into mental health.
Over the past few years, conversations and societal attention towards mental health have increased. This is undoubtedly a step in the right direction; however, there are still many people who struggle with mental illness for several reasons.
No matter who you are or where you are in life, there are always steps you can take to improve or maintain your mental health. Engaging in healthy lifestyle habits and taking care of yourself is not always easy, especially when life's demands get in the way. Access to specific tools and methods to improve mental health can always be of value in one way or another. You might be pleasantly surprised about the resources out there that can help.
While society often discusses mental health as an abstract subject matter, there is less talk on specific means of achieving good mental health. Giving people specific tools they can use to improve the quality of their mental health is imperative.
For this reason, the following tips and suggestions should be of value to anyone seeking to improve their mental health.
1.         Get your body moving.
2.         Surround yourself with good people.
3.         Don't be afraid to put your needs first.
4.         Get a good night's rest
5.         Keep a journal.
6.         Cut out bad habits.
7.         Take up a new hobby.
8.         Give yourself time.
---
Tip adapted from betterhealth.comiii
Copyright (C) 2021. Ballentine Capital Advisors. All rights reserved.
Our mailing address is:
Ballentine Capital Advisors
15 Halton Green Way
Greenville, SC 29607
unsubscribe from this list update subscription preferences
Sources:
1. https://www.bls.gov/news.release/cpi.nr0.htm
2. https://www.investopedia.com/terms/i/inflation.asp
3. https://www.reuters.com/business/us-consumer-price-increases-slowed-july-inflation-still-high-2021-08-11/
Disclosure:
The views expressed herein are exclusively those of Efficient Advisors, LLC ('EA'), and are not meant as investment advice and are subject to change. All charts and graphs are presented for informational and analytical purposes only. No chart or graph is intended to be used as a guide to investing. EA portfolios may contain specific securities that have been mentioned herein. EA makes no claim as to the suitability of these securities. Past performance is not a guarantee of future performance. Information contained herein is derived from sources we believe to be reliable, however, we do not represent that this information is complete or accurate and it should not be relied upon as such. All opinions expressed herein are subject to change without notice. This information is prepared for general information only. It does not have regard to the specific investment objectives, financial situation and the particular needs of any specific person who may receive this report. You should seek financial advice regarding the appropriateness of investing in any security or investment strategy discussed or recommended in this report and should understand that statements regarding future prospects may not be realized. You should note that security values may fluctuate and that each security's price or value may rise or fall. Accordingly, investors may receive back less than originally invested. Investing in any security involves certain systematic risks including, but not limited to, market risk, interest-rate risk, inflation risk, and event risk. These risks are in addition to any unsystematic risks associated with particular investment styles or strategies.
The articles and opinions expressed in this newsletter were gathered from a variety of sources but are reviewed by Ballentine Capital Advisors prior to its dissemination. All sources are believed to be reliable but do not constitute specific investment advice. In all cases, please contact your investment professional before making any investment choices.
Securities through Triad Advisors, LLC, Member FINRA/SIPC. Advisory services through Ballentine Capital Advisors, Inc. Triad Advisors and Ballentine Capital Advisors are not affiliated entities.
---
i https://www.golfdigest.com/story/butch-harmons-two-step-slice-fix
ii https://www.tasteofhome.com/recipes/buffalo-chicken-egg-rolls/
iii https://www.betterhelp.com/advice/how-to/seven-tips-on-how-to-improve-mental-health/