Officially, Labor Day is a federal holiday honoring the labor movement and the contributions of rank and file workers to the success of our country.1 Even so, few of us spend the day pondering the holiday's origin.
Instead, most people experience Labor Day as the last gasp of summer, spending their day off going on one last camping trip, taking one last beach excursion, or holding one last epic barbeque. Traditionally mixed with the enjoyment of the day is a slight melancholy as students think about going back to school and most everyone else thinks about going back to their jobs.2
How times have changed.
With the worldwide pandemic, workers are less concerned with wage scales and working hours and more focused on personal safety. Those are the fortunate ones who still have jobs. Millions of others are facing ongoing unemployment in a job market that capsized in a matter of weeks.
Under these circumstances, perhaps the holiday should take on a new meaning.
This Labor Day we should all be honoring the front-line workers who, at their own peril, have continued to provide the rest of us with essentials like healthcare, utilities, public safety, and transportation resources. In many places, teachers will be going back to classrooms. Every day, people are doing important jobs where the degree of personal risk is unknown.
For those who've been able to stay employed, the Labor Day gloom about having to go back to work should be replaced by thankfulness. Working remotely or having to constantly wear a mask might make it more difficult to do the job, but many would gladly trade places come Tuesday morning.
Others, and this may include you or members of your family, have either been laid off or had to close down a business. Labor Day could be seen as just another unwanted day off. If this is your case, don't be discouraged.
The economy and the job market have both shown their capacity for rebounding. We believe that if you can persevere, your next opportunity will come. Many people have found themselves in the same situation and discovered that it can be a catalyst for positive change in a new and better direction.
Our hope is that no matter what your situation this Labor Day, you can find things to be thankful for and that we can all have a deeper appreciation for the opportunity to work.
Have a great weekend!
Source: Efficient Advisors
---
Golf Tip of the Week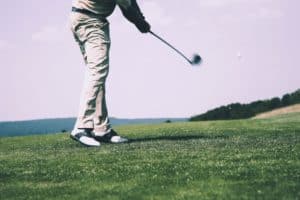 How to Make the Ball Curve
Modern launch monitors have taught us exactly what makes the ball go where it goes, but most golfers would be smart not to get too caught up in technicalities. Decades ago, Jack Nicklaus described a simple way to shape shots, and it's every bit as valid today.
Jack said to hit a fade—his preferred shot—aim the clubface where you want the ball to come down, and align your body to the left (for right-handers). To hit a draw, do the opposite: Aim the face where you want the ball to finish and align your body to the right. For both ball flights, swing the club where your body is aimed.
Here's the procedure, starting with the fade. After sighting your target from behind the ball, step in and aim the face at the target. Next, set your feet, making sure your stance line is well to the left. (Remember, a square stance is parallel-left of the target line, so you have to be farther left than that.) Your body lines—knees, hips and shoulders—should point where your feet point. Then swing where your body is aimed. The ball will start left and curve right.
Now, take the draw. Aim the clubface at the target, then arrange your stance and your other body lines to the right. Swing where your body is aimed, and the ball will start right and curve to the left.
Tip adapted from GolfDigest.comi
---
Recipe of the Week
Honey Garlic Pork Chops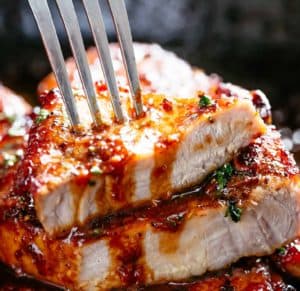 [4 people]
Ingredients:
4 pork chops bone in or out
Salt and pepper, to season
1 teaspoon garlic powder
2 tablespoons olive oil
1 tablespoon unsalted butter
6 cloves garlic, minced
1/4 cup honey
1/4 cup water (or chicken broth)
2 tablespoons rice wine vinegar (or apple cider vinegar, or any white vinegar)
Instructions:
Preheat oven broiler (or grill) on medium-high heat. Season chops with salt, pepper and garlic powder just before cooking.
Heat oil in a pan or skillet over medium high heat until hot. Sear chops on both sides until golden and cooked through (about 4-5 minutes each side). Transfer to a plate; set aside.
Reduce heat to medium. Melt butter in the same pan, scraping up any browned bits from the bottom of the pan. Sauté garlic until fragrant (about 30 seconds). Add the honey, water and vinegar. Increase heat to medium-high and continue to cook until the sauce reduces down and thickens slightly (about 3-4 minutes), while stirring occasionally.
Add pork back into the pan, baste generously with the sauce and broil/grill for 1-2 minutes, or until edges are slightly charred.
Garnish with parsley and serve over vegetables, rice, pasta or with a salad.
Recipe adapted from Cafedelites.comii
---
Health Tip of the Week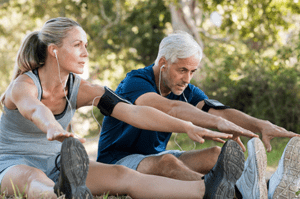 4 Steps to a Healthy Lifestyle
Think you're leading a healthy lifestyle? Aside from occasionally veering off the path, most of us think we do a fair job of maintaining our health with good (or at least OK) eating habits and physical activity whenever we manage to fit it in. But is that enough to be considered "healthy?"
According to a recent study, very few adults actually meet the criteria for a healthy lifestyle. The study, published in the Archives of Internal Medicine, showed that only 3% of American adults got a perfect score on what the authors say are the four basic criteria for healthy living. Just 13.8% met three of the criteria; 34.2% met only two criteria. Women scored slightly better than men.
See how well you measure up on the researchers' four keys to healthfulness:
Do you smoke?
Are you able to maintain a healthy weight (a BMI of 18-25), or are you successfully losing weight to attain a healthy weight?
Do you eat at least 5 servings of fruits and vegetables daily?
Do you exercise 30 minutes or more, 5 times a week?
The most important thing to remember is that you can make a difference in your health and well-being. Take charge of your life, and be mindful of small behavior changes that can make your lifestyle a healthier one.
Tip adapted from WebMD.comiii
---
Copyright (C) 2020. Ballentine Capital Advisors. All rights reserved.
Our mailing address is:
Ballentine Capital Advisors
23 Buena Vista Way, Suite B
Greenville, SC 29615
unsubscribe from this list update subscription preferences
Sources:
1. https://go.efficientadvisors.com/e/91522/wiki-Labor-Day/6pdyqf/980610202?h=5sjpdLVOFoJXG-Hu0U_LRjyXdWdCvWEIP0LLB6Oz1o0
2. https://go.efficientadvisors.com/e/91522/ay-back-to-school-summer-over-/6pdyqh/980610202?h=5sjpdLVOFoJXG-Hu0U_LRjyXdWdCvWEIP0LLB6Oz1o0
Disclosure:
The views expressed herein are exclusively those of Efficient Advisors, LLC ('EA'), and are not meant as investment advice and are subject to change. All charts and graphs are presented for informational and analytical purposes only. No chart or graph is intended to be used as a guide to investing. EA portfolios may contain specific securities that have been mentioned herein. EA makes no claim as to the suitability of these securities. Past performance is not a guarantee of future performance. Information contained herein is derived from sources we believe to be reliable, however, we do not represent that this information is complete or accurate and it should not be relied upon as such. All opinions expressed herein are subject to change without notice. This information is prepared for general information only. It does not have regard to the specific investment objectives, financial situation and the particular needs of any specific person who may receive this report. You should seek financial advice regarding the appropriateness of investing in any security or investment strategy discussed or recommended in this report and should understand that statements regarding future prospects may not be realized. You should note that security values may fluctuate and that each security's price or value may rise or fall. Accordingly, investors may receive back less than originally invested. Investing in any security involves certain systematic risks including, but not limited to, market risk, interest-rate risk, inflation risk, and event risk. These risks are in addition to any unsystematic risks associated with particular investment styles or strategies.
The articles and opinions expressed in this newsletter were gathered from a variety of sources, but are reviewed by Ballentine Capital Advisors prior to its dissemination. All sources are believed to be reliable but do not constitute specific investment advice. In all cases, please contact your investment professional before making any investment choices.
Securities through Triad Advisors, LLC, Member FINRA/SIPC. Advisory services through Ballentine Capital Advisors, Inc. Triad Advisors and Ballentine Capital Advisors are not affiliated entities.
---
i https://www.golfdigest.com/story/how-to-make-the-ball-curve
ii https://cafedelites.com/easy-honey-garlic-pork-chops/#wprm-recipe-container-54095
iii https://www.webmd.com/diet/features/4-steps -healthy-lifestyle#2