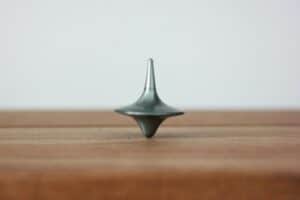 When it comes to investing, one of the most effective ways you can maintain your desired level of risk and return is by rebalancing—adjusting the mix of assets in your portfolio periodically so that it remains aligned with what you set out to accomplish.
Here, we'll explain what rebalancing is, why it's important, and how you can go about rebalancing your portfolio.
What is Rebalancing?
Rebalancing is the process of regularly realigning the proportion of your portfolio's assets with your investment goals and risk tolerance. It's a way to keep your portfolio on track with your overall financial plan.
For example, if you have a portfolio with a goal of 50% stocks and 50% bonds, and the stock market has been on a tear, your portfolio may now have 60% stocks and 40% bonds. Rebalancing your portfolio would involve selling some stocks and buying more bonds to get back to your original 50/50 split.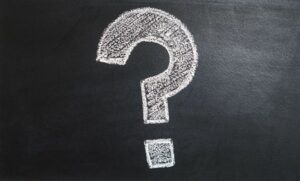 Why Rebalance?
Rebalancing is a key part of asset allocation, which is the process of "allocating" your money among different asset classes — such as stocks, bonds and cash — in order to reach your desired level of risk and return.
The goal of asset allocation is to help you manage risk and increase the chance of achieving your long-term investment goals. It's also important to note that asset allocation does not guarantee a profit or protect against loss.
By rebalancing your portfolio, you can help ensure that you're not taking on more risk than you're comfortable with. That's because when the performance of one asset class outperforms another, rebalancing your portfolio will bring it back in line with your original asset allocation.
Rebalancing also allows you to take advantage of market opportunities by taking advantage of low prices in certain asset classes. By regularly rebalancing your portfolio, you can help ensure that you're capturing potential upside return (you bought when prices are relatively low and sold when prices are relatively high).
When to Rebalance
When it comes to rebalancing your portfolio, timing is important. Generally, you should aim to rebalance your portfolio at least once a year or when a percentage threshold has been reached with your portfolio allocation (we can help you determine what this percentage threshold is).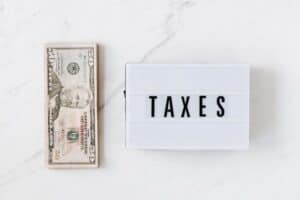 Rebalancing and Tax Management
Portfolio rebalancing is a great way to take advantage of potential tax benefits especially tax losses associated with selling assets that are underperforming, and the subsequent tax benefit of buying those assets back at a lower cost. Rebalancing can also help to limit the amount of tax you pay when you sell investments that have appreciated in value. The overall goal is to save money and increase your potential returns.
How to Rebalance Your Portfolio
Rebalancing your portfolio entails making changes to the mix of investments you own, but it's important that these adjustments reflect both your long-term goals and tolerance for risk. This is why you need a financial plan in place since investment goals and risks are linked to each other.
Once you have your desired asset allocation (the mix of stocks, bonds, and other asset classes you want to have in your portfolio) you now have the target percentages to determine when and how you will rebalance.
Why Rebalancing is a Great Behavioral Strategy
Rebalancing your portfolio can help you to maintain a disciplined approach to investing. It's easy for investors to become emotionally attached (or "giddy") with certain investments, but rebalancing helps keep you focused on long-term goals and reminds you not get caught up in the short term fluctuations of particular markets.
Conclusion
Rebalancing your portfolio is an effective way to maintain the desired level of risk and return and stay aligned with your financial goals. It allows you to take advantage of potential tax benefits, and also helps to ensure that you are keeping a disciplined approach to investing and not getting too emotionally attached to any one asset class. Ultimately, by regularly rebalancing your portfolio, you can help make the most of your investments.
Have a great weekend!




Source: Ballentine Capital Advisors 
---
Golf Tip of the Week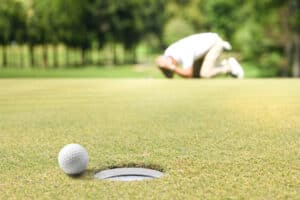 "Wish Putting" Is Ruining Your Short Game. Here's How To Fix It.
It happens on putts between four and eight feet. The putts that are just too long to be given, but short enough that you're still expecting to make them. That dynamic has the effect of robbing golfers of confidence. Golf Digest's No. 1-ranked teacher, Butch Harmon explains:
"I call it 'wish putting,' because you wish you made it after you missed it," he says. "You're trying to wish it in because you're afraid of it."
It's an anecdote Harmon tackles in this Golf Digest schools series, and thankfully, he's got a solution to that problem. Here's what to do.
1. Don't ask if the putt is good
If your opponents give it to you, then great. But don't expect them to give it to you. It can put you in a negative, fearful frame of mind, and distract you from the task at hand.
2. Aim the face first
After you read the putt, step into the putt, but align the face of your putter before anything else. Aiming your putter where you're intending is one of the key tenets of good putting, Harmon says, so dedicate some specific time to getting it right.
3. Elbows in
Harmon says golfers, especially when struggling with the yips, should practice keeping their elbows close to their torso. This helps prevent your big muscles from taking over.
"Think about where the yips come from," Harmon says. "They come from your wrists and arms."
4. Get comfy
Another simple, but essential, piece of advice from Harmon is to make sure you're comfortable over the golf ball. If you don't feel comfortable over the ball, you're not going to make a confident stroke, he says, which is the key to conquering wish putting.
5. Putt with your left ear
Once it's time to hit the putt itself, Harmon says to think of putting with your left ear (for right-handed golfers). Your left ear should stay facing the hole, and if you do that, you'll never give yourself a chance to look up early.
"I'm never going to see it go into the hole," he says. "I'm going to hear it go in the hole."




Tip adapted from golfdigest.comi
---
Recipe of the Week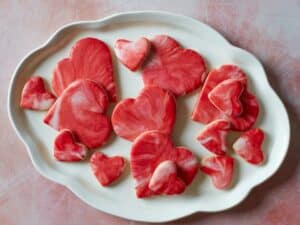 Valentine's Day Sugar Cookies
20 Servings
Ingredients
Cookies
2 1/2 cups all-purpose flour (see Cook's Note), plus more for dusting
1/2 teaspoon baking powder
1/2 teaspoon kosher salt
1 1/2 sticks unsalted butter (12 tablespoons), at room temperature
3/4 cup granulated sugar
1 teaspoon pure vanilla extract
1 large egg
Icing
3 cups confectioners' sugar
1/4 cup plus 2 tablespoons milk
1 1/2 teaspoons pure vanilla extract
Red and pink gel food coloring
Sprinkles, optional
Instructions
Preheat the oven to 350 degrees F. Line two baking sheets with parchment paper.
For the cookies: Combine the flour, baking powder and salt in a medium bowl and set aside. In a stand mixer fitted with the paddle attachment, beat the butter, sugar and vanilla on medium-high speed until light and fluffy, about 3 minutes. Add the egg and mix until fully incorporated, about 1 minute. Reduce the speed to low, add the flour mixture and mix until well combined, scraping down sides of the bowl with a rubber spatula as needed, about 2 minutes. 
Divide the dough into 2 equal pieces. Working with 1 piece at a time, roll the dough on a lightly floured piece of parchment paper until it's about 1/8-inch thick. Using heart-shaped cookie cutters, cut the dough and place the cookies on the prepared baking sheets about 1 inch apart (a small off-set spatula is really helpful when transferring the cookies). After both pieces of dough have been rolled out and cut, combine the dough scraps and re-roll and cut to utilize as much of the dough as possible.
Bake until the cookies are just barely golden around the edges, rotating halfway through, 12 to 14 minutes. Transfer the cookies to wire racks to cool completely. 
For the icing: Meanwhile, whisk the confectioners' sugar, milk and vanilla in a medium bowl until smooth. The consistency should be similar to that of slightly thinned yogurt and should coat the back of a spoon. Adjust with additional confectioners' sugar or milk, if needed.  
Place 2 tablespoons of icing into each of 2 small bowls. Add 4 drops of red gel food coloring to one bowl and 2 drops of pink gel food coloring to the other and stir until fully incorporated. Using a small spoon, drizzle a small amount of each color over the white icing and then repeatedly drag a toothpick through the icing until you create a marbled effect. 
Working with one cooled cookie at a time, carefully dip it face-side down into the icing and allow any excess to drip off before placing the cooking back on the cooling rack. Add additional red and pink icing to the bigger bowl of icing as needed to maintain the marbling effect. Decorate with sprinkles (if using) before allowing to the icing to fully set, about 4 to 5 hours.
Cook's Note
When measuring flour, we spoon it into a dry measuring cup and level off the excess. Scooping directly from the bag compacts the flour, resulting in dry baked goods. If you prefer a softer cookie, reduce the baking time by 2 to 3 minutes.
Recipe adapted from foodnetwork.comii
---
Health Tip of the Week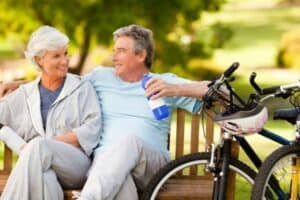 6 Myths About Exercise And Aging
Fitness is timeless. At every age, it makes a huge difference in how you feel and move, helps you whittle down those numbers (like your weight, cholesterol, or blood pressure) that your doctor keeps mentioning, and even brightens your mood.
Inside and out, you win when you're active, no matter how old you are. But it doesn't always feel like that, especially if you've been on the sidelines for a while.
Have you fallen for one of these bogus ideas about aging and exercise? Get the facts, so you can get back out there.
1."I'm too old."
Actually, not moving is much riskier and can speed up the aging process.
Inactive people are twice as likely to develop heart disease, and they also have more doctor visits and take more medications.
If you haven't exercised in a long time, begin slowly with a low-impact aerobic activity that raises your heart rate, such as swimming.
For overall heart health, the American Heart Association recommends 30 minutes of aerobic activity 5 days per week, and 2 days per week of strength training. If a half-hour a day sounds daunting, think small. Even a 10-minute walk is a good start.
Exercise doesn't have to mean taking up a new sport. But if there's an activity that you enjoyed doing when you were younger (say, tennis or volleyball), look for a way to get back to it.
2. "I'll hurt myself."
Not if you know what you're doing and work within your limits.
First, talk to your doctor before beginning an exercise program. They can tell you which activities to try and which ones to avoid.
When you get started, work with a pro who can show you exactly what to do. That way, you'll stay safe.
Remember, the more physically fit you are, the less likely you are to get injured. Improving your balance by doing things like yoga and tai chi may also help you avoid falls in your everyday life. So will strength training, which you can do with hand-held weights, machines at a gym, or even your own body weight (think pushups and lunges).
3."My heart isn't strong enough."
When done regularly, exercise helps strengthen your heart rather than put it at risk.
You don't have to sign up for a marathon, or even a 5K. Physical activity can be as simple as taking a brisk walk. That's enough to help your blood circulation and cholesterol levels, and it can brighten your mood.
4. "I can't afford it."
Sure, you could shell out a small fortune on a gym membership or exercise equipment; but to get fit, you don't have to spend a dime.
Put on some athletic shoes with good support and go for a walk or a jog. Or spend an hour gardening in the backyard.
If the weather is bad, use what's available around your home. Canned goods work well as light weights for resistance training.
You can also use your own body weight (for planks or pushups), or walk up and down the stairs. If you'd like to invest in a machine, look for lightly used exercise equipment at local yard sales.
If you're craving group classes or some further instruction, there are many resources to stay fit. Some gyms offer discounts to seniors, and some health plans cover membership for certain fitness programs.
Also check out your community resources. Some local parks may have basic exercise equipment, and even some places of worship offer fitness classes free of charge.
5. "I don't move like I used to."
That was then; this is now. Don't judge what you can do today by what you did in the past.
Exercising isn't about running as fast as you did on your high school track team or when you were in your 20s. You can move at your own pace and still benefit.
A study from Yale University found that seniors who walked just 20 minutes a day had lower risk of mobility disability after 2 years than those who did not.
Instead of looking back at what you used to do, embrace fitness as a tool to keep you mentally and physically sharp in the years ahead.
6. "I don't have anyone to exercise with."
You can find someone! Join a walking or gardening club. Check the schedule at your local community center or YMCA to see what free or affordable exercise classes they offer. Find opportunities to connect with people who enjoy the same activities as you do.
Once you get talking about your active lifestyle, you may be surprised to learn that there are already people around you who you can exercise with and who are working to get fit. Or maybe you'll inspire someone in your life to get moving, and the two of you can work out together.
Trust that if you get moving, everything else — like finding a workout buddy — will fall into place.




Tip adapted from webmd.comiii 
---
Copyright (C) 2021.  Ballentine Capital Advisors.  All rights reserved.
Our mailing address is:  
Ballentine Capital Advisors
15 Halton Green Way
Greenville, SC 29607
unsubscribe from this list    update subscription preferences  
Disclosure:
Ballentine Capital Advisors is a registered investment advisor. The advisory services of Ballentine Capital Advisors are not made available in any jurisdiction in which Ballentine Capital Advisors is not registered or is otherwise exempt from registration.
Please review Ballentine Capital Advisors Disclosure Brochure for a complete explanation of fees. Investing involves risks. Investments are not guaranteed and may lose value.
This material is prepared by Ballentine Capital Advisors for informational purposes only. It is not intended to serve as a substitute for personalized investment advice or as a recommendation or solicitation or any particular security, strategy, or investment product.
No representation is being made that any account will or is likely to achieve future profits or losses similar to those shown. You should not assume that investment decisions we make in the future will be profitable or equal the investment performance of the past. Past performance does not indicate future results.
Advisory services through Ballentine Capital Advisors, Inc.
i https://www.golfdigest.com/story/wish-putting-mistake-butch-harmon-fix
ii https://www.foodnetwork.com/recipes/food-network-kitchen/valentines-day-sugar-cookies-9843020
iii https://www.webmd.com/fitness-exercise/guide/exercise-and-aging-myths
---