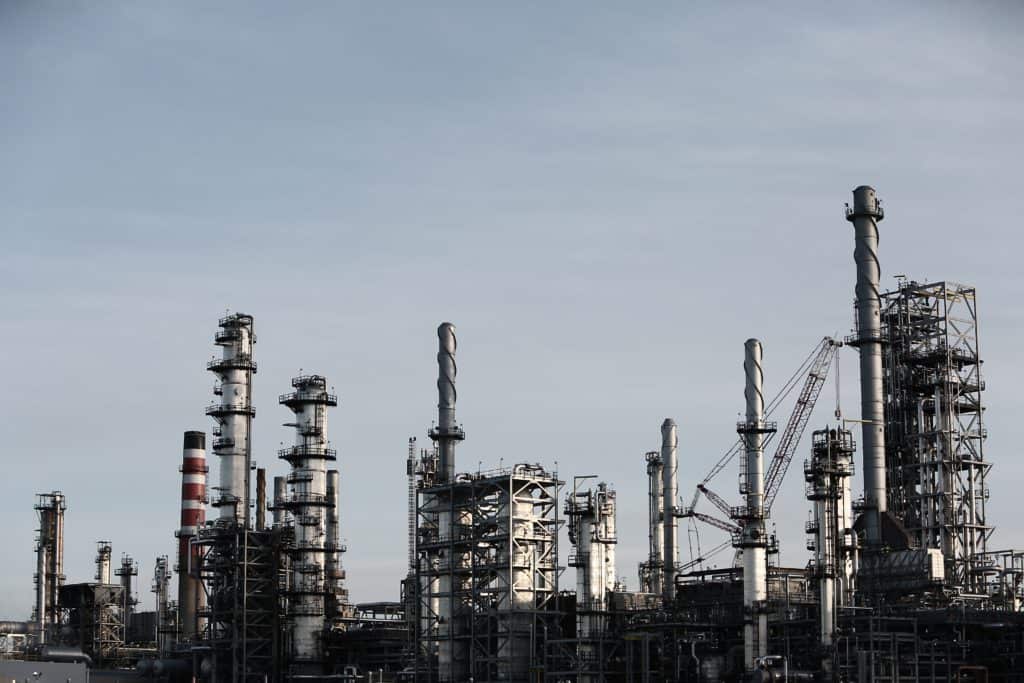 Recent headlines have added volatility to the markets. There will always be new headlines, and any of them could mean short-term turbulence.
As an investor and retirement saver, how much will this turmoil matter to you in the long run? Not as much as you may expect. There are many good reasons to remain in the market rather than attempting to intuit or guess when and where big shifts in fortune may arrive.
What is market timing? Michael Tanney, one of the directors at Magnus Financial Group, puts it plainly: "Market timing doesn't work […] Every bear market has historically given way to a bull market […] No one can predict the timing of these moments." Market timing is the use of predictive tools and techniques to predict how the market may move and make investments accordingly.1,2
There may well be a situation in which you may need to adjust your strategy, but it's also possible that snap judgements might cause you to undercut yourself. The market reacts to headlines, but it's just as common that quick dips might see fast relief.
Remember that many investors come to regret emotional decisions. The average recovery time for bear markets (meaning a downward swing of 20% or more), where equities return to bull market levels? About 3.2 years (measuring each recovery since 1900). For that reason, investing with the longer term in mind, with periodic and carefully considered rebalancing (alongside us), may allow you to better weather headline-induced peaks and valleys.3
Breaking news should not dissuade you from pursuing your long-term objectives. The stock market is always dynamic. Episodes of upward and downward volatility come and go. A wise investor acknowledges that downturns are expected and has patience when they do. Decisions made during market turbulence can backfire. While some of these ups and downs may be significant enough to signal a change in your asset allocation, they need not change the fundamentals of your investment policy.
An Example of Recent Breaking News:
Over a Barrel: How Oil Prices Dropped Below Zero
The price of US crude has gone negative for the first time in history. How did it happen – and what does it mean? US oil prices turned negative for the first time in history on Monday amid the deepest fall in demand in 25 years. A flood of unwanted oil in the market caused the West Texas Intermediate (WTI), the benchmark price for US oil, to plummet to almost –$40 a barrel after the fastest plunge in history. That meant producers were paying buyers to take oil off their hands.
1. Why have US oil prices turned negative?
The price of oil has been steadily falling across global markets since coronavirus first broke out in China at the end of 2019. Since then, the shutdown of major economies and travel routes to curb the spread of the virus has wiped out oil demand as transport has ground to a halt. But oil producers have continued to pump crude from their wells, causing a catastrophic imbalance between oversupplied oil and the biggest slump in demand for 25 years.
2. What do 'negative prices' mean?
In short: oil producers are paying buyers to take the barrels of oil off their hands because storage facilities are full to the brim. At the market's lowest point on Monday, an oil company might have paid about $40 for every barrel of oil someone was willing to take. A buyer would need to factor in the cost of transporting oil from the well to a shipping port, or a storage facility, where it may need to be held for up to six months, at significant cost. They would also need to bet that oil prices will rise later this year to make a return on the "investment". No oil company wants to "sell" their crude at a loss, so many producers are likely to shut their wells until the market recovers.
3. Why are oil prices in other countries still above zero?
The world's oversupply of oil is particularly acute in the US, which produces around 10m barrels of oil every day, because oil storage tanks have filled up, leaving oil companies desperate to sell their surplus barrels. In other regions, including the UK, oil prices are still above zero in part because they face lower transport costs and easier access to ports. Still, no oil market has remained unscathed. The international benchmark oil price, known as Brent crude, is still above $20 a barrel, but has fallen by two-thirds since January to 18-year lows.
4. What does this mean for petrol prices?
Petrol prices are likely to fall sharply this year due to the sudden collapse of oil prices and the long road to market recovery that probably lies ahead. But it is worth keeping in mind that the price paid at the pump is not a perfect reflection of the oil markets because petrol and diesel prices include government taxes and a profit margin for the seller. The negative oil prices seen in the US will be short-lived, so no one should expect to be paid for filling up their car.
5. Are prices likely to recover?
Yes, and quite quickly. The negative US oil price referred specifically to the price for crude delivered in May, the month in which oil demand is expected to be lowest and supplies are expected to be highest. From Tuesday, oil traders will begin trading barrels for delivery in June in earnest, and these are expected to fetch far higher prices. A meaningful recovery of oil market prices will depend on how quickly demand for transport fuels increases – a speedy end to lockdown would accelerate a market price recovery, but a slow emergence from the Covid-19 crisis could mean further financial pain for oil producers until 2021.
When we work to cultivate a financial plan, you don't need to factor in market and oil sector timing. You also don't need to sit still if you have concerns. Instead, you have a strategy that is based on your goals, risk aversion, and time horizon. This balanced approach means that you won't need to make hurried decisions when volatility arises or oil barrels do what they do.
Have a great weekend!
Source: The Guardian, Marketing Pro
Golf Tip of the Week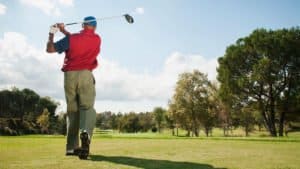 What Does a Chip Have in Common with a Putt?
At first glance, seemingly little. Yet, these two types of golf shots share something in common: a lack of "moving parts."
A good chip starts with a narrow stance of about 60% of your weight on your left leg (assuming you play right-handed). You play the ball back in your stance, which promotes your club shaft to lean forward. Your stroke is like a putting stroke: you keep your hands locked and steady. You aren't trying to use your hands to make the shot work; you are letting the loft of the club do the work. These are the fundamentals of a good chip.
Tip adapted from YouTahoePlace.comi
Recipe of the Week
Marinated Beef Kebabs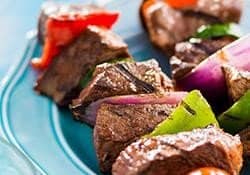 [4-6 servings]
Ingredients:
⅓ cup olive oil
⅓ cup soy sauce
3 Tbsp. red wine vinegar
¼ cup clover honey
2 cloves garlic, minced
1 Tbsp. fresh ginger
Pepper, to taste
1½ lbs. top sirloin steak
1 large bell pepper
2 medium red onions
1lb. button mushrooms
Directions:
Cut steak into 1½-inch cubes.
Mix olive oil, soy sauce, vinegar, honey, garlic, ginger, and pepper into bowl.
Marinate steak and chill in refrigerator overnight.
Soak bamboo skewers in water for one-half hour before you grill. (You don't want them to burn too much.)
Cut vegetables into chunks, similar size to steak.
Skewer meat and vegetables.
Optional: add remaining marinade to skewers.
Grill on high heat for 8 to 10 minutes.
Let meat cool before serving, about five minutes.
Recipe adapted from SimplyRecipes.comii
Health Tip of the Week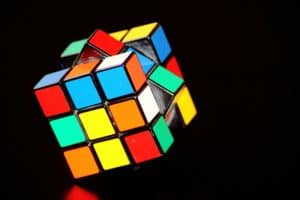 Maintaining Your Mental Mastery
As many of us are staying indoors, for the time being, the monotony of isolation might have your brain feeling a bit foggy. Curious about how to perform some cognitive calisthenics? Check out the following tips to find out.
Keep your heart healthy. Good cardiovascular health allows for the optimal delivery of oxygen and other nutrients to the brain.
Get some rest. Seven to nine hours of sleep every night gives your brain time to recharge and rejuvenate.
Eat well and exercise. Doing so has a positive effect on your entire body.
Engage with others. Social time can reduce stress.
Learn a new skill. Neural connections are built when we challenge ourselves. There's more benefit to doing this than mindless, repetitive brain "exercises."
Aside from helping you out while in quarantine, these tips may help you maintain your cerebral sharpness as you get older. Who knew that keeping your mind fit and flexible could be so much fun?
Tip adapted from WebMD.comiii
Copyright (C) 2020. Ballentine Capital Advisors. All rights reserved.
Our mailing address is:
Ballentine Capital Advisors
23 Buena Vista Way, Suite B
Greenville, SC 29615
unsubscribe from this list update subscription preferences
Sources:
1 – money.usnews.com/investing/stock-market-news/articles/2019-05-10/how-investors-can-mark-the-markets-seasons [5/10/18]
2 – investopedia.com/terms/m/markettiming.asp [4/10/19]
3 – marketwatch.com/story/why-retirees-shouldnt-fear-a-bear-market-2019-01-16 [1/29/19]
4 – https://www.theguardian.com/business/2020/apr/20/over-a-barrel-how-oil-prices-dropped-below-zero [4/23/20]
Disclosure:
This material was prepared by MarketingPro, Inc., and does not necessarily represent the views of the presenting party, nor their affiliates. This information has been derived from sources believed to be accurate. Please note – investing involves risk, and past performance is no guarantee of future results. The publisher is not engaged in rendering legal, accounting or other professional services. If assistance is needed, the reader is advised to engage the services of a competent professional. This information should not be construed as investment, tax or legal advice and may not be relied on for the purpose of avoiding any Federal tax penalty. This is neither a solicitation nor recommendation to purchase or sell any investment or insurance product or service, and should not be relied upon as such. All indices are unmanaged and are not illustrative of any particular investment.
The articles and opinions expressed in this newsletter were gathered from a variety of sources, but are reviewed by Ballentine Capital Advisors prior to its dissemination. All sources are believed to be reliable but do not constitute specific investment advice. In all cases, please contact your investment professional before making any investment choices.
Securities through Triad Advisors, LLC, Member FINRA/SIPC. Advisory services through Ballentine Capital Advisors, Inc. Triad Advisors and Ballentine Capital Advisors are not affiliated entities.
---
i YourTahoePlace.com, April 17, 2020
ii SimplyRecipes.com, April 17, 2020
iii WebMD.com, April 17, 2020