Adam Smith, the 18th century philosopher and father of modern economic theory once said, "What can be added to the happiness of a man who is in health, out of debt, and has a clear conscience?"1
We live in a culture that encourages people to care for their health and do the right thing, but when it comes to debt, Smith's advice goes out the window. According to the Federal Reserve, consumer debt continues to rise at a rate well above inflation, and now totals more than $4.1 trillion.2
Being in debt doesn't just limit what you can do financially, but it can affect how you view the quality of your life, and even negatively affect your health.
Aspire, a financial information site, conducted a survey of more than 1,000 adults to measure how debt affects people's overall happiness.3 As you might expect, respondents who were in debt were less likely to report feeling satisfied with their lives compared to those who were out of debt.
But the survey also found evidence of the self-defeating cycle of people living with a heavy burden of credit. They felt shame about carrying debt. So, in order to make themselves feel better, they buy things they can't afford, in turn deepening their feelings of guilt and reinforcing their self-defeating behavior.
Multiple studies have shown that being in debt is not only associated with a negative outlook on life, it can actually lead to measurable health consequences such as increased risk of heart disease and diabetes.4 It's easy to say, "I want to get out of debt." But much harder to follow through and do it. Proof of this are the soaring rates of America's consumer debt.
In order to pay off credit cards and other loans, you first need a plan you can stick to. Then you need someone to encourage you and hold you accountable. We are ready to help in this role. There is a way to be in debt but still have an optimistic view of life, and that's to be consistently working your plan to pay it off. If you need confidential help in this area, we would be happy to assist.
Have a great weekend!
Source: Efficient Advisors
Golf Tip of the Week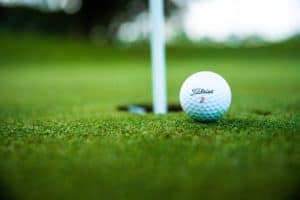 A Two–Piece Ball or a Multi–Layer Ball?
Besides the construction, what differentiates a two-piece golf ball from a multi-layer golf ball? Do the two different types of cores suit different types of golfers?
In a general sense, yes. Different golfers have different swing speeds, and multi-layer golf balls are a response to this reality. A two-piece ball just has a skin and a large core, so it can easily absorb power transferred from a slower swing. A golfer who consistently shoots in the seventies or eighties probably has a faster swing and can likely shape a shot better than a high handicapper. A hard, fast swing (think 280-yard drive) will activate all the layers in a multi-layer ball; a less forceful swing (think 40-yard soft pitch) will just activate outer layers, allowing a really good golfer more control, backspin, and feel on such a shot. If you consistently break 90, you should play a multi-layer ball.
Tip adapted from TGW.comi
Recipe of the Week
Good Ol' Chicken Soup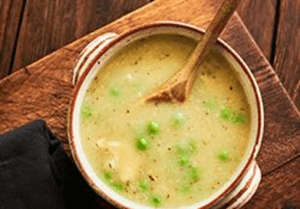 [10 servings]
Ingredients:
1 whole chicken, about 3 lbs.
4 carrots, halved
4 stalks celery, halved
½ potato, diced
1 cup of green peas
1 large onion, halved
Water to cover
Salt and pepper, to taste
1 tsp. chicken bouillon granules (optional)
Directions:
Place chicken and vegetables (except potato and peas) in a large pot.
Cover contents with cold water
Heat and simmer, uncovered, skimming foam now and then.
Once cooked to point where chicken easily falls off bone.
Strain the broth, remove all other contents, and set aside.
Season broth with bouillon, salt, and pepper.
Add potatoes and peas to broth.
Pick chicken meat from bones and return meat to broth.
Chop vegetables and return to broth.
Once potatoes and peas are fully cooked, serve.
Recipe adapted from allrecipes.comii
Health Tip of the Week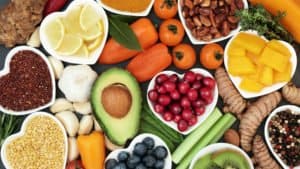 Show Your Heart Some Love
This February is American Heart Month. Heart disease is the number one killer of men and women in the U.S., accounting for 25% of all deaths. While genetics and family history are primary risk factors, some lifestyle habits are associated with better heart health. But first, make sure to discuss any medical concerns with your health care provider before beginning any dietary and fitness regimen; this information is not a substitute for medical advice.
● Manage your blood pressure. And get it checked regularly. Hypertension is often asymptomatic.
● Maintain a healthy weight. Being overweight or obese may increase disease risk.
● Eat well and exercise. Both are associated with lower incidence of heart disease.
● Drink less alcohol and don't smoke. These habits are harmful to your cardiovascular health.
● Sleep well and reduce stress. Lower cortisol levels may reduce your risk.
While not all disease risk factors are controllable, some are. The list above, however, is not comprehensive. Give your heart some love this month and talk to your doctor about the best ways to care for it.
Tip adapted from MedlinePlus.goviii
Copyright (C) 2020. Ballentine Capital Advisors. All rights reserved.
Our mailing address is:
Ballentine Capital Advisors
23 Buena Vista Way, Suite B
Greenville, SC 29615
unsubscribe from this list update subscription preferences
Sources:
Disclosure:
The views expressed herein are exclusively those of Efficient Advisors, LLC ('EA'), and are not meant as investment advice and are subject to change. All charts and graphs are presented for informational and analytical purposes only. No chart or graph is intended to be used as a guide to investing. EA portfolios may contain specific securities that have been mentioned herein. EA makes no claim as to the suitability of these securities. Past performance is not a guarantee of future performance. Information contained herein is derived from sources we believe to be reliable, however, we do not represent that this information is complete or accurate and it should not be relied upon as such. All opinions expressed herein are subject to change without notice. This information is prepared for general information only. It does not have regard to the specific investment objectives, financial situation and the particular needs of any specific person who may receive this report. You should seek financial advice regarding the appropriateness of investing in any security or investment strategy discussed or recommended in this report and should understand that statements regarding future prospects may not be realized. You should note that security values may fluctuate and that each security's price or value may rise or fall. Accordingly, investors may receive back less than originally invested. Investing in any security involves certain systematic risks including, but not limited to, market risk, interest–rate risk, inflation risk, and event risk. These risks are in addition to any unsystematic risks associated with particular investment styles or strategies.
The articles and opinions expressed in this newsletter were gathered from a variety of sources, but are reviewed by Ballentine Capital Advisors prior to its dissemination. All sources are believed to be reliable but do not constitute specific investment advice. In all cases, please contact your investment professional before making any investment choices.
Securities through Triad Advisors, LLC, Member FINRA/SIPC. Advisory services through Ballentine Capital Advisors, Inc. Triad Advisors and Ballentine Capital Advisors are not affiliated entities.

i https://www.tgw.com/golf-guide/golf-ball-shopping-tips/
ii https://www.allrecipes.com/recipe/8814/homemade-chicken-soup/
iii https://medlineplus.gov/howtopreventheartdisease.html