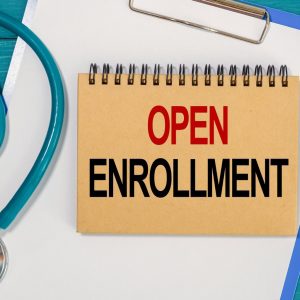 Medicare beneficiaries can make new choices and pick plans that work best for them during the annual Medicare Open Enrollment Period. Each year, Medicare plan costs and coverage typically change. In addition, your health-care needs may have changed over the past year. The Open Enrollment Period — which begins on October 15 and runs through December 7 — is your opportunity to switch your current Medicare health and prescription drug plans to ones that better suit your needs.
During this period, you can:
Switch from Original Medicare to a Medicare Advantage Plan
Switch from a Medicare Advantage Plan to Original Medicare
Change from one Medicare Advantage Plan to a different Medicare Advantage Plan
Change from a Medicare Advantage Plan that offers prescription drug coverage to a Medicare Advantage Plan that doesn't offer prescription drug coverage
Switch from a Medicare Advantage Plan that doesn't offer prescription drug coverage to a Medicare Advantage Plan that does offer prescription drug coverage
Join a Medicare prescription drug plan (Part D)
Switch from one Part D plan to another Part D plan
Drop your Part D coverage altogether
Any changes made during Open Enrollment are effective as of January 1, 2022.
Review plan options
Now is a good time to review your current Medicare benefits to see if they're still right for you. Are you satisfied with the coverage and level of care you're receiving with your current plan? Are your premium costs or out-of-pocket expenses too high? Has your health changed? Do you anticipate needing medical care or treatment, or new or pricier prescription drugs?
If your current plan doesn't meet your healthcare needs or fit your budget, you can switch to a new plan. If you find that you're satisfied with your current Medicare plan and it's still being offered, you don't have to do anything. The coverage you have will continue.
Information on costs and benefits
The Centers for Medicare & Medicaid Services (CMS) has announced that the average monthly premium for Medicare Advantage plans will be $19, and the average monthly premium for Part D prescription drug coverage will be $33. CMS will announce 2022 premiums, deductibles, and coinsurance amounts for the Medicare Part A and Part B programs soon.
You can find more information on Medicare benefits in the Medicare & You 2022 Handbook on medicare.gov.
---
IRS Releases 2022 Key Numbers for Health Savings Accounts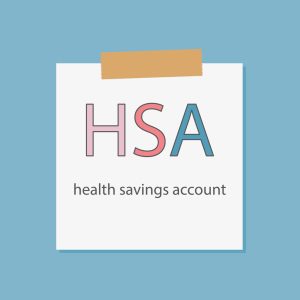 The IRS has released the 2022 contribution limits for health savings accounts (HSAs), as well as the 2022 minimum deductible and maximum out-of-pocket amounts for high-deductible health plans (HDHPs). An HSA is a tax-advantaged account that's paired with an HDHP. An HSA offers several valuable tax benefits:
You may be able to make pre-tax contributions via payroll deduction through your employer, reducing your current income tax.
If you make contributions on your own using after-tax dollars, they're deductible from your federal income tax (and perhaps from your state income tax) whether you itemize or not.
Contributions to your HSA, and any interest or earnings, grow tax deferred.
Contributions and any earnings you withdraw will be tax-free if used to pay qualified medical expenses.
Here are the key tax numbers for 2021 and 2022.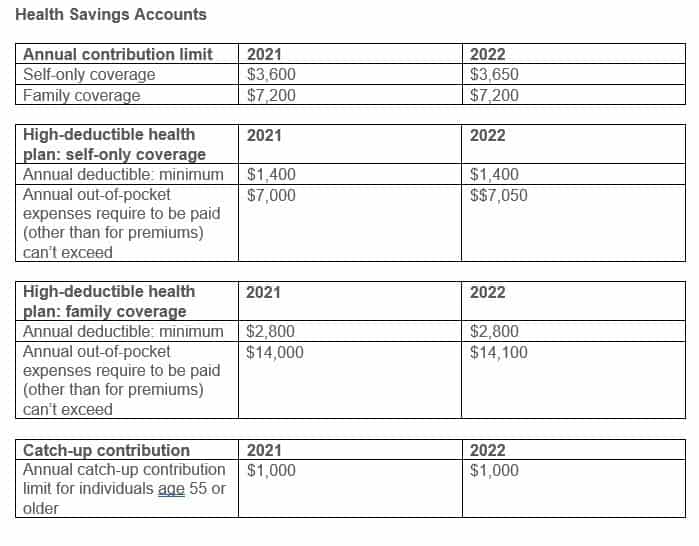 Have a wonderful weekend!






---
Source: Broadridge
Golf Tip of the Week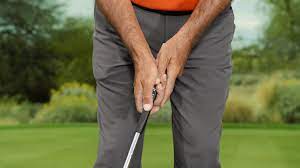 David Leadbetter's Secret to Great Putting
Whether it's a 50-footer across the green or six feet to shoot a new personal best, imagine feeling comfortable and confident over every putt. Now, anyone can become a better putter with a new, simple approach from David Leadbetter. The key? Putting with your core.
To understand what putting with your core means, try this little exercise. Interlace your fingers, clasping your hands in front of you. Then, get into your putting posture, and place your hands over your belly button, your elbows bent outward at 45 degrees. Keeping your lower body quiet, engage your core muscles and use them to rock your arms and shoulders back and forth. This is exactly what the putting motion should feel like when you put a club in your hands.
As Leadbetter is known to say, "The dog wags the tail." Meaning, if you lead with your core, the arms, shoulders and club will follow. The bigger muscles move the smaller muscles, not the other way around. Rocking your core will allow you to worry less about your stroke path and keep your arms and hands relaxed throughout the motion. Focus on using your core for a more consistent stroke and better touch on even the most nerve-wracking putts.
Tip adapted from golfdigest.comi 
---
Recipe of the Week
Pumpkin Spice Martini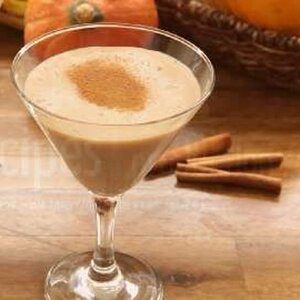 1 Serving
Ingredients
1 (1.5 fluid ounce) jigger vanilla flavored vodka (such as Stoli)
1 (1.5 fluid ounce) jigger Irish cream liqueur (such as Bailey's)
1 (1.5 fluid ounce) jigger pumpkin flavored liqueur (such as Hiram Walker)
1 cup ice cubes
1 pinch ground cinnamon
1 pinch ground nutmeg
Instructions
Pour the vanilla flavored vodka, Irish cream liqueur, and pumpkin flavored liqueur into a cocktail shaker over ice. Cover, and shake until the outside of the shaker has frosted. Strain into a chilled martini glass, and garnish with a sprinkle of ground cinnamon and ground nutmeg to serve.
Recipe adapted from allrecipes.comii
---
 Health Tip of the Week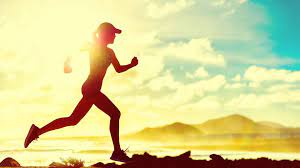 8 Ways to Stay Healthy and Prevent Cancer
Eight healthy behaviors can go a long way toward improving your health and lowering your risk of many cancers as well as heart disease, stroke, diabetes, and osteoporosis. And they're not as complicated as you might think.
So, take control of your health, and encourage your family to do the same. Choose one or two of the behaviors below to start with. Once you've got those down, move on to the others.
Maintain a healthy weight.
Exercise regularly.
Don't smoke.
Eat a healthy diet.
Drink alcohol only in moderation, if at all.
Protect yourself from the sun.
Protect yourself from sexually transmitted infections.
Get screening tests.
Tip adapted from siteman.wustl.eduiii
---
Copyright (C) 2021. Ballentine Capital Advisors. All rights reserved.
Our mailing address is:
Ballentine Capital Advisors
15 Halton Green Way
Greenville, SC 29607
unsubscribe from this list update subscription preferences
Disclosure:
Securities through Triad Advisors, LLC, Member FINRA / SIPC . Advisory services through Ballentine Capital Advisors, Inc. Triad Advisors, LLC and Ballentine Capital Advisors are not affiliated entities. Broadridge Investor Communication Solutions, Inc. does not provide investment, tax, legal, or retirement advice or recommendations. The information presented here is not specific to any individual's personal circumstances. To the extent that this material concerns tax matters, it is not intended or written to be used, and cannot be used, by a taxpayer for the purpose of avoiding penalties that may be imposed by law. Each taxpayer should seek independent advice from a tax professional based on his or her individual circumstances. These materials are provided for general information and educational purposes based upon publicly available information from sources believed to be reliable — we cannot assure the accuracy or completeness of these materials. The information in these materials may change at any time and without notice.
The articles and opinions expressed in this newsletter were gathered from a variety of sources but are reviewed by Ballentine Capital Advisors prior to its dissemination. All sources are believed to be reliable but do not constitute specific investment advice. In all cases, please contact your investment professional before making any investment choices.
Securities through Triad Advisors, LLC, Member FINRA/SIPC. Advisory services through Ballentine Capital Advisors, Inc. Triad Advisors and Ballentine Capital Advisors are not affiliated entities.
---
i https://www.golfdigest.com/story/david-leadbetters-secret-to-great-putting
ii https://www.allrecipes.com/recipe/180314/pumpkin-spice-martini/
iii https://siteman.wustl.edu/prevention/take-proactive-control/8-ways-to-stay-healthy-and-prevent-cancer/