Investor Worry and Recessions
Some investors may worry about the stock market sinking after a recession is officially announced. But history shows that markets incorporate expectations ahead of economic reports.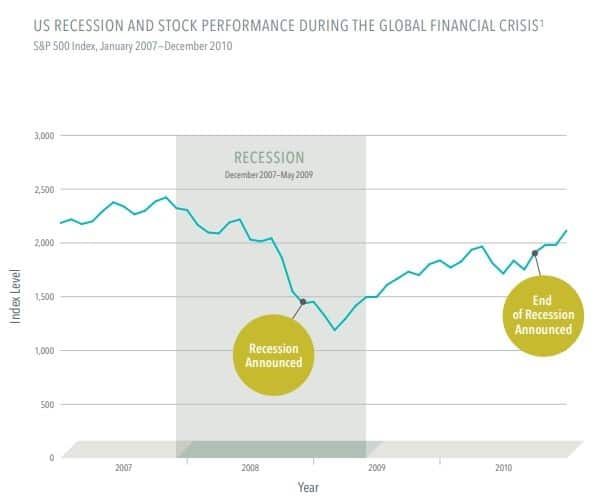 Consider This:
The global financial crisis offers a lesson in the forward-looking nature of the stock market. The US recession spanned from December 2007 to May 2009, as indicated by the shaded area in the chart.
Some investors may worry about the stock market sinking after a recession is officially announced. But history shows that markets incorporate expectations ahead of economic reports. But the official "in recession" announcement came in December 2008—a year after the recession had started. By then, stock prices had already dropped more than 40%, reflecting expectations of how the slowing economy would affect company profits.
Although the recession ended in May 2009, the "end of recession" announcement came 16 months later (September 2010). US stocks had started rebounding before the recession was technically over and climbed through the official announcement.
"The market is constantly processing new information, pricing in expectations for companies and the economy. Investors who look beyond after-the-fact headlines and stick to a plan may be better positioned for long-term success."
Conclusion
As you can see from the chart above, it is nearly impossible to accurately time the bottom of a recession or even when they officially start and end. The market is always forward looking and is pricing in information as we speak. As the old saying goes, "Time in the market beats timing the market." Eric Barker, author of a Wall Street Journal bestseller says, "If you want to make money over the long haul, picking investments isn't the real problem. When studies compare how well investments perform to how well investors perform there's always a gap. Investors almost invariably do worse than the investments do."1 This is mainly because investors tend to do the exact opposite of what is logical at the time. For example, everyone can agree that they would rather buy gas on sale than at a premium. So, why not think about your investments in the same manner? The answer is usually because of poor investor behavior.
One strategy to maximize your success is having a financial plan that accounts for the different market cycles and your personal goals. This can help maximize the longevity of your wealth and keep your emotions in check when market go awry. With proper planning and risk management, the market swings may not seem so bad after all.
Have a great weekend!




Source: DFA
---
Golf Tip of the Week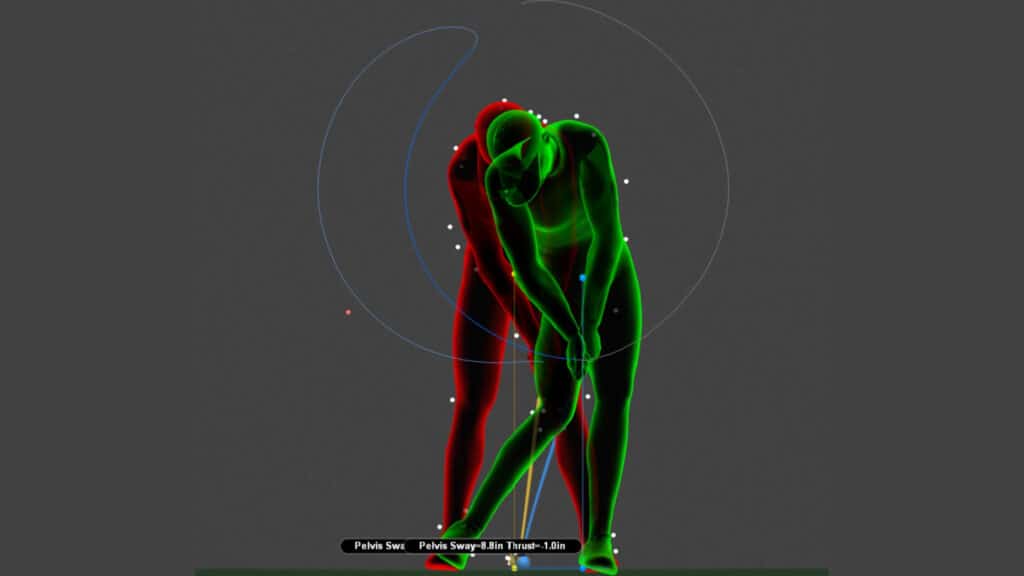 State-Of-The-Art Images Reveal One Big Mistake High-Handicap Golfers 'Always Make'
Have you ever seen a professional golfer mis-hit a shot?
Unlike the rest of us, who sadly know the feeling of laying the sod over one, or topping a ball so badly that it only travels a few feet, pros' contact errors are almost non-existent. Sure, they catch shots thin or chunky, but the margins are so thin, it feels wrong calling them a mis-hit at all. You may not even notice them.
One key quality that helps pros onto this supreme level of consistency is their ability to transfer their weight onto their lead side by the time they get to impact.
Simply put, pros are really good at getting to their lead side at impact, and amateur golfers are really bad at it. The amount of weight you shift forward during your swing can affect where the bottom of your swing occurs.
Why getting to your lead side is so important
Lots of higher handicaps tend to hang back on their trail side, which causes these golfers to hit behind the ball and flip their hands to compensate.
Study after study shows that lower handicaps, and pros, have shifted their weight onto their front foot far more during their swing, which shifts the low point of their swing forward, and helps them make a more consistent, descending blow.
An interesting image from the golf 3D system Gears, shared by Golf Digest Best in State Teacher Erik J. Barzeski, shows exactly how much: Compared to where their hips start at setup, pro golfers shift their hips anywhere from four inches towards the target, to almost nine inches towards the target. Higher-handicap golfers, by contrast, often only move their hips an inch or two closer to the target — at most.
A swing thought to help
A key reason why pros are able to get their hips that far forward by the time they get to impact is because they start shifting their weight sooner in their swing than the rest of us, Golf Digest Top 50 coach Mark Blackburn explains.
Blackburn says a good cue to help improve you getting into your lead side sooner is to feel your pressure transfer into your lead food as your arms reach parallel on the backswing.
If that sounds earlier in your swing than you thought, that's kind of the point. Get into that lead side slightly sooner, Mark says, and the contact of your iron shots will be better for it.




Tip adapted from golfdigest.comi
---
Recipe of the Week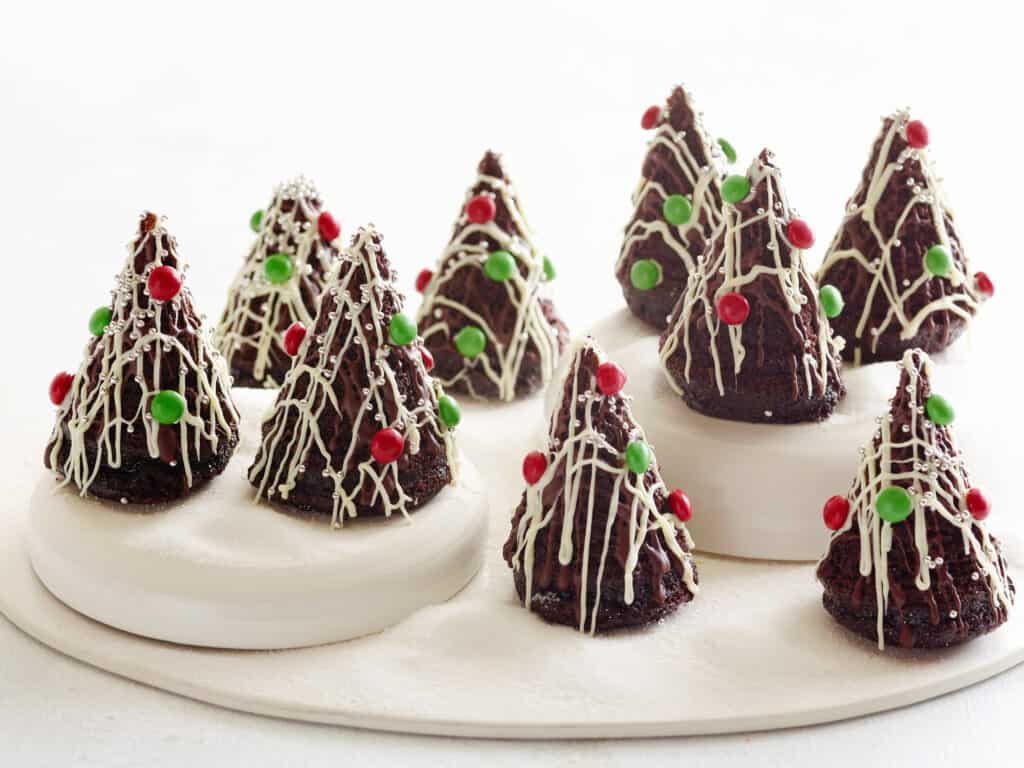 Chocolate Cake Christmas Trees
20 servings
Ingredients
3 cups sugar
2 3/4 cups all-purpose flour
1 1/8 cups cocoa powder, preferably Dutch-process
2 1/4 teaspoons baking powder
2 1/4 teaspoons baking soda
1 1/2 teaspoons salt
3 eggs
1 1/2 cups milk
3/4 cup vegetable oil
1 tablespoon pure vanilla extract
1 1/2 cups very hot water
6 ounces semi-sweet chocolate, melted
6 ounces white chocolate, melted
Red and green mini candy covered chocolates (recommended: M & M's)
Instructions
Heat the oven to 350 degrees F. Cut 1-inch holes out of the bottom of a large inverted foil roasting pan in neat rows, leaving 1 to 2 inches in between the holes. Invert the pan and place paper cooler cups in the holes to hold them upright during baking.
Sift together the 3 cups sugar, flour, cocoa, baking powder, baking soda, and salt. Transfer to a mixer fitted with a whisk attachment (or use a hand mixer) and blend briefly. Whisk together the eggs, milk, oil, and vanilla extract in a medium bowl. Add to the dry ingredients and mix at low speed for 5 minutes. Gradually add the hot water, mixing at low speed just until combined. The batter will be quite thin.
Pour the batter into the cups. Bake until a tester inserted in the center of the cake comes out clean (a few crumbs are okay) and the center feels firm to the touch, 25 to 30 minutes. Let cool in the pan. Chill for 2 hours then peel off the paper being careful not to tear off the tip of the peak.
Place cakes on a rack over a sheet pan lined with parchment paper and with a fork drizzle both colors of chocolate then stick on M & M to look like ornaments on a little Xmas tree.



Recipe adapted from foodnetwork.comii
---
Health Tip of the Week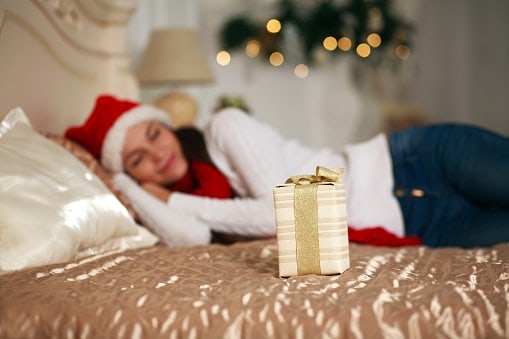 What I Want For Christmas: More Sleep
For a laundry list of reasons including spending too much money on gifts, feeling the loss of a loved one, and the stress of spending time with a dysfunctional family, more than three-quarters of Americans don't get enough ZZZ's during the holiday season, a new survey shows.
In the new survey of 1,000 Americans, about 50% reported getting less than seven hours of sleep per night during the holiday season that spans from Thanksgiving through New Year's day. That adds up to a loss of three or more hours per week in the majority of those polled (sleep experts recommend seven to nine hours per night for adults). Of people with sleep loss, 40% said it was caused by remembering the loss of loved ones, 38% said it was caused by financial concerns, 37% said they couldn't sleep because they were too busy, and 33% cited family issues.
Overall, about 50% said they experienced some degree of stress during the holidays, and of these, 55% said the stress prevented them from sleeping at night. What's more, the greater their stress, the more likely they were to have trouble sleeping, the survey showed. In addition, holiday stress also affected sleep quality, the survey showed.
"During the holiday season, we are all pressed time-wise, we race around to get our shopping done and finish all the work we left for year-end and people spend more money then they plan to or should at holiday time and then they can lose sleep," says Ellen Miller, a clinical assistant professor of medicine at the Albert Einstein College of Medicine in the Bronx, N.Y. "Holidays are also difficult for people who have lost loved ones and it may be the first holiday that loved ones are not there," says Miller, who is also in private practice in Hewlett, N.Y.
Another stressor may be the yearly fight about whether you spend the holidays with the outlaws or in-laws or who do you visit and on what night, she tells WebMD.
The Holiday Sleep Solution
Sleep loss is a common problem in the U.S. which tends to get worse during the holiday season.
And "the way that we can maximize sleep is to get rid of the stress that we focus on at bedtime," she says. "Plan ahead and don't leave all the shopping to the last minute and put money away in advance, rather than max out your credit cards and be concerned about how to pay it back with all the interest," Miller suggests.
Other tips include practicing good sleep hygiene. "Use the bed and bedroom for sleeping and don't take work or bills into the bedroom because it's better to do those activities somewhere else," she says.
"It's always good to exercise but try not to do right before bed because that wakes you up and avoid caffeine before bed," she says.
Eat Drink and Be … Sleepy?
"Everybody likes to be a social butterfly and attend every social function during the holidays, but if we go out every evening, we may eat too much and drink too much which will affect sleep," she says.
"People may turn to alcohol because they think they will sleep better, but it backfires because later during the night when it's coming out of system, it is likely to cause more awakening," says David Neubauer, MD, an associate director of the Johns Hopkins Sleep Disorders Center in Baltimore, and author of Understanding Sleeplessness.
"Alcohol is never a good solution, but the bigger problem is being out driving while sleep deprived when you have had alcohol," he stresses. "That can have disastrous effects."
Holidays can be a challenge to sleep, he says.
"You have got more social activities that interfere with sleep, but there is also shopping to be done," he says. "You have to balance your sleep because when sleep loss is unavoidable, you can make up for it at other times," he says.
"If you have got plenty of sleep in the bank, you can withdraw a little bit for a special occasion," Neubauer says, adding that the trouble occurs when you are overdrawn.
Miller says that if sleep problems are "going on for several weeks and don't resolve by the time that the holiday season is over, talk to your doctor."





Tip adapted from webmd.comiii
---
Copyright (C) 2021. Ballentine Capital Advisors. All rights reserved.
Our mailing address is:
Ballentine Capital Advisors
15 Halton Green Way
Greenville, SC 29607
unsubscribe from this list update subscription preferences
Source:
1https://bakadesuyo.com/2018/07/smarter-with-money/
Disclosure:
Ballentine Capital Advisors is a registered investment advisor. The advisory services of Ballentine Capital Advisors are not made available in any jurisdiction in which Ballentine Capital Advisors is not registered or is otherwise exempt from registration.
Please review Ballentine Capital Advisors Disclosure Brochure for a complete explanation of fees. Investing involves risks. Investments are not guaranteed and may lose value.
This material is prepared by Ballentine Capital Advisors for informational purposes only. It is not intended to serve as a substitute for personalized investment advice or as a recommendation or solicitation or any particular security, strategy, or investment product.
No representation is being made that any account will or is likely to achieve future profits or losses similar to those shown. You should not assume that investment decisions we make in the future will be profitable or equal the investment performance of the past. Past performance does not indicate future results.
Advisory services through Ballentine Capital Advisors, Inc.
i https://www.golfdigest.com/story/weight-transfer-pros-vs-amateurs
ii https://www.foodnetwork.com/recipes/moist-chocolate-cake-xmas-trees-recipe-1940226
iii https://www.webmd.com/sleep-disorders/news/20031209/what-i-want-for-christmas-more-sleep
---