A friend tells the story of his father being diagnosed with brain cancer. He and his siblings rallied together to make sure their father got to his treatments, their mother got extra help with his care, and the most urgent bills were paid. Everyone was concentrating on the crisis at hand.
Like many couples of their generation my friend's father had handled all the finances while his mother took care of the household. She had no idea what kinds of financial accounts they owned jointly, let alone how much was in them. So it was no surprise that she didn't know the password to the laptop used to access and manage these accounts.
Because the cancer caused a surprisingly rapid cognitive decline, by the time my friend and his siblings thought about these details, their father was unable to help.
Fortunately, my friend found an old Palm Pilot PDA his father had used. And buried deep in one of the address databases were dozens of entries with information about his father's financial accounts. Many were near duplicates with old versions of user names and passwords, but eventually the parents' financial information was able to be pieced together.
Setting aside the issue of his father not having any clearly stated financial plan, my friend wished there had been a single document that listed financial accounts, how his mother might access them, and what automated deposits and bill payments had been set up.
"We often forget that we are usually the only ones that can access these accounts," says Famara Telesko, director of wealth planning strategies at TIAA and a specialist in estate planning and income tax issues.1
Unfortunately, ease of online access has meant greater complexity in the form of multiple usernames and passwords, as well as more stringent rules by account providers governing who is allowed to log on. Adding to the complexity are digital assets like unused air miles or credit card rewards that will simply disappear if unused.
According to the Wall Street Journal, most states have made it easier for court-appointed fiduciaries to gain access to a decedent's digital accounts, similar to how they would access tangible property. Even so, lawyers say it is advisable to include provisions in your estate plan that authorized your representatives to access your digital assets, including email and social media.
Even if you already have your estate plan in order, you may want to review it to make sure your wishes for your online assets will be carried out without a hitch.
We will be happy to help you with this important piece of planning.
Have a great weekend!
Source: Efficient Advisors
---
Golf Tip of the Week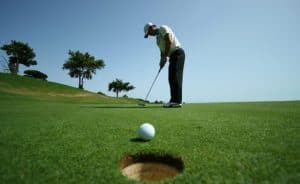 Two Simple Words to Help Drop the Ball in the Cup
When your putting goes south, what's the first fundamental to try and improve? Restore good rhythm to your stroke.
Here's a simple cadence to practice. When you make a stroke, think per-fect pace—three syllables. It's like a pendulum ticking two beats to one. When you take the putter back, think per-fect. When you swing the putter through, think pace. Whether your stroke is long or short, the rhythm should stay the same every time.
Using this cadence will help you strike the ball solidly, and smoothly. It helps eliminate any jerky or abrupt motions that can affect ball speed or the orientation of the putterface at impact, especially on longer putts. You won't feel like you need extra effort to get the ball to the hole.
One more piece of advice: Instead of worrying about the importance of making a putt, shift your thoughts to how you're going to do it. Focus on the process, not the outcome.
Tip adapted from GolfDigest.comi
---
Recipe of the Week
Sausage Rolls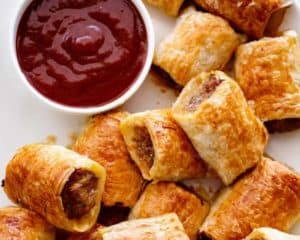 [20 sausage rolls]
Ingredients:
FILLING:
7 oz bacon, minced or finely chopped
2 cloves garlic minced
1 small onion, finely chopped
1 small carrot, finely shredded/grated
1 stalk celery, finely chopped
1 teaspoon ground fennel seeds
8 oz ground pork mince
8 oz ground beef mince
1/2 cup panko breadcrumbs
1 large egg
2 tablespoons barbecue sauce
1 tablespoon Worcestershire sauce
1 tablespoon fresh parsley, chopped
3/4 teaspoon salt
Cracked black pepper
ASSEMBLE:
2 1/2 sheets frozen puff pastry, thawed
1 large egg, lightly beaten
Instructions:
FILLING:
Fry bacon in a skillet over medium-high heat for 2-3 minutes until just starting to crisp and bacon releases grease. Add onion, celery and carrot to the pan, sauté for 2 minutes or until veggies have softened. Sauté the garlic until fragrant (about 30 seconds). Transfer to bowl and let mixture cool for 10 minutes.
Add remaining FILLING ingredients to the bowl and mix well using your hands.
ASSEMBLE:
Lightly flour a work bench. Cut one pastry sheet in half and lay one half down in front of you.
Spoon 1/5th of the filling down the middle of the sheet and press/shape into a compact log.
Brush edge of pastry with egg then roll up. Lightly press/seal on the edge with egg wash and arrange seam-side down.
BAKE:
Preheat oven to 350°F (180°C). Line 2 baking sheets with parchment paper, or lightly grease with nonstick cooking oil spray.
Slice each log into four equal pieces for party-sized sausage rolls, or two pieces for long full-sized sausage rolls. Brush the tops with egg wash.
Arrange rolls on baking sheets and bake for 30-35 minutes, rotating baking sheets around halfway through cook time to ensure they bake evenly. The pastry should be crispy and golden brown.
Let cool to the touch. Serve hot (or warm) with ketchup/tomato sauce.
Recipe adapted from Cafedelites.comii
---
Health Tip of the Week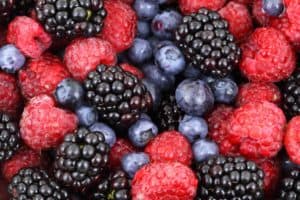 25 Super Fruits to Add to Your Diet Today
Fruit is packed with vitamins, minerals, fiber, and plant compounds called phytonutrients. As such, it's one of the healthiest foods you can eat.
Some fruits are even considered "superfoods" due to their numerous benefits. Even though there's no exact definition of what constitutes a superfood, they're often rich in health-boosting compounds with antioxidant and anti-inflammatory properties.
Here are 25 super fruits to add to your diet today:
Plums – Strawberries – Grapes
Apples – Peaches – Avocados
Blueberries – Cherries -Grapefruits
Blackberries – Black chokeberries – Tomatoes
Figs – Raspberries – Blood oranges
Nectarines – Pomegranates – Kumquats
Mangos – Gogi berries – Cranberries
Lemons – Papayas -Watermelons
Acai berries
Tip adapted from Healthline.comiii
---
Copyright (C) 2020. Ballentine Capital Advisors. All rights reserved.
Our mailing address is:  
Ballentine Capital Advisors
23 Buena Vista Way, Suite B
Greenville, SC 29615
unsubscribe from this list update subscription preferences
Sources:
1. https://go.efficientadvisors.com/e/91522/-your-estate-plans-11587161327/6pmvl3/986050520?h=_legP8U_KEmQFyH2QXlxkTUBm9lMepEm0P9fEe649x8
Disclosure:
The views expressed herein are exclusively those of Efficient Advisors, LLC ('EA'), and are not meant as investment advice and are subject to change. All charts and graphs are presented for informational and analytical purposes only. No chart or graph is intended to be used as a guide to investing. EA portfolios may contain specific securities that have been mentioned herein. EA makes no claim as to the suitability of these securities. Past performance is not a guarantee of future performance. Information contained herein is derived from sources we believe to be reliable, however, we do not represent that this information is complete or accurate and it should not be relied upon as such. All opinions expressed herein are subject to change without notice. This information is prepared for general information only. It does not have regard to the specific investment objectives, financial situation and the particular needs of any specific person who may receive this report. You should seek financial advice regarding the appropriateness of investing in any security or investment strategy discussed or recommended in this report and should understand that statements regarding future prospects may not be realized. You should note that security values may fluctuate and that each security's price or value may rise or fall. Accordingly, investors may receive back less than originally invested. Investing in any security involves certain systematic risks including, but not limited to, market risk, interest-rate risk, inflation risk, and event risk. These risks are in addition to any unsystematic risks associated with particular investment styles or strategies.
The articles and opinions expressed in this newsletter were gathered from a variety of sources, but are reviewed by Ballentine Capital Advisors prior to its dissemination. All sources are believed to be reliable but do not constitute specific investment advice. In all cases, please contact your investment professional before making any investment choices.
Securities through Triad Advisors, LLC, Member FINRA/SIPC. Advisory services through Ballentine Capital Advisors, Inc. Triad Advisors and Ballentine Capital Advisors are not affiliated entities.
---
i https://www.golfdigest.com/story/two-simple-words-to-help-drop-the-ball-in-the-cup?mbid=nl_091520_daily_tipoftheday
ii https://cafedelites.com/sausage-rolls/
iii https://www.healthline.com/nutrition/super-fruit#25