Labor Day celebrations begin this weekend with cookouts, gatherings, and a wind down from the busy summer. Labor Day is part of our American heritage as it has been a national holiday for over 100 years. There are many long-standing traditions with this holiday—whether it is established family traditions or community traditions, Labor Day is a time of celebration as we recognize the hard work of all Americans.
Today's post will cover the history of this holiday, its founding as well as its traditions. Lastly, we want to encourage you to take the time to reflect on the year as we begin the sprint towards the end of 2022.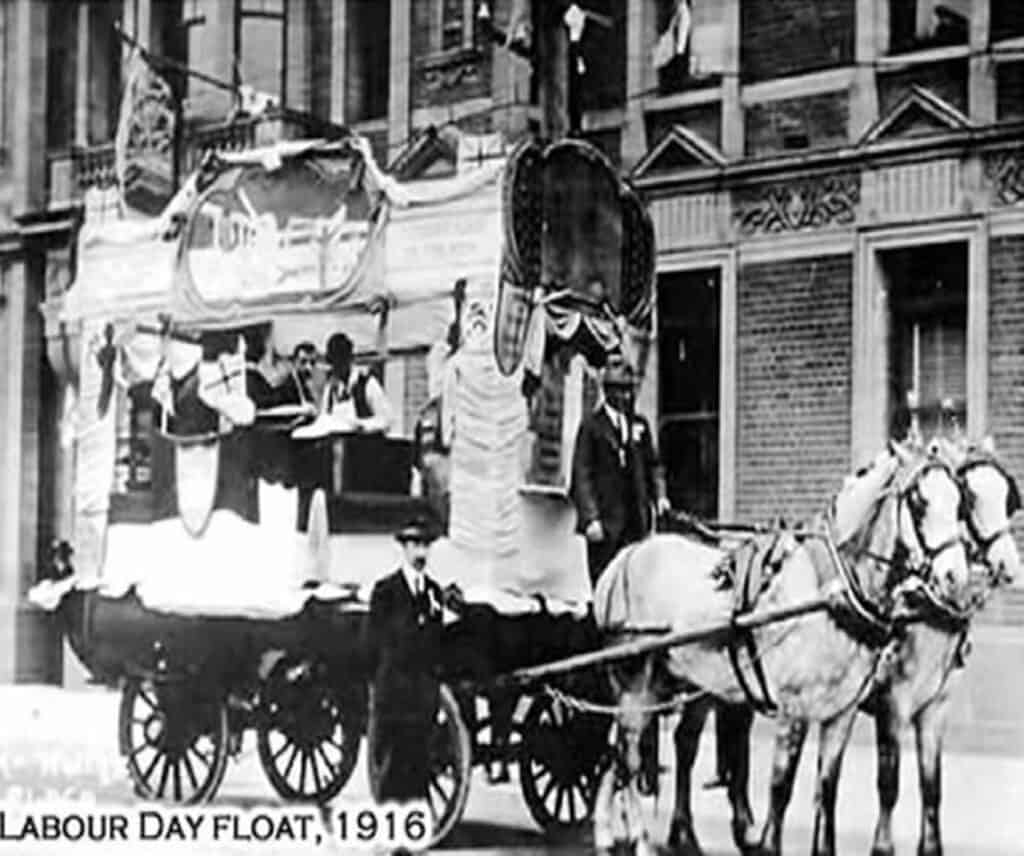 The Beginnings of Labor Day
Today we celebrate Labor Day to honor the contributions made by the workers who helped build a stronger and more prosperous America. On July 4th, 1882, two Central Labor Union officials met with President Chester Arthur to discuss the idea of creating a holiday for American workers. It would have made more sense for the store to be open on Labor Day, but since the workers wanted to enjoy the weekend after the summer holiday, the owner agreed to their request. Many states already had their own local holidays honoring workers' rights, but these days don't always fall on the same day across state lines.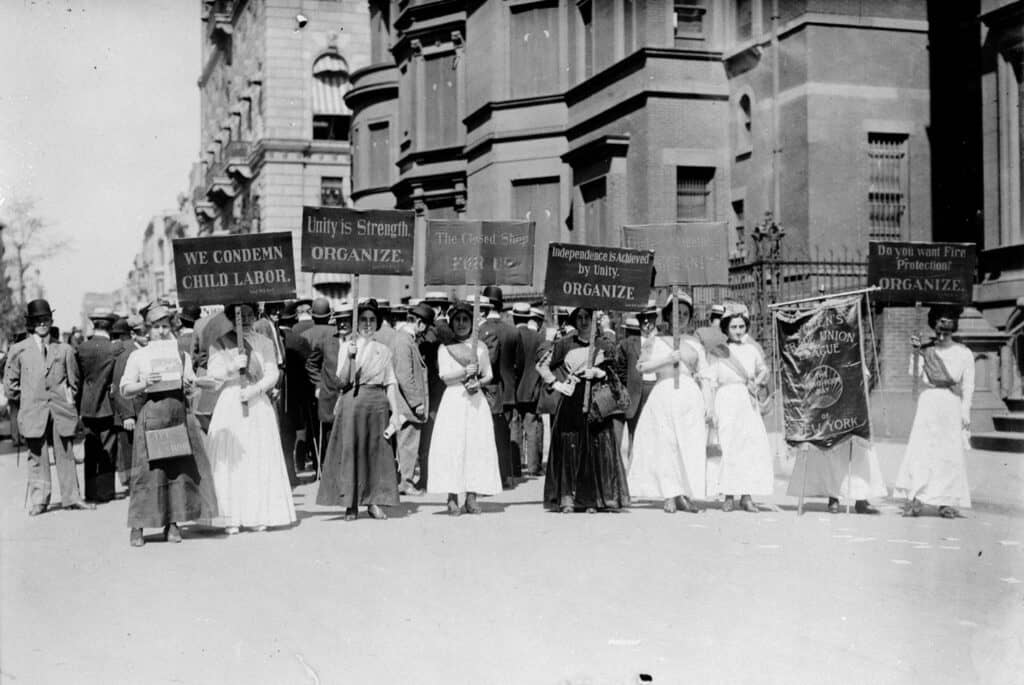 The Founders of Labor Day
The history behind the Labor Day has been debated by historians over the years. The first official Labor Day was celebrated on September 5, 1882.
According to the Department of Labor:
"Some records show that in 1882, Peter J. McGuire, general secretary of the Brotherhood of Carpenters and Joiners and a co-founder of the American Federation of Labor, suggested setting aside a day for a "general holiday for the laboring classes" to honor those "who from rude nature have delved and carved all the grandeur we behold."
But Peter McGuire's place in Labor Day history has not gone unchallenged. Many believe that machinist Matthew Maguire, not Peter McGuire, founded the holiday.
Recent research seems to support the contention that Matthew Maguire, later the secretary of Local 344 of the International Association of Machinists in Paterson, New Jersey, proposed the holiday in 1882 while serving as secretary of the Central Labor Union in New York.
According to the New Jersey Historical Society, after President Cleveland signed the law creating a national Labor Day, the Paterson Morning Call published an opinion piece stating that "the souvenir pen should go to Alderman Matthew Maguire of this city, who is the undisputed author of Labor Day as a holiday." Both Maguire and McGuire attended the country's first Labor Day parade in New York City that year."
Some claim that the holiday was established as part of the Pullman Strike of 1894. In 1893, George Pullman built a model town in Illinois for his employees to live in. The town included schools, shops, churches, and even houses filled with luxury items like pianos. However, when the depression hit in 1893 and Pullman's business began to suffer, he cut wages and reduced hours for his workers without discussing it with them first. This led to protests by the Pullman employees that eventually turned violent when they were repressed by police forces hired by George Pullman himself!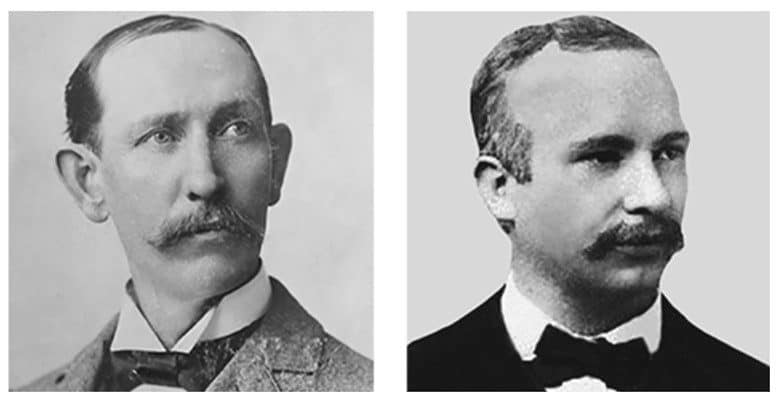 When Was The First Labor Day?
Labor Day is a time to celebrate the hard work of everyone. Labor Day is about commemorating a long history of workers' struggle for better pay and working conditions. It's not about honoring one individual in particular.
The first Labor Day was celebrated on September 5, 1882, in New York City. It was organized as a one-day national strike by workers across the country to protest against what they saw as unfair treatment by their employers. The Labor Movement is important because of its role in the American Civil War. Two men, Peter McGuire and Matthew Maguire, both members of the Knights of Labor, organized workers to demand better working conditions and a living wage.
A National Holiday
President Grover Cleveland officially recognized Labor Day as an official Federal holiday in 1894. This national holiday was observed on the first Monday in September. Labor Day was celebrated to honor American workers and their labor. It was also a way to celebrate the official end of summer. Since many states had already celebrated Labor Day prior to its national recognition (usually on September 5), an official national holiday allowed all states to recognize on one official day the hard work of all Americans.
Labor Day Traditions
When one thinks about Labor Day, it is usually filled with parties, cookouts with family and friends and a time to relax as the summer ends. These traditions are the very fabric of American life and cause for celebration. Some communities have parades and other festivities to celebrate the holiday and close out the summer.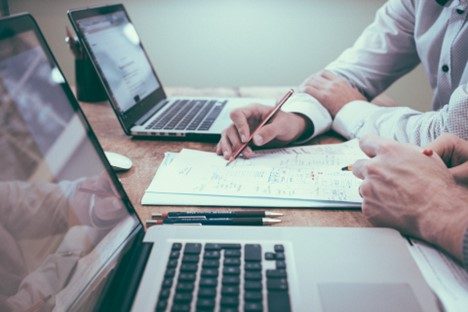 Labor Day and Your Financial Plan
As you approach the Labor Day holiday, there is not a better time to reflect on 2022 and revisit your financial goals. Knowing that you have a financial plan in place should be not only a source of confidence but a reminder that no matter whatever the state of the market or the economy, your plan has accounted for the myriad of events that are unpredictable. Whether its rising inflation or market volatility, your strategy is focused on the long-term and has taken great measures to ensure that you can retire with confidence.
From all of us at Ballentine Capital Advisors, we wish you a wonderful Labor Day. Enjoy the time with family, friends, and others. We are grateful for your hard work and dedication regarding your financial plan.
Have a great weekend!
Source: Ballentine Capital Advisors
---
Golf Tip of the Week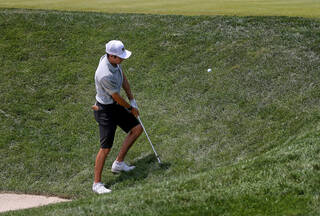 The Classic Mistake You're Probably Making On Uphill Chips, And How To Fix It
Shooting lower scores isn't always about changing your swing or equipment. Sometimes, improving your score is as simple as changing how you hit certain shots on the golf course. Molly Braid, a Golf Digest Best Young Teacher out of Wisconsin, sees a classic mistake on uphill chips again and again. With their ball on an uphill lie, players grab their sand wedge, thinking that the high-lofted club will help the ball get up in the air, clear the hill and land softly on the green. But instead, the ball pops up too high and comes up short of the green.
Braid's fix for this is a simple one: Use a club with less loft.
"Grab your pitching wedge, 9 iron or even 8 iron depending on how far you hit the ball. Set up with your hips and shoulders in line with the hill," Braid says. "The handle's going to come back and there's going to be added loft to the club. So, it'll have more height, like a sand wedge."
Your pitching wedge and 9 iron don't have as much loft as your sand wedge, but when you're hitting from a steep, uphill lie, your pitching wedge is going to produce sand-wedge like results. You'll get that high trajectory up and over the hill, and it'll land soft on the green.
Tip adapted from golfdigest.comi
---
Recipe of the Week
Creamy Chicken Gnocchi Bake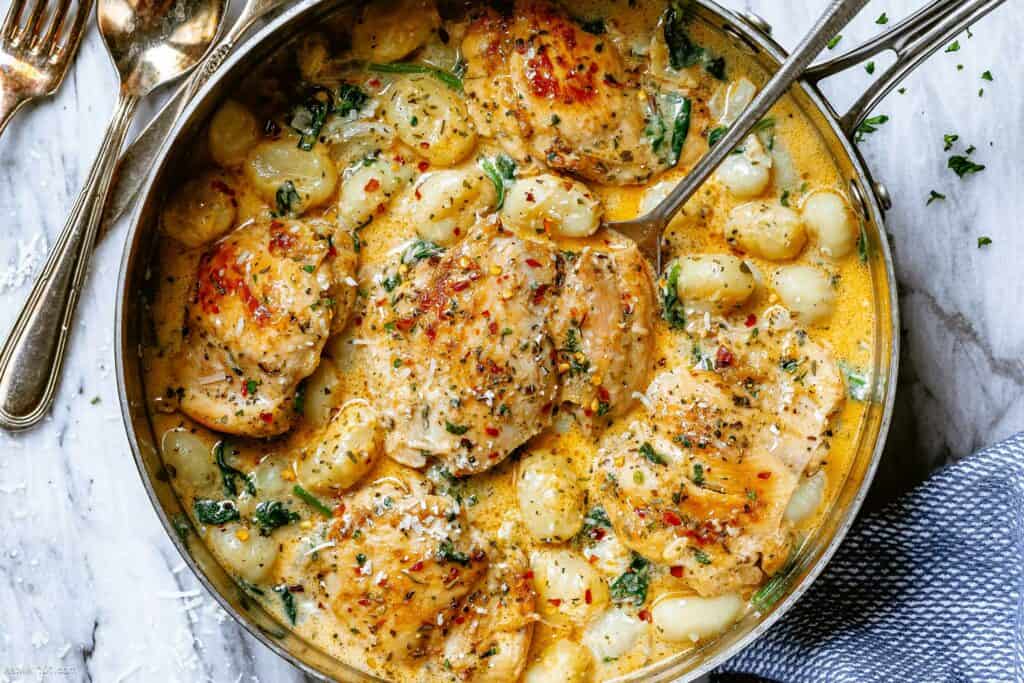 4 servings
Ingredients
1 leek
2 garlic cloves
2 barbecue or roast chicken breast fillets
2 tbsp olive oil
2 tsp plain flour
1 chicken style stock cube
300ml bulla cooking cream
500g packet fresh gnocchi
100g baby spinach
55g (1/2 cup) pre-grated 4 cheese blend
Micro herbs, to sprinkle
Instructions
Boil a pot of water and heat a deep ovenproof frying pan over medium-high heat. Preheat a grill on high. Whisk in cream and sea salt (mixture may spit). Pour into an 18cm oven-proof frying pan. Place in fridge until firm.
While the pan heats up, thinly slice the leek, crush the garlic, and shred the chicken.
Pour the oil into the pan. Add the leek and cook, stirring, for 1 minute or until starts to soften. Add the garlic and cook, stirring, for 30 seconds. Add the flour and crumble in the stock cube. Stir until well combined. Gradually stir in 125ml (1 ⁄2 cup) water and then the cream. Stir until well combined and the sauce is just coming to the boil.
While the sauce cooks, pour the boiling water into a large saucepan over high heat (don't fill too high or it will take too long to boil again). Add the gnocchi and cook until the gnocchi float to the surface. Drain.
Add the gnocchi, chicken, and spinach to the frying pan. Toss until well combined and spinach just starts to wilt. Sprinkle with cheese. Grill for 3 minutes or until melted and golden. Top with micro herbs to serve.
Recipe adapted from taste.com.auii
---
Health Tip of the Week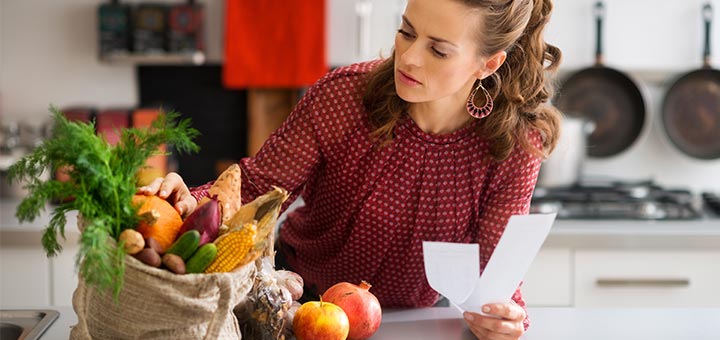 Heart-Healthy Eating On A Budget
It's a myth that eating healthy has to cost big bucks. "You can spend much the same as you do now and wind up with a heart-healthier diet," says Kerry Stewart, Ed.D., professor of medicine in the cardiology division at Johns Hopkins and director of Clinical and Research Physiology. It comes down to making smarter choices. Here are some ideas for eating better without spending more.
Compare labels.
"From a health perspective certain foods are less desirable than others at a similar price," Stewart says. For example, different varieties of milk cost roughly the same, but skim milk and 1 percent milk provide less saturated fat than 2 percent milk or whole milk. The same is true with yogurt. Some yogurts, although labeled "low fat," are high in calories and sugar, he says, so by comparing the Nutrition Facts data on the labels, you can make a healthier choice that's low in both fat and sugar without spending more.
Skip processed foods in boxes and bags.
Whole foods tend to cost less than processed varieties, while sparing you the added sodium and sugar that can lead to weight gain, diabetes, and heart damage, according to Stewart.
Be aisle smart.
Shop mostly from the outer aisles of your market. That's where fresh fruits, vegetables, dairy, fish, and meat tend to be displayed.
In the middle aisles, look for heart-healthy canned tuna, salmon, and sardines; frozen unprocessed fish fillets; and dried or canned beans (rinse them before you cook to lower sodium content). Add beans to meat dishes so you won't need as much meat—this simple step will lower the cost and your saturated fat intake.
Look down too: Often the priciest items are shelved at eye level, while cheaper store brands are placed lower.
Pick what's in season.
When produce is plentiful, it tends to cost less, Stewart says. So, corn is a better buy in summer, while apples are a bargain in fall and winter, for example. The United States Department of Agriculture provides a season-by-season list of fruits and vegetables.
Consider canned or frozen produce and beans.
Stewart says they can pack as many nutrients as fresh produce, and at a good price. Look for "low sodium" or "no salt added" on the label.
Don't shop when you're hungry.
You'll be less tempted by junk food and impulse buys—like those fragrant bakery items and the handy snacks at the cash register.
Cook more meals at home.
Johns Hopkins research shows that people who cook meals at home eat healthier and consume fewer calories than those who cook less often.
Tip adapted from hopkinsmedicine.orgiii 
---
Copyright (C) 2021.  Ballentine Capital Advisors.  All rights reserved.
Our mailing address is: 
Ballentine Capital Advisors
15 Halton Green Way
Greenville, SC 29607
unsubscribe from this list    update subscription preferences 
Disclosure:
Ballentine Capital Advisors is a registered investment adviser. The advisory services of Ballentine Capital Advisors are not made available in any jurisdiction in which Ballentine Capital Advisors is not registered or is otherwise exempt from registration.
Please review Ballentine Capital Advisors Disclosure Brochure for a complete explanation of fees. Investing involves risks. Investments are not guaranteed and may lose value.
This material is prepared by Ballentine Capital Advisors for informational purposes only. It is not intended to serve as a substitute for personalized investment advice or as a recommendation or solicitation or any particular security, strategy, or investment product.
No representation is being made that any account will or is likely to achieve future profits or losses similar to those shown. You should not assume that investment decisions we make in the future will be profitable or equal the investment performance of the past. Past performance does not indicate future results.
Advisory services through Ballentine Capital Advisors, Inc.
---
i https://www.golfdigest.com/story/how-to-hit-uphill-chip-shot-golf-instruction
ii https://www.taste.com.au/recipes/creamy-chicken-gnocchi-bake-recipe/y2lqso0u
iii https://www.hopkinsmedicine.org/health/wellness-and-prevention/heart-healthy-eating-on-a-budget