In 2007 housing prices did something that was unthinkable at the time. They started to go down. And by the end of 2008 the Case-Shiller home price index reported its largest price drop in its history, a contraction of 18%.1
Homeowners found this drop in the real estate market so shocking because in their recent memory, property values had only gone up. In fact, this belief in ever-appreciating real estate may have worsened the crisis as many people had taken on debt with the assumption they could always pay it off with the growing equity in their house.
In the past few years a "hot" real estate market, with home values increasing at 6% a year, has turned super-hot with year-over-year increases of as much as 25% in some cities.2
Observable history and basic economics indicate that price increases almost certainly cannot continue at this pace. In order to sell a house for one-fourth more than it was worth last year, you have to have a buyer not only willing but able to pay that premium.
As values continue to soar, more and more buyers are being priced out of the market.
Naturally, the question on many people's mind is, "Will the housing market crash in the near future?"
Dire predictions always seem to grab headlines. But even those who claim to foresee a major real estate correction admit that it probably won't look like the crash of 2007-2008. For one thing, the economic factors are different.
In the run-up of the early 2000s a combination of easy mortgage qualification requirements and the popularity of adjustable interest rate loans led to waves of homeowners defaulting on their house payments.
This time around those two factors do not seem to be present.
Robert Shiller, Nobel Prize winning economist and co-creator of the leading housing price benchmark, says that the current market has some aspects of a bubble to it, especially the way people are making sense of it as a "story."
Shiller observes that similar to the early 2000s, "There is excitement and people are talking and some people are bidding way more than the asking price and that becomes a narrative or a story."3
People tend to be driven by narratives and sentiment. And when that overarching story changes, so does economic behavior. The new story, in this case, would be that real estate cannot be expected to go up by double-digits every year.
Shiller is predicting that prices will eventually drop, not overnight, but, as he says, "enough to cause some pain."
Predicting the future of any market is almost impossible. Who could have guessed that last year's overpriced homes would look like bargains in today's market? Not to mention a house is meant to be lived in and not usually the focus of a retirement plan.
Knowing that the future value of any asset or investment is uncertain, the most prudent course of action for an investor saving for retirement is to have a plan, be broadly diversified, and focus on the long-term. We are honored to partner with and help our clients work towards their goal.
Have a wonderful weekend!






Source: Efficient Advisors
---
Golf Tip of the Week
How to Control Speed on Downhill Putts
The common mistake when putting up or down a slope is to adjust the force applied in the stroke. In other words, giving the ball a whack when you need to get it up on another tier, or gently tapping it when it's all downhill to the hole. If you're adjusting how hard you hit the ball from putt to putt, you'll lose your rhythm, and getting the speed right becomes a matter of luck, not skill.
Here's a way to take control of these uphill and downhill putts so that even when you do miss, the next one is a tap-in. Let's start with the downhill one I'm hitting here. When you're in a similar situation, before you take the club back, imagine the hole is closer to you than it is. How close? Depends on the severity of the slope but get your imagination working as you make a practice stroke at the same pace you would for any other putt. You'll find your stroke is shorter, but the club smoothly accelerates.
The opposite works with uphill putts. Just think the hole is farther away than it really is. The only thing that should change is the length of the stroke. Keep the tempo the same, and you'll have much better control on the slopes.
Tip adapted from golfdigest.comi
---
Recipe of the Week
Artichoke Spinach Dip with Roasted Red Bell Peppers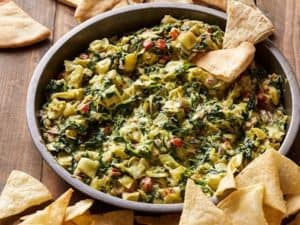 6 to 8 Servings
Ingredients
14 ounces canned (or frozen, thawed)
artichoke hearts, drained, diced (not
marinated)
9 ounces frozen creamed spinach, thawed
1/2 cup finely diced red onion
1/2 cup diced roasted red bell pepper
1/3 cup grated Parmesan
2 tablespoons jarred pesto sauce
2 tablespoons mayonnaise
1 teaspoon freshly cracked black pepper
1/2 teaspoon salt
1 package tortilla chips
1 package pita chips
Directions
In a medium mixing bowl, add all the ingredients, except the chips, and mix well. Transfer to a 9 by 9-inch foil baking pan and cover with aluminum foil. Put on the grill over indirect heat (350 degrees is ideal) and cook for 15 minutes, turning every 5 minutes, to keep the heat even. Carefully remove from the grill and serve with the chips.
Note: The dip can be prepared in advance and kept in the refrigerator until ready to cook. If this is done, add 10 minutes to the cook time.
Recipe adapted from foodnetwork.comii 
---
Health Tip of the Week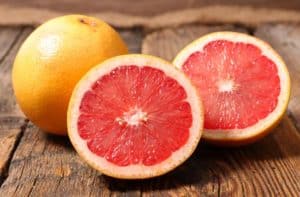 Top 12 Healthful Fruits
Eating more fruit is an excellent way to improve overall health and reduce the risk of disease.
Fruits are an excellent source of essential vitamins and minerals, and they are high in fiber. Fruits also provide a wide range of health-boosting antioxidants, including flavonoids.
Eating a diet high in fruits and vegetables can reduce a person's risk of developing heart disease, cancer, inflammation, and diabetes. Citrus fruits and berries may be especially powerful for preventing disease.
A 2014 study Trusted Source ranked "powerhouse" fruit and vegetables by high nutrient density and low calories.
Lemons
Strawberries
Oranges
Limes
Grapefruit
Blackberries
Apples
Pomegranate
Pineapple
Bananas
Avocado
Blueberries
Tip adapted from medicalnewstoday.comiii
---
Copyright (C) 2021. Ballentine Capital Advisors. All rights reserved.
Our mailing address is:
Ballentine Capital Advisors
15 Halton Green Way
Greenville, SC 29607
unsubscribe from this list update subscription preferences
Sources:
1. https://en.wikipedia.org/wiki/United_States_housing_bubble
2. https://www.bloomberg.com/news/articles/2021-09-01/where-home-prices-are-rising-the-most-us-cities-seeing-over-25-spike
3. https://finance.yahoo.com/news/robert-shiller-home-prices-to-fall-and-cause-some-pain-103750858.html
Disclosure:
The views expressed herein are exclusively those of Efficient Advisors, LLC ('EA'), and are not meant as investment advice and are subject to change. All charts and graphs are presented for informational and analytical purposes only. No chart or graph is intended to be used as a guide to investing. EA portfolios may contain specific securities that have been mentioned herein. EA makes no claim as to the suitability of these securities. Past performance is not a guarantee of future performance. Information contained herein is derived from sources we believe to be reliable, however, we do not represent that this information is complete or accurate and it should not be relied upon as such. All opinions expressed herein are subject to change without notice. This information is prepared for general information only. It does not have regard to the specific investment objectives, financial situation and the particular needs of any specific person who may receive this report. You should seek financial advice regarding the appropriateness of investing in any security or investment strategy discussed or recommended in this report and should understand that statements regarding future prospects may not be realized. You should note that security values may fluctuate and that each security's price or value may rise or fall. Accordingly, investors may receive back less than originally invested. Investing in any security involves certain systematic risks including, but not limited to, market risk, interest-rate risk, inflation risk, and event risk. These risks are in addition to any unsystematic risks associated with particular investment styles or strategies.
The articles and opinions expressed in this newsletter were gathered from a variety of sources but are reviewed by Ballentine Capital Advisors prior to its dissemination. All sources are believed to be reliable but do not constitute specific investment advice. In all cases, please contact your investment professional before making any investment choices.
Securities through Triad Advisors, LLC, Member FINRA/SIPC. Advisory services through Ballentine Capital Advisors, Inc. Triad Advisors and Ballentine Capital Advisors are not affiliated entities.
---
i https://www.golfdigest.com/story/butch-harmons-two-step-slice-fix
ii https://www.tasteofhome.com/recipes/buffalo-chicken-egg-rolls/
iii https://www.medicalnewstoday.com/articles/324431