Inflation is the silent thief that slowly and steadily erodes the purchasing power of your retirement savings. It's like a slow-burning fire that consumes everything in its path. The more you ignore it, the bigger it gets.
So, what is inflation? Simply put, it's the increase in the prices of goods and services over time.
As prices increase, your savings lose value, and your purchasing power decreases. This means that the retirement savings you thought would be enough to live comfortably in your golden years may no longer be sufficient. To make matters worse, inflation can be unpredictable and vary from year to year, making it difficult to plan for.
Inflation can have a significant impact on retirement savings, as prices increase over time and reduce the purchasing power of your nest egg. The rising cost of goods and services will make it more expensive to maintain your standard of living in retirement. Therefore, it's important to take steps to protect your nest egg from the effects of inflation.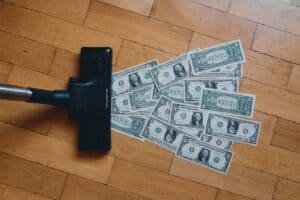 The Inflation Solution
Invest in assets that appreciate at a rate higher than inflation. The best means by which to do this is structuring your portfolio to capture returns from the global market. Asset class diversification is crucial to ensure that your portfolio is not heavily dependent on a single asset or region. By investing in a variety of assets, you can mitigate risks and take advantage of opportunities for growth. Structured asset class investing ensures that your money is broadly diversified and captures the returns of small stock, large stocks, value stocks, international stocks, emerging market stocks, etc. Since markets do not move in tandem with each other, it is critical to position your portfolio to capture these returns. The good news is that by being globally diversified, you can lower the overall potential risk in the portfolio and capture a potentially higher rate of return.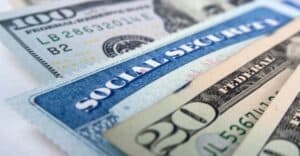 Maximizing Your Social Security Benefits
Another critical factor to consider is maximizing your Social Security benefits. A Social Security analysis can help you determine the best time to start collecting benefits, which can make a significant difference in your retirement income. Waiting until your full retirement age or even delaying until age 70 can significantly increase your benefits, providing you with more income to cover your expenses.
The Importance of Financial Planning
Having a financial plan in place is critical for retirement success. A well-designed plan can help you achieve your retirement goals by providing a roadmap to follow. The first step in developing a financial plan is to identify your retirement goals. This means determining the lifestyle you want to lead in retirement, the amount of income you'll need, and the age at which you want to retire. With these goals in mind, you can start assessing your current financial situation to determine how much you'll need to save and invest to achieve your goals.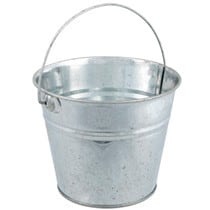 The Bucket Strategy
Once you have a clear understanding of your retirement goals and current financial situation, you can deploy a strategy to help ensure that inflation or volatile market will not rob you of your retirement goals. Our signature Bucket Strategy of Retirement Income has helped clients navigate retirement for nearly 25 years. You can rest assured you should receive a paycheck that increases with inflation throughout retirement.
Conclusion
Protecting your nest egg from inflation is crucial to ensuring a comfortable retirement. By diversifying your portfolio, maximizing your Social Security benefits, and having a solid financial plan in place, you can stay on track towards achieving your retirement goals. Don't wait until it's too late to take action – start planning now to safeguard your savings and enjoy your golden years with peace of mind.
Have a great weekend!




Source: Ballentine Capital Advisors 
---
Golf Tip of the Week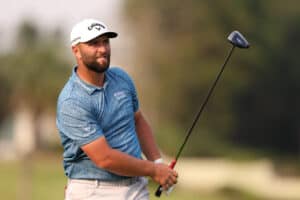 Learn This Energy Transfer Move To Start Your Downswing Like A Tour Pro
There aren't many, if any, elite-level golfers who take the club back shorter than World No. 1 Jon Rahm. But guess what? As short as his backswing is when compared to his peers, he still kills the ball. He might be the best driver in pro golf. He was first in total driving, strokes gained off the tee and fifth in distance (318.9 yards) in 2021-'22 on the PGA Tour. This year? He's top 15 in all three again and No. 1 in scoring. He's awesome.
If he's not generating power through the length of his swing; if his swing length looks nothing like John Daly's or Bubba Watson's or Phil Mickelson's, then how does he do it?
There are a number of factors including his strength, how he recruits the big muscles of his body, how he leverages the ground, etc. But not to be overlooked is how he transitions from backswing to downswing. It's a move all good golfers make, but Rahm is the focus here because the length of his backswing is similar to the length of the typical amateur's backswing. There's a lot you can learn from his action.
Lead with the lower body
"Note that his lower body already has started its move toward the target while the upper body is still completing the backswing. In other words, Rahm is moving in two directions at the same time," says Hall of Fame golf instructor David Leadbetter. "This action is like snapping a towel or cracking a whip, and it transfers a lot of energy into the club."
Unfortunately, this change-of-direction move is awkward for many amateurs to copy, Leadbetter says. You're essentially being asked to laterally shift your lower body toward the target as your upper body is still rotating away from it. But it might be uncomfortable because you're thinking about it the wrong way.
It's likely that you already do it other activities. The classic example would be to pick up a football and throw it as far as you can. Pay attention to how you intuitively step toward the spot where you are going to throw while your throwing arm is moving away from it. That's the transition in golf!
1 move to help you groove it
Here's another comparative move: Shadow box and throw a big uppercut with your dominant hand. What initiated the sequence?
Yep, your hips rotated forward while you were loading up your arm for the big punch. Again, that's what your golf-swing transition should feel like—the hips lead."Creating a proper downswing sequence is very challenging for most amateurs because we all intuitively want to create speed and power with our arms," says Neal Hausch (@neal_hauschgfp), a Golf Digest Certified Fitness Trainer and one of 50 Best Trainers in America. "The key is to get the arms out of the equation. You have to train to use the body's big engines to create power."




Tip adapted from golfdigest.comi
---
Recipe of the Week
Shepherd's Pie Potato Bowls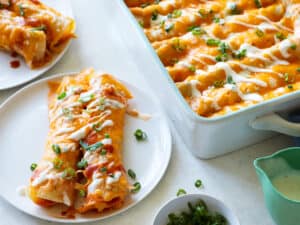 4-6 Servings
Ingredients
 
9 tomatillos, husked and rinsed
1/2 medium white onion
1 serrano chile
1 yellow chile (guero)
2 cloves garlic
1/2 cup fresh cilantro leaves, loosely packed
Salt and freshly ground black pepper
1/4 cup vegetable oil
6 (6-inch) corn tortillas
2 store-bought rotisserie chicken breasts, skinned and shredded (to yield 1 1/2 cups)
1/2 cup Mexican crema or sour cream
1 cup shredded Monterey Jack cheese
Instructions
Preheat the oven to 350 degrees F.
Put the tomatillos, onion, serrano, yellow chile and 3/4 cup water in a medium, heavy saucepan. Bring to a boil over medium-high heat. Cover and boil until the tomatillos turn olive-green color, about 10 minutes. Transfer the tomatillos, onion and chiles to a blender. Add the garlic and cilantro and blend until smooth. Season with salt and pepper.
Heat the oil in a small skillet over medium-high heat. Fry the tortillas until golden but still pliable, about 10 seconds per side. Transfer to paper towels to drain.
Put the tortillas on a work surface. Divide the shredded chicken evenly among the tortillas and roll up each like a cigar. Spread 1/3 cup sauce in a 9 by 13-inch glass baking dish. Arrange the enchiladas, seam-side down, in one layer snugly inside the dish. Pour the remaining sauce over the enchiladas.
Drizzle with the Mexican crema and sprinkle the cheese all over. Bake until the cheese melts and starts to brown in spots, about 30 minutes. Serve immediately.


Recipe adapted from foodnetwork.comii
---
Health Tip of the Week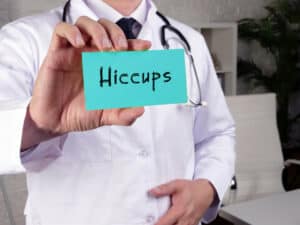 How Do I Get Rid of the Hiccups?
Most hiccups will go away on their own. But in some cases they can last for a while. And if you test one of those old wives' tales about stopping hiccups – say, getting someone to scare you – you're probably going to be disappointed.
There are a few home remedies you can try, although there's not very much proof that any of them really work.
Hold your breath and swallow three times
Breathe into a paper bag but stop before you get lightheaded!
Drink a glass of water quickly
Swallow a teaspoon of sugar
Pull on your tongue
Gargle with water
If your hiccups last more than 2 days or are severe enough to interfere with eating, breathing, or sleeping, contact your doctor. They might be able to treat chronic hiccups with medication or run some tests to see why your hiccups aren't going away.
Talk to your doctor immediately if, along with hiccups, you have any kind of stomach pain, chest pain, fever, shortness of breath, or vomiting, or if you cough up blood.




Tip adapted from webmd.comiii 
---
Copyright (C) 2021.  Ballentine Capital Advisors.  All rights reserved.
Our mailing address is:  
Ballentine Capital Advisors
15 Halton Green Way
Greenville, SC 29607
unsubscribe from this list    update subscription preferences  
Disclosure:
Ballentine Capital Advisors is a registered investment advisor. The advisory services of Ballentine Capital Advisors are not made available in any jurisdiction in which Ballentine Capital Advisors is not registered or is otherwise exempt from registration.
Please review Ballentine Capital Advisors Disclosure Brochure for a complete explanation of fees. Investing involves risks. Investments are not guaranteed and may lose value.
This material is prepared by Ballentine Capital Advisors for informational purposes only. It is not intended to serve as a substitute for personalized investment advice or as a recommendation or solicitation or any particular security, strategy, or investment product.
No representation is being made that any account will or is likely to achieve future profits or losses similar to those shown. You should not assume that investment decisions we make in the future will be profitable or equal the investment performance of the past. Past performance does not indicate future results.
Advisory services through Ballentine Capital Advisors, Inc.
i https://www.golfdigest.com/story/get-your-downswing-started-like-a-tour-pro
ii https://www.foodnetwork.com/recipes/marcela-valladolid/chicken-enchiladas-recipe-1924424
iii https://www.webmd.com/digestive-disorders/hiccups-treatment
---