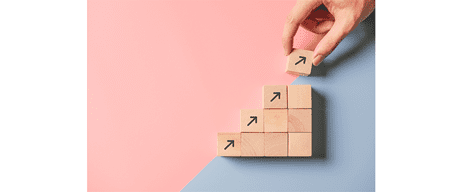 The data on our chances of keeping New Year's resolutions is depressing.

According to a recent study by the University of Scranton, 91% of people fail to stick to their new goals for a full year. But the weakness in willpower over the short-term is even more sobering. They found 27% of people couldn't keep their resolutions through the first week.1

And while technology hasn't been able to guarantee success in this area, it has been able to measure our failures more accurately. The creators of the fitness app Strava analyzed more than 98 million uploaded fitness activities and discovered that there's a day on which people are most likely to quit their healthier behavior: January 19. The company now identifies this specific day as 'Quitter's Day' in hopes their users can be aware of it and push through it successfully.

Gareth Mills of Strava explained, "Millions of us start the new year with the best of intentions, and by crunching the data from Strava's community we hope more of us can get past the motivational hurdles we face in January."2

But focusing on motivation might be the problem in the first place.

Conventional wisdom holds that motivation leads to action. The better you feel and the more energized you are, the more likely you are to take your desired step. But ultra-endurance athlete and self-improvement guru Rich Roll told Outside Magazine that this kind of thinking is backwards.

Take morning exercise, for example. You may feel motivated to get up early and do this for a while. But pretty soon you find you're no longer motivated or energized by the idea. When that happens, you are more likely to give in to the temptation to forego the workout and sleep in.

"Mood follows action," explained Roll. "If I'm in a rut, I force myself to move my body, even if only a little bit. This helps shift my perspective and reset my operating system—and more often than not, the sun starts shining again."

In other words, if you want to feel motivated to go running, just start running.

The key is to set up your desired behavior as a routine. And then simply go through the steps regardless how motivated you feel. For example, lay out your running clothes the night before. In the morning it will take little willpower to put them. And since you have them on, you might as well warm up. Before you know it, you'll be regularly running.

This works with other behaviors as well such as healthier eating, tracking your spending through a budget or even staying disciplined with your long-term investment strategy.

You'll find that as you do these things, even when you don't feel like doing them, your motivation to continue doing them can increase. And over time, what once seemed to take all your willpower will become a comfortable routine. Something you may actually look forward to doing.
We are here to help you stick to your long-term financial goals.

Have a great weekend!
Source: Efficient Advisors
---
Golf Tip of the Week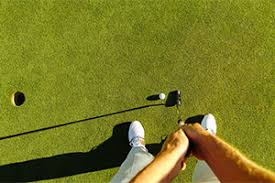 Master the Aggressive Putt
To learn how to be aggressive, you have to become an expert green reader. First, evaluate how much slope there is behind the hole. If the green slopes away, heed your speed and play it safe. If there's an uphill slope or the green flattens out, consider a run at the hole.
Secondly, you have to become proficient at reading grains. Take a look at the grass and note which way the grain is going. If it turns out that your downhill putt is with the grain, then know it's going to be extra-slippery. If you're putting into the grain (the grain is facing away from the hole), this is your green light to make a more aggressive stroke. If the green is going either left or right of you, note that the putt will break more in the direction of the grain.
The best putting stance is the one that matches your stroke. If you swing open to closed, standing more upright will help. If you have a more squared stroke, address the ball in a lower position, but allow the arms to hang freely. Always assess the slope before you putt and don't forget to look at the grain.
Tip adapted from GolfTipsMag.comi
---
Recipe of the Week
Grilled Pizza Panini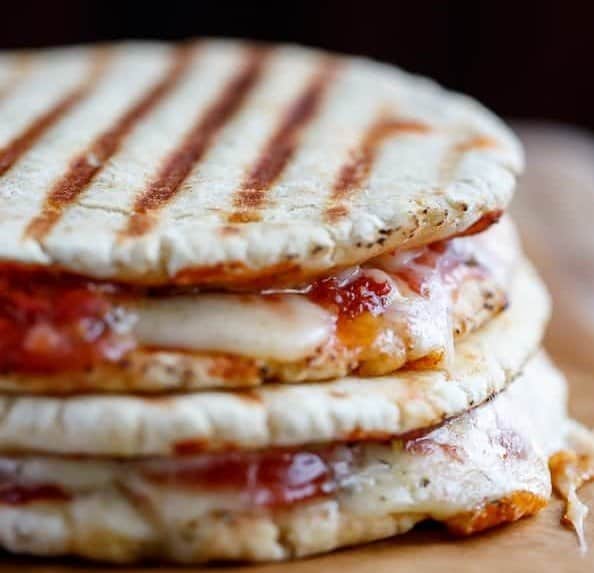 Serves 4
INGREDIENTS
8 thin mini pizza dough bases
2 tablespoons Pizza Tomato Paste (or Pizza Sauce), divided
2 tablespoons roasted red capsicum/pepper paste (optional, but it guarantees a great flavor; if you don't have this just replace with extra tomato paste), divided
Italian dried herbs mix (oregano; basil; parsley; thyme, etc)
12 slices Pepperoni, divided (or more — adjust to your tastes)
8 thin slices Mozzarella cheese
Olive oil spray
INSTRUCTIONS
Preheat your Panini Maker; Sandwich Press or George Foreman Grill according to manufacture instructions.
Lay each pizza base down on a work surface. Spread both the pizza tomato paste/sauce and the red capsicum/pepper paste on each pizza base; sprinkle with the Italian herbs.
On only four of the bases, layer with the pepperoni slices and mozzarella cheese. Season with salt and/or pepper (optional). Place the remaining four bases over each pizza to create a sandwich. Spray your Panini/Press machine with cooking oil spray, and lightly spray the outer sides of each sandwich (or brush over with oil). Place onto the Panini/Sandwich maker and cook until the pizza crust turns golden and the cheese on the inside has melted through.
Serve!
Recipe adapted from Cafedelites.comii
---
Health Tip of the Week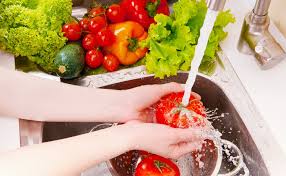 Avoid Getting Sick With Proper Food Handling
The winter season is a common time for coming down with the cold, flu, and other sicknesses. An additional way you can find yourself under the weather is from improperly handling your food. While most food-borne infections don't become life-threatening illnesses, some can turn into serious medical problems, such as kidney failure and meningitis. You can decrease your chances of introducing new microbes at home and increase your ability to kill microbes in the foods you buy with these simple tips:
Personal Care
Wash your hands with soap and water both before and after handling any raw meat.
Food Care
Rinse all meat, poultry, fish, fruits, and vegetables under running water before cooking or serving them.

Separate raw foods from any cooked foods; never let them cross-contaminate.
Cooking Care
Do not leave foods out on a counter, table, or other open space to defrost. Only defrost foods in the refrigerator or in the microwave.

Wash all utensils and cutting boards used to prepare raw meat before reusing them.
Cook foods thoroughly and test temperatures with a meat thermometer. Cook whole poultry to 180° F, roasts and steaks to 145° F, ground meats to 160° F, and fish until it is opaque.

Tip adapted from Harvard Health Publishingiii
---
Copyright (C) 2021.  Ballentine Capital Advisors.  All rights reserved.
Our mailing address is:
Ballentine Capital Advisors
15 Halton Green Way
Greenville, SC 29607
unsubscribe from this list update subscription preferences
Sources:
1. https://go.efficientadvisors.com/e/91522/et-motivation-and-focus-action/6tvxp3/1087975384?h=05nvVyf-clr1OGs-uF6hvpGGc_tL-lNir8JrxwloGts
2. https://go.efficientadvisors.com/e/91522/ople-most-likely-give-21199904/6tvxp5/1087975384?h=05nvVyf-clr1OGs-uF6hvpGGc_tL-lNir8JrxwloGts
Disclosure:
The views expressed herein are exclusively those of Efficient Advisors, LLC ('EA'), and are not meant as investment advice and are subject to change. All charts and graphs are presented for informational and analytical purposes only. No chart or graph is intended to be used as a guide to investing. EA portfolios may contain specific securities that have been mentioned herein. EA makes no claim as to the suitability of these securities. Past performance is not a guarantee of future performance. Information contained herein is derived from sources we believe to be reliable, however, we do not represent that this information is complete or accurate and it should not be relied upon as such. All opinions expressed herein are subject to change without notice. This information is prepared for general information only. It does not have regard to the specific investment objectives, financial situation and the particular needs of any specific person who may receive this report. You should seek financial advice regarding the appropriateness of investing in any security or investment strategy discussed or recommended in this report and should understand that statements regarding future prospects may not be realized. You should note that security values may fluctuate and that each security's price or value may rise or fall. Accordingly, investors may receive back less than originally invested. Investing in any security involves certain systematic risks including, but not limited to, market risk, interest-rate risk, inflation risk, and event risk. These risks are in addition to any unsystematic risks associated with particular investment styles or strategies.

The articles and opinions expressed in this newsletter were gathered from a variety of sources but are reviewed by Ballentine Capital Advisors prior to its dissemination. All sources are believed to be reliable but do not constitute specific investment advice. In all cases, please contact your investment professional before making any investment choices.
Securities through Triad Advisors, LLC, Member FINRA/SIPC. Advisory services through Ballentine Capital Advisors, Inc. Triad Advisors and Ballentine Capital Advisors are not affiliated entities.
i https://www.golftipsmag.com/instruction/shotmaking/money-shots/
ii https://cafedelites.com/grilled-pizza-panini/
iii https://www.health.harvard.edu/how-to-prevent-infections