Contrarian investment strategies often seem to make a lot of sense in theory. For example, if the stocks that are the biggest gainers attract all the attention, then shouldn't the stocks with the least volatility be routinely undervalued?
After all, minimizing your losses can be just as important as maximizing your gains, particularly if you're focused on shorter time periods.
There are a growing number of funds that have taken this implied "low-risk" approach. And according to The Wall Street Journal, they are proving popular with investors, who poured $22.3 billion into them last year.1
According to WSJ investing columnist Jason Zweig, these funds buck the traditional belief that stocks with higher risks should generate higher returns in the long run. The logic goes that while other investors are pursuing the excitement of short-term gains, they're undervaluing low-volatility stocks, enabling them to deliver superior returns in the long run.
To achieve this low-risk position these funds have bulked up on historically stable areas
such as financials, electric utilities, and real estate. And their past results look impressive on paper. But according to Zweig, while they do reflect actual data, it's presented in a context that would not exist in the real world.
"Often, the 'backtests,' or hypothetical historical results used to market such funds are based not on one portfolio, but two. Researchers assume an investor bought the best stocks identified by the strategy and sold short, or bet against, the worst." And, he adds, they often pretend trading is free.
In other words, it's unlikely any investors or even the funds could have achieved these hypothetical results in the real world.
The past year was especially rough on these low-risk funds. According to FactSet, which tracked 19 of them, nearly all exhibited volatility that was at least 85% of their market averages. And more than a third fluctuated even more than their benchmarks.
In general, they lost a little less than their peers in the March 2020 drop, but then lagged far behind when stocks shot back up.
It's not a mistake to try lowering your risk. But it is a mistake to assume the future will closely resemble the past on any strategy that's supposedly figured out a way to "beat the market."
The prudent investor will work with us to help determine their appropriate risk profile for their specific financial situation, and then look to mitigate that risk with a globally diverse allocation and strategic rebalancing.
Have a wonderful weekend!


Source: Efficient Advisors
---
Golf Tip of the Week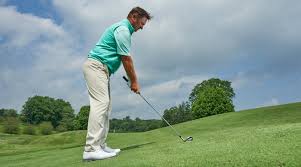 Master a Sidehill Lie into Green
Sidehill lies can be challenging, but not if you know what to expect when you encounter one. For starters, when the ball is above your feet, it's going to hook. Below your feet, the likely shot will be a fade. With longer irons, the ball will hook or fade more than it will with shorter clubs
In my case, the ball is above my feet. This means the ball will launch right of the target and draw back toward the pin. However, since I'm in the rough, there won't be as much draw spin had I been in the fairway, so I can take a more aggressive line at the target. I start by addressing the ball with a slightly closed stance, a centered ball position and my weight evenly distributed over both heels. Since I'm on a slope, I'm going to take the club back on an inside-out path that will produce a drawing trajectory. The key is to not force a straight-back backswing into the slope. The opposite is true for a fade. Just allow the slope to dictate what swing path is best.
Let the slope determine the shape of your swing and allow for the necessary side-spin needed to hit the green. In the rough, expect a straighter shot than from the fairway.
Tip adapted from GolfTipsMag.comi
---
Recipe of the Week
Easy to Make Crepes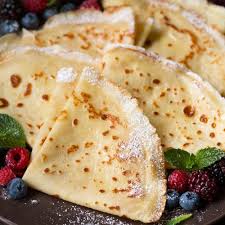 10 crepes
INGREDIENTS
FOR CREPES:
5 oz all purpose flour, (1 cup)
2 heaping tablespoons sugar
1/2 teaspoon salt
1 1/4 cup milk,
2 large egg
4 tablespoons melted butter, (or oil)
1 teaspoon pure vanilla extract
FOR COOKING:
1 tablespoon softened butter
INSTRUCTIONS
FOR CREPES:
Whisk together flour, salt and sugar in a large bowl.
Make a well in the center and pour in milk, eggs and slightly cooled melted butter. Whisk wet ingredients first before folding into the dry ingredients.
Whisk until batter is smooth. Batter should be runny/watery. Add in 1-2 tablespoons extra milk, if needed.
COOK CREPES:
Let batter rest while preheating a 10-inch nonstick pan over medium heat. Alternatively, cover batter and refrigerate overnight.
Lightly grease pan with a layer of butter with a butter soaked paper towel or silicone brush.
Give the batter a light mix to move settled ingredients around before pouring out each crepe.
Pour about 1/4 cup of batter into the center of your hot pan. Swirl around in a circular motion to evenly coat the bottom of the pan, spreading the batter around the edges. Fill in any gaps with a little extra crepe batter if needed.
Place pan back on the heat.
Let crepe cook until the surface has set and the underside is slightly golden, about 1 minute.
Gently flip crepe and cook until set, about 30 seconds to 1 minute.
Repeat until all the batter is used up, mixing batter before pouring out each crepe.
Recipe adapted from Cafedelites.comii
---
Health Tip of the Week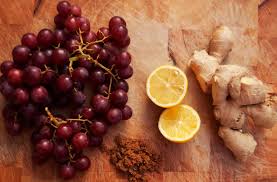 Try Pain-Fighting Superfoods
Research shows that some foods can help ease aches and pain about as well as over-the-counter pain medications. Though you should always consult with a physician before starting any new medical regimen, try adding the foods below to your diet when dealing with pain:
Red grapes contain resveratrol, a chemical that helps prevent tissue degeneration.
Ginger root isn't just a digestive aid or anti-nausea panacea; it can also help reduce the body's inflammatory response.
Soy protein can help cut osteoarthritis pain (by 30% or more in one study).
Tip adapted from AARPiii
---
Copyright (C) 2021. Ballentine Capital Advisors. All rights reserved.
Our mailing address is:
Ballentine Capital Advisors
15 Halton Green Way
Greenville, SC 29607
unsubscribe from this list update subscription preferences
Sources:
1. https://www.wsj.com/articles/some-investors-tried-to-win-by-losing-less-they-lost-anyway-11600441199
Disclosure:
The views expressed herein are exclusively those of Efficient Advisors, LLC ('EA'), and are not meant as investment advice and are subject to change. All charts and graphs are presented for informational and analytical purposes only. No chart or graph is intended to be used as a guide to investing. EA portfolios may contain specific securities that have been mentioned herein. EA makes no claim as to the suitability of these securities. Past performance is not a guarantee of future performance. Information contained herein is derived from sources we believe to be reliable, however, we do not represent that this information is complete or accurate and it should not be relied upon as such. All opinions expressed herein are subject to change without notice. This information is prepared for general information only. It does not have regard to the specific investment objectives, financial situation and the particular needs of any specific person who may receive this report. You should seek financial advice regarding the appropriateness of investing in any security or investment strategy discussed or recommended in this report and should understand that statements regarding future prospects may not be realized. You should note that security values may fluctuate and that each security's price or value may rise or fall. Accordingly, investors may receive back less than originally invested. Investing in any security involves certain systematic risks including, but not limited to, market risk, interest-rate risk, inflation risk, and event risk. These risks are in addition to any unsystematic risks associated with particular investment styles or strategies.

The articles and opinions expressed in this newsletter were gathered from a variety of sources but are reviewed by Ballentine Capital Advisors prior to its dissemination. All sources are believed to be reliable but do not constitute specific investment advice. In all cases, please contact your investment professional before making any investment choices.
Securities through Triad Advisors, LLC, Member FINRA/SIPC. Advisory services through Ballentine Capital Advisors, Inc. Triad Advisors and Ballentine Capital Advisors are not affiliated entities.
---
[i] https://www.golftipsmag.com/instruction/shotmaking/money-shots/


[ii]https://cafedelites.com/easy-to-make-crepes/
iii https://www.aarp.org/food/diet-nutrition/info-03-2011/pain-fighting-foods.4.html