Imagine it's the height of the holiday gift buying season and you're walking with many other shoppers toward the entrance of a major retailer. Above the sound of nearby traffic and tinny holiday music being piped out of the store, you hear the familiar ringing of a Salvation Army bell.
The bell ringer is wearing a flopped over Santa hat. His arm moves rhythmically up and down as he holds the door, wishes everyone "Merry Christmas!" and nods a thank you to the few who drop money into his red kettle.
You walk casually towards him, palming the gold Krugerrand in your pocket. You've wrapped it inside a dollar so it won't attract notice when you make your deposit.
Just ahead of you a woman opens her purse and pulls out a few bills. In the moment it takes her to fold them so they fit into the slot, you move up quickly to be the next in line. As the attendant turns to thank her for her donation, you slip yours into the kettle, and are into the store before anyone notices anything.
Congratulations. You've joined the secretive group of givers who each year slip dozens of Krugerrands (worth nearly $1800 at today's prices) into Salvation Army kettles around the country.1
Why do people like to make these kinds of donations anonymously? A study by Vanderbilt University's Owen Graduate School of Management found that being publicly recognized for a charitable gift diminishes the giver's feelings of altruism.2
Lead researcher Kelly Goldsmith said, "The effect was so strong that it actually makes givers significantly less likely to donate."
For unusual donations like the gold coins in the red kettles, the extravagance of the gift can act as a vote in support of the Salvation Army's mission to help all in need. And when mentioned by local media, it serves as a reminder to others to give generously.
As in other areas of your finances, it's good to have a plan when it comes to giving. And while you should earmark a consistent amount for charity, you can also have a category for "impulse giving," situations where your heart leads you to make an unplanned donation.
Special giving during the holiday season, especially to charities that assist people in financial hardship, not only helps those in need, but makes the season more joyful and meaningful for the giver.
End-of-year can be a good time to see what you have available for this kind of giving. And if you're feeling extra generous (and stealthy), you might also try sneaking a Krugerrand into a Salvation Army kettle.
Warm wishes to you and yours for a joy filled holiday season.
Have a wonderful Christmas weekend!







Source: Efficient Advisors
---
Golf Tip of the Week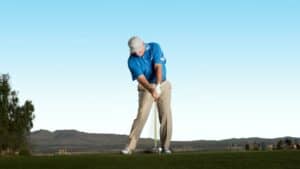 Butch Harmon's Greatest Driving Lesson
Driving the ball well carries extra importance. Not only does it set you up to play a hole, but I bet you have an emotional attachment to the driver: Good driving days are your favorite days. You're not alone. Some of the top players in the world feel the same way. We all step up on certain holes and want so bad to hit a great tee shot. Sometimes it's because the hole is difficult, or the right drive might lead to a birdie chance. The trouble is, most golfers equate great driving with distance. And trying for distance often leads to your worst drives, just when you need your best. Instead, pick a shot that favors position over power, and then follow a plan to hit it.
Short holes: swing to a distance
Uphill drives: set up a high launch
When it fits your eye: let the shot happen
Long holes: hit it better, not harder
Tip adapted from golfdigest.comi
---
Recipe of the Week
Pull-Apart Christmas Tree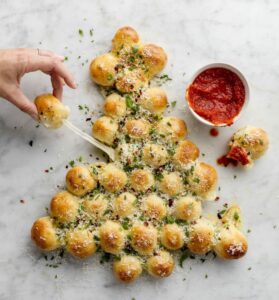 8 Servings
Ingredients
1 lb. refrigerated pizza dough
Egg wash (1 egg whisked with 1 tbsp. water)
7 mozzarella sticks
1/4 c. melted butter
1/2 c. finely grated Parmesan
1 tbsp. Thinly sliced basil
1 tbsp. chopped parsley
1 tbsp. chopped rosemary
Marinara, warmed (for serving)
Directions
1.Preheat oven to 450°. Line a large baking sheet with parchment paper. Cut mozzarella sticks into 1" pieces and set aside.
2.On a floured surface, divide pizza dough into two pieces. Stretch and roll each piece of dough into a long rectangle, then cut dough into 2" squares (you'll need 33 total).
3.Wrap a dough square around each piece of mozzarella, forming a tightly sealed ball. Place balls seam-side down on the baking sheet in the shape of a Christmas tree (they should be touching). Brush egg wash on dough balls and bake until golden, 15 to 20 minutes.
4.Meanwhile, whisk together melted butter, Parmesan and herbs. Brush on baked pizza balls. Serve warm with marinara for dipping.
Recipe adapted from delish.comii  
---
Health Tip of the Week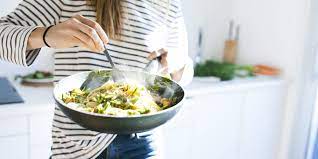 5 Easy Ways to Kickstart Your Clean-Eating Goals Before January 1st
Step away from the sugar cookies—and use these totally doable tips to ease into a healthier routine.
Many people refer to the days between Christmas and New Year's as a "twilight week." The bulk of the holiday season is behind us, but the fresh start of the new year still lies ahead. It's tempting to consider this cozy in-between time as your last hurrah before January 1st. But indulging freely in wine and snacking on leftover sugar cookies likely won't leave you feeling your best! Instead, why not use this week to ease into a healthier routine? By the time 2022 rolls around, you'll be off to a running start with your goals—whether you're aiming to slim down or simply eat more mindfully. Here are five completely doable strategies to focus on, to get your wellness back on track.
Re-think that drink
Up your H2O
Get into a healthy breakfast groove
Start cooking, even just veggies
Consider your splurges carefully
Tip adapted from health.comiii 
---
Copyright (C) 2021. Ballentine Capital Advisors. All rights reserved.
Our mailing address is:
Ballentine Capital Advisors
15 Halton Green Way
Greenville, SC 29607
unsubscribe from this list update subscription preferences
Sources:
1. https://en.wikipedia.org/wiki/Krugerrand#Charitable_donations
2. https://news.vanderbilt.edu/2019/12/11/when-making-small-donations-we-prefer-anonymity/
Disclosure:
The views expressed herein are exclusively those of Efficient Advisors, LLC ('EA'), and are not meant as investment advice and are subject to change. All charts and graphs are presented for informational and analytical purposes only. No chart or graph is intended to be used as a guide to investing. EA portfolios may contain specific securities that have been mentioned herein. EA makes no claim as to the suitability of these securities. Past performance is not a guarantee of future performance. Information contained herein is derived from sources we believe to be reliable, however, we do not represent that this information is complete or accurate and it should not be relied upon as such. All opinions expressed herein are subject to change without notice. This information is prepared for general information only. It does not have regard to the specific investment objectives, financial situation and the particular needs of any specific person who may receive this report. You should seek financial advice regarding the appropriateness of investing in any security or investment strategy discussed or recommended in this report and should understand that statements regarding future prospects may not be realized. You should note that security values may fluctuate and that each security's price or value may rise or fall. Accordingly, investors may receive back less than originally invested. Investing in any security involves certain systematic risks including, but not limited to, market risk, interest-rate risk, inflation risk, and event risk. These risks are in addition to any unsystematic risks associated with particular investment styles or strategies.
Ballentine Capital Advisors is a registered investment adviser. The advisory services of Ballentine Capital Advisors are not made available in any jurisdiction in which Ballentine Capital Advisors is not registered or is otherwise exempt from registration.
Please review Ballentine Capital Advisors Disclosure Brochure for a complete explanation of fees. Investing involves risks. Investments are not guaranteed and may lose value.
This material is prepared by Ballentine Capital Advisors for informational purposes only. It is not intended to serve as a substitute for personalized investment advice or as a recommendation or solicitation or any particular security, strategy, or investment product.
No representation is being made that any account will or is likely to achieve future profits or losses similar to those shown. You should not assume that investment decisions we make in the future will be profitable or equal the investment performance of the past. Past performance does not indicate future results.
Advisory services through Ballentine Capital Advisors, Inc.
---
i https://www.golfdigest.com/story/butch-harmons-greatest-driving-lesson
ii https://www.delish.com/cooking/recipe-ideas/recipes/a50528/pull-apart-christmas-tree-recipe/
iii https://www.health.com/nutrition/clean-eating-new-years-resolution