Whether we're ready for it or not, 2022 will be here soon. Another year will have passed. You'll look at your schedule, your finances, maybe even at the bathroom scale and wonder if this time next year you'll be any closer to achieving the changes in your life you'd really like to make.
It has been said, "History repeats itself."1 We see this when our actions may cause us an unexpected setback. But then the next time we're faced with a similar circumstance, we can't seem to resist taking the same action again—even though we are fully aware of its detrimental outcome.
Sales of expensive exercise equipment, scheduling planners, and weight loss apps soar in the first few weeks of January each year. People switch from indulging themselves to buying devices and memberships they hope will change how their conduct their lives.
Unfortunately, these hoped-for transformations rarely take hold. Research has shown that willpower alone is not enduring enough to cause significant life change.2 It eventually gives out and the person goes back to their habit.
The good news is that change is possible, and the New Year is an excellent time to work for self-improvement.
Business coach Ashira Prossack has helped her clients find success by inserting a step before they make new resolutions, and that's to spend time reflecting back on the year that is ending. The hustle of the holidays doesn't make this easy.
"With the end of the year fast approaching," she writes, "it's easy to feel overwhelmed. The holidays are often the busiest time of year, and there's the added pressure of trying to finish up everything (at work) before December 31st."3
Prossack says you have to purposely set aside time to think back. But, she adds, at the end of the year you're primed and ready to be in reflection mode.
The next step, she advises, is to write out your goals for your personal life and career. Don't worry yet about how you'll accomplish them. Just get them down on paper. And be as detailed as possible.
Finally, she says, write up your "game plan." Identify the things you will need to do to accomplish your goals. And then list the specific steps you will need to take. The important thing is to write it all out. This will force you to think clearly about what it will take for you to accomplish your goal. If you break them down into small, easily doable tasks, you'll be much better prepared to hit the ground running next year.
And as far as financial goals, we would love to talk with you about what you'd like to accomplish over the next 12 months and how we can help you get there.
Have a happy New Year and we will see you in 2022.






Source: Efficient Advisors
---
Golf Tip of the Week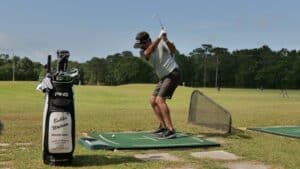 Bubba Shows You How to Hit a Draw and Turn it into a Hook
We all remember Bubba Watson's wedge shot out of the trees on the second playoff hole at the 2012 Masters. Who could hook a 52-degree wedge some 40 yards and stop it 15 feet from the hole? Bubba could—and did—and it led to his first of two Masters victories. It remains one of the most spectacular shots in the modern major era.
Bubba is known for his ability to shape the ball, sometimes out of necessity but often because he simply sees shots differently than other players do. "The straight ball is the hardest to hit, so I like to curve it," he explains. "When the pin is on the left, I want to cut it in there," Bubba says. "When the pin is on the right, I like to draw it in."
When setting up for a draw, Bubba says to start by closing your stance to the target. Then, think about swinging on more of an in-to-out path. Lastly, focus on releasing your wrists through the ball. "What I do at impact is roll the wrists to help the ball have that spin, so it'll curve," Bubba says.
If you're looking to create a more severe draw—like that hook Bubba hit at Augusta—he says simply roll the wrists faster. Clearly, Bubba plays more by feel than swing mechanics. Every golfer knows producing shots like that takes a lot of trial and error, especially if you want to try it with a major championship on the line! Then again, like Bubba says, hitting curves can be easier than hitting straight balls.
Tip adapted from golfdigest.comi
---
Recipe of the Week
Sparkling Winter Sangria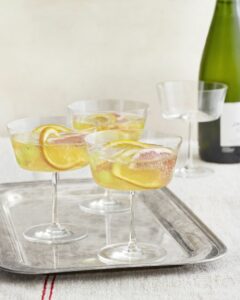 12 Servings
Ingredients
1 c. St-Germain liqueur
1/2 c. superfine sugar
3/4 c. green grapes, halved
2 tangerines, thinly sliced
1/2 small Ruby Red grapefruit, quartered then thinly sliced
2 bottles chilled Prosecco
Directions
1.In a medium bowl, combine St-Germain liqueur and superfine sugar; whisk together until sugar dissolves. Add green grapes, tangerines, and ruby red grapefruit; toss to combine.
2.Refrigerate until chilled, 30 minutes or up to 3 hours. To serve, spoon some fruit and about 1 tablespoon liquid into each glass. Divide Prosecco among glasses.
Recipe adapted from delish.comii  
---
Health Tip of the Week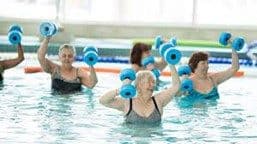 15 Natural Ways to Lower Your Blood Pressure
High blood pressure is a dangerous condition that can damage your heart. It affects one in three people in the US and 1 billion people worldwide.
If left uncontrolled, high blood pressure raises your risk of heart disease and stroke.
But there's good news. There are a number of things you can do to lower your blood pressure naturally, even without medication.
Here are 15 natural ways to combat high blood pressure:
Walk and exercise regularly
Reduce your sodium intake
Drink less alcohol
Eat more potassium-rich foods
Cut back on caffeine
Learn to manage stress
Eat dark chocolate or cocoa
Lose weight
Quit smoking
Cut added sugar and refined carbs
Eat berries
Try meditation or deep breathing
Eat calcium-rich foods
Take natural supplements
Eat food rich in magnesium
Tip adapted from medicalnewstoday.comiii
---
Copyright (C) 2021. Ballentine Capital Advisors. All rights reserved.
Our mailing address is:
Ballentine Capital Advisors
15 Halton Green Way
Greenville, SC 29607
unsubscribe from this list update subscription preferences
Sources:
1. https://www.brainyquote.com/quotes/karl_marx_382655
2. https://www.outsideonline.com/health/training-performance/willpower-isnt-always-enough/
3. https://www.forbes.com/sites/ashiraprossack1/2018/11/27/business-success-new-year-2019/
Disclosure:
The views expressed herein are exclusively those of Efficient Advisors, LLC ('EA'), and are not meant as investment advice and are subject to change. All charts and graphs are presented for informational and analytical purposes only. No chart or graph is intended to be used as a guide to investing. EA portfolios may contain specific securities that have been mentioned herein. EA makes no claim as to the suitability of these securities. Past performance is not a guarantee of future performance. Information contained herein is derived from sources we believe to be reliable, however, we do not represent that this information is complete or accurate and it should not be relied upon as such. All opinions expressed herein are subject to change without notice. This information is prepared for general information only. It does not have regard to the specific investment objectives, financial situation and the particular needs of any specific person who may receive this report. You should seek financial advice regarding the appropriateness of investing in any security or investment strategy discussed or recommended in this report and should understand that statements regarding future prospects may not be realized. You should note that security values may fluctuate and that each security's price or value may rise or fall. Accordingly, investors may receive back less than originally invested. Investing in any security involves certain systematic risks including, but not limited to, market risk, interest-rate risk, inflation risk, and event risk. These risks are in addition to any unsystematic risks associated with particular investment styles or strategies.
Ballentine Capital Advisors is a registered investment adviser. The advisory services of Ballentine Capital Advisors are not made available in any jurisdiction in which Ballentine Capital Advisors is not registered or is otherwise exempt from registration.
Please review Ballentine Capital Advisors Disclosure Brochure for a complete explanation of fees. Investing involves risks. Investments are not guaranteed and may lose value.
This material is prepared by Ballentine Capital Advisors for informational purposes only. It is not intended to serve as a substitute for personalized investment advice or as a recommendation or solicitation or any particular security, strategy, or investment product.
No representation is being made that any account will or is likely to achieve future profits or losses similar to those shown. You should not assume that investment decisions we make in the future will be profitable or equal the investment performance of the past. Past performance does not indicate future results.
Advisory services through Ballentine Capital Advisors, Inc.
---
i https://www.golfdigest.com/story/bubba-shows-you-how-to-hit-a-draw-and-turn-it-into-a-hook
ii https://www.countryliving.com/food-drinks/recipes/a4280/sparkling-winter-sangria-recipe-clv1212/
iii https://www.medicalnewstoday.com/articles/318716