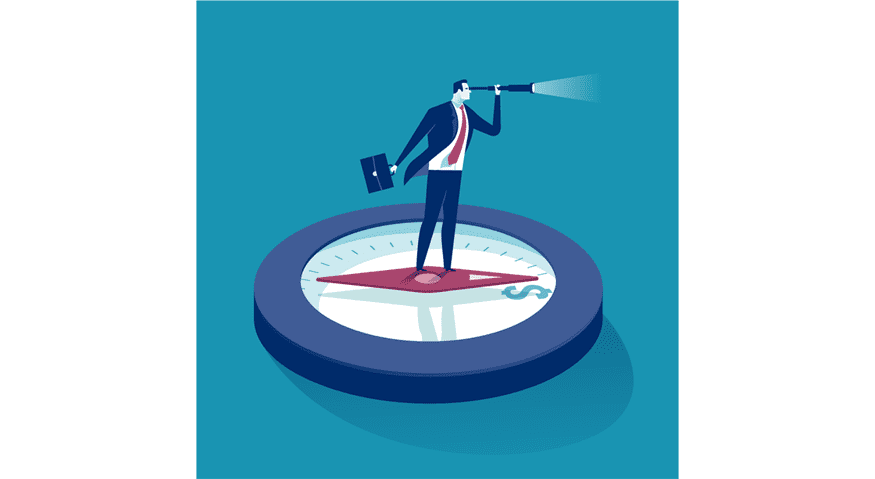 The existence of the continent of Antarctica was accurately predicted more than 1,300 years before it was first sighted by a European explorer.

The late classical-era author Macrobius published a crude world map some time in the 400s AD, which miraculously showed the southernmost continent in its correct position.1

However, this prediction of a land mass at the bottom of the world was not based on any scientific data, but rather was assumed from a philosophical speculation about the nature of the globe. Ancient thinkers, who were aware that the earth is spherical, thought that since there was a significant amount of land at the top of the northern hemisphere, it only made sense that it would be balanced out by an equal amount of land in the far southern regions.2

In other words, Macrobius's "dead-on" prediction was actually based on pure conjecture.

Of course, he also made a lot of other predictions about the shapes and locations of lands around the earth that were spectacularly wrong, including bizarre bands of territory he included on his map that showed the continent at the bottom of the globe.

It's good to remember this example as we read the market predictions for 2020. No doubt the analysts making these forecasts are brilliant people who've sifted through reams of historical data to come up with their prognostications. And some of them, like Macrobius, will by sheer coincidence end up being somewhat accurate. It just won't be apparent until after the fact.

Like the classical cartographer they are analyzing what is known (past market behavior) to try to predict the unknown (future market behavior). But it's still just conjecture. And like the theory that the world's land masses must be equally balanced, the theory that past market data can predict future performance is intellectually appealing.

However, both have been proved wrong.

The patrons who paid Macrobius were partly to blame for his inaccuracies. They pointed to the vast, unknown regions on his charts and said, "Tell me what's out there." So, the mapmaker made his best guess based on what he knew (or thought he knew).

Consumers of modern financial entertainment media also demand to know what the market will do this next year. So, the analysts are hired to make their best guesses. And, if you spend much time looking at their track records, you'll find they're not able to consistently predict future market outcomes (because they don't know).

The prudent investor will view these predictions as entertainment. And knowing that anything is possible in 2020, will continue to hold a broadly diverse portfolio that's designed to endure the unexpected regardless of so-called experts' forecasts.
Have a great weekend!
Source: Efficient Advisors
This MLK Day Do Something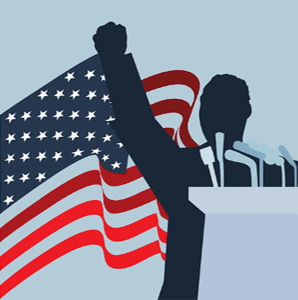 At his inauguration in 1961 the newly elected President Kennedy uttered the famous words, "Ask not what your country can do for you—ask what you can do for your country."3

It was surprising to hear this from a politician who had just won a national race. Normally, you win an election by telling your various constituencies what they will get from you if they can get you into office.

To the victor goes the spoils.

This is problematic for several reasons. First, there are promises a politician can't deliver on even if he or she wanted to. They're simply beyond the power of the office. Second, the government may not have the resources necessary to deliver the goods. It's just not in the budget.

But worse than those two, it frames the role of citizenship solely in terms of rights and ignores the responsibilities. While it may win votes in the short-term, it fails to inspire people in the long-term. And despite what political consultants might think, we really do want to be challenged to act for the good of our neighbors.

So, with that perspective in mind, it's encouraging to realized that our upcoming federal holiday—Martin Luther King Day—isn't just another day off with pay.

Dr. King did more than just call for equality for all under the law. He also felt strongly that everyone should serve as well.

He said, "Everybody can be great because everybody can serve."4

In other words, he defined greatness not as what you can achieve for yourself but rather what you can do for others.

That's why in the 1990s MLK Day was designated as "a national day of service to encourage all Americans to volunteer to improve their communities." It's the only federal holiday with this designation.

This year consider honoring the life and work of Dr. King by volunteering in your local community. As the federal Corporation for National and Community Service says, make the holiday "a day on, not a day off."
Source: Efficient Advisors
Golf Tip of the Week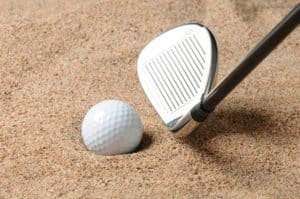 Avoid Overthinking Greenside Bunker Shots
Getting out of a greenside bunker with a lip of 3' or less is really pretty simple. Some golfers try to micromanage or overthink the shot: they try to pick it off the sand, or they open their stance or their clubface to the point where they are altering their entire swing path.
Focus on basics rather than extremes. Open your stance a few degrees to the left (assuming you play right-handed), aim slightly left of your target, and work your feet into the sand and increase the flex in your knees. You want to come down about 2" behind the ball, accelerating through the impact area, so that you are essentially throwing the ball onto the green on a "carpet" or "spray" of sand. A sand wedge (54-60 degrees of loft) is the right tool for the job.
Tip adapted from Plum Creek Golf i
Recipe of the Week
Hummus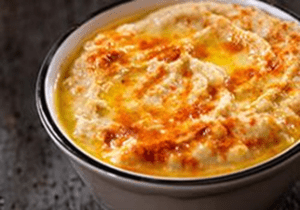 [2-4 servings]
Ingredients:
One 15 oz. can of garbanzo beans (chickpeas), drained
¼ cup of extra virgin olive oil
¼ cup of lime juice
2 Tbsp. tahini
1 (or more, to taste) peeled clove of garlic, or equivalent minced garlic
¼ tsp. cumin
1 tsp. cayenne pepper
1 tsp. paprika
Directions:
Combine all ingredients, apart from spices, into blender; blend until smooth.
Add spices and blend until evenly distributed.
Looking for smoother consistency? Add a tablespoon of water and blend, as desired.
Spicier? Add more cayenne, or other spices, to taste.
Recipe adapted from allrecipes.comii
Health Tip of the Week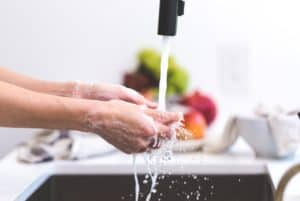 Reduce Your Risk of Getting Sick with One Simple Trick!
During the 2018-2019 flu season, the U.S. Centers for Disease Control and Prevention estimated that nearly 43 million people contracted the flu. The CDC says the best method of flu prevention is receiving the annual vaccine, but handwashing can also significantly reduce your risk of catching the flu as well as other contagious illnesses.
Just 20 seconds of briskly washing your hands with soap and rinsing under running water could lower your overall risk of respiratory illness by around 20%. Gastrointestinal ones, up to 30%. It's fast, easy, convenient, and very inexpensive, yet many of us take this healthy habit for granted. In fact, 81% of us don't regularly wash our hands after using the restroom. Yikes!
While this information should not substitute for medical advice from your health care provider, implementing better habits, like frequent handwashing, may be a good tool to help you and your loved ones stay healthier this flu season.
Tip adapted from Centers for Disease Control and Preventioniii
Copyright (C) 2019. Ballentine Capital Advisors. All rights reserved.
Our mailing address is:
Ballentine Capital Advisors
23 Buena Vista Way, Suite B
Greenville, SC 29615
unsubscribe from this list update subscription preferences
Sources:
1. https://go.efficientadvisors.com/e/91522/oi-10-7891-e-manuscripta-16478/6ck4gz/832263351?h=Ipa_xw0LFV3Wj-WV_U_aBmc3_vhRRutmI6Mt-J_dRzY
2. https://go.efficientadvisors.com/e/91522/wiki-Terra-Australis/6ck4h2/832263351?h=Ipa_xw0LFV3Wj-WV_U_aBmc3_vhRRutmI6Mt-J_dRzY
3. https://go.efficientadvisors.com/e/91522/at-your-country-can-do-for-you/6c23jn/827916993?h=slNP7rvjsC63vGSJ612tt5NGjEKNKUCIfKrMb8W9skA
4. https://go.efficientadvisors.com/e/91522/your-community-mlk-day-service/6c23jq/827916993?h=slNP7rvjsC63vGSJ612tt5NGjEKNKUCIfKrMb8W9skA
Disclosure: 

The views expressed herein are exclusively those of Efficient Advisors, LLC ('EA'), and are not meant as investment advice and are subject to change. All charts and graphs are presented for informational and analytical purposes only. No chart or graph is intended to be used as a guide to investing. EA portfolios may contain specific securities that have been mentioned herein. EA makes no claim as to the suitability of these securities. Past performance is not a guarantee of future performance. Information contained herein is derived from sources we believe to be reliable, however, we do not represent that this information is complete or accurate and it should not be relied upon as such. All opinions expressed herein are subject to change without notice. This information is prepared for general information only. It does not have regard to the specific investment objectives, financial situation and the particular needs of any specific person who may receive this report. You should seek financial advice regarding the appropriateness of investing in any security or investment strategy discussed or recommended in this report and should understand that statements regarding future prospects may not be realized. You should note that security values may fluctuate and that each security's price or value may rise or fall. Accordingly, investors may receive back less than originally invested. Investing in any security involves certain systematic risks including, but not limited to, market risk, interest-rate risk, inflation risk, and event risk. These risks are in addition to any unsystematic risks associated with particular investment styles or strategies.

The articles and opinions expressed in this newsletter were gathered from a variety of sources, but are reviewed by Ballentine Capital Advisors prior to its dissemination. All sources are believed to be reliable but do not constitute specific investment advice. In all cases, please contact your investment professional before making any investment choices.
Securities through Triad Advisors, LLC, Member FINRA/SIPC. Advisory services through Ballentine Capital Advisors, Inc. Triad Advisors and Ballentine Capital Advisors are not affiliated entities.

i https://www.plumcreekgolf.com/images/tips/Sand_Shots.pdf
iii https://www.allrecipes.com/recipe/240990/simple-spicy-hummus/
iii https://www.cdc.gov/flu/