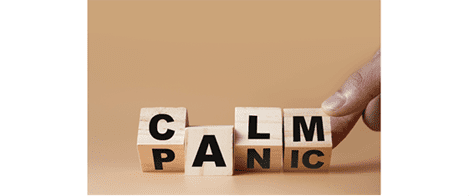 When people get lost in the woods, they invariably do one thing. They run (or walk as fast as they can) to get away from the place where they feel lost. Sadly, this action often takes them in a circle.1

But wait a minute, you say. That doesn't make any sense. How can you run away from a place if you don't know where you are?

Exactly.

Unfortunately, this fit of illogic doesn't just affect a few excitable people. Search and rescue professionals will tell you it affects everybody. Even people with years of experience in the outdoors. In fact, this exact phenomenon was noted by our ancient ancestors. They believed that the lost person had fallen under the influence of the forest god Pan. This belief is encoded in our word for this type of mindless fear—panic.2

Rescue professionals will tell you that the best thing you can do when you realize you are lost is sit down. Don't make the searchers' job more difficult by giving them a moving target. In the Canadian province of Nova Scotia, which is 80% dense forest and where hikers routinely get lost, schoolchildren are taught to "hug a tree and survive."

As we've seen this past year, panic isn't limited to wilderness areas. It also affects people in the stock market. When investors see short-term volatility—their holdings losing value instead of growing like they expect them to—they experience an overwhelming urge to get out.

Early last spring when the S&P 500 plummeted 34% in a matter of weeks, some investors sold their portfolios and fled to cash.3 Depending on how early in the correction they got out, this seemed like a good idea in the short-term. But as the market climbed steadily over the next several months, those who sought temporary refuge in cash may have paid a heavy price for their panic.

According to a study by Vanguard of their own investors' behavior, 86% of households who bailed out did not benefit from this action, with the strong majority of those who did not do as well as the market overall lagging by more than a few percent.

So how do you keep from giving in to the kind of irrational fear that causes you to act against your own self interest? Since there's no way to inoculate yourself against this emotional response, your next best option is to recognize fear for what it is and take preventive measures.

Forest rangers will tell you to never go into the woods alone. Having a GPS, emergency transponder, and survival gear are important. But having a partner along for the hike is what makes the difference. No matter what happens, you're not utterly alone.

This is the same reason a prudent investor develops a plan when it comes to saving for retirement.

We can help design a plan carefully tailored to your unique life situation, and be a partner to guide you to stay the course when feelings of panic are urging you to run.

Have a fantastic weekend!
Source: Efficient Advisors
---
Golf Tip of the Week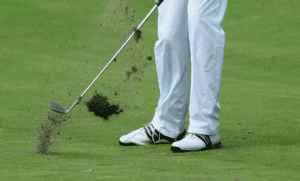 Master the Divot Blast
Hitting from a divot isn't as hard as you think. It's all in the know-how. Instead, factor this scenario as you would a simple knockdown shot. Position the ball in the rear portion of your stance and take a stronger grip than usual. Be sure the club face is square since it's likely to try and open at impact. The important factor in this shot is to keep your hands ahead of the ball well into the impact position to ensure a crisp, downward blow through impact.
Also, concentrate on the back side of the golf ball. This will prevent your body from rushing too far forward and hitting it too fat or thin. Since you're essentially hitting a knockdown shot, the swing will be abbreviated, so don't forget to add at least one more club than usual. Remember, don't force the shot, but do expect a low trajectory with some roll.
Always grip the club before you set up to the ball, not after. This will keep things consistent.
Tip adapted from GolfTipsMag.comi
---
Recipe of the Week
Strawberry Quinoa Kale Salad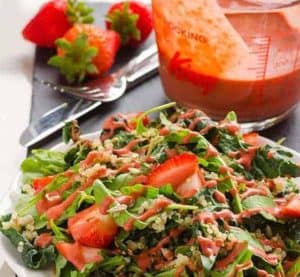 serves 6
INGREDIENTS
Salad:
2 cups quinoa, cooked
5 cups chopped kale (stalks removed) or any greens, packed
1/2 cup sunflower seeds (optionally toasted)
1/2 cup strawberries, hulled and sliced
Strawberry Vinaigrette:
2 cups strawberries, thawed or fresh
2 – 4 tbsp water
2 tbsp balsamic vinegar
2 tbsp olive oil, extra virgin
1/4 tsp salt
1/8 tsp red chili flakes (more to taste)
INSTRUCTIONS
Add quinoa, kale, sunflower seeds and strawberries to a large salad bowl. Toast sunflower seeds in a small skillet on low-medium heat until lightly brown, about 2 minutes (optional but tasty step). Stir frequently and watch closely not to burn. Transfer to a salad bowl.
In a blender or small food processor, add Strawberry Vinaigrette ingredients and process until smooth. Pour over salad, gently stir and serve.
Recipe adapted from Cafedelites.comii
---
Health Tip of the Week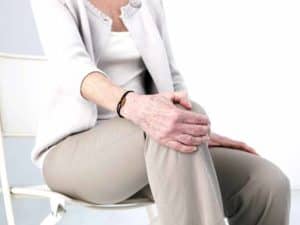 Protect Your Knees with Simple Exercises
As you get older, your knee goes through physical changes that make it more prone to injury and pain. Strengthening the muscles around the knee will help support and stabilize it, reducing the load the joint has to carry. Check with your physician to see if you're able to do any of these simple exercises:
Wall squat: With your back against a wall, lower yourself until your thighs are parallel to the floor, hold for 10 seconds, then slowly straighten.
Modified hurdler's stretch: While seated, extend one leg straight (do not lock knee) and place bottom of the other foot against that knee. Holding shoulders and hips square and back straight, slowly lower torso toward straight leg. Do not collapse through chest or round the back.
Straight leg lift: Sit on the floor with one leg bent and the other straight in front. Raise the straight leg just a few inches and hold for 5 seconds. Switch to the other leg.

Tip adapted from active.comiii


Copyright (C) 2021. Ballentine Capital Advisors. All rights reserved.
Our mailing address is:
Ballentine Capital Advisors
15 Halton Green Way
Greenville, SC 29607
unsubscribe from this list update subscription preferences
Sources:
1. https://go.efficientadvisors.com/e/91522/-freak-out-when-they-get-lost-/6vsdbj/1107786155?h=ICs3SawfVb7weGVdqGwKruEQ9oUpPEH2S-bnSORLyg0
2. https://go.efficientadvisors.com/e/91522/wiki-Panic/6vsdbl/1107786155?h=ICs3SawfVb7weGVdqGwKruEQ9oUpPEH2S-bnSORLyg0
3. https://go.efficientadvisors.com/e/91522/-the-price-of-panic-58093-html/6vsdbn/1107786155?h=ICs3SawfVb7weGVdqGwKruEQ9oUpPEH2S-bnSORLyg0
Disclosure:
The views expressed herein are exclusively those of Efficient Advisors, LLC ('EA'), and are not meant as investment advice and are subject to change. All charts and graphs are presented for informational and analytical purposes only. No chart or graph is intended to be used as a guide to investing. EA portfolios may contain specific securities that have been mentioned herein. EA makes no claim as to the suitability of these securities. Past performance is not a guarantee of future performance. Information contained herein is derived from sources we believe to be reliable, however, we do not represent that this information is complete or accurate and it should not be relied upon as such. All opinions expressed herein are subject to change without notice. This information is prepared for general information only. It does not have regard to the specific investment objectives, financial situation and the particular needs of any specific person who may receive this report. You should seek financial advice regarding the appropriateness of investing in any security or investment strategy discussed or recommended in this report and should understand that statements regarding future prospects may not be realized. You should note that security values may fluctuate and that each security's price or value may rise or fall. Accordingly, investors may receive back less than originally invested. Investing in any security involves certain systematic risks including, but not limited to, market risk, interest-rate risk, inflation risk, and event risk. These risks are in addition to any unsystematic risks associated with particular investment styles or strategies.

The articles and opinions expressed in this newsletter were gathered from a variety of sources but are reviewed by Ballentine Capital Advisors prior to its dissemination. All sources are believed to be reliable but do not constitute specific investment advice. In all cases, please contact your investment professional before making any investment choices.
Securities through Triad Advisors, LLC, Member FINRA/SIPC. Advisory services through Ballentine Capital Advisors, Inc. Triad Advisors and Ballentine Capital Advisors are not affiliated entities.
---
i https://www.golftipsmag.com/instruction/shotmaking/money-shots/
ii https://cafedelites.com/clean-eating-strawberry-quinoa-kale-salad
iiihttps://www.active.com/walking/articles/6-ways-to-keep-your-knees-pain-free