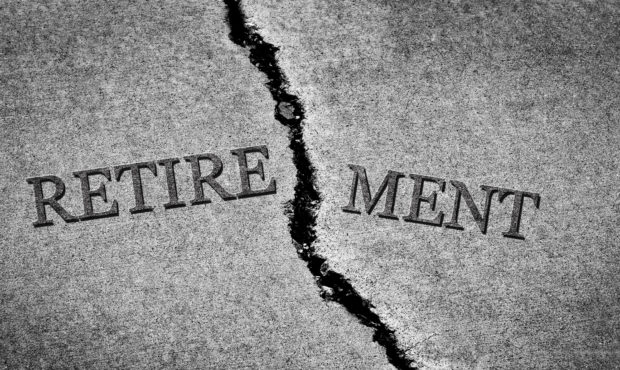 Pursuing your retirement dreams is challenging enough without making some common, and very avoidable, mistakes. Here are eight big mistakes to steer clear of, if possible.
1. No Strategy: Yes, the biggest mistake is having no strategy at all. Without a strategy,
you may have no goals, leaving you no way of knowing how you'll get there—and if you've even arrived. Creating a strategy may increase your potential for success, both before and after retirement.
2. Frequent Trading: Chasing "hot" investments often leads to despair. Create an asset
allocation strategy that is properly diversified to reflect your objectives, risk tolerance, and time horizon; then, make adjustments based on changes in your personal situation, not due to market ups and downs.1
3. Not Maximizing Tax-Deferred Savings: Most workers have tax-advantaged ways to save for retirement. Not participating in your employer's 401(k) may be a mistake, especially when you're passing up free money in the form of employer-matching contributions.2
4. Prioritizing College Funding Over Retirement: Your kids' college education is important, but you may not want to sacrifice your retirement for it. Remember, you can get loans and grants for college, but you can't for your retirement.
5. Overlooking Healthcare Costs: Long-term care may be an expense that can undermine your financial strategy for retirement if you don't prepare for it.
6. Not Adjusting Your Investment Approach Well Before Retirement: The last thing your retirement portfolio can afford is a sharp fall in stock prices and a sustained bear market at the moment you're ready to stop working. Consider adjusting your asset allocation in advance of tapping your savings so you're not selling stocks when prices are depressed.3
7. Retiring With Too Much Debt: If too much debt is bad when you're making money, it can be deadly when you're living in retirement. Consider managing or reducing your debt level before you retire.
8. It's Not Only About Money: Above all, a rewarding retirement requires good health, so maintain a healthy diet, exercise regularly, stay socially involved, and remain intellectually active.

If you have any questions about your retirement plans or mistakes that could effect you, don't hesitate to reach out.
Have an amazing weekend!





Source: FMG Suite
---
Golf Tip of the Week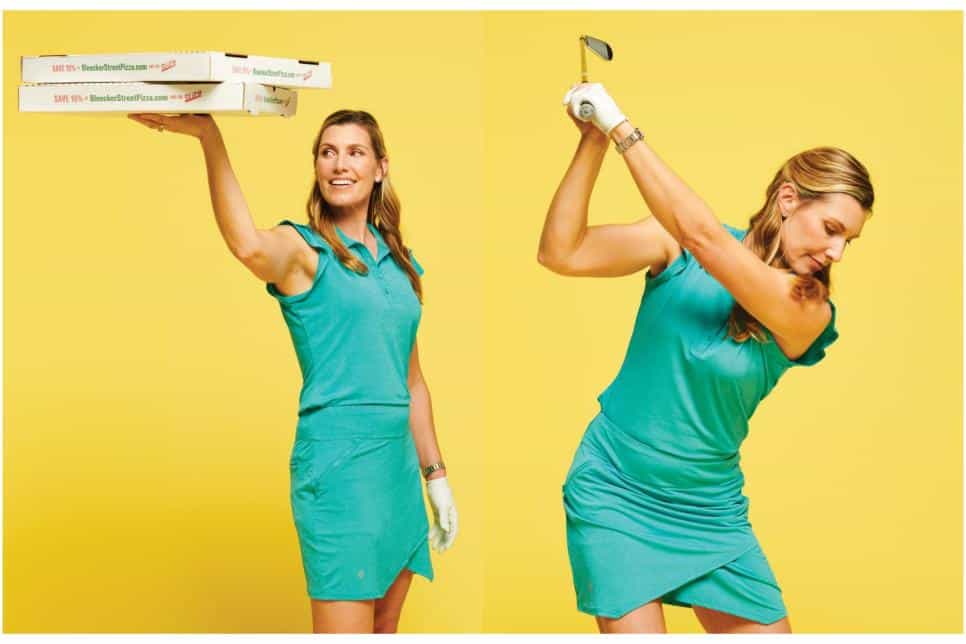 Outside The Box
Golf can be intimidating when you first start to play or return to the game after a long layoff. It can feel like you need a lot of practice to be somewhat decent. Truth is, it doesn't have to take that much work. I'm going to help you speed up the learning process so you can hit good shots and have fun on the course right away. How? I'm going to break down the golf swing into movements you already know and show you how to incorporate them when you play. It's like tapping into hours and hours of practice you've already banked—it's your cheat code. Ready for the speed version of learning the golf swing? Let's go!
This might sound a bit cheesy (da dum dum), but the way you carry pizza boxes can help you get in a great position at the top of your swing. Notice how I'm holding them (above, left). To balance them, my right arm and wrist are bent nearly 90 degrees. These positions mimic the orientation of that arm (for righties) at the top of the swing. Practice it with this drill: Grip a club in your right hand. Now get into that pizza-box position with that arm and rotate your upper body as if you're making a backswing. When you complete your turn, put your other hand on the club like I am here (above, right). Now you're set at the top.
Tip adapted from golfdigest.comi
---
Recipe of the Week
Naan Bread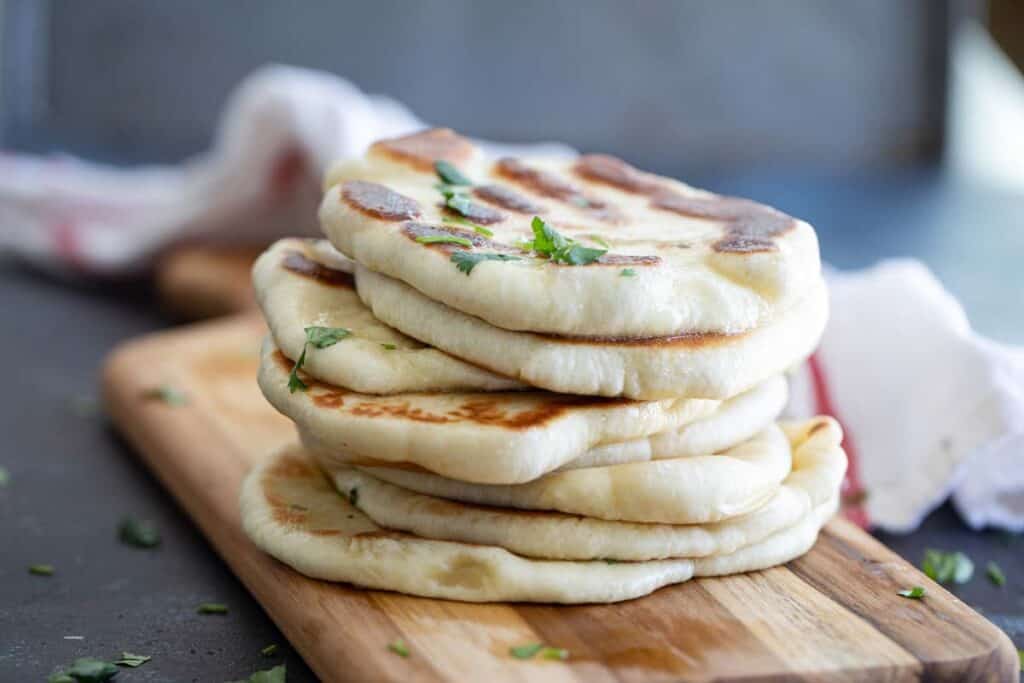 6-8 Servings
Ingredients
1x 7g sachet dried yeast
2 tsp golden caster sugar
300g strong white bread flour, plus extra for dusting
½ tsp baking powder
25g butter or ghee, melted, plus extra 2-3 tbsp for the tray and brushing
150ml natural yogurt
1 tbsp nigella seeds
Instructions
Put 125ml warm water into a bowl and sprinkle over the yeast and 1 tsp of the sugar. Leave for 10-15 mins or until frothy. In a larger bowl, put the flour, remaining sugar, ½ tsp salt and baking powder. Mix then make a well in the center in which to pour the melted butter, yogurt, nigella seeds and yeast mixture. Stir well, then start to bring the mixture together with your hands. If it's very wet add a spoonful of flour but if it's dry add a splash more warm water. It should be a very soft dough but not so wet that it won't come together into a ball. Make the cream layer by beating the mascarpone, condensed milk, and vanilla extract with an electric whisk until thick and smooth.

Divide the dough into six balls and put them on a baking tray dusted with flour, then cover the tray with a damp tea towel. Heat a large non-stick frying pan over a high heat. Take one of the balls of dough and roll it out to form a teardrop shape that's approximately 21cm long and around 13cm at the widest part. When the pan is very hot, carefully lay the naan bread into it. Let it dry fry and puff up for about 3 mins, then turn over and cook on the other side for another 3-4 mins or until cooked through and charred in patches into a ball and place in the prepared bowl.

Heat the oven to its lowest setting and put the cooked naan bread on a baking sheet. Brush with a little melted butter and cover with foil. Keep warm in the oven and layer up the cooked naans one on top of each other as you make them, brushing each one with melted butter or ghee as you go. Serve warm with curry or dips.
Recipe adapted from bbcgoodfood.com ii
---
Health Tip of the Week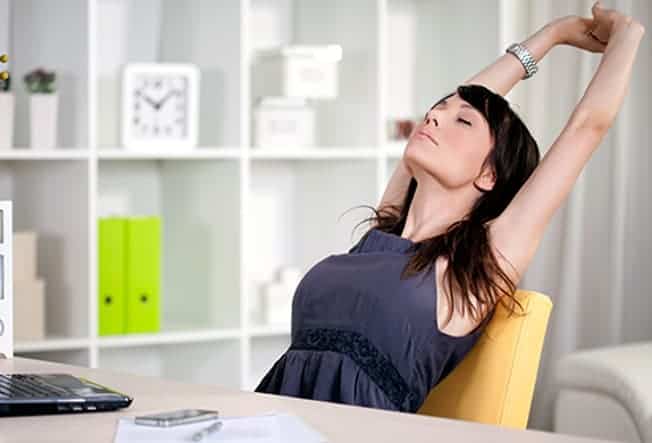 Sneak Exercise Into Your Day
Stretch
1- Mile Run
Tense Your Muscles
Get a Jogging Stroller
Have a Leash – Will Walk
Walking Meetings
Take the Stairs
Park Further Away
Sprint
Use Public Transportation
Take the Long Way Home
Bike to Work
Power Chores
Walk-Mail
Stay Off the Couch
Tip adapted from webmd.comiii
---
Copyright (C) 2021. Ballentine Capital Advisors. All rights reserved.
Our mailing address is:
Ballentine Capital Advisors
15 Halton Green Way
Greenville, SC 29607
unsubscribe from this list update subscription preferences
Source:
1. The return and principal value of stock prices will fluctuate as market conditions change. And shares, when sold, may be worth more or less than their original cost. Asset allocation and
diversification are approaches to help manage investment risk. Asset allocation and
diversification do not guarantee against investment loss. Past performance does not guarantee
future results.
2. Under the SECURE Act, in most circumstances, you must begin taking required minimum
distributions from your 401(k) or other defined contribution plan in the year you turn 72.
Withdrawals from your 401(k) or other defined contribution plans are taxed as ordinary income, and if taken before age 59½, may be subject to a 10% federal income tax penalty."
3. The return and principal value of stock prices will fluctuate as market conditions change. And shares, when sold, may be worth more or less than their original cost. Asset allocation is
an approach to help manage investment risk. Asset allocation does not guarantee against investment loss. Past performance does not guarantee future results.
Disclosure:
The content is developed from sources believed to be providing accurate information. The information in this material is not intended as tax or legal advice. It may not be used for the purpose of avoiding any federal tax penalties. Please consult legal or tax professionals for specific information regarding your individual situation. This material was developed and produced by FMG Suite to provide information on a topic that may be of interest. FMG Suite is not affiliated with Ballentine Capital Advisors. The opinions expressed and material provided are for general information and should not be considered a solicitation for the purchase or sale of any security. Copyright FMG Suite.
Ballentine Capital Advisors is a registered investment adviser. The advisory services of Ballentine Capital Advisors are not made available in any jurisdiction in which Ballentine Capital Advisors is not registered or is otherwise exempt from registration.
Please review Ballentine Capital Advisors Disclosure Brochure for a complete explanation of fees. Investing involves risks. Investments are not guaranteed and may lose value.
This material is prepared by Ballentine Capital Advisors for informational purposes only. It is not intended to serve as a substitute for personalized investment advice or as a recommendation or solicitation or any particular security, strategy, or investment product.
No representation is being made that any account will or is likely to achieve future profits or losses similar to those shown. You should not assume that investment decisions we make in the future will be profitable or equal the investment performance of the past. Past performance does not indicate future results.
Advisory services through Ballentine Capital Advisors, Inc.
---
i https://www.golfdigest.com/story/learn-golf-swing-even-when-not-swinging-erika-larkin
ii https:// https://www.bbcgoodfood.com/recipes/naan-bread
iii https:// https://www.webmd.com/fitness-exercise/ss/slideshow-sneak-exercise