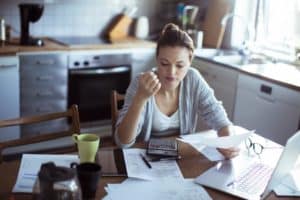 Due to the unusual conditions related to the coronavirus pandemic, the due date for individuals to file 2020 federal income tax returns and make payments had been postponed by the IRS from Thursday, April 15, 2021, to Monday, May 17, 2021.No interest, penalties, or additions to tax will be incurred by taxpayers during this approximately one-month relief period for any return or payment postponed under this relief provision.

The relief applies automatically to all taxpayers and no additional forms need to be filed to qualify for the relief. The new deadline applies to federal income tax payments for taxable year 2020, including payments of tax on self-employment income. It does not apply to estimated tax payments for 2021 that are due on April 15, 2021. There is no limit on the amount of tax that can be deferred.

Note: Under this relief provision, no extension is provided for the payment or deposit of any other type of federal tax, or for the filing of any federal information return. The IRS urges taxpayers to check with their state tax agencies regarding state tax filing and payment deadlines.

Note: Earlier this year, the IRS announced that victims of the February winter storms in Texas, Oklahoma, and Louisiana have until Tuesday, June 15, 2021, to file various individual and business tax returns and make tax payments.
Need more time?
If you're not able to file your federal income tax return by the May due date, you can file for an extension by the May due date using IRS Form 4868, Application for Automatic Extension of Time to File U.S. Individual Income Tax Return. Filing this extension gives you an additional five months (until October 15, 2021) to file your federal income tax return. You can also file for an automatic five-month extension electronically (details on how to do so can be found in the Form 4868 instructions). There may be penalties for failing to file or for filing late.

Filing for an extension using Form 4868 does not provide any additional time to pay your tax. When you file for an extension, you have to estimate the amount of tax you will owe and pay this amount by the May filing due date. If you don't pay the amount you've estimated, you may owe interest and penalties. In fact, if the IRS believes that your estimate was not reasonable, it may void your extension.

Tax Refunds
The IRS encourages taxpayers seeking a tax refund to file their tax return as soon as possible, and to file electronically with direct deposit. The IRS issues most tax refunds within 21 days of the IRS receiving a tax return. However, the IRS has experienced delays in processing paper tax returns due to limited staffing during the coronavirus pandemic.

IRA Contributions
Contributions to an individual retirement account (IRA) for 2020 can be made up to the due date (without regard to extensions) for filing the 2020 federal income tax return. The postponement of the 2020 tax filing due date by the IRS also generally extends the time to make IRA contributions for 2020 to May 17, 2021.
Have a great weekend!


Source: Broadridge
---
Golf Tip of the Week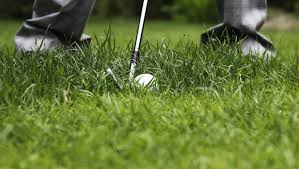 Handling Rough Removal

Hitting it close from the rough is critical if you want to stay in the game. Playing your short irons from the rough requires a strong grip and a descending blow to avoid getting caught up in the turf. The key lies in the ability to retain the right angle formed by the club and your left arm at the top of your swing. Holding this angle will help generate the additional clubhead speed as well as encourage a more descending blow because it prevents your arms and hands from releasing too early. And when you release early in the rough, you're going to hit a lot of grass and, sometimes, no ball. Make sure your hands are in front of the ball at address and the ball is slightly forward in your stance. Add more club, choke down and be ready to hold that right angle as long as you can to generate a whip effect through impact. The ball may fly lower, but that's a whole lot better than a short, flubbed shot.
Strength is key from the rough, and no better place to find it than in retaining wrist cock through the swing for as long as possible. Tiger woods is a master at this, hence his amazing power.
Tip adapted from GolfTipsMag.comi
---
Recipe of the Week
Fried Cabbage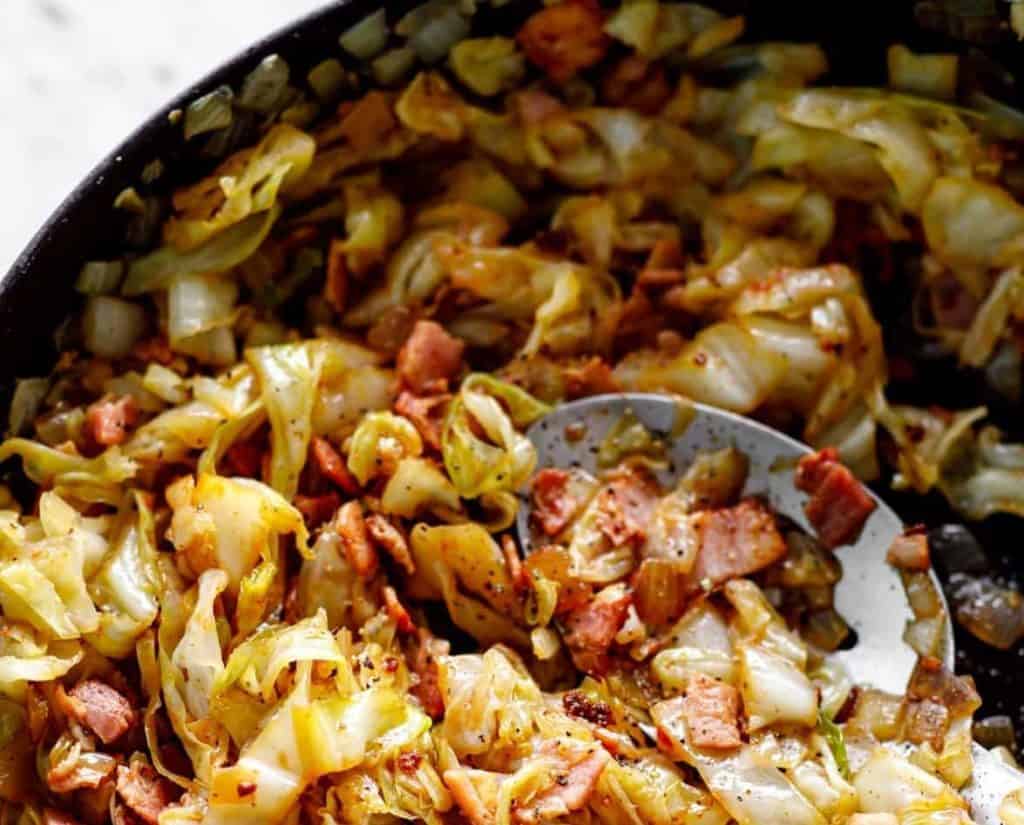 serves 4 as a side
INGREDIENTS
6 slices bacon, chopped
1 onion, diced
2 cloves garlic, minced or chopped
1 large head green or red cabbage, cored and sliced
1 teaspoon chicken bouillon, (or seasoned salt)
Salt and cracked black pepper, to taste
1/2 teaspoon each onion powder and garlic powder
1/4 teaspoon Cajun seasoning or smoky paprika
INSTRUCTIONS
Cook bacon in a large skillet over medium heat until crispy. Transfer bacon to a plate with a slotted spoon. Do not discard bacon drippings.
Sauté the onion in the bacon grease until the onion caramelizes (about 8 minutes). Add the garlic and cook until fragrant (30 seconds).
Stir in the cabbage and cook for a further 8 minutes while stirring occasionally. Season with the bouillon, onion powder, garlic powder, salt, pepper and Cajun seasoning (or paprika).
Mix bacon into the cabbage to warm through and serve.
Recipe adapted from Cafedelites.comii
---
Health Tip of the Week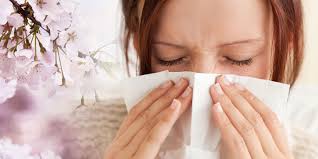 Fight Allergy Symptoms with Food
Spring is here and pollen counts are heading up around the country. Seasonal allergy sufferers may be able to mitigate some of their symptoms by changing the way they eat during allergy season. As always, make sure you speak to your physician about any dietary changes that may affect medication. Here are some tips:
Avoid spicy food when pollen counts are high. Spicy food can trigger a histamine response that can add to your body's reaction to pollen.
Drive green tea. Some green teas contain natural antihistamines that can help fight symptoms.
Try local honey. Though the research is mixed, some studies have found that eating small amounts of honey produced in your area may help you develop a tolerance to local pollens.
Tip adapted from Everyday Health and WebMDiii
---
Copyright (C) 2021. Ballentine Capital Advisors. All rights reserved.
Our mailing address is:
Ballentine Capital Advisors
15 Halton Green Way
Greenville, SC 29607
unsubscribe from this list update subscription preferences
IMPORTANT DISCLOSURES Securities through Triad Advisors, LLC, Member FINRA / SIPC. Advisory services through Ballentine Capital Advisors, Inc. Triad Advisors, LLC and Ballentine Capital Advisors are not affiliated entities. Broadridge Investor Communication Solutions, Inc. does not provide investment, tax, legal, or retirement advice or recommendations. The information presented here is not specific to any individual's personal circumstances. To the extent that this material concerns tax matters, it is not intended or written to be used, and cannot be used, by a taxpayer for the purpose of avoiding penalties that may be imposed by law. Each taxpayer should seek independent advice from a tax professional based on his or her individual circumstances. These materials are provided for general information and educational purposes based upon publicly available information from sources believed to be reliable — we cannot assure the accuracy or completeness of these materials. The information in these materials may change at any time and without notice.
Prepared by Broadridge Advisor Solutions Copyright 2021.
The articles and opinions expressed in this newsletter were gathered from a variety of sources but are reviewed by Ballentine Capital Advisors prior to its dissemination. All sources are believed to be reliable but do not constitute specific investment advice. In all cases, please contact your investment professional before making any investment choices.
Securities through Triad Advisors, LLC, Member FINRA/SIPC. Advisory services through Ballentine Capital Advisors, Inc. Triad Advisors and Ballentine Capital Advisors are not affiliated entities.
---
i https://www.golftipsmag.com/instruction/shotmaking/money-shots/
iihttps://cafedelites.com/fried-cabbage/
iii https://www.everydayhealth.com/allergy-photos/allergies-and-food.aspx#05
https://www.webmd.com/allergies/features/7-day-menu-for-spring-allergy-season