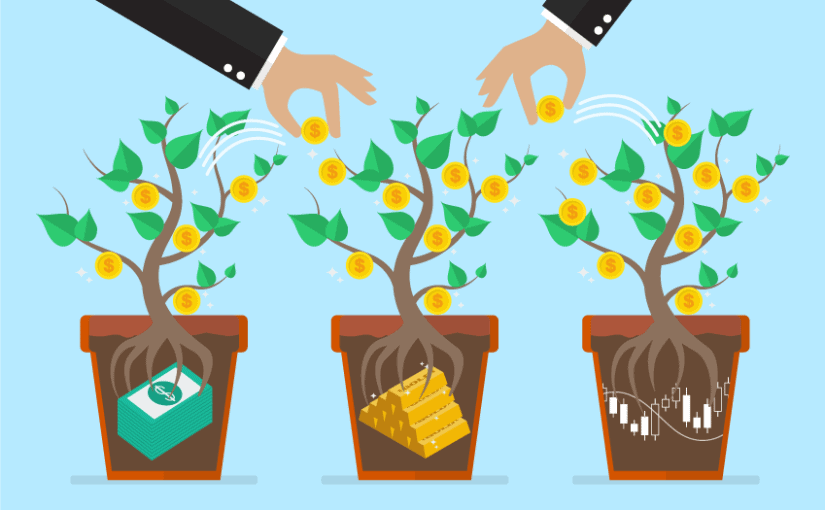 Regardless of how the markets may perform, consider making the following part of your investment philosophy:
Diversification. The saying "don't put all your eggs in one basket" has some application to investing. Over time, certain asset classes may perform better than others. If your assets are mostly held in one kind of investment, you could find yourself under a bit of pressure if that asset class experiences some volatility.
Keep in mind that diversification is an approach to help manage investment risk. It does not eliminate the risk of loss if an investment sees a decline in price.
Asset allocation strategies also are used in portfolio management. When we ask you questions about your goals, time horizon, and tolerance for risk, we are getting a better idea about what asset classes may be appropriate for your situation. But like diversification, asset allocation is an approach to help manage investment risk. It does not eliminate the risk of loss if an investment sees a decline in price.
Patience. Impatient investors can get too focused on the day-to-day doings of the financial markets. They can be looking for short-term opportunities rather than longer-term potential. A patient investor understands that markets fluctuate and has built a portfolio based on their time horizon, risk tolerance, and goals. A short-term focus may add stress and anxiety to your life and could lead to frustration with the investing process. Try turning off the television (financial pornography) and spend more time outside instead. Even industry professionals have a hard time keeping the media jargon out of their heads.
Consistency. Most people invest a little at a time, within their budget, and with regularity. They invest $500 or $1,000 or more per month in their retirement account or similar investments. They are investing on "autopilot" to help themselves attempt to build wealth over time. This helps investors build discipline by continuing to regularly invest regardless of what the current market is doing.
Consistent investing does not protect against a loss in a declining market or guarantee a profit in a rising market. Consistent investing, sometimes referred to as dollar-cost averaging, is the process of investing a fixed amount of money in an investment vehicle at regular intervals, usually monthly, for an extended period of time regardless of price. The goal of this strategy is to over long periods of time buy low and sell high since you are not trying to time the market by frequently buying and selling.
Investors should evaluate their financial ability to continue making purchases through periods of declining and rising prices. The return and principal value of stock prices will fluctuate as market conditions change. Shares, when sold, may be worth more or less than their original cost.
If you don't have an investment strategy, consider setting short-term, mid-term and long-term goals to help you with adequately investing your funds. If you have any questions about your investment strategy don't hesitate to contact us.
Have a great weekend!





Source: FMG Suite
---
Golf Tip of the Week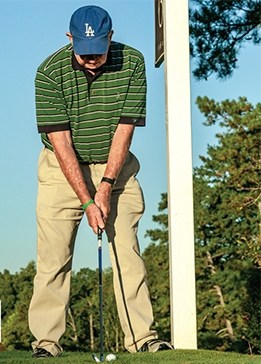 Avoid the Downswing Hip Slide
One of the most prevalent issues that I see with my students is sliding the left hip (right-handed golfer) too far toward the target in the downswing.
Most of us, when we first started playing the game, were told to hit against a firm left side. When the left hip moves well past the left foot, there isn't a whole lot of firmness. There isn't a whole lot of rotation. And without rotation, power is dramatically reduced.
Here is an analogy that might help put you back on track: Maybe you have a fenced-in back yard with a gate. If you don't, humor me and just pretend that you do. If the post that the gate is attached to is straight up and down, the gate opens and closes perfectly. If the post is tilted, good luck with the gate.
Same with your golf swing. At impact, if the left hip is over the left knee and left ankle and forming a straight, vertical line, your right hip will rotate perfectly, just like the gate. If the left hip slides past the left foot, rotation is diminished – along with power and accuracy.
Here is a drill to help you get the hang of it: stand in a doorway with the outside of your left foot touching the door jamb. Cross your arms across your chest. Make a backswing turn and then a through swing turn. During the latter, allow your left hip to move laterally, just enough to make contact with the jamb. That amount will put you in a vertical left leg position, the perfect place for maximum hip rotation.
Hip rotation translates to more power, which we all want.
Tip adapted from golftipsmag.com
---
Recipe of the Week
Easy Homemade Hummus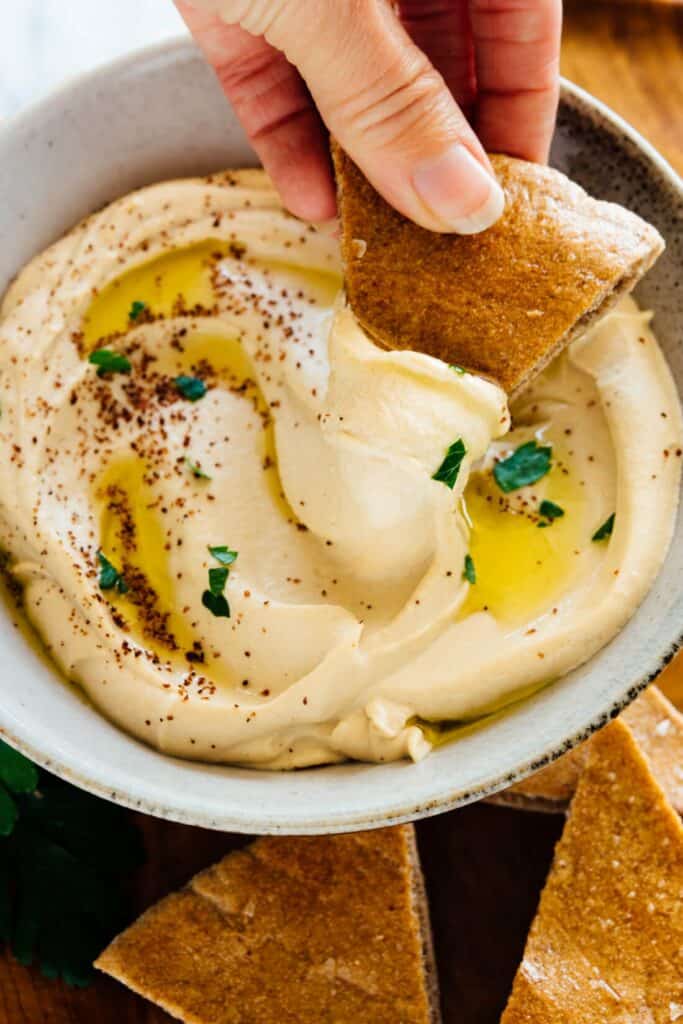 12 servings
Ingredients
1/2 cup tahini (roasted, not raw)
1/4 cup extra virgin olive oil (plus more for garnishing)
2 garlic cloves, mashed and roughly chopped
2 (15-ounce) cans of chickpeas (garbanzo beans), drained
1/4 cup lemon juice, freshly squeezed
1/2 cup water
1/2 teaspoon kosher salt
Garnishes: A sprinkling of paprika, a swirl of olive oil, toasted pine nuts, and/or chopped parsley
Instructions
In a food processor, combine the tahini and olive oil and pulse until smooth.
Add the garlic, garbanzo beans, lemon juice, 1/2 cup water and 1/2 teaspoon of salt. Process until smooth. The longer you process in the food processor, the smoother the hummus will be. Add more salt or lemon juice to taste.
Spoon into serving dish, swirl a little olive oil over the top and sprinkle with garnishes—a little paprika, toasted pine nuts, or chopped fresh parsley.
Serve with crackers, raw dip vegetables such as carrots or celery, or with toasted pita bread.
To toast pita bread, cut the pita bread into triangles, brush with olive oil and toast for 10 minutes in a 375°F oven, turning them over half-way through the cooking.
Recipe adapted from simplyrecipes.comii
---
Health Tip of the Week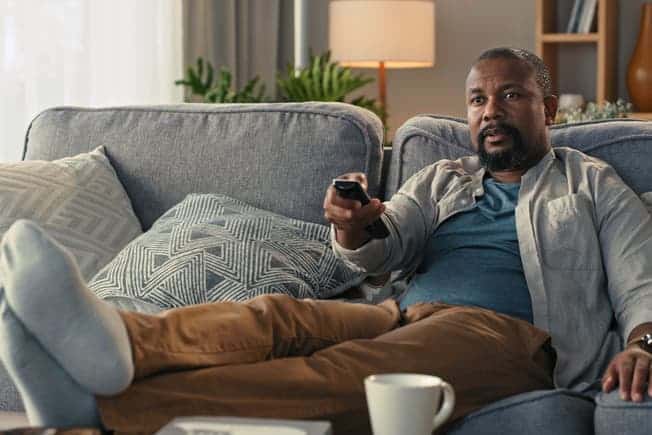 10 Ways Binge-Watching TV and Gaming Could Be Harmful
Many people enjoy watching tv or playing video games some of the time. Others, though, take these actions to extremes. Sometimes, you may even find yourself binge-watching tv or being unable to quit playing video games.
This is when these activities start to become a problem.
Read on to learn ten ways that binge-watching and gaming can be dangerous for your health.
Not Enough Exercise
Gaming Addiction
Repetitive Stress and Overuse Injuries
Damaging to Personal Relationships
Lower Grades
Not Enough Time Outside
Poor Sleep
Depression and Anxiety
Back Problems
Respiratory Function
Tip adapted from webmd.comiii
---
Copyright (C) 2021. Ballentine Capital Advisors. All rights reserved.
Our mailing address is:
Ballentine Capital Advisors
15 Halton Green Way
Greenville, SC 29607
unsubscribe from this list update subscription preferences
Disclosure:
The content is developed from sources believed to be providing accurate information. The information in this material is not intended as tax or legal advice. It may not be used for the purpose of avoiding any federal tax penalties. Please consult legal or tax professionals for specific information regarding your individual situation. This material was developed and produced by FMG Suite to provide information on a topic that may be of interest. FMG Suite is not affiliated with Ballentine Capital Advisors. The opinions expressed and material provided are for general information and should not be considered a solicitation for the purchase or sale of any security. Copyright FMG Suite.
Ballentine Capital Advisors is a registered investment adviser. The advisory services of Ballentine Capital Advisors are not made available in any jurisdiction in which Ballentine Capital Advisors is not registered or is otherwise exempt from registration.
Please review Ballentine Capital Advisors Disclosure Brochure for a complete explanation of fees. Investing involves risks. Investments are not guaranteed and may lose value.
This material is prepared by Ballentine Capital Advisors for informational purposes only. It is not intended to serve as a substitute for personalized investment advice or as a recommendation or solicitation or any particular security, strategy, or investment product.
No representation is being made that any account will or is likely to achieve future profits or losses similar to those shown. You should not assume that investment decisions we make in the future will be profitable or equal the investment performance of the past. Past performance does not indicate future results.
Advisory services through Ballentine Capital Advisors, Inc.
---
i https:// www.golftipsmag.com/instruction/full-swing/avoid-the-downswing-hip-slide/
ii https:// https://www.simplyrecipes.com/recipe/hummus/
iii https:// https://www.webmd.com/balance/ss/cm/ten-ways-watching-tv-gaming-hazardous-to-health