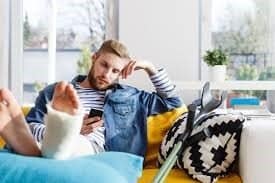 The prospect of being unable to work due to an illness or injury may seem remote to many of us, particularly during our younger working years. However, the COVID-19 pandemic has increased the chances of getting sick and not being able to work for an extended period, making disability income insurance (DI) more important than ever, regardless of your age.
Health insurance may pay for some of the medical expenses related to your illness, but it won't cover your lost wages if you can't work. And while many employers offer some form of sick leave, it may not last long enough to cover the length of time you can't work. Disability income insurance pays a portion of your salary if you are unable to work due to an injury or illness. But will DI cover you if you can't work due to COVID-19?
Will Disability Insurance Pay for COVID-19-Related Disabilities?
Generally, disability income insurance provides income benefits if you are unable to work for a medical reason. Before paying a claim for benefits, most DI policies require that you are unable to work because of a diagnosed medical condition, such as COVID-19, that has been verified by a doctor or other qualified medical professional.
If you are ill, or test positive for the virus, and are unable to work due to your illness or a medical quarantine (i.e., you can't work remotely), you should qualify for DI benefits. On the other hand, even if you tested positive and have a mild illness or are under a medical quarantine, but you have the ability to work, (i.e., you can work remotely), then you probably won't qualify for DI benefits. It is important to note that social quarantine (e.g., a government-mandated stay-at-home order) is not a medical quarantine and will not qualify for DI benefits. Likewise, if your employer shuts down temporarily or permanently due to the virus, you will not qualify for DI benefits.
Short-Term Disability Insurance vs. Long-Term Disability Insurance
There are two types of disability income insurance, short term and long term. While the provisions may vary by insurer, short-term DI policies usually have short elimination, or waiting periods (3-14 days) following the onset of your disability before the insurance pays. Although some policies offer benefits for up to two years, many contracts pay benefits for six months to one year.
Long-term DI policies have a longer elimination period (typically 90 days), but may pay benefits up to age 65, although, in certain instances long-term DI may pay lifetime benefits. Disability policies typically pay benefits that equal 50% to 70% of your gross monthly base salary. A monthly maximum benefit may apply.
For disability protection related to COVID-19, short-term DI should be enough if you miss work due to a medical quarantine. However, if you're unable to work for a longer time due to complications from the virus, long-term DI would be needed.
A complete statement of coverage, including exclusions, exceptions, and limitations, is found only in the policy. It should be noted that carriers have the discretion to raise their rates and remove their products from the marketplace. Guarantees are subject to the financial strength and claims-paying ability of the issuer.
Where Can You Get Disability Insurance?
In general, access to disability benefits can come from private insurance (individual or group DI policies purchased from an insurance company) or government insurance (social insurance provided through federal or state governments).
Private disability insurance refers to disability insurance that you purchase through an insurance company. Many types of private disability insurance exist, including individual DI policies, group policies, group association policies, and riders attached to life insurance policies.
Private disability policies usually offer more comprehensive benefits to insured individuals than social insurance. Individually owned disability income policies may offer the most coverage (at a greater cost), followed by group policies offered by an employer or association. Even if your employer offers disability insurance, it's probably short-term DI and may not provide benefits if a disability due to COVID-19 lasts for more than three months. For disabilities that last longer or are permanent, you'll need a long-term DI policy to provide benefits while you can't work.
We are happy to review your coverage and needs. We can then come up with a plan that fits your goals.
Have a wonderful weekend!




Source: Broadridge
---
Golf Tip of the Week
Avoid the Downswing Hip Slide
Most of us, when we first started playing the game, were told to hit against a firm left side. When the left hip moves well past the left foot, there isn't a whole lot of firmness. There isn't a whole lot of rotation. And without rotation, power is dramatically reduced.
Here is an analogy that might help put you back on track: Maybe you have a fenced-in back yard with a gate. If the post that the gate is attached to is straight up and down, the gate opens and closes perfectly. If the post is tilted, good luck with the gate.
Same with your golf swing. At impact, if the left hip is over the left knee and left ankle and forming a straight, vertical line, your right hip will rotate perfectly, just like the gate. If the left hip slides past the left foot, rotation is diminished – along with power and accuracy.
Here is a drill to help you get the hang of it: stand in a doorway with the outside of your left foot touching the door jamb. Cross your arms across your chest. Make a backswing turn and then a through swing turn. During the latter, allow your left hip to move laterally, just enough to make contact with the jamb. That amount will put you in a vertical left leg position, the perfect place for maximum hip rotation.
Tip adapted from GolfTipsMag.comi
---
Recipe of the Week
Crispy Greek Lemon Smashed Potatoes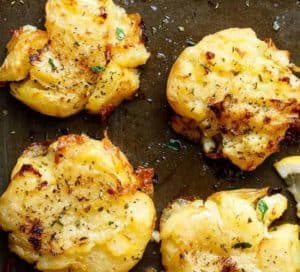 Serves 6

INGREDIENTS
6 medium-sized potatoes (Yukon Gold or Carisma)
3 tablespoons melted butter (or 2 tablespoons olive oil)
2 tablespoons lemon juice (juice of half a lemon)
4 cloves garlic, crushed
2 teaspoons dried oregano, divided
Salt and pepper, to taste
A light spray of olive oil
1/2 teaspoon semolina (optional — for crispy potatoes)
INSTRUCTIONS
Pre-heat your oven to broil (or grill) settings to medium-high heat (400°F).
Place potatoes in a large pot of salted water. Bring to the boil; cook, covered for 30-35 minutes or until just fork-tender. Drain well.
Lightly spray a large baking sheet or tray with cooking oil spray. Arrange potatoes onto the sheet and use a potato masher to LIGHTLY flatten the potatoes in one piece (not too hard or they will end up mashed).
Mix together the butter, lemon juice and garlic. Pour the mixture over each potato. Sprinkle with half of the oregano, salt and pepper. Lightly spray with olive oil spray, and sprinkle with semolina (If using).
Broil (or grill) until they are golden and crispy (about 15 minutes). Remove from oven, sprinkle with remaining oregano.
To serve, season with a little extra salt and pepper; serve immediately.
Recipe adapted from Cafedelites.comii
---
Health Tip of the Week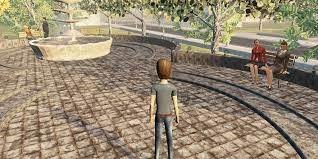 3D Game May Help Cognition
A study found that complex three-dimensional video games may boost memory and cognition. These games stimulate the brain's hippocampus region, which is associated with memory and learning. Study participants who played 3D games showed a 12% improvement with memory tests. Since the ability to use the hippocampus declines with age, scientists hope to find ways to use games to stave off memory loss and symptoms of dementia.
Tip adapted from AARPiii
---
Copyright (C) 2021. Ballentine Capital Advisors. All rights reserved.
Our mailing address is:
Ballentine Capital Advisors
15 Halton Green Way
Greenville, SC 29607
unsubscribe from this list update subscription preferences
Sources:
1 PwC, May 2020
2 Consumer Financial Protection Bureau, January 2015
3 Employee Benefit Research Institute, October 2020
Disclosure:
Prepared by Broadridge Investor Communication Solutions, Inc. Copyright 2021 IMPORTANT DISCLOSURES Securities through Triad Advisors, LLC, Member FINRA / SIPC . Advisory services through Ballentine Capital Advisors, Inc. Triad Advisors, LLC and Ballentine Capital Advisors are not affiliated entities. Broadridge Investor Communication Solutions, Inc. does not provide investment, tax, legal, or retirement advice or recommendations. The information presented here is not specific to any individual's personal circumstances. To the extent that this material concerns tax matters, it is not intended or written to be used, and cannot be used, by a taxpayer for the purpose of avoiding penalties that may be imposed by law. Each taxpayer should seek independent advice from a tax professional based on his or her individual circumstances. These materials are provided for general information and educational purposes based upon publicly available information from sources believed to be reliable — we cannot assure the accuracy or completeness of these materials. The information in these materials may change at any time and without notice.
The articles and opinions expressed in this newsletter were gathered from a variety of sources but are reviewed by Ballentine Capital Advisors prior to its dissemination. All sources are believed to be reliable but do not constitute specific investment advice. In all cases, please contact your investment professional before making any investment choices.
Securities through Triad Advisors, LLC, Member FINRA/SIPC. Advisory services through Ballentine Capital Advisors, Inc. Triad Advisors and Ballentine Capital Advisors are not affiliated entities.
---
i https://www.golftipsmag.com/instruction/full-swing/avoid-the-downswing-hip-slide/
ii https://cafedelites.com/crispy-greek-lemon-smashed-potatoes/
iiihttps://stayingsharp.aarp.org/art/discover/16/3d-video-games-brain.html