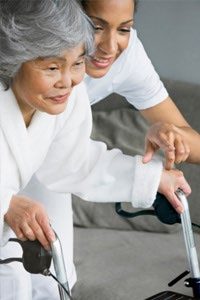 Thanks to healthier lifestyles and advances in modern medicine, the worldwide population over age 65 is growing. In the past decade, the population of Americans aged 65 and older has grown 35% and is expected to reach 94.7 million in 2060. As our nation ages, many Americans are turning their attention to caring for aging parents.1
For many people, one of the most difficult conversations to have involves talking with an aging parent about extended medical care. The shifting of roles can be challenging, and emotions often prevent important information from being exchanged and critical decisions from being made.
When talking to a parent about future care, it's best to have a strategy for structuring the conversation. Here are some key concepts to consider.
Cover the Basics
Knowing ahead of time what information you need to find out may help keep the conversation on track. Here is a checklist that can be a good starting point:
Primary physician
Specialists
Medications and supplements
Allergies to medication
It is also important to know the location of medical and estate management paperwork, including:2
Medicare card
Insurance information
Durable power of attorney for healthcare
Will, living will, trusts and other documents
Be Thorough
Remember that if you can collect all the critical information, you may be able to save your family time and avoid future emotional discussions. While checklists and scripts may help prepare you, remember that this conversation could signal a major change in your parent's life. The transition from provider to dependent can be difficult for any parent and has the potential to unearth old issues. Be prepared for emotions and the unexpected. Be kind, but do your best to get all the information you need.
Keep the Lines of Communication Open
This conversation is probably not the only one you will have with your parent about their future healthcare needs. It may be the beginning of an ongoing dialogue. Consider involving other siblings in the discussions. Often one sibling takes a lead role when caring for parents, but all family members should be honest about their feelings, situations, and needs.
Don't Procrastinate
The earlier you begin to communicate about important issues, the more likely you will be to have all the information you need when a crisis arises. How will you know when a parent needs your help? Look for indicators like fluctuations in weight, failure to take medication, new health concerns, and diminished social interaction. These can all be warning signs that additional care may soon become necessary. Don't avoid the topic of care just because you are uncomfortable. Chances are that waiting will only make you more so.
Remember, whatever your relationship with your parent has been, this new phase of life will present challenges for both parties. By treating your parent with love and respect—and taking the necessary steps toward open communication—you will be able to provide the help needed during this new phase of life.
Have a great weekend!






Source: FMG Suite
---
Tax Season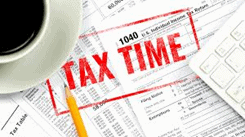 Tax season will soon be here. We often get questions about filing taxes and paperwork, so we wanted to provide some guidance to consider in preparing your documents to provide to your CPA.
* Please be very careful filing before March as all information may not have been received. *
March 5, 2022: Most 1099s should be received; however, some may be outstanding and/or in process of revisions.
March 10, 2022: We recommend that our clients wait until at least March 10th to complete simple tax returns.
March 25, 2022: We recommend that our clients wait until at least March 25th to complete more complex tax returns.
April 18, 2022: Individual Tax Returns Due for Tax Year 2022.
*Please note that corrected 1099, K1, and other documents may necessitate you waiting beyond the dates listed above; consult your tax advisor for more information.
---
Golf Tip of the Week
Make sure you're leveraging off the ground on the downswing to produce as much power as possible. To do that, here's a drill from Golf Digest Best Young Teacher Matt Henderson that will just about knock your socks off.
Find a slippery floor at home, like tile or hardwood, and take the shoe off your trail foot in your setup (the right foot for righties). Make sure you're a safe distance from any walls or furniture and take a few half-swings with a short club. As you swing down, push up off the floor with your lead leg. This should cause the shoeless foot to pull, or slide, slightly backwards. Get some reps with this push-pull action. Next time you go to the range, strive for the same feel—with both shoes on! You'll see more power.
Tip adapted from golfdigest.comi
---
Recipe of the Week
Irish Stew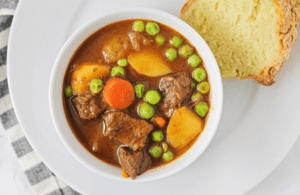 8 Servings
Ingredients
1 1/2 pounds stew beef, cut into bite sized pieces
salt and pepper to taste
2 tablespoons flour
2 tablespoons olive oil
1 medium onion, chopped coarsely
3 medium carrots, cut into bite sized pieces
6-8 small golden potatoes, cut into bite sized pieces
1 package onion soup mix
2 tablespoons tomato paste
2 teaspoons Worcestershire sauce
3 cups beef stock
1 1/2 cups frozen peas
Instructions
Sprinkle the stew beef with salt and pepper, then toss the beef with the flour until coated.
Heat the olive oil in a large heavy pot over medium heat. Add the onion to the pot, and cook until softened. Add the stew beef to the pot and cook, stirring frequently, until browned on all sides. Next, add the carrots, potatoes, onion soup mix, tomato paste, and Worcestershire sauce to the pot, and stir to combine. Pour in the beef stock, and stir until well mixed.
Bring the stew to a simmer, then cover and reduce the heat to low. Simmer, covered, for at least one hour, or up to two hours. Just before serving, stir in the frozen peas, and cook until warmed through. Serve hot.
Recipe adapted from somewhatsimple.comii
Health Tip of the Week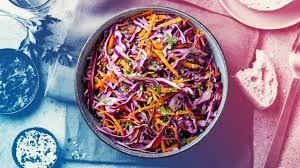 6 Health Benefits of Cabbage, According to Nutritionists
Cabbage probably isn't going to win any awards for "hottest vegetable" anytime soon, but that doesn't mean you should stick your nose up at the cruciferous veggie when it's offered to you. In fact, it may actually be a boon to your diet (and help you get out of a vegetable rut).
The vegetable—which comes in both red, green, and white forms—is a member of the same family as broccoli, cauliflower, and Brussels sprouts, among others. But while it comes with loads of health benefits (more on that later), it's crucial that you prepare it the right way to reap them, Maxine Smith, a registered dietitian at Cleveland Clinic's Center for Human Nutrition, tells Health.
"You want to avoid long cooking methods and boiling," Smith says, explaining that those ways can rob the food of its nutrients. Instead, stick to quicker-cooking methods, like stir-frying or chopping up the veggie and eating it fresh in a salad or slaw. If you need a bigger nudge to grab some cabbage during your next grocery run, registered dietitians weighed in on all the health benefits of cabbage and why you should incorporate it into your diet.
It's rich in vitamin C.
It's a good source of fiber.
It can improve bone health.
It's a great low-calorie option.
It's good for your heart.
It may help fight cancer.
Tip adapted from health.comiii
---
Copyright (C) 2021. Ballentine Capital Advisors. All rights reserved.
Our mailing address is:
Ballentine Capital Advisors
15 Halton Green Way
Greenville, SC 29607
unsubscribe from this list update subscription preferences
Sources:
ACL.gov, 2020
Note: Power of attorney laws can vary from state to state. An estate strategy that includes trusts may involve a complex web of tax rules and regulations. Consider working with a knowledgeable estate management professional before implementing such strategies.
Disclosure:
The content is developed from sources believed to be providing accurate information. The information in this material is not intended as tax or legal advice. It may not be used for the purpose of avoiding any federal tax penalties. Please consult legal or tax professionals for specific information regarding your individual situation. This material was developed and produced by FMG Suite to provide information on a topic that may be of interest. FMG Suite is not affiliated with the named broker-dealer, state- or SEC-registered investment advisory firm. The opinions expressed and material provided are for general information, and should not be considered a solicitation for the purchase or sale of any security. Copyright FMG Suite.
Ballentine Capital Advisors is a registered investment adviser. The advisory services of Ballentine Capital Advisors are not made available in any jurisdiction in which Ballentine Capital Advisors is not registered or is otherwise exempt from registration.
Please review Ballentine Capital Advisors Disclosure Brochure for a complete explanation of fees. Investing involves risks. Investments are not guaranteed and may lose value.
This material is prepared by Ballentine Capital Advisors for informational purposes only. It is not intended to serve as a substitute for personalized investment advice or as a recommendation or solicitation or any particular security, strategy, or investment product.
No representation is being made that any account will or is likely to achieve future profits or losses similar to those shown. You should not assume that investment decisions we make in the future will be profitable or equal the investment performance of the past. Past performance does not indicate future results.
Advisory services through Ballentine Capital Advisors, Inc.
---
i https://www.golfdigest.com/story/use-ground-power-drill
ii https://www.somewhatsimple.com/irish-stew/#wprm-recipe-container-100018
iii https://www.health.com/food/health-benefits-of-cabbage