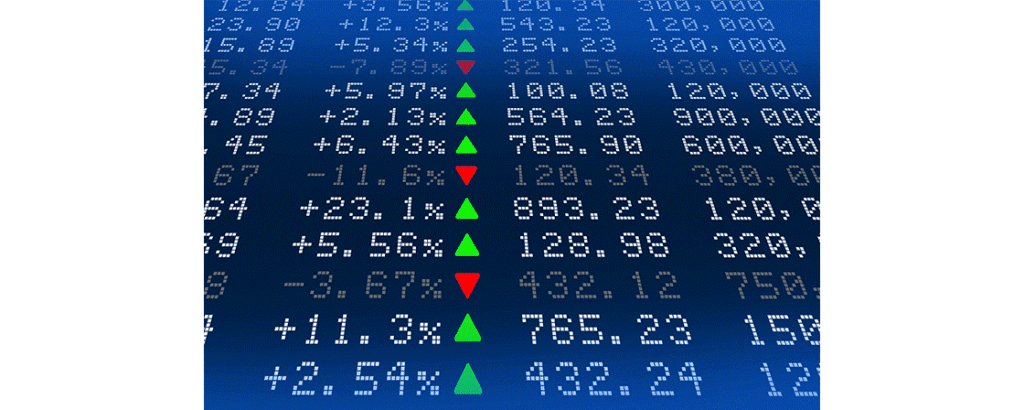 There are probably as many methods for picking so-called "undervalued" individual stocks as there are stocks to buy.
When you speculate in anything—stocks, fine art, or real estate—your aim is to buy with the hope that the asset is temporarily undervalued by the seller so that you can turn around and sell it for a profit in the near future.
Given the fact there are millions of people speculating this way, you would expect to find anecdotal evidence about people who have made money this way in the stock market. But in the long-run, it's almost impossible to guess with any consistency about which stocks will inexplicably defy market pricing and shoot up in value.
One way that investors try to look under the hood to get a hint about how a stock might perform in the future is by analyzing its dividend. Companies may choose to pay some of their profits back to their shareholders as a bonus, a percentage usually in the low single digits. This is on top of any capital gain the stock has made.1
For example, Proctor & Gamble has paid a dividend to its shareholders every year since 1890. This fact may tempt you to over-concentrate on this one company because, even if its price goes down, you may still get something (a dividend) in return.
Some strategists look at the history of a company's dividend as a bellwether of what the stock price is likely to do. A consistent track record of healthy dividends means the company must be doing something right, and so their stock is likely to rise in the future.
Unfortunately, like all strategies that gather data from the past in order to extrapolate future performance, dividend analysis can be extremely inaccurate.
Investor's Business Daily reports that all 10 of the S&P 500 stocks with the highest dividend yields coming into the year have plunged in value. These include stalwarts like Iron Mountain, Ford Motor Company, and Warren Buffet's Occidental Petroleum. These top 10 lost a total of $130 billion in market value. On top of that most of them are slashing or completely eliminating their dividend for this year.2
More importantly, these 10 have underperformed the S&P 500 Index as a whole, meaning that their past dividend activity was not a reliable indicator of future "out performance."
In a world where the unexpected and unthinkable happens—seven months ago did any of us think a global pandemic was on its way?—the most prudent strategy is broad diversification.
Collectively, dividend-paying stocks make up an important part of a diversified portfolio. The point here is to avoid the temptation to single out a few from the hundreds or even thousands found across global free markets.
We are happy to help you prepare for an uncertain future in a way that doesn't depend on lucky guesses.
Have a great weekend!
Source: Efficient Advisors
---
Golf Tip of the Week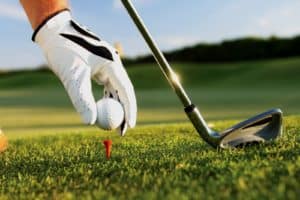 Avoid the 'Keep Your Head Down' Trap
We have all heard it. The well-intentioned advice of "keep your head down." Keeping your head down in a static sense is an unnatural and tense position, so let's say "watch the clubhead and ball collide" instead.
This is because keeping your head down rigidly restricts the free-swinging motion of your body through the ball. You could easily wind up hitting at the ball rather than swinging through it.
Again, strive to "watch the collision" of the clubhead and ball. This thought will help keep your spine angle constant and your focus of attention on the ball. When the weight shifts and the rotation of the body occurs, the right shoulder passing under your chin will help your head come up after impact so that you can follow the flight of the ball, getting to the optimal balanced finish position.
Remember, impact occurs during the swing, not at the end of it. Let the ball get in the way of the swing by watching the collision, not by keeping your head down. We want to look at that great shot after we hit it, not while we are hitting it.
Tip adapted from GolfTipsMag.comi
---
Recipe of the Week
French Onion Soup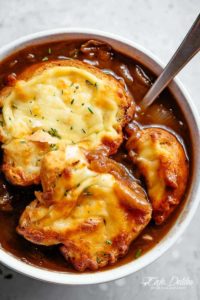 [4-6 people]
Ingredients:
4 tablespoons unsalted butter
2 tablespoons olive oil
6 large yellow onions, peeled, halved and thinly sliced (about 2 1/2 pounds)
1 tablespoon minced garlic, (or 4 cloves garlic, minced)
1/4 cup flour, (plain or all purpose)
1/2 cup dry white wine or red wine
2 sprigs fresh thyme, roughly chopped
6 cups beef stock or broth
1 teaspoon beef bouillon powder
2 whole bay leaves, (dried or fresh)
Salt and pepper, to taste
1 batch cheesy garlic bread
Instructions:
In a large pot over medium-low heat, heat olive oil and melt butter. Add the onions and stir well to evenly coat with oil and butter. Cover and cook for 20 minutes, stirring every five minutes or so, until the onions have softened.
Increase heat to medium-high and add 1/2 teaspoon of salt. Stir and continue cooking for a further 15 minutes or until onions are golden browned, soft and caramelized. (The bottom of the pan will also brown during the cooking process. This is where all of the flavor is).
Stir in garlic and cook for one minute, then add in flour and cook for about 4 minutes to brown slightly. Add wine to deglaze the pan, and scrape up the browned bits stuck on the bottom of the pan. Add in the thyme and simmer wine for 2 minutes until reduced by half.
Add beef stock, bouillon and bay leaf; bring to a boil. Reduce heat to low and gently simmer, partially covered with a lid, for 30-40 minutes.
While the soup is simmering, prepare 1 loaf of cheesy garlic bread, or individually portioned garlic breads.
To serve, taste test and season with a little extra salt and pepper, to taste. Ladle into bowls and top with 1 or 2 slices of cheesy toast.
Recipe adapted from Cafedelites.comii
---
Health Tip of the Week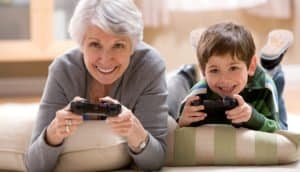 Feeling Younger Could Help You Live Longer
The notion of how old you feel versus how old you really are has been attracting more attention from researchers and medical professionals. Recent studies have linked subjective age — the age that you feel — to a range of health outcomes, including depression, dementia and longevity. The findings: The younger you feel, the better off you may be.
Adults who feel younger report fewer chronic conditions than those who feel older. They also take fewer medications, visit the doctor less often and are more likely to maintain a normal weight, according to data collected from a large national study on health and well-being led by the University of Wisconsin.
Find what makes you feel young, and do it!
Tip adapted from AARPiii
---
Copyright (C) 2020. Ballentine Capital Advisors. All rights reserved.
Our mailing address is:  
Ballentine Capital Advisors
23 Buena Vista Way, Suite B
Greenville, SC 29615
unsubscribe from this list update subscription preferences
Sources:
1. https://go.efficientadvisors.com/e/91522/ts-stocks-why-dividends-matter/6ngbq1/964717016?h=6CTXi_LnCoQmtMnT97uV0XOhawMhRzi5lbVisQ06pCA
2. https://go.efficientadvisors.com/e/91522/st-you-warren-buffet-billions-/6ngbq3/964717016?h=6CTXi_LnCoQmtMnT97uV0XOhawMhRzi5lbVisQ06pCA
Disclosure:
The views expressed herein are exclusively those of Efficient Advisors, LLC ('EA'), and are not meant as investment advice and are subject to change. All charts and graphs are presented for informational and analytical purposes only. No chart or graph is intended to be used as a guide to investing. EA portfolios may contain specific securities that have been mentioned herein. EA makes no claim as to the suitability of these securities. Past performance is not a guarantee of future performance. Information contained herein is derived from sources we believe to be reliable, however, we do not represent that this information is complete or accurate and it should not be relied upon as such. All opinions expressed herein are subject to change without notice. This information is prepared for general information only. It does not have regard to the specific investment objectives, financial situation and the particular needs of any specific person who may receive this report. You should seek financial advice regarding the appropriateness of investing in any security or investment strategy discussed or recommended in this report and should understand that statements regarding future prospects may not be realized. You should note that security values may fluctuate and that each security's price or value may rise or fall. Accordingly, investors may receive back less than originally invested. Investing in any security involves certain systematic risks including, but not limited to, market risk, interest-rate risk, inflation risk, and event risk. These risks are in addition to any unsystematic risks associated with particular investment styles or strategies.
The articles and opinions expressed in this newsletter were gathered from a variety of sources, but are reviewed by Ballentine Capital Advisors prior to its dissemination. All sources are believed to be reliable but do not constitute specific investment advice. In all cases, please contact your investment professional before making any investment choices.
Securities through Triad Advisors, LLC, Member FINRA/SIPC. Advisory services through Ballentine Capital Advisors, Inc. Triad Advisors and Ballentine Capital Advisors are not affiliated entities.
---
i https://www.golftipsmag.com/instruction/faults-and-fixes/watch-clubhead-and-ball-collide/
ii https://cafedelites.com/french-onion-soup/
iii https://www.aarp.org/health/healthy-living/info-2019/subjective-age-how-old-you-feel.html?intcmp=AE-HEA-HL-WL-BB-LL1