In 1989 Steven Covey published The 7 Habits of Highly Effective People. Having sold more than 25 million copies, it remains one of the most popular self-help books of all time. And Time Magazine listed it as one of "The 25 Most Influential Business Management Books."1
Much attention has been paid to the seven habits themselves, which are excellent guidelines for developing into a more mature and ultimately successful person. But Covey covers a much weightier principle, one that must be embraced before the good habits can take hold. And that's the concept of a personal paradigm change.
A paradigm (pronounced PARA-dime) is the model or framework we use to make sense of a situation.2 For example, if your phone rings at 2 AM, you automatically assume it's going to be bad news.
Personal paradigms are so all-encompassing, they can be difficult to change. It can be like trying to pick up your shoes while still wearing them.
Instead, Covey suggests simply examining the assumptions your paradigm takes for granted by examining them from the outside. If you can find evidence that what you initially took for granted might not be true, then your paradigm will begin to change.
Covey explains that paradigms are deeper than attitudes or behaviors.
He says, "If you want to make minor changes in your life, work on your behavior. But if you want to make significant, quantum breakthroughs, work on your paradigm."3
Many people have copied the "habits" part of Covey's formula. Googling "7 habits of highly effective" gets you 158,000,000 results. One of those is an article from Bloomberg titled "The 7 Habits of Highly Effective Investors." It covers a list of excellent money tips, including things like "Plan for financial emergencies," "Spend less than you earn," and "Save early and automatically."4
It's all good advice. But if your finances were out of control, and a well-meaning friend printed out the article so you could stick it up on your fridge, would that be all you needed to change?
Successfully saving for retirement does require you to incorporate certain behaviors into your life and then repeat them so diligently that they become habits. But going from knowledge to habit can be extremely difficult if your paradigm does not see the value or make room for those habits.
One of the most valuable things we can help you with is adjusting your big picture. It's important not just to see what's possible, but to come up with a personalized, long-term plan. As you begin to succeed and build your nest egg, sticking to those good habits simply becomes a part of life.
Have a wonderful weekend!






Source: Efficient Advisors
---
Golf Tip of the Week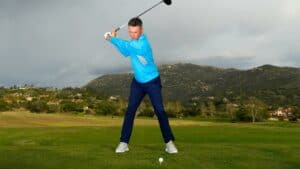 A Simple Drill for Better Contact Off the Tee
You bomb your first tee shot down the middle, only to barely reach the fairway on your next two drives. If this sounds familiar—you can't put together two good drives in a row—then look no further than the quality of your impact. Chances are you're missing the center of the clubface, or sweet spot, which is robbing you of that consistency you want off the tee.
Here's a drill from Chris Mayson, one of Golf Digest's Best Teachers in California, to help optimize your attack angle and hit the ball in the center of the face. Grab your driver and tee up a ball, then place two hand towels on the ground, one in front of and one behind the ball. Set up normally and hover the clubhead behind the ball. Make a full backswing, pushing your hands away from your body, and as you swing down, try to sweep the ball off the tee without touching either towel. The flatter and wider the bottom of your swing, the better your contact.
"You need consistent contact and a reliable amount of speed to make the ball go the same distance, and you need to make sure the ball hits in the middle of the face so the speed is coming out the same way every time," said Mayson, who has taught multiple winners on the PGA and LPGA Tours, including 2017 Women's British Open champion I.K. Kim.
With this drill, if your swing bottoms out behind the ball, you'll hit the back towel. If you're too steep, you'll whack the forward towel. Remember, the key to good driving is having a long flat spot at the bottom of the swing—a level sweep through impact. Work on this drill on your own, and pretty soon you'll be hitting your drives consistent distances.
Tip adapted from golfdigest.comi
---
Recipe of the Week
Christmas Punch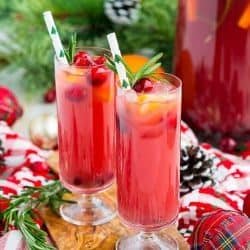 8 Servings
Ingredients
1 orange sliced
1 cup cranberries
1/2 cup pomegranate seeds
2 cup cranberry juice
2 cups orange juice
1 cup pomegranate juice
2 cups Sierra Mist or Sprite
1 cup white rum (optional)
Rosemary for garnish
Ice
Instructions
1. Combine all ingredients in a large pitcher or punch bowl over ice. If using a really large punch bowl, you can double the recipe.
Recipe adapted from sugarandsoul.coii
---
Health Tip of the Week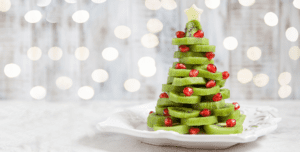 8 Healthy Tips for A Healthy Christmas Season
Christmas is only one day, yet by the time we reach December the social events and work deadlines can take their toll, so it's important to keep yourself healthy.
Nutrition is a great place to start, but it's important to remember that many lifestyle habits are connected. Whether it's the quality of your sleep or the way you manage stress, all have a positive or negative affect on how you feel.
We've put together 8 top tips focusing on your overall lifestyle to keep yourself well so you can enjoy the holidays with friends and family.
Regular fiber rich meals
Avoid going hungry
Keep your food safe
Change up your drink choices
Keep active
Manage the busy days and weeks
Prioritize sleep
Enjoy the social
Tip adapted from heartfoundation.orgiii
---
Copyright (C) 2021. Ballentine Capital Advisors. All rights reserved.
Our mailing address is:
Ballentine Capital Advisors
15 Halton Green Way
Greenville, SC 29607
unsubscribe from this list update subscription preferences
Sources:
1. https://en.wikipedia.org/wiki/The_7_Habits_of_Highly_Effective_People
2. https://www.merriam-webster.com/dictionary/paradigm
3. https://resources.franklincovey.com/mkt-7hv1/paradigms-src
4. https://www.bloomberg.com/features/best-investment-tips-habits/
Disclosure:
The views expressed herein are exclusively those of Efficient Advisors, LLC ('EA'), and are not meant as investment advice and are subject to change. All charts and graphs are presented for informational and analytical purposes only. No chart or graph is intended to be used as a guide to investing. EA portfolios may contain specific securities that have been mentioned herein. EA makes no claim as to the suitability of these securities. Past performance is not a guarantee of future performance. Information contained herein is derived from sources we believe to be reliable, however, we do not represent that this information is complete or accurate and it should not be relied upon as such. All opinions expressed herein are subject to change without notice. This information is prepared for general information only. It does not have regard to the specific investment objectives, financial situation and the particular needs of any specific person who may receive this report. You should seek financial advice regarding the appropriateness of investing in any security or investment strategy discussed or recommended in this report and should understand that statements regarding future prospects may not be realized. You should note that security values may fluctuate and that each security's price or value may rise or fall. Accordingly, investors may receive back less than originally invested. Investing in any security involves certain systematic risks including, but not limited to, market risk, interest-rate risk, inflation risk, and event risk. These risks are in addition to any unsystematic risks associated with particular investment styles or strategies.
The articles and opinions expressed in this newsletter were gathered from a variety of sources but are reviewed by Ballentine Capital Advisors prior to its dissemination. All sources are believed to be reliable but do not constitute specific investment advice. In all cases, please contact your investment professional before making any investment choices.
Ballentine Capital Advisors is a registered investment adviser. The advisory services of Ballentine Capital Advisors are not made available in any jurisdiction in which Ballentine Capital Advisors is not registered or is otherwise exempt from registration.
Please review Ballentine Capital Advisors Disclosure Brochure for a complete explanation of fees. Investing involves risks. Investments are not guaranteed and may lose value.
This material is prepared by Ballentine Capital Advisors for informational purposes only. It is not intended to serve as a substitute for personalized investment advice or as a recommendation or solicitation or any particular security, strategy or investment product.
No representation is being made that any account will or is likely to achieve future profits or losses similar to those shown. You should not assume that investment decisions we make in the future will be profitable or equal the investment performance of the past. Past performance does not indicate future results.
Advisory services through Ballentine Capital Advisors, Inc.
---
i https://www.golfdigest.com/story/9/learn-to-flush-your-driver-with-this-simple-drill
ii https://www.sugarandsoul.co/christmas-punch-recipe/
iii https://www.heartfoundation.org.nz/about-us/news/blogs/8-tips-for-a-healthy-christmas-season