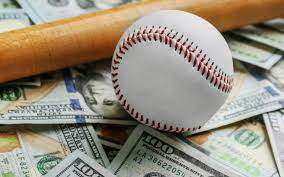 Baseball stadiums are filled with optimists. Fans start each new season with the hope that even if last year ended badly, this year could finally be the year. After all, teams rally mid-season, curses are broken, and even underdogs sometimes make it to the World Series. As Yogi Berra famously put it, "It ain't over till it's over."1 Here are a few lessons from America's pastime that might inspire you to take a fresh look at your finances.
Proceed One Base at a Time
There's nothing like seeing a home run light up the scoreboard, but games are often won by singles and doubles that put runners in scoring position through a series of hits. The one- base-at-a-time approach takes discipline, something you can also apply to your finances. What are your financial goals? Do you know how much money comes in and how much goes out? Are you saving regularly for retirement or for a child's college education? Answering some fundamental questions will help you understand where you are now and help you decide where you want to go.
Cover Your Bases
Baseball players must be positioned and prepared to make a play at the base. What can you do to help protect your financial future in case life throws you a curveball? Try to prepare for those "what ifs." For example, you could buy the insurance coverage you need to help make sure your family is protected. You could also set up an emergency account that you can tap instead of dipping into your retirement funds or using a credit card when an unexpected expense arises.
Expect to Strike Out
Fans may have trouble seeing strikeouts in a positive light, but every baseball player knows that striking out is a big part of the game. In fact, striking out is much more common than getting hits. The record for the highest career batting average record is 366, held by Ty Cobb.2 As Ted Williams once said, "Baseball is the only field of endeavor where a man can succeed three times out of ten and be considered a good performer."3
So how does this apply to your finances? As Hank Aaron put it, "Failure is a part of success."4 If you're prepared for the misses as well as the hits, you can avoid reacting emotionally rather than rationally when things don't work out according to plan. For example, when investing, you have no control over how the market is going to perform, but you can decide what to invest in and when to buy and sell, according to your investment goals and tolerance for risk. In the words of longtime baseball fan Warren Buffett, "What's nice about investing is you don't have to swing at every pitch."5
See Every Day as a New Ball Game
When the trailing team ties the score (often unexpectedly), the announcer shouts, "It's a whole new ball game!"6
Whether your investments haven't performed as expected, or you've spent too much money, or you haven't saved enough, there's always hope if you're willing to learn from what you've done right and what you've done wrong. Hall of Famer Bob Feller may have said it best, "Every day is a new opportunity. You can build on yesterday's success or put its failures behind and start over again. That's the way life is, with a new game every day, and that's the way baseball is."7
If you have recently experienced a "strike out" or want to discuss your current "game plan", give us a call.
Have a great weekend!






All investing involves risk, including the possible loss of principal. There is no guarantee that any investment strategy will be successful.
Source: Broadridge
---
Golf Tip of the Week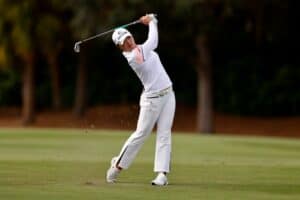 Hit More Greens
At last November's CME Group Tour Championship, I had no idea I set the record for consecutive greens hit in regulation on any major U.S. pro tour. All I was trying to do was avoid having to chip a lot from the difficult Bermuda grass around the greens at Tiburón Golf Club in Naples. But after missing my approach shot on the ninth hole in the first round on Thursday, I didn't miss another green the rest of the week. I hit 63 in a row.
It's not unusual for me to hit 14 or 15 greens a round, and I think it's because I don't pay much attention to the hole's location. On long approach shots, I aim for the largest area of the green. For shorter approaches, I try to leave myself with an uphill putt.
I also work hard on having a consistent strike. I spent a month after the Olympic Games practicing from 8 a.m. until dinner getting my swing ready for the Tour Championship. I know that much practice is not an option for most of you, so I'd say the best thing you can do for solid contact is always take one more club and swing at about three-quarters of your maximum speed.
Your balance is going to be better and your swing more consistent, which should improve the quality of your strike. I know it can be hard not to aim at pins, but remember, if you're anywhere on the green in regulation, it means you have a chance at birdie.
Tip adapted from golfdigest.comi
---
Recipe of the Week
Quick & easy tiramisu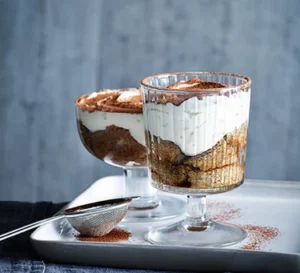 2 Servings
Ingredients
3 tsp instant coffee granules
3 tbsp coffee liqueur (or Camp Chicory & Coffee Essence)
1c +1tbp mascarpone
3oz condensed milk
1 tsp vanilla extract
4-6 sponge fingers
1 tbsp cocoa powder
Instructions
Mix the coffee granules with 2 tbsp boiling water in a large jug and stir to combine. Add the coffee liqueur and 75ml cold water. Pour into a shallow dish and set aside.
Make the cream layer by beating the mascarpone, condensed milk, and vanilla extract with an electric whisk until thick and smooth.
Break the sponge fingers into two or three pieces and soak in the coffee mixture for a few secs. Put a few bits of the sponge in the bottom of two wine or sundae glasses and top with cream. Sift over the cocoa and chill for at least 1 hr. before serving.
Recipe adapted from bbcgoodfood.comii
---
Health Tip of the Week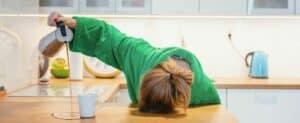 Tips to Avoid Daytime Sleepiness
It's normal for everyone to feel sleepy once in a while, but 18% of people in the United States deal with hypersomnia, or excessive daytime sleepiness. This condition can cause you to fall asleep repeatedly throughout the day, even during activities like eating or talking with someone.
Drink caffeine
Eat a healthy snack
Take a nap
Exercise
Get some sun
Stay away from smoking and too much alcohol.
Stay hydrated
Practice sleep hygiene
Take a break from screen time
Lower your stress
Tip adapted from webmd.comiii
---
Copyright (C) 2021. Ballentine Capital Advisors. All rights reserved.
Our mailing address is:
Ballentine Capital Advisors
15 Halton Green Way
Greenville, SC 29607
unsubscribe from this list update subscription preferences
Source:
1, 3-4, 6-7) BrainyQuote.com
2) ESPN.com
5) quotefancy.com
Disclosure:
Ballentine Capital Advisors is a registered investment adviser. The advisory services of Ballentine Capital Advisors are not made available in any jurisdiction in which Ballentine Capital Advisors is not registered or is otherwise exempt from registration.
Please review Ballentine Capital Advisors Disclosure Brochure for a complete explanation of fees. Investing involves risks. Investments are not guaranteed and may lose value.
This material is prepared by Ballentine Capital Advisors for informational purposes only. It is not intended to serve as a substitute for personalized investment advice or as a recommendation or solicitation or any particular security, strategy, or investment product.
No representation is being made that any account will or is likely to achieve future profits or losses similar to those shown. You should not assume that investment decisions we make in the future will be profitable or equal the investment performance of the past. Past performance does not indicate future results.
Advisory services through Ballentine Capital Advisors, Inc.
---
i https://www.golfdigest.com/story/hit-more-greens-irons-jin-young-ko
ii https://www.bbcgoodfood.com/recipes/quick-easy-tiramisu
iii https://www.webmd.com/sleep-disorders/avoid-daytime-sleepiness